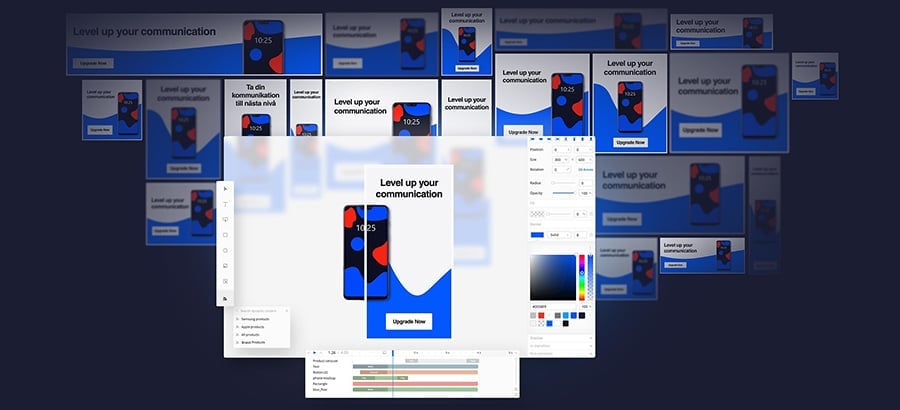 How to innovate in display advertising with Bluestep Bank
To innovate in display advertising brings rewards – and is far easier to achieve than many brands realise. Indeed, with the right people, right team structure, and right technology it's simple to produce remarkable campaigns in-house that convert.
In this article we interview Acquisition Manager, Evelina Jensen, and Designer, Emilie Norman, of nordic internet bank, Bluestep Bank about how they innovate. In particular, we focus on a recent campaign that used a range of different interactivity – including one ad set in which viewers even "painted"!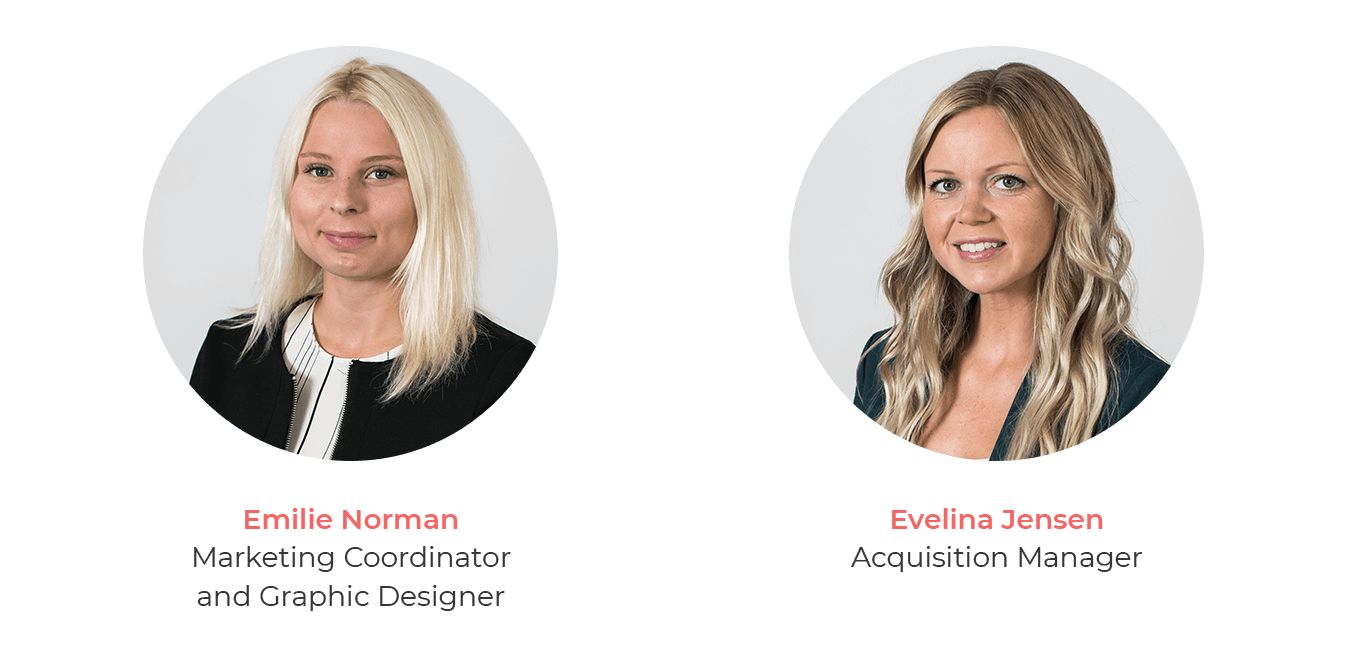 How does Blue Step Bank work with display advertising?
Evelina Jensen, Acquisition Manager: We have worked with display advertising for several years and we use it programmatically with Google Marketing Platform. It is also essential when it comes to working with our partners where we use display a lot.
Therefore, it is critical for us to have someone who can produce display advertising in-house – both creatively and quickly. For those reasons Emilie's production role is very important to us. Having someone work in-house on our display advertising speeds up the whole process.
What was the purpose of the renovation ad set?

Evelina: The purpose of this particular ad set was to get people who had displayed a need for financing for a renovation project to understand that they could pay for it using a mortgage. It was part of a wider omni-channel campaign for a range of different products we offer.
How did this translate into design challenges?
Emilie Norman, Marketing Coordinator and Graphic Designer: To begin with we thought about just having a generic picture of somebody painting, or building a house. Which on its own is a pretty boring concept.
Additionally, when I was creating the master banners I had to think about how any image interacted with the different sizes, text, and layouts we intended to use.
What were some of the technical challenges for this ad set?
Emilie: Making the length of the text work in the image is always key.
However, working with the HTML5 widget required some changes. I altered the code so that the cursor displayed a painting brush when it hovered over the ad. I then duplicated the image so one image had a grey background, and another a green wall – the idea being that one is revealed under the other so it looks like you have painted the wall. Thus when the user interacts and "brushes" with the paint brush the green is revealed.
I found the concept pretty easy to create, since the rich media widgets are already available to use in Bannerflow. Plus, it's easy to just drag and drop them and then do your own thing with the code.
Have you used any other widgets in your display advertising campaigns?
Emilie: Yes, we've used the widgets in other campaigns. We've used the video widget, drop down menus, and search box widgets in different ads. For example, you could search for the value you needed a loan for.
Evelina: In fact, within the same campaign as the renovation ad set, we had other ad variations that used tick boxes, drop downs, and video.
Out of curiosity which ad set performed the best?
Evelina: The video banners.
Why do you think that?
Emilie: Our concepts today focus on emotion and feelings. So the feeling of BlueStep helping you, the feeling of BlueStep providing you a loan; we focus on connecting with emotion and video helps. It's easier to get emotion through video than say interactivity.
Unfortunately, it's also more difficult to use the interactive banners on mobile devices. The video banner translated the best onto mobile devices.
How many creatives did you create for this particular campaign?
Emilie: I created six different ad variations concepts (including the renovation one) and then 12-14 different size variations of each in Bannerflow.
How easy were those to create in Bannerflow?
Emilie: Easy. Particularly, if you start with the smaller sizes and then scale up – it's pretty simple to make the adjustments needed for the different sizes in Bannerflow.
Are the assets for your campaigns custom built?
Emilie: For these ads we used stock imagery; focusing on finding the emotion that we needed. The colours that were used all complied with our brand guidelines. For example, the use of the colour green for the paint on the wall.
Sometimes it can be very difficult to find the right images but with the renovation ad there were lots of images we could work with.
Evelina: Yes, for subjects such as "economic control" or for something that is a bit more fluffy it can either be inappropriate or too boring. Emily does a great job at creatively finding the imagery that best interprets the emotion we want to convey.
When creating display ads do you think about the context of where the ad will be placed?
Evelina: Yes we do. We need to be relevant with the right message in the right context. Though sometimes the objective with the banner is primary brand awareness and can then be placed in a wider context to a wider target group. Additionally, we will also target specific groups which requires more bespoke messages.
How do you tackle the design process of producing display campaigns?
Emilie: We always start with the message and then I take an initial concept from our creative agency and I build from that. We tend to have the same design concepts across all our advertising channels so it is consistent and all links together.
Evelina: Brand consistency is really important to us. We'll also focus on the feeling of what we want to convey in our advertising. In the case of the renovation ad set, we internally agreed on the copy and then Emily designed the concept for the ad and so that it would match with the message.
Emilie: I then create 3 different sizes, usually 320x, 980x, and 600x formats. This is to help me get started and make scaling-out the campaign smoother. The scaling process is generally efficient using Bannerflow.
Evelina: Compared to the time when we didn't have Bannerflow it's a lot, lot easier. The scaling is a great feature.
Emilie: I worked in Photoshop before and back then it would take a long time to create and scale a campaign. Using Bannerflow was quite a radical shift from what we did before.
How many languages do you usually produce a campaign for?
Emilie: Normally two: Swedish and Norwegian – but often campaigns will be for just one of either Sweden or Norway.
Evelina: In fact, a lot of the time most campaigns will be specific for a local market. So the renovation campaign was a 'Sweden only' campaign for example.
What other tools do you use when you are creating a display campaign?
Emilie: Photoshop. Bannerflow and Photoshop work together quite nicely.
What is about using Bannerflow that makes designing ads smoother?
Emilie: Everything. Ha! The Scaling is my favourite feature though, plus the widgets and the exporting – which is very simple and makes everything look a lot nicer.
And having everything in the same place, in one platform is useful too. It means I don't have to have all the assets in my computer and I can work on it from home if I need to.
Evelina: Plus, the collaboration and showcase features are useful. It's much easier to keep track of live ads, check the copy inside the ads, and make sure the tagline is the same – so we remain consistent and avoid mistakes.
Why is the scaling feature so useful?
Emilie: The duplication of design elements into other ad sizes is very smooth – you just need to slightly adjust any newly created ad. At that point it's almost finished, optimised, and network ready.
Evelina: The banner tags are a lot easier to add too. Plus, one link, across one banner set automatically, makes it so much easier.
How do you continue to find inspiration for your work?
Emilie: I look at others – just like everybody else – to get inspired. Then I just try to do my own thing. I also work closely with our creative agency to get inspiration.
Innovate in display advertising with Bannerflow
Creativity within all forms of digital advertising is now essential for brands to stay ahead and achieve their conversion goals.
If you would to find out more about your marketing team can innovate with the Bannerflow creative management platform (CMP) then please get in touch, or request a demo.
Share this article