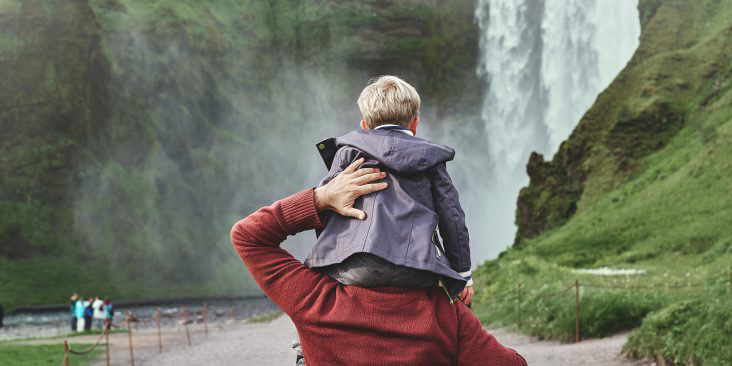 Father's Day: 7 of the Greatest in the World
If inspiring Father's Day ads are what you crave, then this article is for you.
Unsurprisingly, Father's Day doesn't have the same impact as Mother's Day, but it is still a golden opportunity for advertisers. Yet, it's not enough to advertise and be done with it. Viewers associate poor advertising with a poor quality product. Fail to invest in your creative and the Father's Day shopper will dismiss your ad. You need to stand out from the crowd. Creativity and quality production is of course key!
Father's Day ads and advertisers
It's competitive out there! Take Father's Day in the US, for example. In 2020, American consumers spent $17 billion on gifts, cards, dinners, ballgames, and much more. While, 75% of all those questioned for the National Retail Federation's annual Father's Day survey said they would celebrate – and that just in the US (during a global pandemic!). Father's Day is huge globally and marketers are spending billions to take advantage.
However, around the globe the holiday means different things to different advertisers. AdRoll analysed its 35,000 advertisers in the two weeks leading up to Father's Day to see what industries were benefiting. The results were surprising. North Atlantic and Central Europe (NACE) saw a 109.5% increase in specialty retail conversions; as expected. While, Asia-Pacific brands saw an 88.9% increase in sporting goods conversions – amongst other findings.
Know your market's Father's Day dates!
But before we go any further it's worth noting when Father's Day is for your local market. Here in Sweden and the Nordic countries – excluding Denmark – we celebrate Father's Day the second Sunday in November each year. While in the US, the UK and many other countries, it's the third Sunday in June. Plus, it's completely different for loads of other nations too – I'm looking at you crazy Danes. Take a moment to make sure you know the dates for the different markets you advertise in!
Now let's admire seven of the most interesting Father's Day ads in recent years. I imagine there'll be a nugget or two that will help inspire, and if all goes well, make your own campaign stand out!
1. The traditional take done well: Carhartt
Father's Day ads often have a particular narrative tone – warm and sentimental. Carhartt's Father's Day campaign is a perfect example of what makes a good "traditional" campaign. The campaign features Jason Momoa, and other fathers, talking about fatherhood. What the Carhartt's ad manages to do (which some brands fail miserably at) is link the brand with the positive virtues of what it means to be a dad. They are inspirational and real. No fake firefighters, or grinning pilots, or stock images of children here!
In all of the ads, the inspirational dads wear Carhartt apparel, reinforcing the message that a great dad is a Carhartt dad. According to Tony Ambroza, Senior Vice President at Carhartt this connection works a treat. "Since many of our consumers are also dads, it's important that we recognize their values of hard work and tradition". The campaign is simple yet effective and links the positive values of fatherhood with the clothes brand – without be corny!
2. Programmatic done wisely: Funky Pigeon
Programmatic advertising and Father Day's ads are a match made in heaven. In the UK card producer Funky Pigeon worked with creative agency Found to achieve better results in the weeks leading up to Father's Day. Using Google Analytics, Found identified key audience segments that had favourable behavioural metrics and high conversion rates. This audience profile was then used to form the framework for all targeting. Through the use of prospecting and retargeting it targeted display ads to the viewers that bought.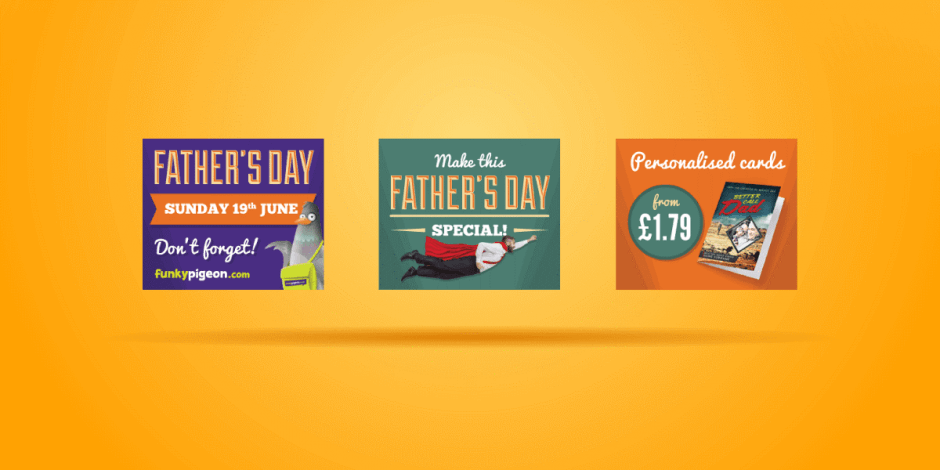 Using behavioural, contextual, and demographic segmentation, it also synced its display campaign to its TV adverts. Meaning that Funky Pigeon only invested its ad budget into the users most likely to convert. The end results were pretty spectacular. A whooping 321,000 visitors were driven to FunkyPigeon.com for the first time. While the ROI for the campaign was 1763%! It was a campaign that both won rewards, and was rewarding for the card brand.
3. Using social to personalise: Glenlivet
Everyone's dad seems to be on Facebook nowadays but even if you don't use it anymore yourself, when used for marketing purposes it can be effective and personal for different demographics. To launch The Glenlivet Founder's Reserve, Pernod Ricard UK used Facebook advertising and video to engage with givers and whisky loving dads. It turned Facebook into a personalised Father's Day gift generator – you can see some of the videos here!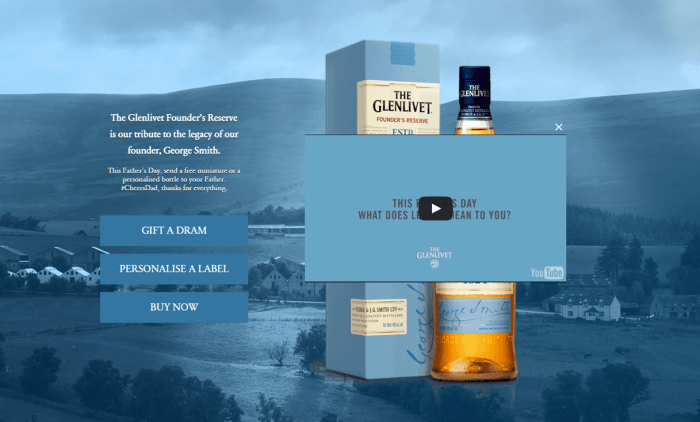 This Father's Day ad campaign successfully established a new product range with a 11% sales uplift. Plus, over 8,000 miniature drams were gifted to dads – who were no doubt raising a glass to Glenlivet. But most of all, it's managed to combine an interesting personalised offering with social effectively. It was a traditional gift giving idea that relied on novelty, but it was a winner.
Read more about how you can use social media advertising effectively with our Ultimate Guide.
4. Not just about "dads": Dove Men+Care
Dove Men + Care often produces good video advertising for Father's Day ads. The ads tend to focus on the "care" that dads provide their kids and are informal. Ian Crouch of the New Yorker writes, "from a brand perspective, it makes sense. Buying your father moisturiser suggests closeness". In 2017 the brand added a new feature to its Father's Day campaign. It presented the notion that influential men in our lives aren't always dads.
The 30-second branding spot, sees Dove Men + Care celebrate the teachers, uncles, coaches and grandfathers in our lives. A brave move, which not only highlights the modern family dynamic but shows us that not all father figures are actual fathers.
Then in 2018, the brand went one step-further and championed paternity leave worldwide. Creating a dedicated resource-hub website advising men on taking paternity leave, hashtag campaign, and video ad on the subject. Oh, and parent company Unilever decided to give its new fathers a minimum of three weeks paid leave, by the end of 2019. (Though still somewhat short of the Scandinavian average!)
Yet, let's not nitpick. By all accounts Dove Men + Care uses the familiar connotations of Father's Day advertising but cleverly subverts them and wins.
5. Subverting stereotypes: #MakeAMoment
Let's be honest, often when thinking about Father's Day ads we're conditioned to think of a stereotype. As we've mentioned not all father figures are actual fathers, then why should we assume that all fathers are the same? That's at the heart of the narrative in the #MakeAMoment advertising campaign produced for The Ad Council and the National Responsible Fatherhood Clearinghouse (NRFC).
Placed across multiple channels, the ad campaign defied gender stereotypes by encouraging dads to "take a moment for a moment" with their children. In particular, it did not seek to define stereotypically what that moment could be. It could be dancing to "I'm a little teapot", or washing hair, like in the ad below. In actuality, rather than simply rejecting stereotypes the campaign also presented real moments that most fathers would recognise.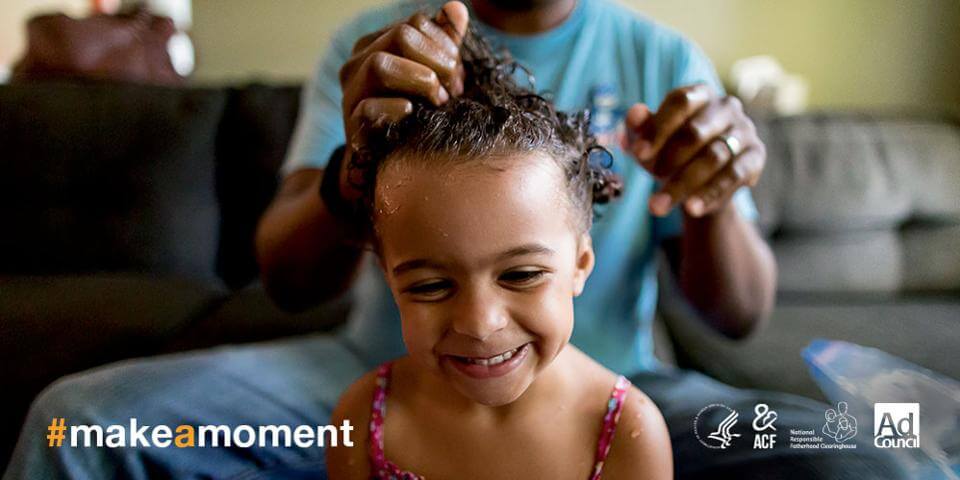 As well as, reflecting the multifaceted role father's play in bringing up their children, it can be a winning strategy too. Speaking to Forbes, Marketing Strategist, Christine Michel Carter recommends subverting "traditional" gender roles. "Don't be discouraged. Create funny, smart or artistic gender-neutral content. A father playing dress-up, wearing pink, or even painting stars and rainbows with his children". The simple lesson is that when creating Father's Day ads, be sensitive to well-worn stereotypes. Sometimes breaking the mould – or showing reality can be rewarding.
6. The classic old school use of humour: Durex
Here's a classic Father's Day ad from Durex.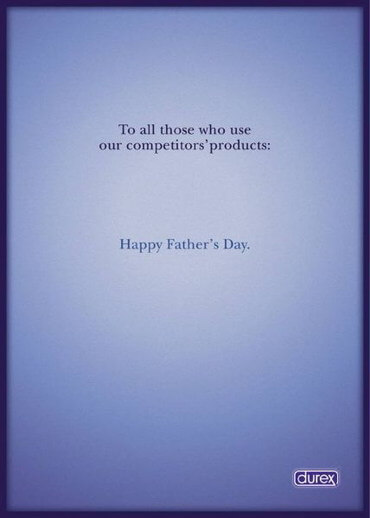 It's pretty obvious. It's funny. And it's brilliant. Unsurprisingly, Durex has returned to this theme in their Father's Day ads year after year. Happy Father's Day, indeed.
7. Lacking nuance but striking: Nike
Over the last decade Tiger Woods has had (to put it mildly) an eventful time. However, of no doubt is that, in his pomp, he was awesome. He was spectacular. A global star that defied convention and made golf accessible to a range of fans who otherwise wouldn't have cared. He was also one of Nike's most important ambassadors. So when it turned out in 2009 his private life was, well…a disaster, the ad below was meant to help redeem the super star golfer.
It is striking and does grip you. But sadly, for Nike and Tiger, reaction to the spot proved mixed. One commentator, Jason Piroth, was to the point: "Using the out-of-context words of your dead father in an attempt to clean up your image just might be more offensive than nailing dozens of hookers across the U.S. while your wife raises your kid". Some did find positives. Tim Nudd, writing for Ad Week noted: "[it] might not have been a great ad, but it did feature a great dad – the voice of Tiger's father Earl". The ad also gave rise to a number of parodies too – such are the times we live in.
Takeaways: Father's Day ads are changing
So there you have seven of the best, or at the very least the most interesting, Father's Day ads – ever. What each ad proves is that there is no hard and fast rule on what makes the perfect Father's Day ad. However, creativity and heart is key in all of them. Each ad also shows us that having a solid narrative helps too.
In this list we've avoided looking at advertising that relies on well-worn stereotypes, and yes, there is a time and a place for such ads. But Elaine Kwon, Founder of e-commerce management firm Kwontified makes an interesting point: "overused tactics like banner ads featuring flowers come off as bland and possibly not genuine". There's no harm in referencing traditional values but try to personalise your message if you can. Take the Glenlivit campaign for example. Everything about it is traditional but it's approach is new and individual.
Today, the best technology is essential
But how can advertisers and marketing teams avoid stereotypes and become more personalised? Well, an easy method is to produce a higher volume of more nuanced ads, with differing copy and creative elements. Using, an ad creator, such as Bannerflow's Creative Studio you can produce hundreds of creative and engaging variations – in minutes – for your social, display and video channels.
Better still, if like confectionary brand, Cadbury, you wish to change your entire online branding to Dadbury for 24 hours, well with the Bannerflow platform you can do that too – without the help of an agency. Simply, drag in and drop the new logo to your live ads and the job is done.
Get in touch!
Producing a great Father's Day ad whether a banner, social ad, video or any other format requires the right tools. Use a platform like Bannerflow and your brand can create remarkable display ads with ease. Plus, if you're canny, you can easily control and update your Father's Day banners for better performance! Simply, book a demo or contact us to find out how.
Share this article