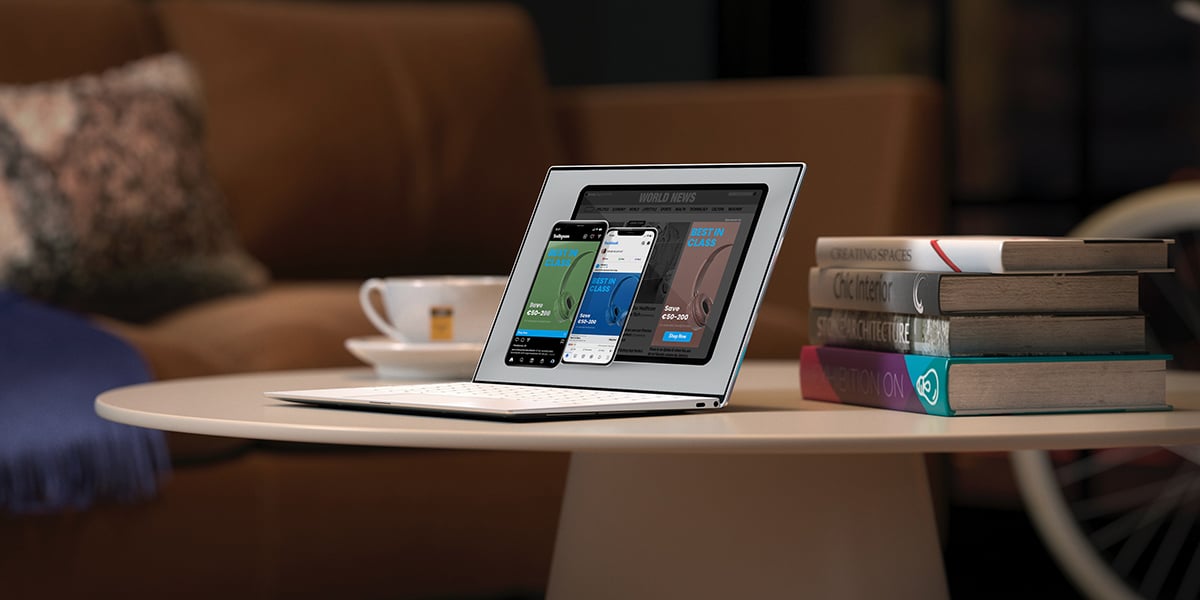 Display Advertising: Best Banner Ads Examples
The best banner ads are a combination of many different elements. They can feature impactful imagery, unique interactivity, brilliant copy, or highlight the very best in advertising technology.
Great online advertising not only needs to capture a viewer's attention but fulfil a clear purpose. From brand awareness, to a single ad part of a large personalised campaign with thousands of banners.
Yet, without further ado, here are examples of the best display advertising campaigns around:
Meliá Hotels International

Meliá Hotels International personalised Autumn display campaign features a variety of rich media interactive elements. What's more, each design element works together perfectly to drive the viewer to engage and click to a specific landing page.

This best display ad from Meliá really highlights the benefits of combining rich media and data feeds. Just look at the the drop-down selection of different locations, which changes the imagery in the ad. Not only does it allow the display campaign to highlight multiple destinations but it serves as a beautiful branding campaign. Plus, the use of personalisation enables them to shorten the sales funnel, getting the user to select where they want to go.
Bluestep Bank
One brand experimenting with video and interactive campaigns is Swedish bank, Bluestep Bank. This best banner ad uses Bannerflow's drag and drop HTML5 widgets. Plus, is emotive, both working with and enhancing the colours of the brand in its design.
Its design team has added eye-catching playfulness and engagement to the ad. This enables the campaign to to stand out in what can be a saturated digital landscape. The result? An ad that is super engaging and simple for any viewers to interact with. In fact, the paintbrush effect is a number of drag and drop Rich Media widgets combined to present the effect of painting the wall.
Hallon
Next on our best banner ad list is this striking display ad by Hallon of Sweden. Hallon are a relatively young mobile phone brand and have a history of using elements of "fun" in their branding. Whether through the use of their bubble-like logo, or as in this banner through the act of celebrating.
The looping semi-transparent background video makes it seem as if the viewer is looking through the window of a happy Hallon customer. The big bold copy for "REA!" (sale in Swedish), helps explain why the woman in the video is so excited. While the copy, graphical elements, and colours of the deal graphic, are all appealing and on-message.
Ladbrokes
With a striking palette of black, red, and white, Ladbrokes Belgium's HTML5 banner ad for the Mayweather Vs. McGregor is a knockout. With copy that is simple and to-the-point, the message is clear. The pacing of the frames is good. Plus, the addition of the flash just before the appearance of Mayweather is similar to that of a flash bulb going off.
The last frame's call to action stands out in fluorescent green. The contrast grabbing the viewers' attention.
MSC Cruises
So how do you convey the luxury of a warm and relaxing cruise? Well, MSC Cruises have done just that with the above ad! Bannerflow's very own Product Specialist, Jamal Morris, sums it up nicely. "The combination of video and static works together to create a campaign that's bigger than the sum of each part". It's an excellent example of how to use static elements with in-banner video.
What makes this one of our best banner ads is how MSC Cruises have taken their video advertising from other channels and used it in-banner. Rather than force it, the short video merges with the ocean colours of the rest of the banner. It also helps to rotate the viewer's eye to the sand-like CTA.
Three
Another ad on the best banner ad list is this one produced by Three in Sweden. Like the majority of the ads featured on this list it's designed in an ad creator which automates the production of digital ads. This removes tasks like coding individual banners, and fiddly image optimisations. Essentially, the Three design team benefits from A.I. to automatically optimise and scale a master design to hundreds of different sizes and formats. Thus designers spend more time being creative (and less time being bored).
What we like about this ad is the optimising of the video, space, and CTA position for the leaderboard style of the banner. In fact, the Three campaign uses the same video and copy across the entire campaign. Variations were automatically created for different devices thanks to production automation using the Bannerflow platform. This display ad by Three is just one of many different sizes published for its campaign.
CM.com
CM.com's best display ad is a great example of a strong message and animation being used together to make something even more powerful. The modern design immediately catches your attention, and works perfectly going from anonymous to personalised ad.
CM.com's display campaign was designed to help launch its latest mobile marketing platform. And its concept of turning an anonymous profile into a person with preferences and habits using HTML5 animation is a great way of showcasing the idea of how its personalisation offering works.
bwin
The beauty of combining display advertising with data feeds is the sheer number of opportunities this hook-up provides. Take this bwin banner for the German football league. It's utterly clear and works a treat.
Incorporating the colours of the bwin brand, it simply offers punters the latest odds for the games that are currently playing in the league, live. Not only that but if offers viewers the chance to fill-out a betting slip too.
According to Bannerflow Product Specialist, Travis Isaacson, "the simplicity is being able to bet directly on a match – in-banner. This shortens the time spent placing the bet, and more time focusing on the match. For the consumer, knowing that this banner is live, equates to also getting the best odds." There's no messing around. Viewers convert quicker and banner content is kept up-to-date and relevant.
ATG
ATG's emotive and sleek display advertising iGaming campaign uses video to show a different angle to the world of horse racing. It's also a great example of how to be clever and creative with existing resources. Using simplicity and sincerity the video display ad grabs your attention without begging for it.
In fact, the ATG in-house team reused b-reel footage from an earlier campaign to create something new and fresh. Indeed, during 2020 repurposing of older content would become a creative and cost effective trend for many other brands.
Saxo Bank
This 300×600 "half page" banner ad from Saxo Bank is a good example of how to build a message using rich media and video. It uses a combination of good editing, video, and well-timed copy to grab the viewer's attention.
It's worth noting that according to AdSense the 300×600 banner is considered visually impactful and preferred by more and more brand advertisers. It's also one of the fastest growing sizes by impressions. Read the case study about how Saxo Bank transformed its display campaigns.
Color Line
This banner by Norwegian ferry company Color Line is beautiful. It is an excellent example of how HTML5 animation and design is easily creates something simple, yet eye catching. The different design elements work in harmony with one another, creating a typical summer postcard-like feel – instantly recognisable to the intended viewer.
Georg Jensen
Video is an incredibly effective tool no matter what the channel. Georg Jensen's business relies heavily on sales over the festive period, accounting for roughly 35% of their annual sales, so creating exceptional banner adverts are a necessity.
For Art Director, Kasper Sierslev, premium elements are incredibly important for banner design. "We see our video banners performing 3 to 6 times better than those without. What's more, by connecting the video with dynamic content, we are able to tailor product offerings to different audiences."
Shutterstock
Shutterstock has access to millions of high-quality images which it uses to captivating effect in the design of its display advertising. Its always on campaigns use high quality imagery and bright colours to effect.
Yet, for this particular HTML5 display ad, simplicity is key. The ad copy, animation, and imagery work together to take the viewer on a journey around the world before ending with the copy: "see global cultures through local eyes". It's straightforward, engaging, and showcases their product to great effect.
Nova
Iceland Telecom brand, Nova, produced an outstanding winter campaign in 2018. Using a HTML5 Spotify widget, video, and animation they designed this creative and impactful campaign.
Starting as a concept series, it promotes both the Nova brand and a musical event featuring an up and coming Icelandic artist. By adding the Spotify campaign widget they were able to highlight the music. Then by slotting in a video widget too they were further able to grab the attention of the audience.
As the designer of the banner commented: "We just wanted to make something fun".
Elko
Engagement and impact are two of the biggest drivers of success in display advertising! And this is exactly what what another Icelandic brand, Elko achieves with its unique HTML5 banner.
Elko's unique ad campaign uses a Rich Media slider to to showcase the capabilities and placement of a Samsung Frame TV in the real world. This simple interactive feature not only got viewers to engage with the ad but increased click-through rates for Elko too.
Nextory
Originally made for Instagram, Nextory's campaign is simple and effective. Over 50 different titles are rapidly displayed in the ad and viewers are invited to press print screen to select their next title to read or listen to. This fun and interactive campaign was developed for Valentine's Day, and featured across its display and social channels. It was designed and built using Creative Studio.
Display advertising: final thoughts
So there you have it, some of the best banner ads around.
Whether it's innovative use of video, embracing HTML5, or using data feeds well, each banner shows the flexibility of display advertising.
See more banner examples and other ad formats here.
One last thing…
All of these banners and display campaigns were built using Bannerflow's latest ad creator, Creative Studio.
What's that you ask? It's a one-stop-shop for all your display advertising production needs. From display ad production to optimisation, to translating and dynamic creative optimisation (DCO).
Furthermore, it's just one product in the Bannerflow Platform for digital advertising, which when combined is a Creative Management Platform, or CMP. Get the complete package to transform your display advertising campaigns and become even more effective! Apply for a demo today!
Share this article