Brand Safety: The Ultimate Guide
Nobody wants their brand's image tainted or associated with the wrong sort of messaging. Avoid implementing brand safety measures, and you run the risk of threatening your business. In this guide, we clarify what brand safety is and what the best brand safety practices are.
So what will you learn?
What is brand safety and what it means for your brand.

The various threats to brand safety – including "malgorithms", fake news, extremism, and bot traffic

How this happens and how you can avoid it

Key best practices to follow for effective advertising: how to choose the right inventory, reputable publishers, and premium inventory, and how to use ad tech to tackle bad traffic and provide third-party verification.
Definition
According to the Internet Advertising Bureau (IAB), brand safety is defined as keeping a brand's reputation safe when they advertise online. In practice, this means avoiding placing ads next to inappropriate content. According to the IAB this also involves providing a safe environment for ad trading.
The result: a reduced risk of ad misplacement and a brand's reputation unharmed. Plus, the elimination of the funding of content and services which infringe copyright. But the reality, like most things in life, is a lot more complicated.
"Malgorithms" – when pages and ads misalign
Satirical news magazine, Private Eye, has a notorious "malgorithms" column. Malgorithms being examples of ads where the contextual meaning between a page and display ad is misaligned.
For example, take this malgorithm drawn from The Guardian website. The content on the page is a profile of the terrorist behind the 2016 attack on the British parliament; the ad placed next to it is for The Guardian's own dating website. The headline for the Guardian's story: "Khalid Masood a violent criminal who was regularly on the move". The accompanying ad's call-to-action: "Enjoy the journey…Take a right turn at Guardian Soulmates". This juxtaposition of ads next to content can be humorous, other times it can be in bad taste and leave a brand exposed.
No location is immune. And these unfortunate juxtapositions are not conducive to effective advertising.
Fake news!
Contextual understanding is huge when revenue and reputation rest upon the quality of ad placements. Take the issue of fake news. Unless you've been under a rock, you'll know it's been on the minds of marketers the world over. But why does it happen? And why should a marketer care?
For a start, your ad could be funding someone engaged in blatant fraud. Netting people via social media to click through to a site via a tantalising headline. If you pay no attention to where your ad is, your brand could be next to false articles and malicious allegations. The last place a pizza chain wants to find its ad is next to a fake news story like pizzagate which went viral in 2016.
It's an issue that has led to reddit pulling programmatic advertising from conspiracy theory threads. While Google has updated its AdSense policy. All moves stemming from brands not wanting to align with damaging "fake" content. AdSense now avoids websites that "misrepresent, misstate, or conceal information".
Extremist sites
Moving along from the issue of fake news, there's the spectre of ad on a site that hosts extremist views. A marketer's nightmare is to find their brand associated with a hateful viewpoint. Let alone know that they funded said viewpoint through an ad! Again, whether, far left, far right, racist, sexist, or fundamentalist, a brand does not want to be next to content that damages it.
In particular, Google has come under a great deal of scrutiny. In fact, it was revealed that brands in the UK had inadvertently contributed over £250,000 to extremist sites in the past year.

YouTube goes wrong
Satisfying brand safety is a pressing problem for streaming services, such as YouTube. In 2017, issues over brand advertising appearing next to inappropriate or extremist content surfaced. And it appears that these problems aren't going away either…
In the past year, publications worldwide have unearthed fresh examples of brand safety scandal – resulting in companies such as Under Armour to suspend advertising on the platform.
Bot Traffic
Fraudulent clicks represent a significant threat to brand safety. In fact, bad bots represented 21.8% of all traffic in 2017.
Bad bot traffic can mean numerous things for your brand. But most significantly, threaten your ROI and conversion metrics. The good news? Bot traffic has actually dropped since 2014 and with the rise in technologies to fight these fraudulent clicks, looks set to decline in the future too.
Why does it happen?
Publishers who offer a premium inventory are preferential. These tend to be safer locations for ad placement, but more expensive. The general gist is the lower you bid, the less premium (or more risky) the location your ad could find itself.
Programmatic advertising gets a bad rep as it is sometimes viewed as a way to offload low-value, remnant inventory. This type of trading happens in the open marketplace, where there's a perceived lack of transparency.
Both brands and publishers are now moving toward more controlled environments. These include programmatic marketing platforms (PMPs), and programmatic direct deals. The truth is, that by focusing on quality rather than quantity, marketers can better reach their target audience.
How to protect my brand: best practice and rules
As a marketer, it is important that you take measures to keep your brand safe. By adding a brand safety check to your campaign process this will help ensure you protect your brand online. Here are some things that you can start doing today to ensure your brand remains safe.
Define what brand safety means for you
The IAB and other organisations have outlined the industry standard definition. But it is imperative you establish your own definition. This is important because brand safety, unlike other measurements, is subjective.
Take the list of toxic content mentioned earlier; what could be taboo for your brand may be fine for another. A gaming company may have very different contextual tolerances compared to a kid's app producer.
Prioritise transparency
According to Bannerflow Product Owner, Björn Karlström, "you need to know where your banners are served. And you need to know where your money is spent in the ad tech chain". Without this data, your media budget is out of control, you cannot make well-founded decisions, and you are susceptible to fraud.
One way in which brands can take ownership over their media buying strategy, is through in-house initiatives. Indeed, in the Bannerflow/Digiday State of In-housing report, increased transparency was ranked as the third biggest reason for decision-makers to move their marketing in-house.
Choose a reputable programmatic provider or agency
Make sure you choose an agency or programmatic platform that you trust. It is one of the most important steps you can take to be certain of brand safety. Thus choosing a programmatic platform is critical. Brad Bender, VP Product Management at Google suggests four questions when selecting:
How many inventory providers do you plan on using?

Where do you want your ads to show?

How serious are you about audience targeting?

What tools do you need to hit your goals
Opt for premium inventory
If brand safety is a priority for your brand, you should consider choosing premium inventory only. This option is more expensive than blind bidding, for example. But you will be making sure that your ads do not end up on unsafe domains or web pages.
Avoid blacklisted publishers
This might seem like an obvious one, but blacklisted published sometimes seem attractive. Particularly with their low prices and aggressive marketing. But by choosing a blacklisted publisher you are putting your brand safety in danger. Avoid.
Use insights to monitor campaigns in real-time
To increase the impact of your efforts, use real-time data to track where your ads are showing. If you find your brand compromised then take action in real-time. By using insights you can to change any settings or targeting associated with your campaign.
With heatmaps it is also possible to monitor potential bot traffic on your ads. In fact, many bot clicks can be observed in the same spot every time. Recognising these patterns, and taking action alongside an ad fraud detection partner can make a huge difference to the performance of your campaigns. You can read more on the Bannerflow heatmap function, here.
Utilise a campaign's "negative target" or exclusions
Most programmatic publishers will allow you to exclude negative targets when you are setting up your campaign. For example, Facebook allows you to exclude pretty much anything and everything you want to avoid.
When setting up your campaigns, take your brand's definition and start excluding harmful inventory. This is by no means a 100% fool-proof way to keep your brand safe. But it is the one of the most proactive things that you can do to make sure your ads display only where you want them to.
Look at third party data
If brand safety is of particular importance, then look at companies that offer third party verification. These companies offer to check sites and pages before publishing. Ensuring your ads aren't showing up on sites, pages, or before content that is unsafe.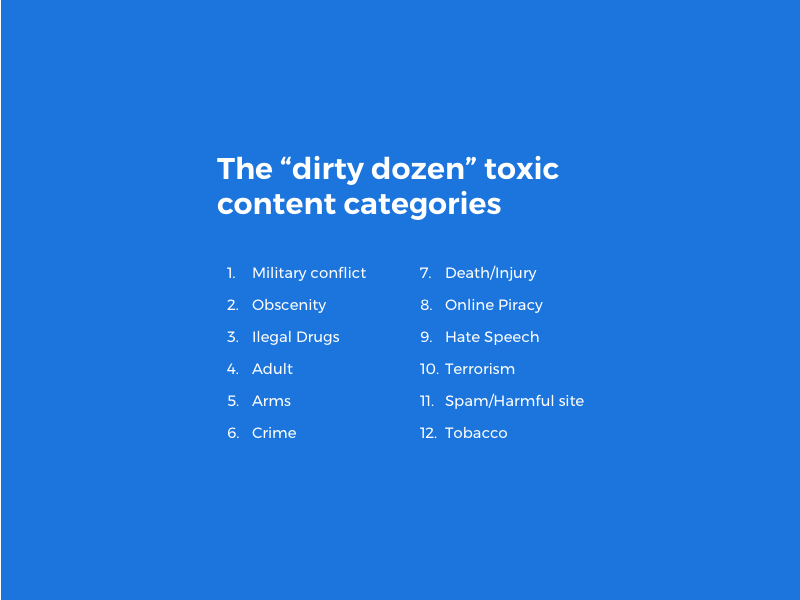 Conclusion
Building brand safety into your processes as a marketing team is now a must when advertising online. The risks are numerous, but apply best practice in your programmatic campaigns and rewards are still there for the taking.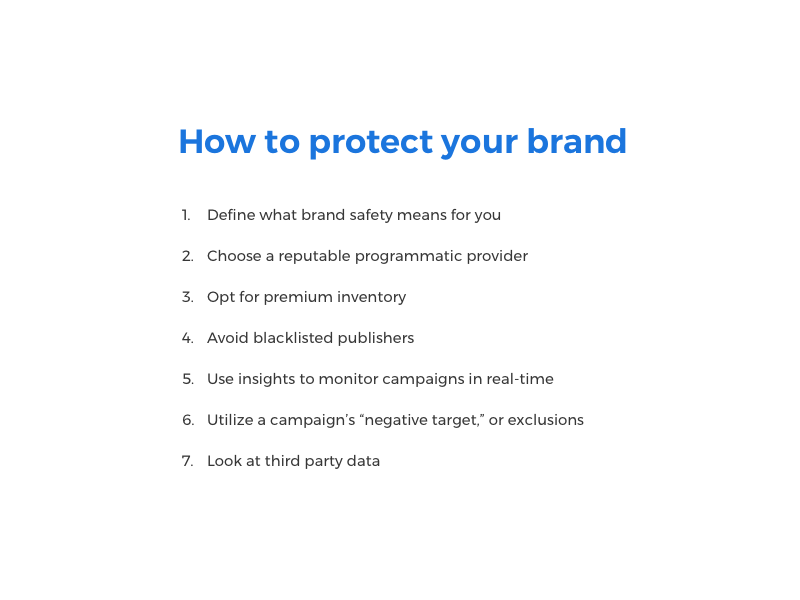 Here at Bannerflow, we're committed to transparency in digital marketing. To learn more about how our platform can help in your online advertising discover our features.
Share this article