6 Types of Tools Ad Agencies Need
Tools, apps and SaaS for advertising agencies. It feels like every other article you read is telling you about what new tools you need in order to run your advertising agency. But when there are literally thousands of different tools on the market (
there's estimated to be around 2000 different ones for marketing alone!
), how do you know which ones you need to implement without your team feeling overloaded?
We've outlined 6 different categories of tools that advertising agencies can use to help create and manage projects and help with the sales and marketing side of the advertising agency.
1. Design Tools
For advertising agencies this is a an obvious one, but it would be odd not to mention it. Depending on what types of advertising you are doing you'll require different types of tool. There are plenty of tools for graphic design, video advertising, HTML5 banner design – the list goes on.
2. Resource Management
With dozens of different projects going on at once, sometimes you need to set back and get an overview of what is going on in your advertising agency. Resource management tools that have been tailor-made for advertising agencies can help managers see what is going on and manage where they can best use their resources.
10,000 Feet
lets you take that step back and look at what is going on within your agency. This tool allows you to take strategic decisions based on complex data and the scheduling tool can give you accurate estimations on how long projects are going to take in terms of hours. Perfect for those who love data and want to know exactly what's happening when.
Float
is a simple resource management tool which has been build with creative and advertising agencies in mind. Float allows managers to have an overview on your teams projects and work schedules. You can even send them weekly updated schedules via email. In float it is also possible to build reports to see how teams, team members are departments are working.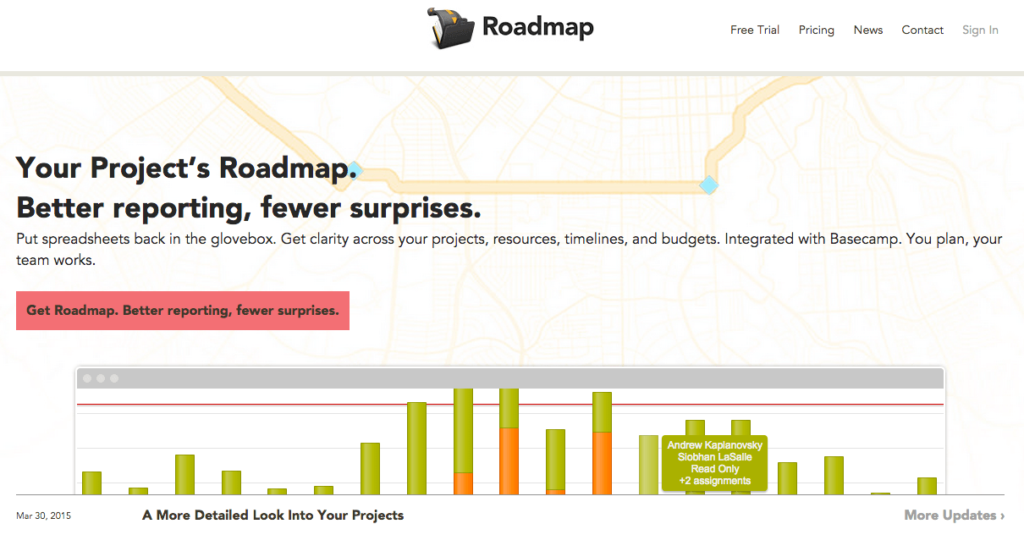 Roadmap, as the name suggests, lets you forecast your projects and resources. This tool is easy to use and feels familiar as you can view all portfolios in a simple calendar view.
3. Project Management & Collaboration Tools
Agency tools for collaboration and project management are vital for all parts of your team. We all know that if you aren't nailing project management you could lose that lucrative contract.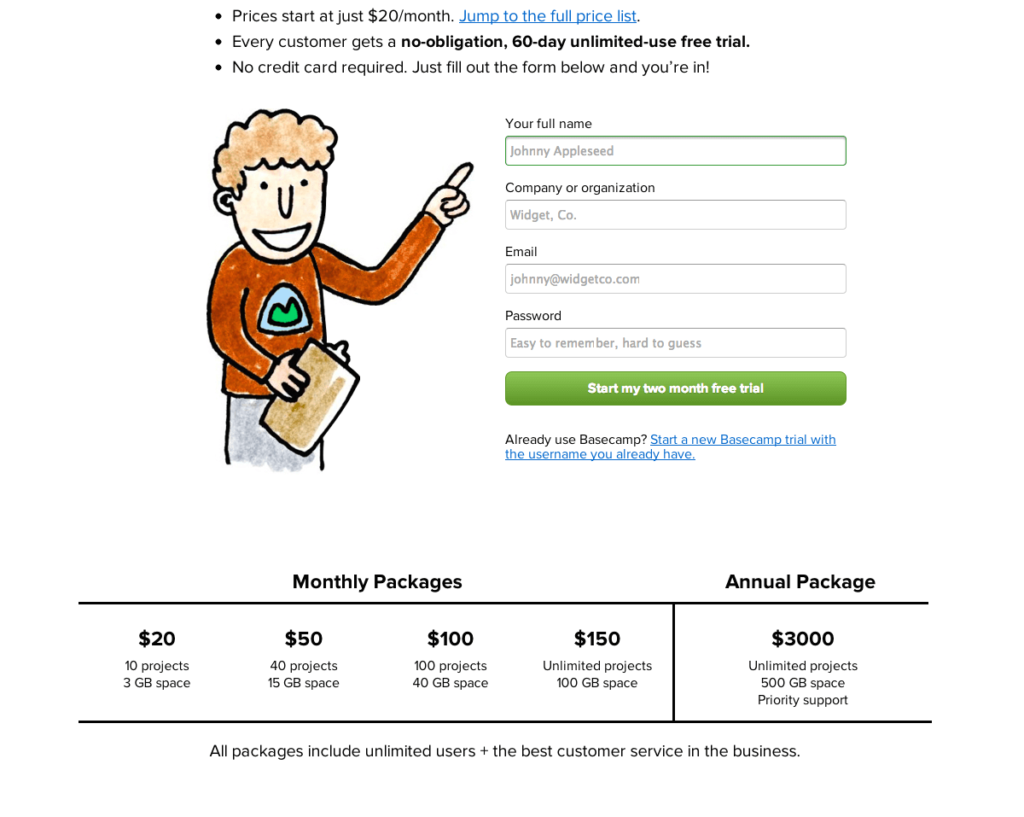 Basecamp is an incredibly popular project management tool which is versatile and make collaborative work within teams manageable.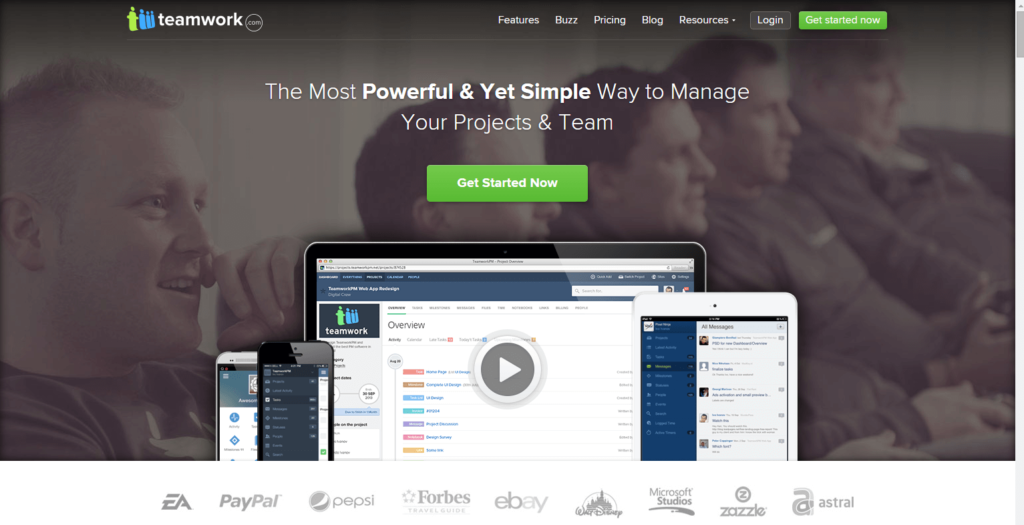 Teamwork is an alternative to Basecamp allowing advertising agencies to manage projects and work collaboratively.
Another project management tool you could consider is Basecamp. This platform allows teams to become more transparent to clients with the unique feature: The Risk Register where you can post "risks" and assign it a priority.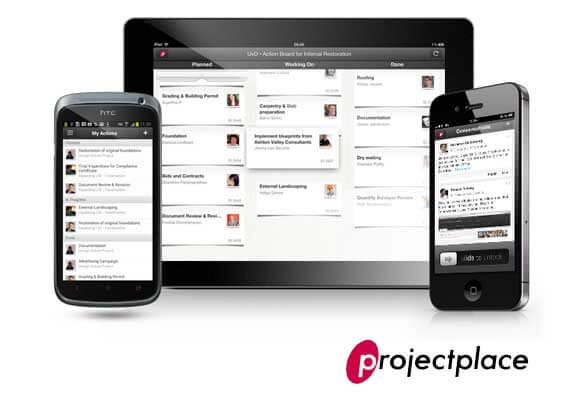 Projectplace
is a project management tool which includes a lot of features that not seen in other project management tools including issue management, project templates, online meetings, and resource management, as well as reports and analytics. One great feature in particular is that Projectplace lets you detect when resources have been overbooked and you may experience stoppage in your creative team's workflow.
4. Social Media
Whether you're a full-time social media manager, or you team takes turn managing your agency's social media account there are a whole host of tool that can help you out.
Buffer is perfect for those who simply don't have the time to Tweet in real-time and want to schedule content. By keeping your scheduled tweets topped up, you'll never need to worry about going silent on Twitter. There is also helpful suggested content (although I would always recommend reading it first, and of course use your own content too) that you can share, and in-depth analytics in the paid version. Anyone who is social media savvy is using this tool already, but if you're just going to have one social media tool for Twitter, then Buffer is the one.
There are probably 100s or even thousands of different places where you want to share the latest content from your agency blog or to connect with the ad agency community. Effective distribution of content is needlessly time consuming, so it's about time to make the internet work for you. IFTT – "if this then that" does this. It allows you to set up recipes to do almost anything online. For social media and sharing content you can easily connect your RSS feed to your various social media accounts to share new content, you can also schedule messages to be sent at certain times –
in fact the possibilities are endless
. Whilst you must invest some time to set up all the rules that you want, once it's done you'll be saving hours of time.
If you're looking to seriously get your social media growing then Social Sprout might be for you. Social Sprout lets you measure and manage anything and everything on social media. It's a particularly great tool for those who are managing teams of social media accounts in your agency and want to set tasks.
5. Marketing Automation
Marketing automation has gathered an almost cult-like following during the past couple of years, and understandably so. Huge powerful software tools allow you make marketing more effective through personalisation. Marketing automation tools are heavy duty and are a whole job within itself, but it allows you to do more in less time with better results. You can do everything from creating workflows, sending out emails with dynamic content and tracking prospects as they visit your site. Agencies can use this software to market better to potential clients and close deals faster.
There are quite a few marketing automation players on the market including Pardot, Hubspot, Marketo etc. Marketing automation is effective but not for the faint-hearted.
Additionally, consider MobileMonkey, which as well as being a respected chatbot platform is also a great for a range of tasks, such as social media and sms messaging. Today combining tasks through automation is a ket driver of improving productivity.
6. CRM
You probably know that you need a CRM tool, but choosing one that will actually work for advertising agency will be the bigger challenge. Whilst Salesforce is the industry leader, there are plenty of other options on the market, and everyone has their own opinion.
Final Thoughts
When looking to implement new tools into advertising agency there are a lot of things to balance such as cost, usability, scalability and need. Whilst many tools will really transform the way your advertising agency works for the better, an overload or use of similar or duplicate tools might not make you life any easier. Remember that upon deciding to start using a tool it should be implemented into your team's workflow and that some company standards and best practises should be set up to make sure that everyone is on the same page.
Share this article