Top 10 Bannerflow hacks for ad creation
In this blog we list what we believe are the top 10 Bannerflow hacks for ad creation.
The Bannerflow team are always looking for new ways we help our customers and improve our creative management platform (CMP). Our mission is all about producing awesome digital advertising and one way of doing that is by simplifying complexity.
Here's our top 10 favourite Bannerflow hacks connected to building your banners:
1. Hover effects
Firstly, did you know that you can add hover effects in the banner builder? Well, you can and it's simple.
Add hover effects to any design elements in your display ad from the style panel. Select if you want the hover effect to be applied when hovering over all of the banner, or above a specific element.
Good for:
Adding attractive effects to a banner and encouraging the viewer to interact with it.
2. Custom settings
Next, just like your office workspace, Bannerflow lets you optimise your virtual studio. The banner builder allows you to customise settings to suit your company's needs.
Grids, rulers, snapping, canvas, default animations, banner loops, and timeline behaviour: all are adjustable. Making sure you have the perfect set-up is easy.
Good for: Helping to optimise your workspace when designing a master creative.
3. Naming layers on the timeline
This new feature is a life saver. Especially, if you're a designer who regularly creates advanced banners that contain many animations and layers.
Within the banner builder, you can now name layers in the timeline. What does this mean? Well, it allows you to organise and keep better track of different layers, and what each one does.
Good for:
Helping produce a banner set; especially when scaling a banner with many different animated layers.
4. Lock layers
This next hack is really helpful during the design process. It's the ability to lock the layers you are done with, or not currently working on.
Why is this useful? Well, the result is that you don't change them by accident, or when working on other parts of the banner.
Good for:
Making it simpler to create a banner – when you lock layers, you can't accidentally move, or change, a layer while working on another layer.
5. Copy and paste special
For users of Bannerflow who don't use this already – listen up! This is a hidden gem located in the right click menu; internally we think it's awesome. But what is it?
If you have styled an object (maybe a text) and want to apply the same style to another object, click copy and then paste special –> style.
What's more, if you have created any kind of animation for an object and want to apply that same animation to another object, click paste special –> animation. Lastly, even position and size can be copy and pasted between objects using this feature!
Good for:
Saving time! Instead of redoing styling, position, size, and animations, you just copy it from one object and paste it into another.
6. Device visibility
When using the device visibility feature you can customise a banner to show different content, or different messages, depending on the device. For example, viewers have different experiences of the same banner when viewed on mobile and desktop.
This particular feature can be applied to any object in your banner and is located in the style panel.
Good for:
Allowing you to target mobile viewers with one message, and desktop users with another.
7. Timeline multi-select and move
A new feature recently added to the banner builder. Did you know it is now possible to move elements on the timeline as a group after multi-select?
Well, you can now and it's something the Bannerflow think you will enjoy.
Good for:
Speeding up the banner design process.
8. Product feed navigation
We talk to users about our HTML5 widgets a lot. They're one of the ways in which Bannerflow has helped to make the design process stress-free. They are – and probably always will be – one of the ultimate Bannerflow's hacks.
Using the widget catchily titled, "Product feed navigation", Bannerflow makes it simple to add a data feed. Thus users can display products, odds, indeed anything in their dynamic banners!
The product feed navigation widget allows viewers to navigate your feed directly from the banner. For the right audience, the arrow invites the user to engage with the ad too. Enjoy!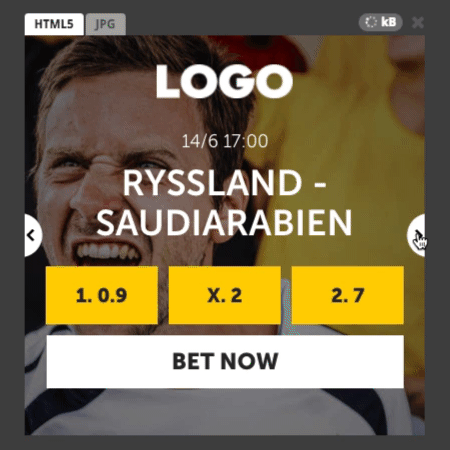 Good for:
Displaying products, and sports odds, etc – allowing the viewer to browse in banner.
9. Widgets and data feeds
But why stop there with widgets? Bannerflow has developed more widgets that are designed to enhance banners with feeded content.
For example, you could try out the jackpot number ticket widget – p.s. this doesn't have to be a jackpot, any number works! This can then be connected to a countdown timer, ticking down to a selected date.
Good for:
Staying relevant and driving viewer interest. Widget effects like the countdown timer, or jackpot number ticket, make sure the data displayed is up-to-date.
10. Effects
The last of our Bannerflow hack's is a beauty. Did you know the banner builder offers many varying and editable effects that can be added to your banner design?
For example, you could add seasonal effects like snow and rain. Or why not use the confetti feature to really show you're celebrating something?
Moreover, the widget titled "classic confetti" is very flexible. Users can customise the colours, the shape, plus you can even upload your own image and use that as the confetti.
Good for:
Making eye-catching banner designs – without much effort from the designer.
Now try our Bannerflow hacks for yourself!
If you would like to find out more about the features of the Bannerflow creative management platform read here. Or, if you're not currently a Bannerflow user, and feel inspired, then find out how to experience the platform for yourself.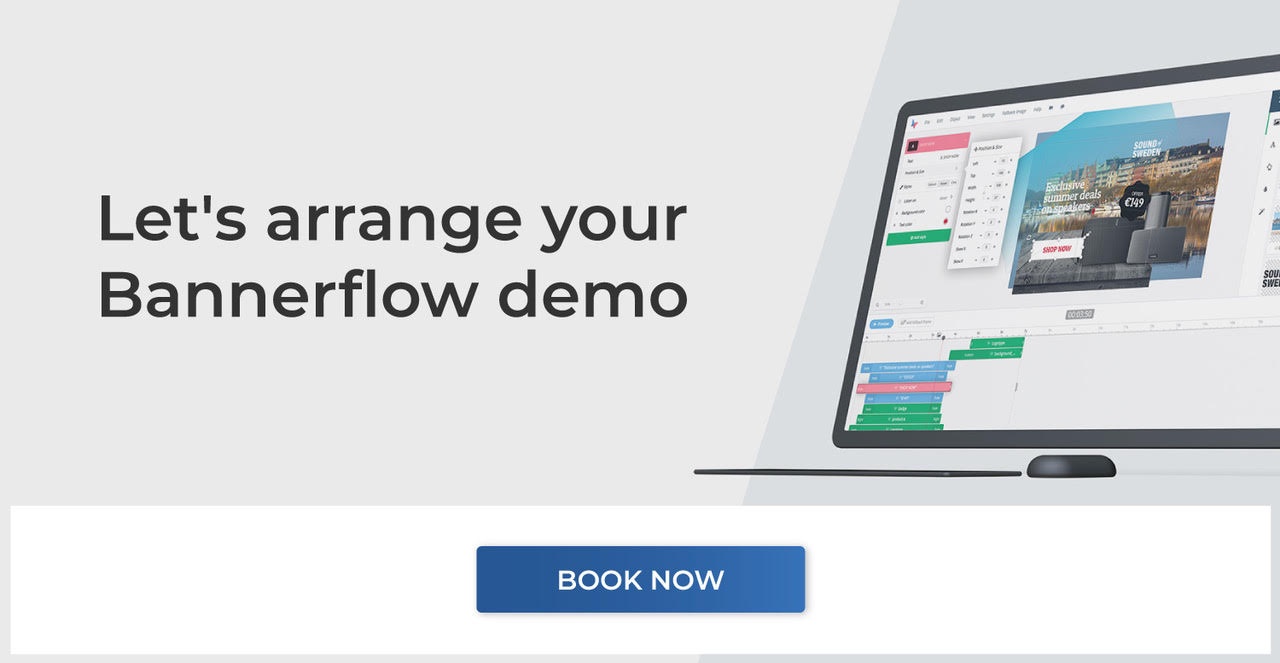 Share this article