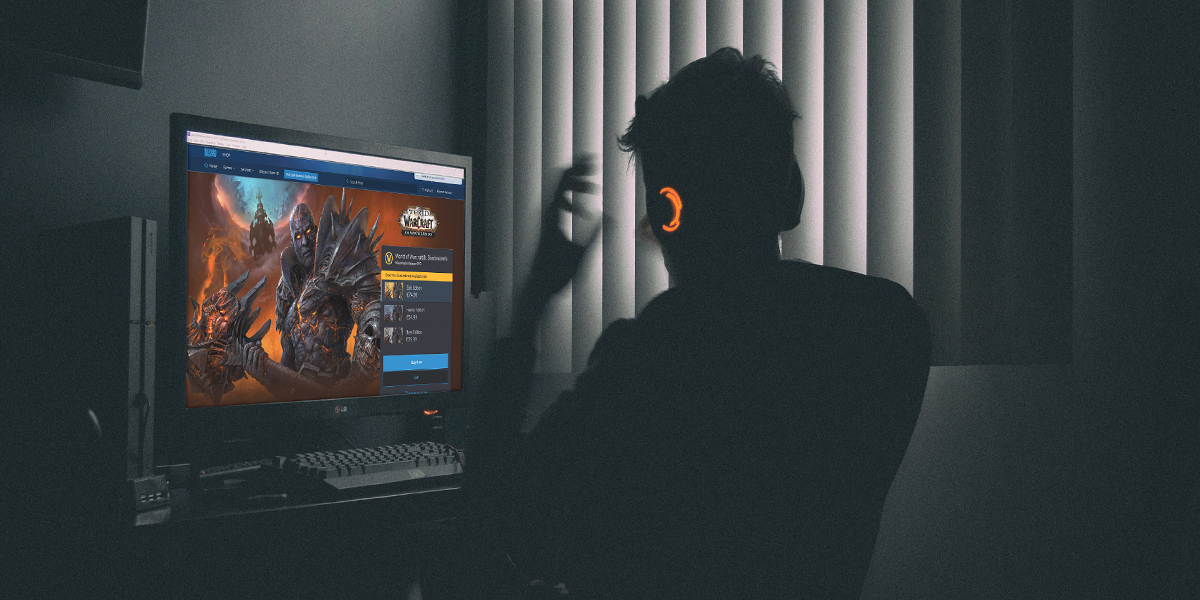 The Essential Marketer's Guide to Advertising in Gaming
As a digital marketer, you are constantly trying new things. If you are not staying up to date on the latest trends, you are missing out on potentially great opportunities.
You already know this.
Gaming is the world's largest entertainment industry. While, esport is well on its way to become one of the largest sports in the world. Yet – a lot of marketers have still not tried gaming advertising. Are you one of them? In that case, let's change it!
This article will go through what advertising in gaming is, why you should try it, and how to get started in this new and exciting channel. Read it all or dive right into a topic that interests you:
The essential facts on gaming and esports
What is advertising in gaming?
What is advertising in esports?
Why advertise in gaming and esport?
What do you need to do to run a successful gaming campaign?
How do you reach the right audience?
How do you get started with gaming advertising?
Gaming display advertising – what you need to know
How is a Creative Management Platform essential for gaming advertising?
1. The essential facts on gaming and esports
There are 2,5 billion gamers in the world. On average, they spend 3 billion hours per week on gaming. During 2020, $165 billion was spent on games, which is an increase of almost 10 % compared to 2019.
At the same time, esport is growing faster than ever. During 2020, the total amount of hours spent watching live streamed video was a total of 27.9 billion hours, compared to 15.7 billion hours watched in 2019. At 77.8%, this year over year increase is even more impressive.
Gaming and esports is huge!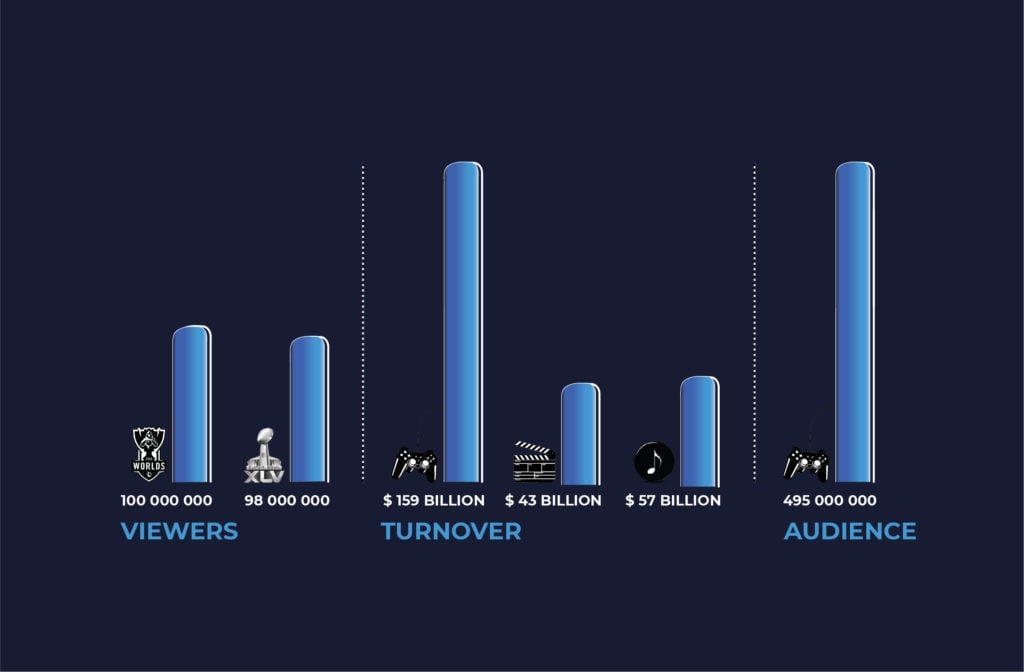 Worlds 2018 (World cup for League of legends) had 100 million viewers – the Super Bowl had 98 million viewers that same year.
Gaming has a turnover of $159 billion. The film industry had a turnover of $43 billion, and the music industry $57 billion.
In 2020 esport had a global audience of 495 million – that's an audience increase of 76 % since 2016!
These numbers speak for themselves – as digital marketers, gaming and esport need our full attention. As Jared Lekkas, Head of Product at Bannerflow puts it:
"Gaming has become such a successful part of the entertainment industry due to its high levels of interactivity and ability to drive emotion. These are the same key success factors as advertising. With a reach of over 2,5 billion people worldwide either watching or playing games, and relatively low competition amongst advertisers, this really is one of the best kept secrets in today's advertising landscape."
Let's have a closer look at digital gaming advertising.
2. What is advertising in gaming?
Different types of games have different advertising opportunities. We have separated games into two categories – free to play and premium.
Free to play games
Usually mobile games.
Very available to advertisers since the games are built to be financed by advertisers.
Can often be bought via programmatic platforms, which means more specific target groups.
Advertising opportunities:
Around game
Ads such as banners, videos, or pop-ups that are independent of the content, meaning they are not included in the game experience. Think of them as TV commercials. Display advertising, like banners or digital videos, are great examples.
In-game advertising
Often referred to as IGA, in-game advertising is dependent on the content and a part of the game experience. They can be static or dynamic elements; such as display banners or downloadable items within the game.
Advergaming
These are games specifically designed around the product or service being advertised. In this case, interactive elements are the way to go.
Premium games
Usually console and PC games.
More limited advertising opportunities, as direct collaboration with gaming companies or developers is needed.
Advertising focuses on brand experiences, which requires more time, effort, and resources.
Advertising opportunities:
Rights
Advertisers can invest in the opportunity to use the name of the game or imagery from the game in their advertising.
Product placement
Placing your product or brand in the game.
Branded elements
This could be anything in the game that an advertiser could own, such as outfits or weapons for the characters.
Branded games
When a company creates their own premium game.
3. What is advertising in esports?
In many ways, advertising and activation within esport and traditional sports are the same. Here are the advertising opportunities esports offer:
Sponsorship
When a brand sponsors a player, team, or tournament.
Varies from international professional tournaments, to regional amateur cups.
Ranges from having a team feature your brand logo on their clothing, to more complex activities.
Display advertising
All established esport sites offer programmatic display advertising.
Most players, teams, and tournaments offer display advertising as a part of their sponsorships.
Online video
Can be used for reach or as a more niche opportunity.
Audio and video are essential for esports campaigns and are distributed through streaming platforms, social media, as well as sponsors.
Native advertising
Editorial content and native advertising are an important part of sponsorships and partnerships.
Just as in any channel, native advertising within esports is all about finding the right context and story to create engagement.
Broadcast overlay
Think of this as display advertising within the game, where walls or other surfaces within the game broadcasts display advertising during esports games.
Events
Great opportunity to offer the audience an experience and associate it with your brand.
Could be anything from LAN parties to events in sports arenas, shopping malls, or gaming fairs, at small scale or global level.
Influencer marketing
Influencers, mostly streamers, that have a big following, often within a niche segment.
Influencers can be contacted directly, or via influencer agencies.
Streamers usually work with other channels as well, such as social media or blogs.
Since their audience usually is a big younger and very active on social media, engagement rates tend to be around 10% which is high compared to other influencer segments.
4. Why advertise in gaming and esport?
It is safe to say gaming and esport are here to stay. Understanding the market quite early on, provides a unique opportunity to become a key brand within the industry. As if that is not a reason enough, here are six more reasons to advertise in gaming and esport:
1. Emotional and engaging
Games are designed to create engagement and emotions, according to Tynan Sylvester, author of "Designing Games: A Guide to Engineering Experiences". This provides a great opportunity as brand knowledge and emotions are the most important factors when driving sales.
2. Global reach
Both gaming and esport are available and used across the world, which makes them great channels when you want to scale your advertising internationally.
3. Direct links to products
Gaming ads such as display banners provide the opportunity to link directly to your products.
4. Digital-first
As esports is born in the digital space, it has a unique position compared to other entertainment sources. In other words, implementing a digital strategy seems very natural!
5. Sponsors matter
According to Nielsen Fan DNA, esports fans are 3 times as likely to buy sponsors' products, compared to traditional sports fans.
6. Reach a unique target audience
Really engaged gamers can be difficult to reach outside of their gaming universe, at least when looking into Swedish gamers. They do not watch TV, read print media, and use ad blockers to a higher extent than the average web user.
5. What do you need to do to run a successful gaming campaign?
Just as with any campaign, having a clear strategy, goal, and evaluation plan is crucial before you getting going. Except from having that in place, these are our top tips when launching your first gaming or esport campaign:
Get to know the industry
Make sure you understand what games are out there, and what audience they attract.
Create global gaming campaigns
Esport as well as gaming are both a global phenomenon. Use this to your advantage and scale your advertising internationally.
Learn the lingo
Engaged gamers have their own communities and expressions. To really get your message through, advice gaming experts on what will sit well with your audience.
Be creative!
Since your campaigns will run in a creative environment – make sure to have fun with your ads! That will resonate with gamers.
Optimise, optimise, optimise!
Whenever you are running a campaign, make sure to A/B test it and update it based on performance. You already know this, and this industry is no different than others.
6. How do you reach the right audience?
Since there is a huge variety of games and gamers, knowing who you want to reach and where to find them is key. We have divided gamers into four categories:
Mobile gamers
Plays mobile games at least once every week.
Use games as a way to distract and/or entertain themselves for shorter periods of time often less than 10 minutes-, such as while commuting or during a coffee break.
Engaged players
Have a console at home that works as a replacement for watching TV.
Play during evenings and weekends for 30 minutes to 2 hours at a time.
Streaming enthusiasts
Stream and/or watch other gamers stream via platforms such as Twitch.
Stream or watch others stream during evenings and weekends for 30 minutes to 2 hours at a time.
Esport enthusiasts
Professional esporters or aspiring esporters.
Spend all their free time playing esport.
When reaching more engaged players or streamers, age is key. A younger audience can be found on social media, Twitch, and similar platforms, where they follow gaming influencers. An older audience is generally on communities or websites related to gaming, technology, and esport.
7. How do you get started with gaming advertising?
Gaming and esports open up a wide variety of advertising opportunities that are more or less available to anyone. Creating your own game or sponsoring an esports tournament definitely requires a lot of thought, effort, and resources. It can feel overwhelming. These are some of the reasons as to why display advertising is such a great place to start when entering gaming and esports advertising.
Gaming display advertising is available to anyone through programmatic platforms, and can be created on smaller or larger scales. In that way, gaming display advertising will not differ too much from other display advertising you have probably already tried. And if you haven't – it's easy to get going!
For more inspiration on how you create impactful gaming advertising, we have gathered the 7 best gaming advertising campaigns of all time.
8. Gaming display advertising – what you need to know
To get started with gaming display advertising, choosing platforms will be one of the first steps. For video game live streaming, Twitch, YouTube Gaming and Facebook Gaming are the major platforms. For gaming in general, there are lots of options. After determining where you want to run your campaigns, determining the message will be key.
We spoke with Josh Heaton, Head of Gamer Creative, on the biggest industry pain points, among other things. He mentioned: "The biggest difficulty we face is that the gaming industry is a huge space, with a lot of competition, so trying to cut through the noise from other companies is difficult." This means utilising the creativity that display advertising offers with interactive banners and HTML5 is of highest importance to succeed.
What's more the option to inject creativity into campaigns is essential. Bad advertising does not work with gamers – the number of users with ad blockers is all you need to know. Therefore, creating campaigns with impact and spark interest are essential. Boring copy, flat images and inferior design is not going to cut it.
Personalisation can make all the difference too. Indeed, it may be possible to employ different targeting technology depending on what options are available to you. For example, device targeting could help to show iPhone users specific offers, or contextual targeting employed to match content with a specific ad creative and message.
How is a Creative Management Platform (CMP) essential for gaming advertising?
As mentioned, to produce efficient and cost-effective gaming advertising, running large, global campaigns is the way to go. That creates endless opportunities, but also what might feel like endless ads! Especially since you will constantly want to optimise them, making sure they show your latest offers and most importantly, are relevant. Additionally, when you add personalisation and creativity into the mixture, it seems like a lot to manage.
However, when using a Creative Management Platform (CMP), succeeding with gaming display advertising is much easier.
A Creative Management Platform enables you to handle all of your digital advertising in one place. Streamlining your entire production workflow – creation, personalisation, distribution, and optimisation – into a single platform.
What's more, it offers the possibility to scale ads across all formats in minutes, and features such as real-time updates of live ads, A/B testing, and in-platform collaboration. In fact, with a CMP as part of your martech stack, conquering gaming advertising will be no challenge!
At Bannerflow, we work with a wide variety of brands across several sectors. If you want to know how Bannerflow has helped the leading global publisher of video games, Paradox, to reach their goals, find the interview here.
Conclusions on gaming as a channel
Esport and gaming are both continuing to grow. Although they provide different advertising opportunities, both of these industries do offer a lot of options.
If you are interested in gaming advertising, display advertising is a a great option for your campaigns. And at Bannerflow, we are happy to assist you on your gaming advertising journey.
Share this article