Display advertising insights: FIFA World Cup 2018
Display advertising insights for the 2018 FIFA World Cup have the potential to prove fascinating. Here at Bannerflow, we will be reviewing the impact of the World Cup on display advertising using our unrivalled banner data. Over the next month we intend to explain just what we discover and what it means for the industry.
Already trends such as the growth of mobile display look set to prosper. While, being able to put the right message, at the right time, in front of the right viewer, will be more important than ever.
The sheer number of impressions could be astronomical too! What's more, some brands now have technology, such as creative management platforms, to make the huge quantities of messages required for this extraordinary opportunity. (While others will not…)
Why is the World Cup so important for display advertising?
June 14th marks the start of a month-long sports bonanza where the winners achieve both brand recognition and numerous conversion opportunities. It's going to be fiercely competitive with advertisers, across all industries fighting for viewers.
The World Cup is huge for brands, both local and worldwide. Global advertising spend is set to grow by 5.2% to $535bn in 2018 thanks – in part – to the football World Cup. Having the best creative, and most effective campaign strategy is going to be crucial.
Plus, unlike the Winter Olympics of 2018, the World Cup is a truly global event and captures the imagination of the entire world. It's unlike any other one sport tournament, and only comparable to the multi event Summer Olympics.
It's a time for battles and bold experiments
There are perennial battles to be fought. With super brands, like Adidas and Nike launching full-scale, cross-channel assaults on viewers for supremacy. The victor claiming potentially the most valuable branding prize in sports marketing (and bruising the other's ego in the process!) Read more on that fight here.
It's also a time when advertisers become inventive. For example, display advertising this summer has the potential to see data feeds and dynamic banners used in numbers never before realised. Plus, staying relevant with of the moment messaging is going to be more important than ever. While, for others, simply producing the most ads, across devices, and across channels will be key.
Display advertising insights and theories for the World Cup
With the World Cup only hours away, we sat down with Bannerflow's two resident data crunchers, Product Owner Björn Karlström, and Developer Victor Blomqvist, to find out how they think display advertising will perform during the World Cup. Plus, a few predictions as to why!
How do you think the World Cup might affect mobile display advertising?
Victor Blomqvist: I expect much more mobile traffic than normal.
Björn Karlström: Definitely an increase in mobile traffic. But probably an increase in display inventory as a whole, since the World Cup news and games will be consumed across all platforms.
What are your reasons for this prediction?
VB: People are outside, at friends or in a bar – away from a screen but they have their phones. Also, its common to sit with a phone or tablet while watching TV, to get commentary, browse news, and so on. On top of this a mobile is available while working in the office 🙂 .
BK: What he said!
Which banner sizes do you think will be the most popular?
VB: Mobile and square formats, like: 320×320, or 300×250.
BK: It's likely we'll see the biggest changes in terms of percentage for the pure mobile formats like 320×50, 320×480, and 320×320. But in terms of increase in impressions I think the desktop giant 300×250 will prevail. Even though the classic formats will increase most in number of impressions, this is a good opportunity to go for less popular formats. The competition will be lower and might help lower your average CPM too.
How might impressions change during the World Cup?
VB: An increase in impressions for iGaming and entertainment. Especially iGaming.
BK: I think there will be a more general increase in impressions at the beginning of the tournament since there are several games each day. However, further into the tournament I think it's likely we will see bigger spikes in impressions since more countries are focusing on fewer and bigger games.
Any interesting display advertising theories or thoughts?
BK: Ha! A not-too-bold guess is that games including Brazil, Spain, France, England, and Germany might have more "non-native" fans which could result in impression spikes. Yet these still might still be drained in the general world cup fever!
It'll also be interesting to see how countries with less mobile internet user penetration like Russia and Brazil will be affected. Especially when compared with counties that have higher penetration like England or Spain.
Plus, it'll be fascinating to see how display will be affected in big countries that didn't qualify. Countries like Italy and the USA (which is the second largest country in terms of ticket purchases).
How do you think the World Cup will affect display advertising overall?
VB: In general, I think there will more quality banners tailored to World Cup, and more "special" solutions. Such as a full screen intro banner when entering a page (an interstitial format). Betsson runs one on Aftonbladet at the moment.
BK: I agree with Victor; most advertisers will focus on the World Cup, so it will be harder to stand out. You not only risk being confused with competitors in your own industry, but everyone will be fighting for the same attention. Advertisers will need to go the extra mile to grab viewer attention.
So what happened?
Firstly, congratulations France and commiserations Croatia!
The 2018 FIFA World Cup was one for the ages, with big names crashing out and moments of skillful brilliance. But aside from the action on the pitch, how did display advertising fair during the tournament?
Pretty well to be honest. Not only were Björn and Victor's predictions spot on, but our findings offers actionable insights for future events.
Unfortunately, neither Björn or Victor were so lucky with the company sweepstake – Argentina's implosion being felt thousands of miles away in Stockholm.
But without further ado here's what we learned…
Mobile grows but shows some intriguing trends
As Björn predicted, mobile display advertising grew over the duration of the tournament. Much like the Winter Olympics earlier in the year. However, that's where the similarity stops.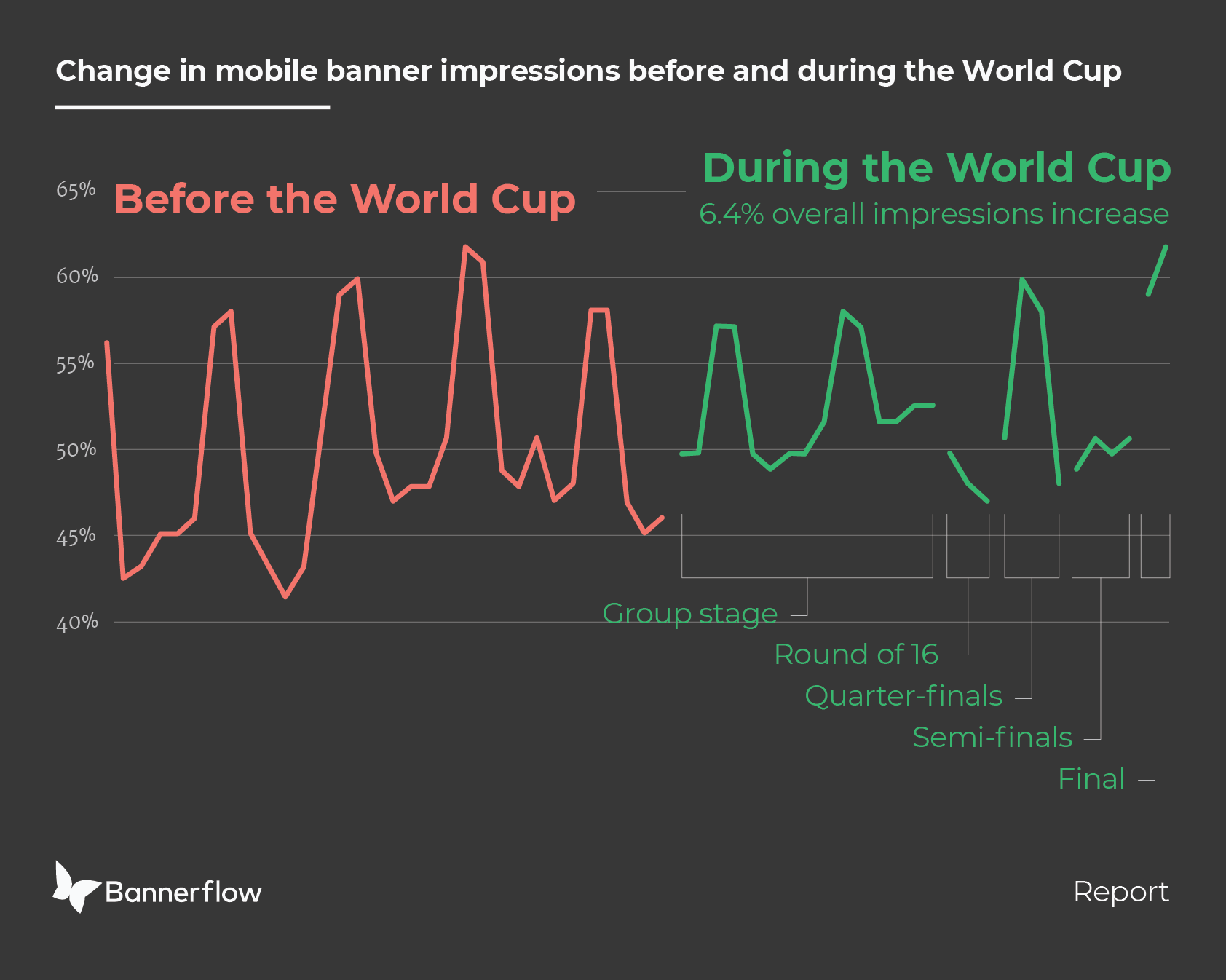 As you can see from the graph the spikes in mobile activity were far less pronounced during the World Cup but there was a gentle increase as the tournament progressed. There was indeed an overall lift of over 6.4% but the lift occurred primarily during week days, with mobile usage seeing an average increase of 8.4% during the week than compared to the weeks before the World Cup.

For our Head of Insight Antonia Lindmark, this suggests a subtle shift in how viewers watched the games and interacted. "Due to kick-off times people were still at work but still viewed the matches and browsed on via their phones. While during the weekends people watched in group settings, prefering to see the match on the big screen –but still relying on their mobiles". Interestingly, mobile usage saw only an average of 0.34% growth at the weekends for the World Cup.
Conclusively, it shows that being mobile-first and producing huge numbers of mobile messages was a good strategy for the World Cup.
Impressions increase
Impressions rose across most of the top performing banner sizes during the World Cup. In particular, sizes geared towards mobile saw the largest percentage increases, with 320×50, 320×250 and 320×160 among the biggest rises.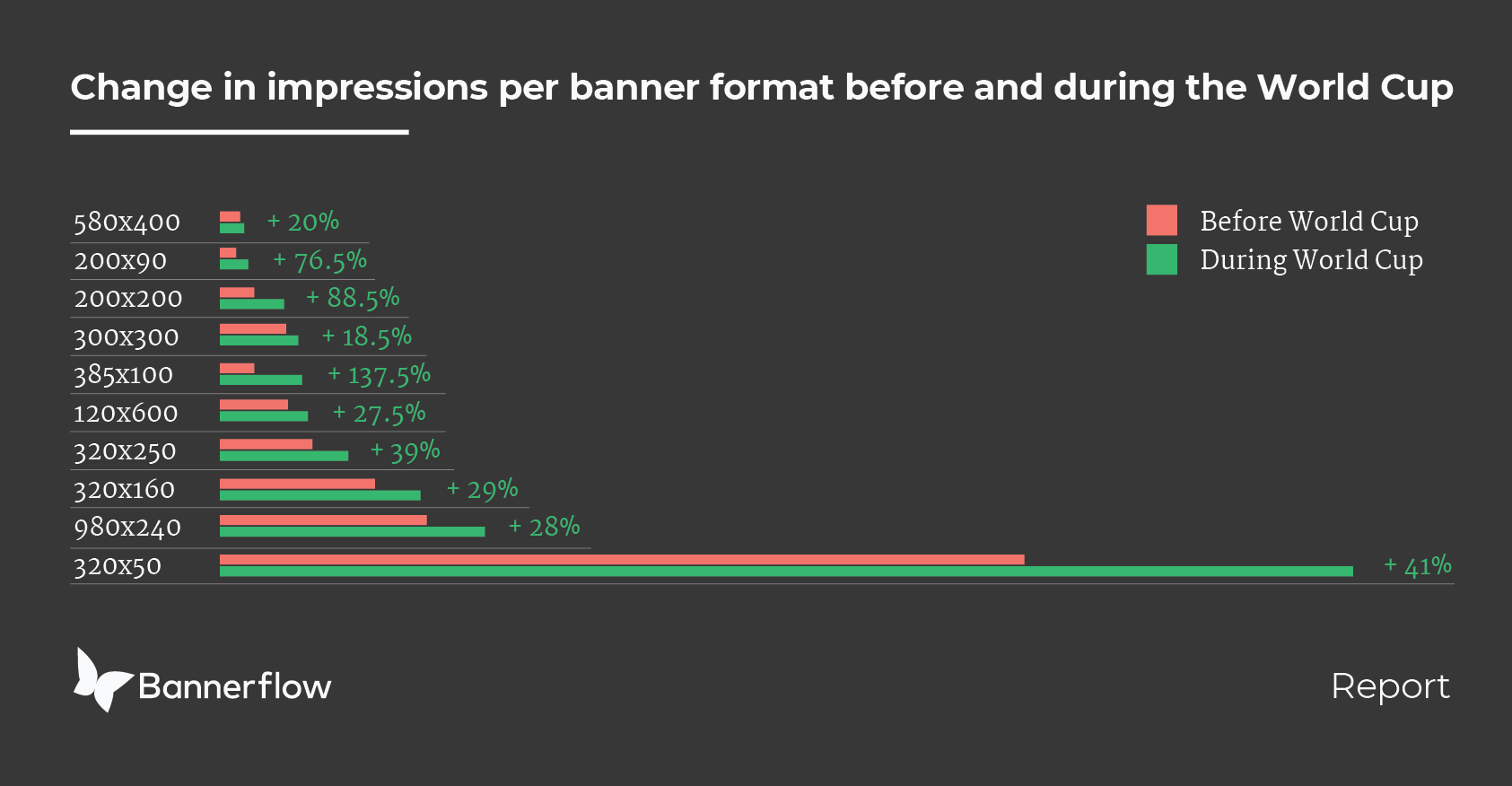 However, sizes favoured for desktop such as 980×120 (panorama) and 120×600 (Skyscraper) also did well. Suggesting that traditional web portals also saw a World Cup boost.
Click-through rate also grows
Perhaps more important than impression data, was CTR increasing across the board for all display ads – worldwide. Going from 0.12% to 0.13 over the period of the World Cup.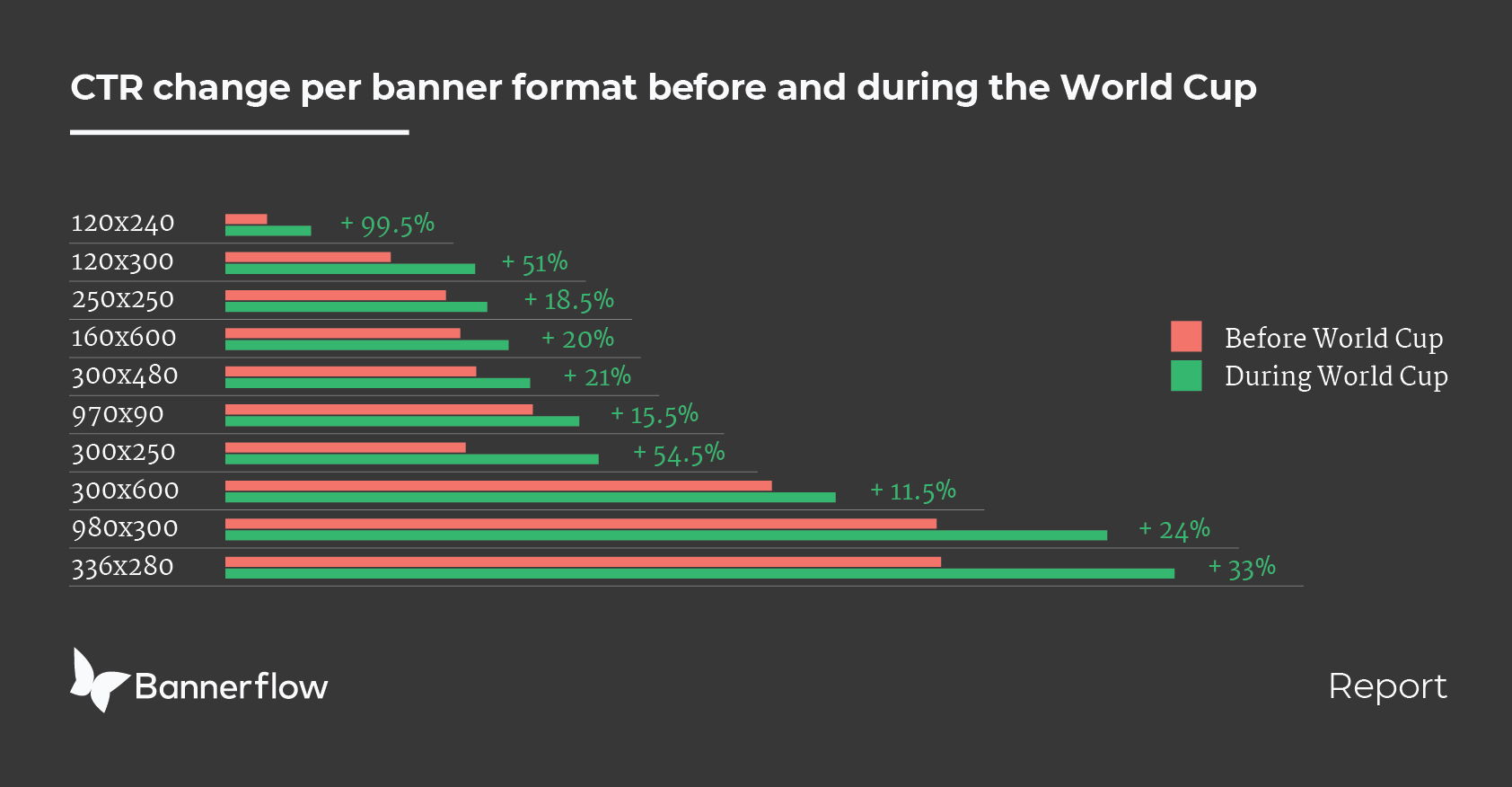 Again, it was the mobile sizes that saw the biggest rises in CTR during the World Cup. With 320×250 seeing its CTR increase by 50% compared to before the World Cup. While, more unusual sizes such as 120×300 and 120×240 also saw a boost.
Interestingly, Björn's comments of trying less popular or more unusual sizes may have borne fruit. Advertiser's using these formats appeared to have gained an improved CTR for their ads over the tournament.
Some industries score big, others not so
Overall, the World Cup was a mixed bag for different brands. With large percentage decreases in impressions for entertainment and e-commerce. However, this is in stark contrast to iGaming and financial services, which saw increases during the World Cup. Travel remained steady.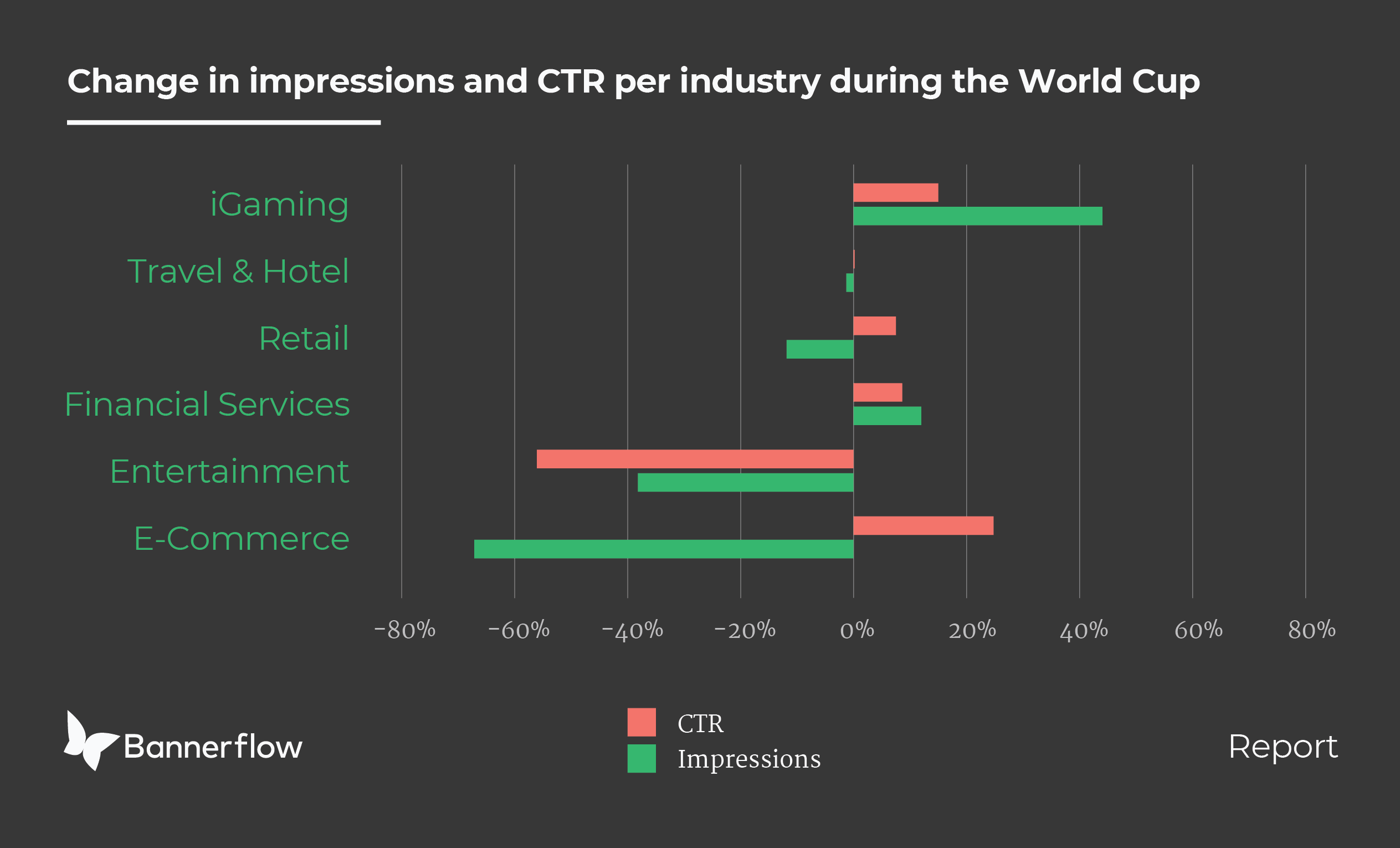 However, the most interesting stat for different industries was the percentage increase in CTR not just for iGaming and financial services but for e-commerce too!
Our Head of Insight, Antonia Lindmark points out that "iGaming has obviously been highly affected showing increases in both impressions and CTR. During the World Cup iGaming saw increasing CTR with 15% and impressions with 43%!" Which is music to the ears of iGaming executives!
Indeed, iGaming was perhaps always the sector most likely to win big during the World Cup as betting on all aspects of football is extremely popular worldwide. Plus, the industry is among the highest users of dynamic creatives and other data driven advertising.
One more thing to note: traditionally entertainment sales fall during the World Cup due to the competition from the tournament. This may explain the drop in impressions and CTR – worth knowing for brands when preparing for the 2022 tournament.
World Cup winning sizes
Interestingly, there were particular display ad sizes that dominated during the World Cup. Yet, there were notable regional champions too.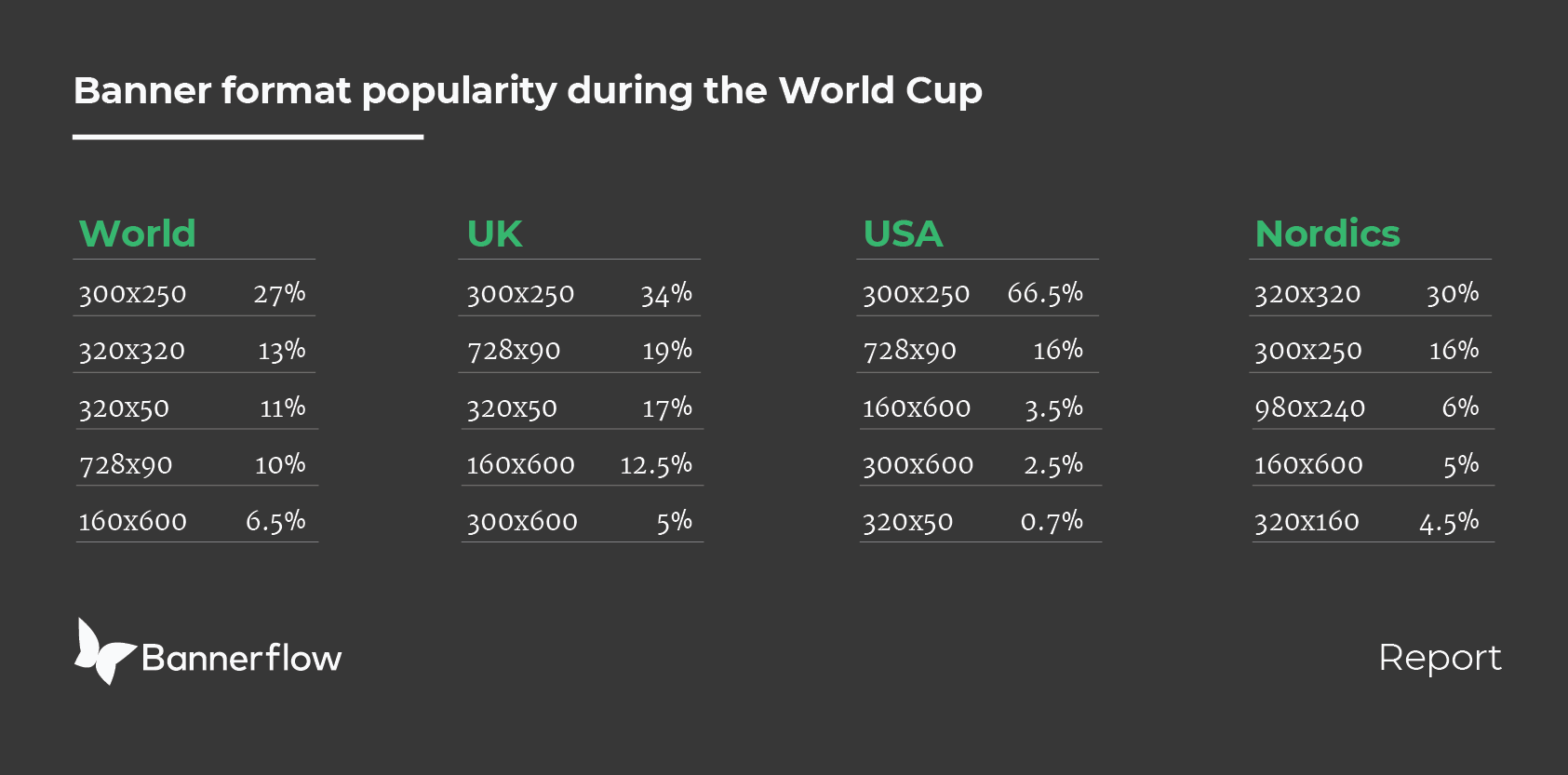 The golden boot winning size was the mighty 300×250. The classic, adaptable mobile banner of choice, and top of the charts across the board – except the Nordics. There the 320×320 was regional champ, and the losing underdog finalist. The bronze medal going to 320×50, the popular mobile leaderboard banner.
What the data suggests is to make sure you know which sizes are popular within ad inventory for different markets. For example, 320×320 proved particularly dominant in the Nordics (with Sweden providing most of the impressions) but not so anywhere else.
Those brands who purchased media tailored for each individual market will likely have seen improved ad performance. It goes to show that while it is very easy to control and serve your digital advertising, adapting to market conditions is essential. Local knowledge is key.
A few final thoughts
Display advertising insights for the 2018 World Cup have proved interesting. It shows that being prepared for the increase in impressions and viewer interest is essential. Very much the opposite of the Spanish national team who sacked their manager and sleep-walked into the footballing abyss.
The World Cup may be a one-off event that takes place every four years and is an opportunity that global digital brands cannot ignore. The more agile a brand can be to make the most of this occasions, the better. A two week turn-around – that ain't going to cut it!
Moving on…without a doubt the industry that won this year's tournament was iGaming. With all the adtech in place to make the most of the tournament, it led the way in both impressions and CTR. And where iGaming goes, others industries will follow.
Oh, and one more thing: Nike claimed victory in its war of the World Cup sports brands, claiming it had thoroughly beaten arch-rival Adidas. Better luck next time!
Conclusion
A month is a long time in digital advertising. However, for football fans the World Cup came and went all too soon…much like Germany's participation. Yet, for display advertisers it was a unique moment to engage with viewers.
The winners (other than France!) during the tournament, were brands who thought mobile first, used hyper relevant messaging, and were able to adapt their display advertising to local markets. It was a World Cup where digital advertising and working in-house helped brands make the most of moment marketing and engage across devices.
If you like what you've read and want to know more about how your business can produce digital ads that perform then check-out Bannerflow's creative management platform. Or if you prefer to relive the agony and the ecstasy of the World Cup, then read our blog on the best World Cup advertising campaigns of all time.
Finally, Sweden managed to make it out of the group stage! Which for a large portion of the Bannerflow Team was probably the best moment of the tournament.
Share this article