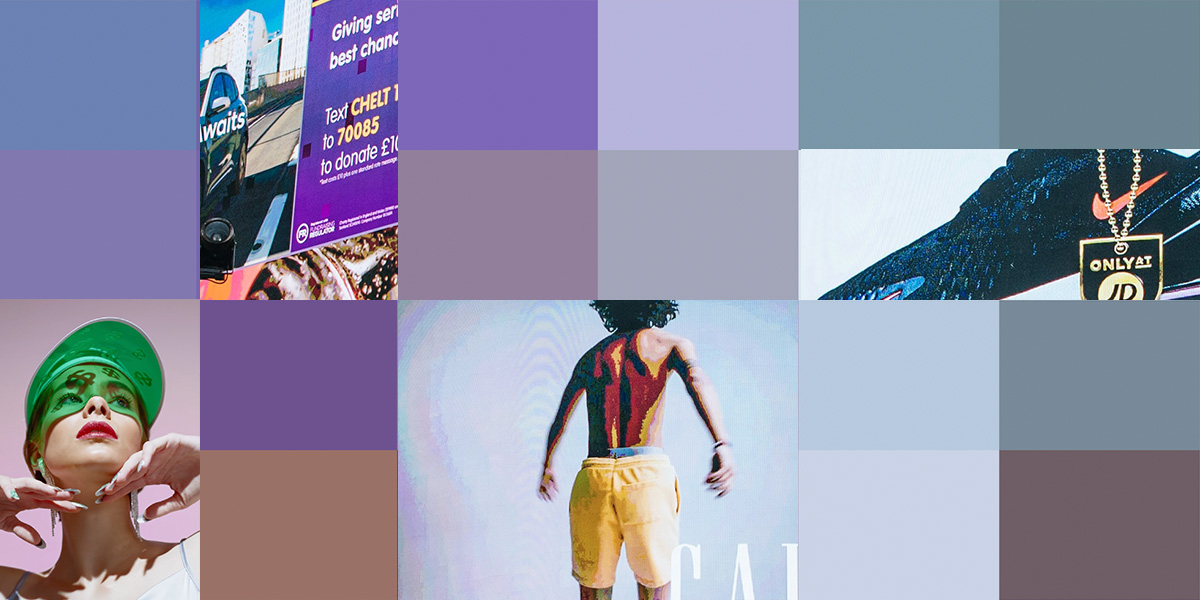 E-commerce Advertising Campaigns: The 5 Best of All Time
E-commerce advertising campaigns are huge right now! Fuelled by the pandemic, hundreds of thousands of shoppers across the globe have turned to online shopping.
And it's big business. In 2020, global e-commerce sales rose to $26.7 trillion with the Chinese, UK, US, Australian and Canadian markets leading the way. In fact, in less than six years the total share of global retail sales from e-commerce has nearly tripled – rising from 7.4% in 2015 to a projected 19.5% in 2021.
It's why some of the biggest brands on the planet are levelling up their e-commerce marketing campaigns and doubling-down on online e-commerce advertising.
So what makes great e-commerce marketing and a successful campaign? What do the best examples look like? How do they capture the hearts and minds of customers before converting them into sales?
In this article we look at the current state of online e-commerce advertising, and some of the best e-commerce advertising campaigns of all time (and one of the most notorious). Plus, the essential strategies for getting more out of your e-commerce marketing campaigns. Including:
The current state of online e-commerce advertising
Allbirds
Dollar Shave Club
Gymshark
Patagonia
Elko
The most notorious e-commerce advertising campaigns
Essential strategies for e-commerce advertising
The current state of online e-commerce advertising
More people are buying online than ever before. Since the pandemic began, 46% of UK consumers purchased a product online that they had previously only ever purchased in store – with the biggest growth coming from consumers aged 45-54.
As the popularity, accessibility and ease of e-commerce grows so do the number of ad campaigns.
Like any form of advertising, the best e-commerce marketing campaigns are relevant, engaging and put the right message in front of the right person at the right time. They combine great creative with the power of data to serve up compelling ads – like dynamic display ads.
Mobile and video are huge (and still growing) in e-commerce advertising campaigns right now. In 2021, 73% of e-commerce sales were made on a mobile device. So having a mobile-friendly e-commerce advertising campaign is essential.
After a decline in 2020, video banner ads are making a resurgence which makes perfect sense given people are twice as likely to take notice and share video content than any other type of content.
Retailers have been swift to embrace digital technology in the wake of the pandemic. Indeed, thet are increasingly looking to be able to deliver a unified, omnichannel experience to their customers. With cross-channel shopping becoming increasingly popular, any ad campaign needs to work seamlessly across all channels and platforms.
Finally, we continue to see significant spikes in e-commerce sales around shopping dates like Black Friday, Cyber Monday, Prime Day and Singles Day.
Let's take a look at what we think are some of the best e-commerce advertising campaigns of all time and see what we can learn from them:
1. Allbirds
Eco-friendly footwear and apparel brand, Allbirds, were formed from a Kickstarter campaign in 2016. And three years later were a $100 million dollar company! A combination of celebrity endorsements, a cult following, great products and extremely savvy advertising have helped make Allbirds one of the hottest brands around.

Their display and social ads blend creative copy, vibrant visuals and their core messaging in an enormously powerful way. Their ads tend to have a colour palette that mimics the shoes they are promoting. Thus they use a simple and effective CTA, and highlight one of their USPs.
Allbirds have garnered a reputation for limited releases and their ads are always aligned with these. For example, when there's a new product launch.
Allbirds set out to disrupt a traditional industry. And they've done just that with their online advertising playing a crucial role in their success.
2. Dollar Shave Club
"What is DollarShaveClub.com? For a dollar a month we send high quality razors, right to your door."
Dollar Shave Club pioneered the success of subscription-based services. They did so off the back of viral video campaigns. The video above (which has been viewed 27 million times) secured 12,000 new customers in two days when it was first launched.
Their banner ads play on the same quirky, nonsense, comedic messaging. Designed with clear CTAs and combining the brand's value proposition, their ads support and supplement their video strategy.
3. Gymshark
Gymshark's success has been nothing short of phenomenal. From the bedroom of two students in 2012 to a $1.3 billion valuation in 2020! A large part of Gymshark's success has been attributed to two factors. Firstly, they don't deviate from their target market of 18-25 year olds. Everything they do is aimed at this demographic. Secondly, they were one of the first brands to leverage the power of influencer marketing.
It hasn't all been plain sailing. In 2015 the Gymshark website crashed on Black Friday. As a result, the founder personally hand-wrote 2500 apology letters to customers giving each one of them a discount.
Gymshark have also built a reputation for mega sales which they use their display adverts to push. Again, strong visuals, great copy and simple CTAs combine to great effect in their e-commerce advertising campaigns.
4. Patagonia
Outdoor clothing brand, Patagonia, have always had an unorthodox approach to marketing and advertising. They famously put 'purpose before profit' to the extent they once ran an ad in the New York Times on Black Friday which read 'Don't buy this jacket.'
Their mission is to build the best product, cause no unnecessary harm, and implement solutions to the environmental crisis. This mission resonates with their customer base and is echoed across all their advertising.
Their display ads also embody this ethos with messaging like 'Buy less, demand more' and 'Can these shorts help prevent climate change?'
Patagonia is a brand centred around purpose. With e-commerce advertising campaigns designed to amplify this, Patagonia ensure they are always speaking in a language their customers want to hear.
5. Elko
Icelandic brand Elko is one of the leading lights when it comes to inventive display advertising. They use Rich Media and HTML 5 to produce great display advertising quickly and simply, time and again.
For example, they utilised the feature of a slider to help promote Samsung's Frame TV. It was an innovative way to easily show the capabilities and placement of the TV in a real-life setting.
With all ads being created in a creative management platform (CMP), production of all the sizes of ads is fast and can be easily scaled. In fact, using the platform means Elko have been able to reduce the time it takes them to create new ads by half.
The most notorious e-commerce advertising campaigns
For every great example of e-commerce marketing campaigns, there are countless more where brands have well and truly dropped the ball.
From 2008-2015, clothing brand American Apparel regularly courted controversy. This resulted in a series of ads banned in countries across the globe for the overtly sexual nature of their content. After going into administration in 2016, American Apparel re-launched in 2018, replacing their previous male-led marketing team with an all-female team. Since then their ads have been much more tasteful.
They are far from alone. In 2017, skincare brand Nivea came under-fire for their 'White is Purity' campaign. The only positive attention the ad received was from the alt-right. In a similar vein, H&M came under fire in 2018 when they released an e-commerce ad featuring a child of colour wearing a hoodie with the words 'The Coolest Monkey in the Jungle' emblazoned across the front of it.
And finally, Sprite's #brutallyrefreshing banner homepage takeover of the Irish website joe.ie was both crass and thoughtless. The banner ads displayed slogans such as "She's seen more ceilings than Michelangelo" and "A 2 at 10 is a 10 at 2!". Coca-Cola were forced to apologise for the ad after it was swiftly taken down due to complaints of misogyny and sexism.
Essential strategies for e-commerce advertising: production automation and campaign management
The common factors in all of the best e-commerce advertising campaigns we've seen are relevance, simple messaging and effective CTAs.
It's the personalised ads – delivered at the right time – that generate the highest click-through rates and conversions. This is why preparation is key. With click-through rates soaring on display adverts around key events like Black Friday, it's vital you plan your campaigns in advance and can easily execute them.
Production automation and campaign management are some of the best tools to help you plan and execute your e-commerce marketing campaigns. As we saw with the example above from Elko, solutions like a CMP make it simple and straightforward to automate and scale creative production.
The same solutions also make it easy to add interactive elements and video to your display advertising. They also give you the power to optimise, tailor and test your ads without the need for coding.
Furthermore, combining the use of product feeds, retargeting, and scheduling tools enables you to create ads that are more impactful and compelling. This form of creative automation means you stay consistent across devices and platforms, speaking directly to customers wherever they interact with you.
Conclusion
The best e-commerce advertising campaigns combine immediacy with powerful messaging and a proposition that's too good to ignore. They perfectly combine data and creativity to drive conversions and increase ROI.
A digital advertising platform like Bannerflow can help you create advertising campaigns like this at scale and at speed. This means you'll always reach the right people with the right message at the right time and drive sales as a result.
If you want to find out more about how Bannerflow can help power your digital advertising, then get in touch for a demo and let us open the door to a new world of possibilities.
Share this article