Advertising Campaigns: 7 Great FIFA World Cup Ads
Advertising campaigns for the World Cup are some of the best around. For good reason too: the World Cup is the most watched sporting event on the planet. In fact, global advertising spend is set to grow by 5.2% to $535bn in 2018 thanks in part to the FIFA World Cup.
Yet, there are some dark clouds on the horizon. The awarding of the 2018 World Cup is not without controversy and recent international events have exposed a potentially unsafe environment for brands. In the words of advertising guru Mark Ritson, the Russia World Cup has the potential "to keep the average global CMO up at night".
However, while both FIFA and Russia are tainted – with many big brands withdrawing support – the opportunities are still immense. A World Cup is, after all a World Cup and the biggest event in world sport. It's the time when advertisers' show-off and showcase some of their best ideas. And without further ado, here are seven campaigns which we can all learn a thing or two from…
1. Adidas 'Footballitis' – 2002 World Cup
First on the list, is this ad from Adidas in 2002, which for us is the best Adidas World Cup advertising campaign. It owes a debt of gratitude to 70s and 80s educational films and unlike some campaigns raises a smile or two. See for yourself…
The retro aesthetic and surreal nature – while odd – works. Flying in the face of stereotypes regarding German sense of humour. It's also confident. The German brand have pedigree when it comes to the World Cup and football, with many a classic World Cup match featuring the iconic three stripe branding.
In recent years the brand has been in a fierce battle with Nike to be crowned the top dog when it comes to football branding. And not all of its video advertising has been as strong its American competitor. However, while it may have not introduced Elvis to a new generation of fans, it certainly won the battle of the mega brands in 2002.
2. Nike 'Airport' – 1998 World Cup
For some commenters, Nike's 1998 iconic World Cup advertising campaign is the moment it established itself as a major player in football (or soccer). Previously, a bit part player, two years previous it began courting the global football market with its first iconic team Nike ad: Good V.s Evil. Yet, it was its ad for the 1998 World Cup that won our hearts.
Blessed with sponsorship of probably the most charismatic and skilful team at the 1998 World Cup, Brazil. Nike's ad, created by long term partners, Wieden+Kennedy, took the mundane and made it fantastic.
The spot enhanced Nike's brand image straightaway. This new way of combining marketing, football, and its star players, catapulted Nike into the stratosphere. It left established competitors, like Adidas and Puma, trailing in its wake. It's no wonder they've remained sponsors of Brazil ever since.
3. Unibet – 2016 advertising campaign
An interesting cross-channel advertising campaign was pursued by Unibet for the 2016 European Cup competition. Wanting to differentiate itself from the competition, the betting company found a unique way to appeal to fans. It opted for education.
Writing in Marketing Week, Pantelis Kotopoulos, Head of Inbound marketing at Kindred Group/Unibet discussed why they chose this unique path. "We knew rivals would spend big on television with offers and promotions to reach the male young adult market – but we opted for a smarter, more effective way to forge a deeper connection with fans". The end result was a series of content across social channels that scientifically explored game changing factors.
The effect was that they were able to cut through the noise surrounding Euro 2016 and capture attention. Driving revenue across seven global markets with their mix of inbound strategies and dynamic display advertising. It's a strategy they will be returning to in their 2018 advertising campaigns.
4. Beats 'The game before the game' – 2014 World Cup
Sports people and oversized headphones, a cliché? Well, yes but it's one that sells, and sells well. Indeed, long before being purchased by Apple, Beats positioned itself as a fashion symbol for both musicians and athletes. The spot it released for the 2014 World Cup had the effect of taking its branding to the mainstream.
This epic advertising campaign, not only featured footballer Cesc Fabregas, and human meat muncher Luis Suarez but US stars LeBron James, Serena Williams, and Lil Wayne. Making it pretty North American in its pitch, which is unusual for a football ad. However, what makes this ad especially fascinating is how it uses Neymar. It was a canny bit of business by Beats to make the saviour of Brazilian football front and centre of the ad. Thanks to the tournament his superstar status grew, until ultimately his transfer to PSG was bigger than the defence budget of a small nation. A good bit of business for the headphone brand.
5. Carlsberg 'Best pub team in the world' – 2006 World Cup
Carlsberg are known for their football related ads but in 2006 they took it up a level. As Marketing Week commented, "Carlsberg don't do pub teams, but if they did they'd probably be the best – and most likeable – pub team in the world".
We love it because it's simple and relatable. For those of us who play Sunday league football, you'll often play against a "veterans" team who still think they have it. The only difference in the Carlsberg ad is that this veterans team features a roster of England legends and definitely still has it. It's a great advertising campaign, and a great tonic for the clone-like bombastic football related advertising of other brands..
6. Google – 2014 World Cup
Perhaps not the most obvious of advertising campaigns but probably the most impactful. For the 2014 World Cup Google added more information to its search results – that's it, really it is. It added team line ups, live scores, tables, even video highlights; all were displayed in search cards for the first time.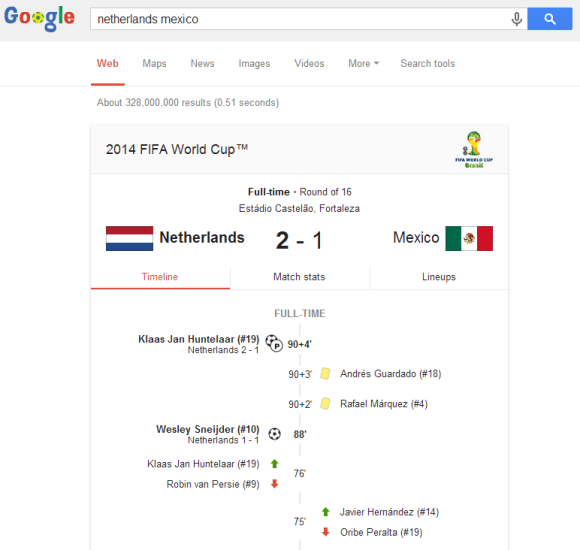 Today Google integrates various media into its "cards" and has expanded their use. But in 2014, it was a first for the search engine giant. For Ben Davis of eConsultancy, Google's fresh offering "felt like a bit of a game-changer". It may have begun as a slightly irrelevant gesture but it helped to shape how search results are now presented by Google. Not only that but it was a great way for Google to bask in the glow of the World Cup, treating its users and probably helping World Cup organisers FIFA too.
7. Iceland and er… Iceland
The award for best social media advertising campaign goes to Iceland. Iceland the British supermarket that is.
Not technically, for a World Cup but Iceland sponsored Iceland (the country) for its first footballing tournament appearance. The supermarket was fortunate as Iceland were the surprise package of the tournament and its social media team made maximum use of this unexpected journey.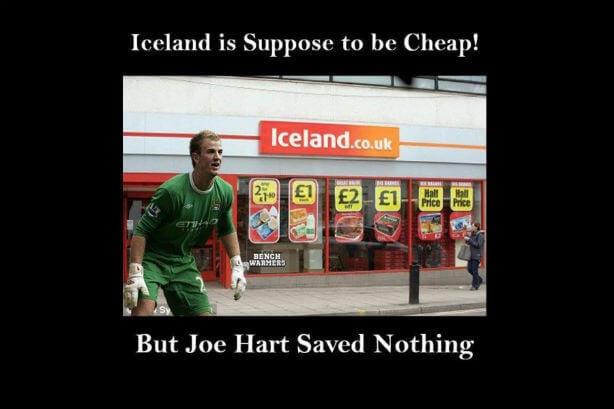 The supermarket even found its own marketing material repurposed when Iceland knocked perennial underachievers England out of the Championships.
However relations later turned chilly, when Iceland the country threatened to sue Iceland the supermarket over the use of the word "Iceland". Not to be put-off, we still think it's a great example of canny social media marketing. Especially, how for a minimal sum, maximum brand recognition was achieved.
We just hope they're friends again for the 2018 world Cup.
Bonus: weird World Cup advertising campaigns!
Paul the psychic Octopus
Perhaps the oddest genre of World Cup advertising campaigns has been that of the psychic animal. The most famous being that of Paul the Octopus. Paul gained worldwide fame after successfully predicting the outcome of football matches involving Germany in Euro 2008. However, for the 2010 World Cup things were taken up a level.
From the Sea Life Centre in Oberhausen, Paul was broadcast live on German TV, predicting German victories. Helping the sea life-themed attraction enjoy World Cup glory – until the semi-final that is. When Paul foresaw a Spanish victory over Germany and prompted locals to call for him to be eaten. Fortunately, he avoided the chef's knife but died months later – some speculating he predicted his own demise.
His untimely death was not in vain, however, as since then zoos and aquariums across the world have hit the headlines with their own creatures capable of divination. Though none have had the lasting impact of Paul. An octopus so renowned that Google commemorated him with his very own Google doodle.
Hunger Games
Moving from the psychic to the psychotic. Adidas found its own advertising campaign biting back in a most unexpected fashion in 2016.
Thanks to the actions of notoriously hungry footballer Luis Suarez, a poster in downtown Rio took on a social media life of its own. Said poster, which featured the player doing his best Jaws impression, became an prime selfie location after the player took a bite out of Italian opponent, Giorgio Chiellini.
@adidas appreciate it: #WorldCup tourists take #selfies with toothy Suarez poster. Via @mashable and @denissowitsch pic.twitter.com/2dUlmdfvil

— ΔNDRΞΔS WOCHΞNΔLT (@Wochenalt) June 27, 2014
Basically, fans from around the world pretended to stick their heads and arms in his mouth. Probably not the form of advertising Adidas had hoped to inspire. But hey, at least they went viral. Unlike Chiellini who probably received a tetanus injection.
Finally…
There you have it, 7 of the best (and weirdest) World Cup advertising campaigns. Each different, and with its own unique leveraging of the World Cup's brand and values. At the end of the day they take beloved icons and use them to sell products and services in a compelling fashion.
Here at Bannerflow our creative management platform is designed for marketers to produce all the digital display advertising they need for the World Cup. And given how important the World Cup is for brands, having the best ad-tech for global campaigns is a must. Best of luck with your upcoming campaigns!
Oh, and if you've enjoyed reading this blog, take a look at our article on the greatest sports marketing campaigns of all time.
Share this article