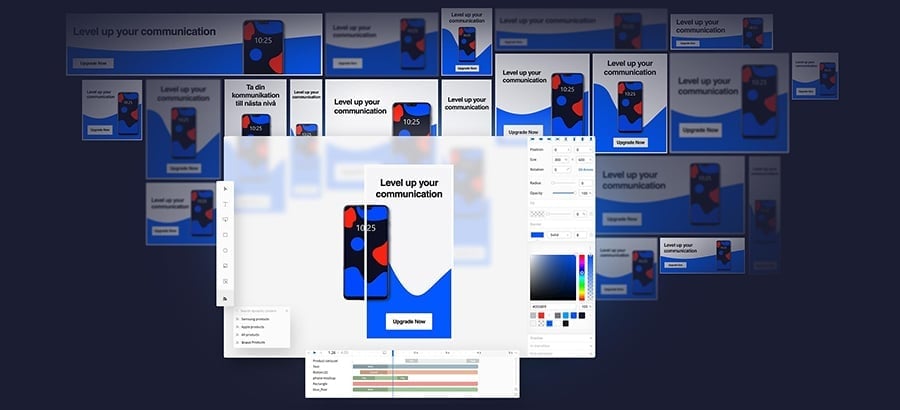 What is a Creative Management Platform (CMP)?
It's an ad-tech term that has grown rapidly within digital advertising circles but what exactly is a creative management platform, or CMP? And why does every marketing team need one?
In this blog, we focus on the different benefits and values that a creative management platform can provide a marketing team, including:
Increasing efficiency within production
Driving engagement through creativity
Making workflows more collaborative
Enabling the easy optimisation of campaigns
Personalising at scale, via dynamic creative optimisation (DCO)
Achieving brand consistency, across multiple campaigns and markets
Offering unbeatable flexibility for brands
But firstly, what is a creative management platform?
Creative Management Platforms (CMPs) defined
In its simplest form, a creative management platform, or CMP, is cloud-based software that allows marketing teams to create, distribute, and measure the performance of digital advertising.
A CMP is essentially a range of advertising technologies all rolled into one easy-to-use platform.
In many ways, CMPs act as a mini production agency for brands – reducing time, maximising ROI, and most importantly, enabling marketing teams to create more impactful and personalised advertising.
However, not all CMPs are the same. Premium CMPs, such as Bannerflow, offer marketing teams many more complex functionalities. Not to mention the ability to work across different channels and formats of digital advertising.
1. Increasing efficiency within production
CMPs dramatically alter the ways marketing teams work – for the better. The old inefficient ways of working, where it can take weeks to go from brief to finished campaign are over.
Brands that use a CMP can reduce production times from weeks to days thanks to a variety of different powerful technologies. The result is not just greater control over ads (and data) but improved efficiency thanks to the removal of repetitive processes, such as coding and the manual publishing of ads.
Using a CMP, in-house teams can have an idea in the morning, and a campaign live by the afternoon. Take CMC Markets for example, using the Bannerflow CMP, they were able to go live with a display campaign just one hour after the UK election result! Can your agency do that?
"Strive to maximise your efficiency. Whether it is by iterating internal processes, or using ad tech such as creative management platforms, all companies can improve efficiency."

Jared Lekkas, Head of Product at Bannerflow
Shutterstock produces thousands of banners, for many different markets, every year. Yet, its workflow was inefficient, taking too many days, using too many resources, across too many steps. Since using a CMP, Shutterstock has slashed its ad production times: creating campaigns faster, refining in-house workflows, and now achieves a better ROI in display as a result.
2. Driving engagement through creativity
A creative management platform contains an ad creator that removes the pain (and hours) of advanced ad creation normally associated with ad production. (For example, individually coding every single HTML5 element, when looking to scale to different ad sizes and versions).
Indeed, Bannerflow's Creative Studio has a user interface so intuitive that virtually anyone can use it to create complex HTML5, mobile, onsite, and social ads. Meaning designers can do what they do best with the time they save, which is design. But be warned! Some CMPs just offer template options – this limits designs and personalisation options.
Using a CMP you can produce all the different creatives and messages required for all your audience segments. Not only that but you can use a range of different interactive features too, such as video, which according to internal Bannerflow data increases CTR by 18.4%!
Another bonus with using a CMP is that your ad creatives are hosted in-platform. This makes it possible to edit and refine live banners, in real-time, without the need to re-publish each time.
"When it comes to the balance between being both data-driven and creative in our campaigns, we believe it's important to find the right balance. We need creativity in order to produce remarkable assets, but we need data learnings to provide our designers with the right insights to turn ad designs into winning campaigns."

Sara Rosa, Digital Marketing Strategist at Casumo
Case study: Three
For Three Sweden's in-house agency producing stunning ads, at scale, while driving display conversion cost as low as possible was a key priority. Using a CMP they were able to add video to their creatives – without the need of complicated coding – across all their campaigns. Plus, react to competitor offers and change creatives across live campaigns in an instant.
3. Making workflows more collaborative
Being cloud-based software, a CMP enables brands to work both globally and locally on projects – across locations. Collaboration between all team members takes place directly in-platform and all processes are completely transparent. No files are sent – and all stakeholders involved.
Meaning marketing teams can act quicker across different production workflows. Resulting in the death of long complicated email chains and all the mistakes associated with such an inefficient way of working.
What's more, because all brand and creative assets are accessible in one place, anyone working on a project sees everything, and can provide instant contextual feedback. For example, copywriters can edit copy directly in ads, and translators can do the same when localising campaigns for different markets – removing a typical production bottle-neck.
"Having everything in the same place, in one platform is useful. It means I don't have to have all the assets in my computer and I can work on it from home if I need to."

Emilie Norman, Graphic Designer, Bluestep Bank
Kindred Group controls 11 of Europe's most successful online gambling brands, and has over 26 million customers worldwide. Using a CMP, it's London based in-house team controls all of its live display advertising – which is a lot! In fact, for each campaign, they create three audience variations, in at least 10 different languages, across 10 different sizes and 20 different ad versions, plus affiliate-specific versions!
4. Enabling the easy optimisation of campaigns
Optimising your advertising is another area where a CMP provides clear value. Not only do all stakeholders have access to all live analytics data, but comparing campaigns, versions, formats, domains, devices and languages can easily be performed in-house with a CMP too.
A/B testing is hassle free as well. Indeed, any object within an ad made in a CMP is editable, while multiple versions can be quickly mass-produced in any new sizes thanks to smart scaling. Plus, with real-time publishing, new updates can go live in already published ads instantly.
Think a different CTA will improve your CTR? Give it a try. Then observe its impact in real-time using in-platform analytics. Using a CMP performance marketers and designers work in harmony to iterate and optimise campaigns. The result? More engaging ads, better ad performance, and improved ROI.
"Previously, if we needed to change a simple percentage on a banner, we would have to have taken down the whole ad set – and that's about half a day's work, instead of a few minutes [using Bannerflow]."

Josh Heaton, Design Manager and Head of Gamer Creative
The challenge for Casumo was to control and optimise hundreds of personalised ads for customers at all stages of the sales funnel – every week. Using a CMP they can test different messages, different images, and different CTAs, across a range of different ad designs – all within the same campaign. Today, they optimism all ads in real-time, using analytics and instant publishing.
5. Personalising at scale, via dynamic creative optimisation (DCO)
Today if you are not personalising your advertising then it is very likely your competitors already are.
DCO ad tech uses smart data feeds – powered by insight – to produce messaging and ad creative tailored for different customers. Furthermore, DCO and CMPs are the ideal pairing of data and engaging creativity.
Indeed, without the use of a creative management platform, the time required to create each ad variant needed for DCO with different copy, CTAs, or unique interactive design elements would be impossible. You could do it without a CMP – but the likelihood is a reliance on basic templated designs. Or extremely long and inefficient production times with an agency.
Instead, using a CMP means marketing teams benefit from full control over DCO campaigns and full flexibility. Plus, if you use a CMP for your DCO creatives you can apply the same awesome versioning, rich media, and interactive capabilities of the very best HTML5 display campaigns – code-free.
"Bannerflow allows us to perform DCO using richer and personalised ad designs. This helps our ads stand out and perform better, which is in contrast to other more rigid template-based solutions."

Sergio Fernández Vida, Design and Production Specialist, Meliá Hotels International
For Meliá the creation of dynamic creatives was too complex and tedious to carry out in-house. Thus, the marketing team was forced to outsource production to an agency. However, using a CMP the production of DCO advertising became an in-house function. This resulted in improved ad performance and a greater return on investment.
6. Achieving brand consistency, across multiple campaigns and markets
Brand consistency and creating a unified experience for your audiences can be a challenge. Often mistakes or inconsistencies can occur – even for the biggest of brands when working across markets with local teams.
Using a CMP, is it far easier for marketing teams to achieve a unified brand experience within creatives. For example, a premium CMP such as Bannerflow, offers the ability for the easy sign-off and full control of every ad creative via a simple click. Meaning a Brand Manager based in New York can sign-off an entire worldwide campaign. Or even prevent a damaging error from happening in a campaign made by an editorial team in another market.
Furthermore, an additional benefit of controlling campaign creatives in the same platform is that brands can create more effective omni-channel experience for customers. Thus, it is possible to react across cross channels, at a moment's notice, with the same high-quality and consistent ad creative for display advertising, as it is your social ads.
"The whole purpose of this campaign was continuity. Every element built within Bannerflow was sourced to keep the consistency – while adding a touch of creativity."

Louise Barrie, Graphic Designer at DC Thomson
Bonnier uses a CMP to work agile and remain brand consistent across its Nordic editorial teams. By using collaboration and production features it's in-house team has made workflows smooth, gained greater control over regional editorial campaigns, and cut errors dramatically. Enhancing both its communication with customers and the impact of its ads.
7. Offering unbeatable flexibility for brands
What sets creative management platforms apart from other pieces of ad tech is the flexibility they provide marketing teams. For a start, a premium CMP is usually tailored specifically for a brand. This results in both a quicker onboarding process and the use of more advanced advertising features.
Nor are CMPs static pieces of ad tech. They have developed to become format agnostic and now handle nearly all digital ad formats from digital out-of-home, to social ads. What's more, the way they integrate with other technologies is ever evolving, from one click publishing to ad networks, to the use of CRM data, from services such as Salesforce.
For example, with a CMP such as Bannerflow you can now produce onsite ads that benefit from a combination of DCO and CRM technology. Meaning you can personalise your onsite advertising, to different customers, using a variety of engaging interactivity.
"We've found personalisation to be a very effective tool for our online marketing. This means we tailor our messaging and creatives, as well as other offerings, across our paid and owned channels. Meeting our customers' needs with relevant content at any given time or channel."

Lena Lindgren, Digital Transformation Manager at Telia
For LeoVegas being able to publish affiliate campaigns across markets, and track them effectively, all within the same platform was a must. Bannerflow was tailored to especially enable its in-house team to modify ads directly in an affiliate platform, in real-time. Allowing them to monitor clicks and CTR for each ad. Giving LeoVegas the advantage of quickly adjusting design and copy according to campaign performance.
Conclusion: CMPs enable marketing teams to do more
In an age of increasing competition between brands, being able to present the right ad, to the right viewer, at the right time is essential. Advertising is no longer static, it's personalised, omni-channel, and optimisable across channels and multiple markets – and made in-house.
Creative management platforms are essential for in-house teams. And in an ever changing advertising landscape, they offer the features and functions for evermore efficient and sophisticated digital marketing.
Get in touch, or apply for a demo of the Bannerflow CMP now!
Share this article