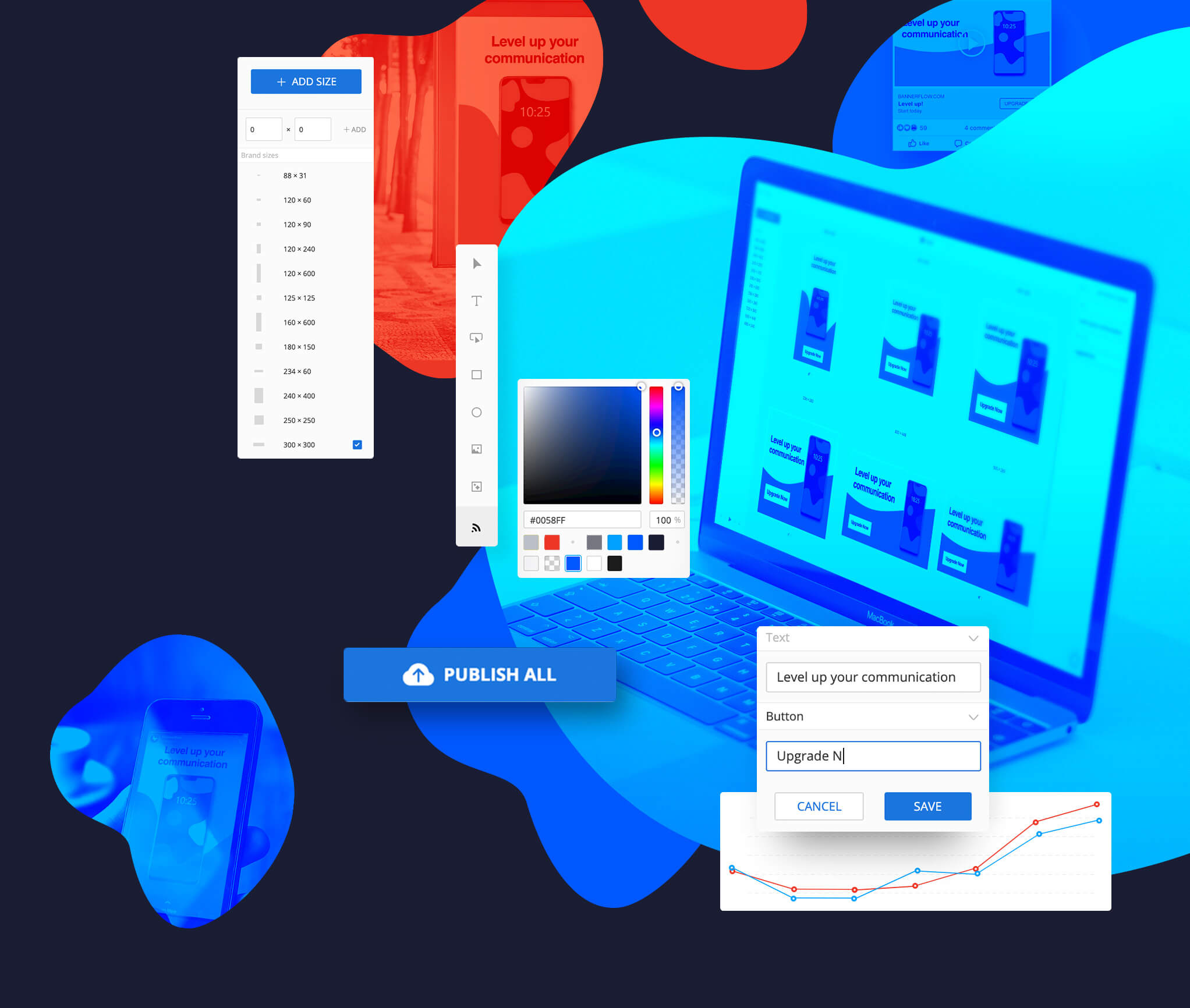 How Svea Ekonomi creates engaging and impactful digital advertising
Creating engaging digital advertising is especially important when you have only seconds to make an impact. Within banking getting the right person to take notice of your ads in those couple of seconds is essential for success.
Svea is a financial group with operations across several European countries that specialises in credit and working with entrepreneurs. Erik Laaksonen, Marketing Coordinator at Svea, explains how his team create engaging and impactful display advertising for financial products.

What considerations do you make when creating a Svea Eknomi campaign?
Erik Laaksonen, Marketing Coordinator at Svea Ekonomi: Every campaign, everything we do needs to be consistent with our brand manual. For example, we have clear guidelines when it comes to our tone of voice and how we prioritise our different communications.
Additionally, I always try to think about our offering to potential customers: are we just trying to sell a product? Or are we trying to add some value to their business?
The biggest challenge is maintaining our core values and softer values throughout the sales funnel, from tv commercials to our display advertising.
Can you explain the concept for your latest display campaign?
Erik Laaksonen: The whole campaign is about positioning Svea as the bank for business owners. It presents how we have a deep understanding of the everyday lives of different types of business.
The key ingredient was to take as much material from the TV commercial, which displays the day-to-day journey business owners go through, and place that in our banner campaign. We essentially use the video ad and then are extremely clear and relatable in our messaging.
Can you describe some of the technical details in the creatives?
Erik Laaksonen: Our different ad sizes use video, clear messaging, and a rich media animation featuring one of our products. The video we use is of course from our TV commercial, which we then customise for our banner campaign.
Your animation was smooth, how did you achieve that?
Erik Laaksonen: We refine ads a lot! Many times we show them to colleagues and get them to give us honest feedback. During this process we had little notes of "oh that really bothered me when it zoomed in", etc. And from that feedback we refined the ads further.
Indeed, we are especially mindful of where our ads are shown and the timeframes of the adverts. For example, at Arlanda airport, I think our DOOH ads were about 5 seconds, while the ones on the train were a bit longer.
People will look at our ads for maybe 2 seconds – even if the banner plays for 10 seconds, so we really have to try and focus on being impactful in those first 2 seconds.
Is that frustrating? Does that mean when you have decided a concept, you then have to condense it down to 2 seconds?
Erik Laaksonen. Yes. And Yes, again. The dream scenario would be if everyone could just stand still and look at it for as long as we want them to look at it – but that's not reality unfortunately.
When we create materials, we have to accept the 2 second rule otherwise our ads will fail. It's just how it works and we are fine with it. Of course I would like for people to look at something for 30 minutes if I could get them to – but that's hard!
How do you balance being interesting, modern and engaging – but still trusted and financial looking?
Erik Laaksonen: We want to show our customers that we are a solid professional partner that understands them. Within our marketing materials we try to convey a sense of relatability, one that our customers can hopefully recognize themselves in.
All in all, it's the mix between using video and the right message copy in our banners – balancing our tone of voice that is key. Get this right and we can show we are a company run by humans, who see humans behind every company and understand them. Plus, we are a very solid partner to have on your business journey!
Do you think about social and DOOH, etc? How do you tailor your campaigns for different channels?
Erik Laaksonen: We are finally starting to get there. We want to be consistent in both how we sound and in the impression that we make through how we look. We want people to recognize us.
However, we are always channel aware with our ads. For example, when our ads are on instagram we always think "how does this world look and work". And when our ads are on an editorial website: "how does this work and how does that look?".
We try to be mindful of those things. But we are finally starting to get our look and feel consistent the same everywhere now. The goal is simple: to be recognisable everywhere.
How does Bannerflow help in your creative workflow?
Erik Laaksonen: We simply would not have been able to create this kind of campaign, at this scale, with the time that we had. Bannerflow is like having an extra colleague: it saves us a lot of time and it allows us to try different things which we wouldn't otherwise do.
Another thing with Bannerflow is that it allows us to fail fast and learn quickly when we are creating things in a short time period (and under a lot of pressure). It adds calmness to that side of the creative process!
Before we had Bannerflow, if someone said they wanted to make the button bounce instead of slide, my head would explode! Those changes – with the programmes and tools we used previously – would be impossible with our deadlines.
What Bannerflow has done is allow us to try new things and find new creative ways to market ourselves, such as creating new kinds of animations. Now we can make the button bounce, slide, fade, jump – and it is just a matter of a minute to try all of these things! Before I would have to put a lot of time into it that – time I didn't really have!
Using Bannerflow makes a huge difference and I think it's definitely helped us to heighten the level of the overall look and feel of our display campaigns. I may not have an assistant or an extra colleague to help try new things out but thanks to Bannerflow being so quick, I can concept and test easily!
How do you tackle the design process of creating display ads?
Erik Laaksonen: We work as a team but the team changes depending on the situation and the campaign.
For example: is it for our breakfast seminars that need a single banner for one place? Then maybe the team is smaller and the process is shorter. Or: is this a campaign we will actually put lots of money into and is going to be viewed by a lot of people?
Essentially, we treat our advertising processes differently depending on their size and complexity.
Time frame is another important fact to consider. Sometimes we know ahead of schedule that it's a big and important campaign. Then we make sure to take all the necessary steps to make sure we produce a campaign of the highest quality. In this instance we will use our creative agency and as many different colleagues as possible for feedback. We also try to have a copywriter just for this particular job.
When working on a display campaign, which tools – other than Bannerflow – do you use?
Erik Laaksonen: Pretty much the entire Adobe suite. I tend to use Photoshop InDesign, illustrator, After Effect, Premiere Pro – depending on what I need to do. They are all good for different things. Other than that, it's just Bannerflow.
What is it about the Bannerflow platform that makes designing ads smoother?
Erik Laaksonen: First of all, it's very apparent to me that Bannerflow is built on insight from designers and that's very apparent in the UI – not to mention the different features and how things work. I feel like I'm using a familiar design tool when I use it. I don't know how to explain it but it feels built for me as a creator – and that's nice.
How do you continue to find inspiration for new creatives?
Erik Laaksonen: I look around a lot. Every time I see a banner I look at it longer and analyse it a little bit more than the average person. I have a general interest in great display ad design.
And I find inspiration from other places too, such as traditional advertising like magazines. There is something there that works and has done so for a long time. There are formulas that we can still learn from even though we have gone digital.
Really it's all about perception. If I read a magazine, or walk down the street, and notice something, I try to question myself "Why did I notice that?". Or "Why did that sentence in that window make me look?". Then I try to piece something together from that.
I guess I try to understand how the advertisement got stuck in my head and how I can use that in my own work. A lot of people are doing good things – even in the junk mail you get in your mailbox!
Learn more about Bannerflow
If you would like to find out more about how your marketing team can create engaging advertising with Bannerflow then please get in touch, or request a demo.
Share this article