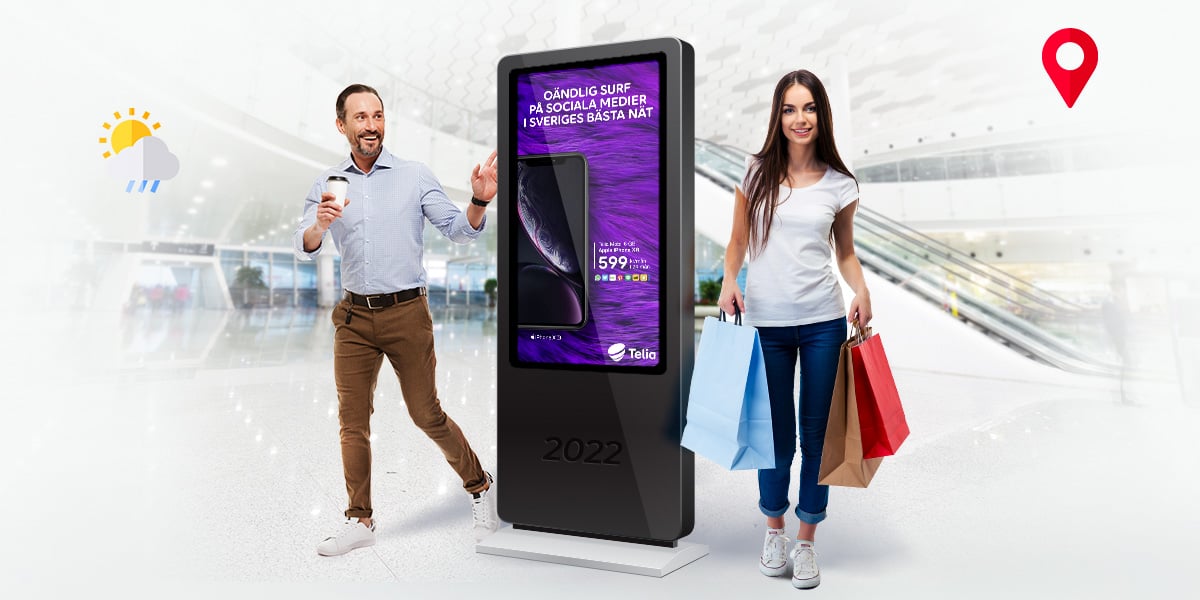 4 Essential DOOH Advertising Trends You Need to Know | 2022
Digital out-of-home (DOOH) advertising has been on a rollercoaster, going from one of the biggest ad trends in 2019 to experiencing a dramatic downfall in 2020.
Business Insider highlighted in 2019 that DOOH was the main growth driver of out-of-home (OOH) advertising worldwide. While Insider Intelligence also revealed DOOH accounted for 28.3 of all OOH ads that year. From that, we predicted DOOH was set to take further steps as networks were set to expand in 2020.
However, with Covid-19 restrictions forcing consumers indoors, Global DOOH spend declined. According to independent analysis firm PQ Media, spending fell 16.6% in 2020 to $14.6 billion. Meanwhile, Digiday says OOH media experienced its worst-ever revenue decline during 2020, it was down 13.3% from 2019 to $51.6 billion.
What about the future of DOOH advertising?
Despite a tough time through the pandemic, DOOH is building to become a big advertising player once again. In fact, PQ has forecast OOH ad revenue to reach over $55 billion in 2021. That's a 6.6% rise – with a compound annual growth rate (CAGR) of 7.3% from 2021 to 2025. The exciting thing for DOOH? This growth is being super-charged by digital. DOOH alone is set to reach revenue heights of $25 billion in 2025 – that's 32% of overall OOH ad expenditure.
This, combined with the results of a DPAA study showing that 81% of advertisers will recommend DOOH in their media plans in 2022, shows things are looking up.
Now shopping footfall is returning to pre-pandemic numbers and digital tech has experienced a surge. It's once again an exciting time to invest ad spend in DOOH!
In this guide, we'll look at the four biggest DOOH advertising trends. Each of which will help you understand where you should place your brand's ad budget in 2022.
Four important DOOH advertising trends for 2022:
Post-pandemic return of footfall
– What can we expect from 2022?
DOOH growth – surge in digital technology
Dynamic DOOH – taking things to the next level
– The role of dynamic digital content
Ad tech improvements
1. Post-pandemic return of footfall
Although still slightly down in comparison to pre-pandemic numbers, shopping footfall has been on the rise across the world. In the UK alone, footfall was up 4% in October compared to September according to YouGov, showing positive signs as we move closer to key shopping dates.
These rising numbers mean brand advertising is being noticed more widely. OAAA-commissioned research shows over four in 10 people are noticing OOH more than pre-pandemic, while the number of people noticing it 'much more' is up 9% from September 2020.
Recognition is translating too, as revenue for OOH increased 38% in Q2 of 2021, with DOOH responsible for much of that resurgence. In fact, DOOH increased by nearly 80% in comparison to the same period in 2020.
What can we expect from 2022?
From the PQ forecast, we can see DOOH advertising is due to hit $25 billion in revenue by 2025. As DOOH is the main driver for out-of-home growth and the CAGR of OOH is set to be 7.3% between now and 2025, digital can expect a fruitful 2022. But where should you focus your spend?
According to the OAAA-commissioned research, retail (63%), fast food (62%) and food and beverage (60%) OOH ads are the most relevant for consumers. Grocery shops offer the biggest opportunity, with 85% of consumers saying they will visit weekly or more in 2022. Retail outlets are the next best target, with 57% planning at least one weekly visit.
Travel will also continue to grow into 2022 – 78% of people are expected to commute at least part-time in the first half of the year. Meanwhile, holidays and air travel could be a big growth area. 72% say they will 'vacation travel' and 51% plan to fly in the next year.
And with these eye-opening numbers, DOOH advertising will increase, as shopping and travel footfall (hopefully) continue on this upward trend.
2. DOOH growth – surge in digital technology
Statista predicts global DOOH advertising expenditure will grow to $15.9 billion in 2027 – that's a projected increase of $9.2 billion from 2019. As advertisers invest more spend in digital ads, we'll also see OOH screens replaced by digital ones.
In fact, PwC predicts the CAGR of digital out-of-home advertising will be 8.44% between 2018 and 2023.
As the technology becomes more advanced, marketing and advertising professionals must keep pace. No wonder 77% of advertisers have worked to increase their understanding of DOOH over the past 18 months, according to the DPAA.
Knowledge and insight, in combination with elevated tech capabilities, means digital tech in the OOH space could help your ROI to skyrocket.
3. Dynamic DOOH – taking things to the next level
Data-driven DOOH advertising is increasingly important to help your ad creative target the right people, at the right time, and convert. This is one of our key DOOH trends!
For your brand to increase ROI and engage with your audience, your ads must have context. Not only that but they must be relevant and timely.
Dynamism and the use of quality data is central to achieving these things. Data from smartphones, apps consumers are registered to, smartwatches and more will transform the DOOH space. Dynamic OOH advertising can use location data and traffic patterns from consumers in the area to better understand the content and advertising they might engage with.
With access to masses of content in the palm of our hands, many people today feel static advertising just doesn't cut it. Your content must capture attention and increase awareness of your brand or product. It also has to be powerful enough to encourage recollection and prompt action for engagement.
Therefore, ensuring your brand's marketing team is utilising data for dynamic DOOH will be essential as we move into 2022 and beyond.
The role of dynamic digital content
Video and other dynamic content continually proves itself as engaging. Thus it's little wonder DOOH advertising spend will grow hugely!
When we investigated the impact video has on ads, we discovered that – in comparison to a static ad – video can provide 85% higher CTR.
Targeting consumers on public transport, in retail venues, or generally out in the world with engaging content is a winning combination. With no choice to cancel or fast forward, consumers are more likely to engage, and remember your creative (and convert).
4. Ad tech improvements
There have been incredible improvements in ad tech in the past two years. From a single platform, you can create compelling creative for the biggest and the smallest screens. By automating production, you can reproduce your creative for all ad sizes in minutes for true cross-channel experiences.
With Bannerflow's Creative Studio ad creator, AI-powered scaling ensures your campaigns are optimised perfectly, right down to the last pixel. It's also possible to add rich media, such as animation and video, in seconds to boost engagement.
Cater for all ad formats, and ad sizes, from this one platform, too. For instance, your brand team can control all your in-store signage across chains and locations with real-time data. Include special offers or event details and update digital displays to be as detailed and specific as you need. No matter where your digital signage is, your team can create and update motion ads with complete creative control.
Whether your digital displays are in busy shopping centres, on public transport systems or by the highway, powerful ad tech makes DOOH advertising simple.
Key takeaways for DOOH advertising trends
Covid-19 created a tough landscape for this advertising format to thrive. However, as we move into 2022, with increased shopping and travel footfall, digital growth, dynamic capabilities and improvements in ad tech, DOOH advertising will prosper.
By acting on these DOOH advertising trends, you can ensure your ad campaigns target the right people, in the right place, at the right time. Investing a portion of your ad spend in this burgeoning space will position your brand ahead of the competition.

Want our latest articles to your inbox? Subscribe today!

Want to test the theory first? Simply request a demo to experience our platform in action and one of our specialists will be in touch to guide you through the process.
Share this article