7 Marketing Trends to Jump on in 2022
2022 will be the year of risk-taking in marketing. Your marketing team will need to be ready to embrace new strategies and approach their work from new angles. The wealth of new and innovative digital marketing initiatives provide many directions to take your marketing efforts. The important thing is building an effective strategy for your business. Our 2022 The State of In-Housing Report shares some distinctive trends for marketing, and we're looking closely at the top seven below. Firstly, here are the top trends we'll be covering:
Video marketing

Content is still king

Harnessing the power of data

Social media content

Virtual events

Influencer marketing

Personalisation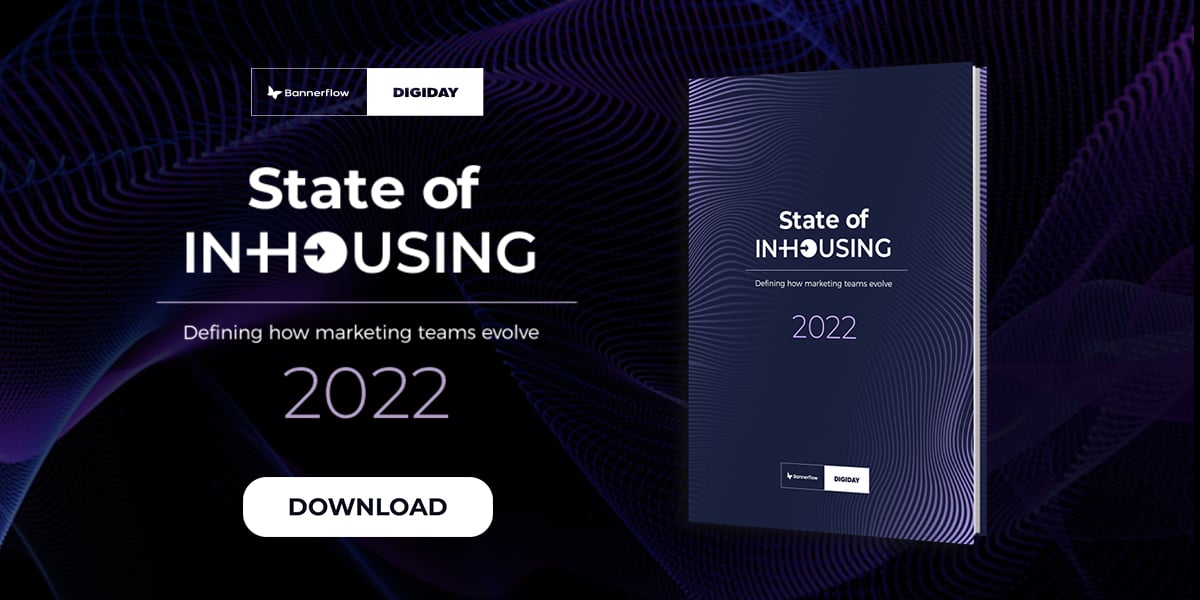 1. Video marketing
Video marketing is widely recognised as the future of marketing activity. Our report found that 26% of respondents plan to increase their in-house online video skillsets, which is a response to just how powerful video can be. In addition, Google reports that YouTube reaches more 18–49-year-olds than all cable networks combined. Photo and video posts also generate more engagement than those using just text.
Incorporating video into your strategy cannot be an afterthought for any organisation. It provides a huge opportunity to connect to a wider audience and build trust. It helps give customers a better understanding and feel for your brand and humanises it.
2. Content is still king
Nearly half of the respondents in our State of In-Housing Report said demand for content has increased in the last twelve months. Content marketing is the cornerstone of an effective strategy and connects companies directly with their customers. Good content builds credibility for any company. A consistent supply of high quality, well-researched and relevant content shows new customers your experience and credibility. Effective storytelling helps to make your company something others want to engage with, whatever channels or media you choose to use.
3. Harnessing the power of data
36% of respondents in our report confirmed they are advancing their data-driven analytics strategy to create more personalised content. Data is one of the most powerful and valuable assets any company has and making the most of it is vital to inform an effective marketing strategy. One respondent, Rob Foster, senior consultant at marketing and communications management consultant at The Observatory International, told us, "Having data, analytics and technology experts sit in-house is a smart move…because if you understand your consumer business better, it gives you a better platform to think about what your marketing and communications to consumers should look like."
Furthermore, harnessing the power of your data helps to paint a better picture of your customers and their behaviour. This allows you to tailor your digital marketing initiatives more directly.
4. Social Media Content
The hard sell on social media is a thing of the past. Instead, marketing needs to approach social media content with a story-driven approach to attract customers and increase engagement across the most popular social media channels in 2022. Social media is also another space where you need to think about your video and visual content. High-quality images must be part of your strategy, especially across LinkedIn and Instagram, and to stand out amongst competitors, you must optimise every element of your social media strategy. You can't simply schedule occasional posts or share things when you feel like it. You need to build a solid schedule that is just as well-designed and thought out as other aspects of your digital marketing strategy. Furthermore, a well-planned out strategy is easier to manage and deliver than ad-hoc posting.
5. Virtual Events
A study by Bizzabo found a 34% increase in virtual event attendance in 2021 and a more than 250% increase in live-streaming attendance. People appreciate and enjoy the opportunity to attend events that may be impossible to access in person. Virtual events are also a cost-effective solution for businesses and increase reach and brand awareness. Virtual events aren't simply an option for small organisations. Increasingly, bigger companies are also recognising their value. Success in virtual events is tied closely to the quality of your video content and ensuring there is sufficient budget to succeed in this medium. Our research recognises that companies are more committed to investing in online video skill sets in-house. These skills can also be put into practice hosting and organising virtual events. Platforms like YouTube Live, Twitter Live, and Zoom increase opportunities for participatory virtual events.
6. Influencer Marketing
Influencer marketing is an integral part of some companies' marketing strategies. However, for others it is an entirely new initiative for others. In 2022, influencer marketing is set to become a common marketing tactic. Our Report found 38% of respondents are increasing their online influencer engagement in the future. Above all, your business' aims will drive your approach to influencer marketing. Still, companies are recognising the power of influencers who aren't necessarily hitting the hundreds of thousands or millions of followers' mark. There is a growing trend towards micro-influencers that allow businesses to tap into their niche more closely. Micro-influencers have smaller follower numbers but a great track record for their level of engagement with the followers they do have. Finding the right micro-influencers for your brand can give you direct access to targeted leads perfect for your business.
7. Personalisation
Driving all trends in digital marketing is a commitment to and move towards personalisation. Amplifying your message to reach as many people as possible simply isn't effective in 2022. Personalising your marketing campaigns delivers higher levels of engagement, sparks conversation and attracts new customers. A great example of personalisation is the much-loved #SpotifyWrapped feature that generates a buzz every year. To achieve personalisation in your marketing campaigns, you need to make the most of your data and analysis and recognise the value of design. Personalised campaigns must reflect your consistent branding and design, which also goes for your advertising too. Our creative management platform makes it easy to create real-time updates to your consistently branded advertisements and campaigns with ease.
Dominate Digital Marketing in 2022
In conclusion, marketing in 2022 may mean taking things in a new direction to your usual approach. It may include introducing more visuals, video and considering personalisation at every touchpoint. Explore how marketing companies are already achieving this and plan to do so moving forward in our 2022 The State of In-Housing Report.
Share this article