How one of Sweden's most read newspapers got noticed with Dynamic Digital out-of-home (DOOH)
Digital Out-of-Home campaigns shouldn't be hard. In fact, DOOH campaigns are simple in their purpose to demand attention from the viewer, but how do you stand out from the crowd? And can you do it elegantly and without destroying your budget?
Well, that is exactly what Bonnier News and its Swedish daily newspaper Expressen did… and then some! Not only did they create an outstanding nationwide campaign, full of video and dynamic content, but they did it effectively and efficiently.
From billboard to landing page, from webpage to a jammed platform on the Stockholm metro, Expressen created a campaign that from early morning to late at night hit its audiences with relevant and engaging content. And most importantly, increased hits on the newspapers app and website.
We spoke to Olle Walltin, Art Director and Alexandra Lindmark, Graphic Designer at Bonnier News and Expressen about how they were able to use Bannerflow to create their dynamic Digital Out-of-Home campaign across Sweden.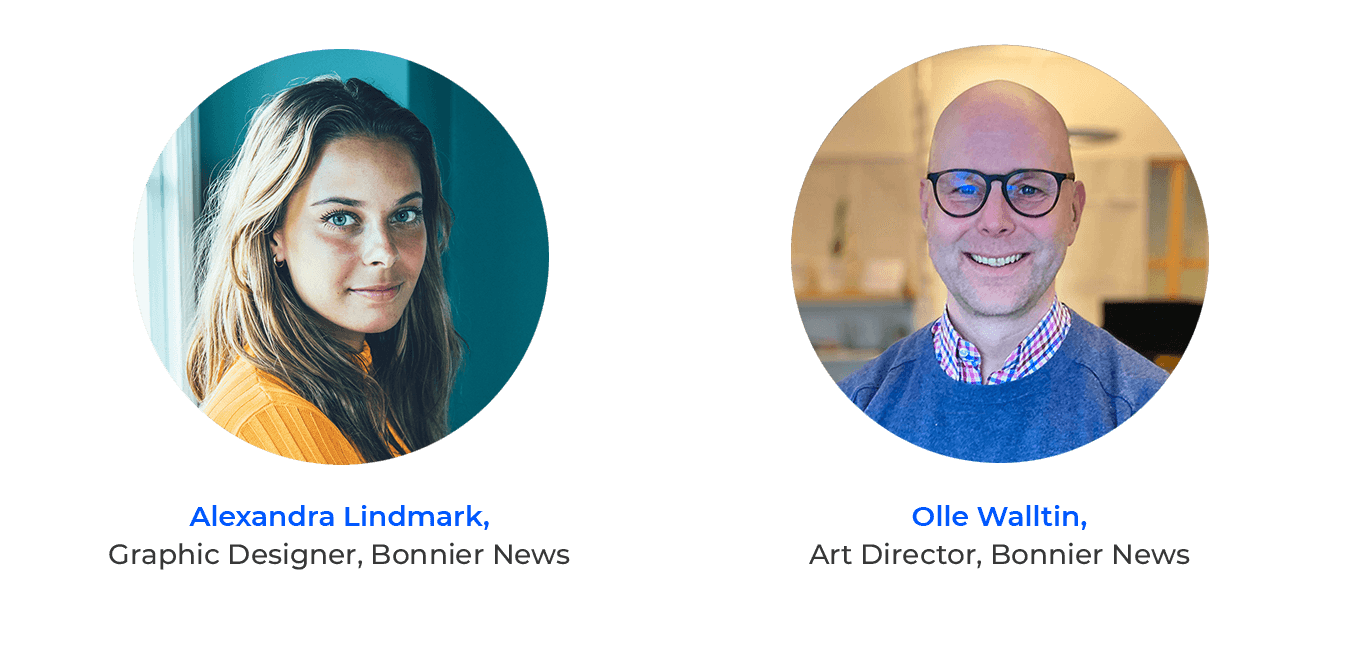 What was the purpose of this campaign?
Olle Walltin, Art Director: Firstly, a little bit of background. Expressen had not been advertised for a few years using Out-of-Home, and especially not across Digital Out-of-Home. Plus, I believe that this was the first time in a long time that we have done any marketing beyond our own advertising channels (except social media). With this particular campaign we hoped to see an increase of daily users visiting our news site and apps.
And while we cannot measure it for certain because of the analogue nature of Out-of-Home, during the time the campaign was up we did indeed witness an increase in downloads of our news app.
What was the reaction to the campaign from the Expressen and Bonnier teams?
Olle Walltin: As a team we were extremely happy. We were also 'the talk around the building' if you like! Everyone at Bonnier News was very proud of how the Expressen brand was marketed on the streets and across the cities around Sweden. There was a lot of pride internally.
How did you get started with this campaign? And what made you use Bannerflow?
Alexandra Lindmark, Graphic Designer: I wasn't involved in the beginning of the project but the team working on the campaign came to me and asked for my assistance. They knew I had been using Bannerflow for creating and producing other campaigns for the organisation.
They explained to me what they wanted and how they would like to display a phone with updating articles, and knowing what I know about Bannerflow I definitely believed it was possible. I just had never tried the data feed or RSS feed in any of my ads, let alone a DOOH ad!
So I set up a meeting with our contact at Bannerflow who then helped guide me through the process of creating the campaign.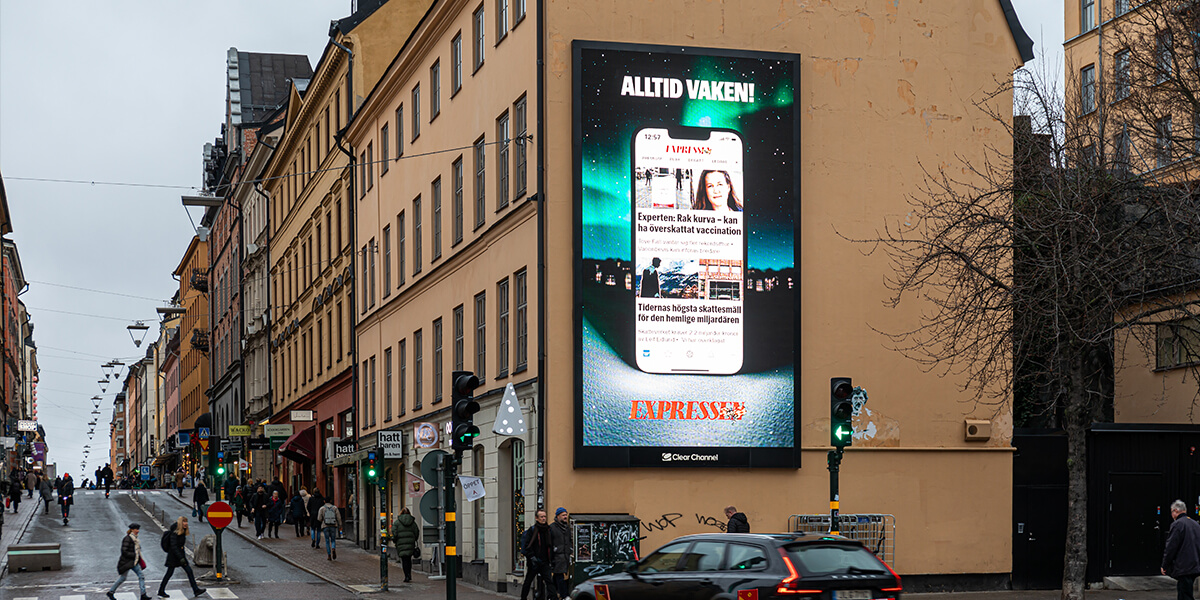 Which design challenges were the most satisfying to solve when creating a range of campaign creatives?
Alexandra Lindmark: For me the best thing about Bannerflow is the scaling functionality. You can create so many formats very quickly.
The second great thing about Bannerflow is how easy it is to incorporate video into designs. Previously I had used basic moving graphic elements. Incorporating video into ad creative easily was a big boost.
For the DOOH campaign we received good support by creating our own custom HTML5 widget. This not only made it easy to apply but also helped us to reduce and compress file sizes, which is especially important for DOOH campaigns.
Why is it so important to reduce file sizes for DOOH?
Alexandra Lindmark: We needed a special connection to Clear Channel, so Bannerflow developer Daniel modified the video widget. Thereafter we could display video directly through the Clear Channel network. Since video uses a lot of bandwidth the widget was modified to compress (without any loss of quality).
What was it like using data feeds in your DOOH campaign?
Olle Walltin: It was really powerful! It was also our aim and goal to do so (use data feeds). It was a particularly key goal since, when the view moves past the screen you see the latest update. Then when you take out your phone on the subway you see it exactly the same as from our original page.
We were to show new viewers the value they would get from visiting Expressen and make it a seamless transition. We are very thankful for the fact that we could enable this powerful continuity using just one platform in Bannerflow.
Alexandra Lindmark: Making the designs and modifying the campaign creatives for the different screens was really easy. But the magic happened when we could see the Expressen news app and our DOOH ads in sync. It was really good seeing the new containers fill with the latest news automatically.
Did the context of where your DOOH ads were to be placed influence your campaign creatives?
Olle Walltin: Of course it was very important. It was extremely important to design backgrounds that worked effectively with the different shaped screens we were to use.
How many people were involved in creating this campaign?
Olle Walltin: In this campaign, five people, but two of them were management! Between me and Alexandra we were able to take this campaign by the scruff of the neck and just run with it.
It was amazing we could just just go from idea to campaign… and that Bannerflow could help us manage to get it out so quickly… It's fantastic!
Will you be using Bannerflow for any DOOH campaigns again?
Alexandra Lindmark: Yes and that is actually something that we are looking at right now with a different brand which is a food magazine. Our idea is a new branding campaign that puts out different ad creatives at specific times of the day.
For example, in the afternoon in Sweden it's really popular to have afternoon cake and coffee with colleagues or friends, 'fika'. For this particular example we will show images and films of cookies and baking, that kind of stuff. Then maybe at lunch we will modify the content and display a great dinner recipe and soon we will be doing the same for different times of the day.

Are there any Bannerflow features that have helped you take your ad campaigns to a higher level?
Alexandra Lindmark: Bannerflow is really smooth for producing ads and I have saved a lot of time creating all the formats I need for every campaign I do. For example, a campaign for a magazine always uses 20 plus formats and that is really time consuming to create using Photoshop or Indesign.
Even better, I can now easily create ads with a lot more movement for Bonnier News, which I haven't always been able to do previously. And this saves an awful lot of time. I love working in After Effects, so being able to apply similar technology in my ads is a massive plus.
Take the next step
In today's hectic news cycle it's not enough to stand still, big bold advertising needs relevancy as much as the smallest banner ad. And thanks to Bannerflow's unique multi-format creative management platform, creating dynamic dooh campaigns is as easy as creating a display campaign.
If, like Bonnier News and Expressen, you want to know how you can use Bannerflow to create your DOOH campaigns, book a demo.
Share this article