8 steps to create the perfect Black Friday banner campaign
Creating the perfect Black Friday display campaign is key for any winning marketing strategy. But it's a competitive day, with every impression hard won, and every click won against the clock.
Black Friday is a once a year bonanza and making sure your brand's banner ad stands out is vital. In this blog, we will go through 8 ways you can create a Black Friday display campaign that performs, including:
Firstly, lets begin with exclusive Bannerflow display advertising insights into why creating a high-performing Black Friday ad is so important.
An engaging Black Friday sales banner is essential
Previously just a US shopping event, Black Friday is now key for European brands. In fact, according to the latest Criteo research, 2021, Black Friday sales surged in France, Germany and Italy.
For both European and US advertisers, getting your display campaign right has never been more crucial. It is also a day when having your best ad creative live can pay-off big time as consumers hunt for the best deal.
Bannerflow display advertising analysis into Black Friday saw massive increase in CTR by 450% compared to the average days during 2020! The main driver? E-commerce display campaigns designed and served specifically for the event.
Yet, what is it that marketing teams can do to make sure they make the most of Black Friday? Read on to find out how…



1. The importance of brand consistency on Black Friday
The first step in creating your ultimate Black Friday banner is getting your branding right. And yes, this sounds simple but so many brands get it wrong!
If you hide your branding, or don't follow your brand guidelines, and say, go all black and white, your brand loses its visual identity. The imagery that consumers associate with your brand comes from hard earned brand awareness – so use it, don't throw it all away! Take this Three Sweden banner from 2018:
It's a brilliant example of how to incorporate recognisable branding with a Black Friday concept.
Graphic Designer at Three Sweden, Ehsan Aslani explains: "The challenge in display advertising is to stand out but not to scream it out. We developed what we called 'Threeality'. We aim to not have lots going on in a banner or 'flash' the best prices but rather be distinct and elegant."
In this campaign, consumers recognise Three's branding, they see that it is a Black Friday deal, and they are far more likely to click because they know and trust the company.
Read the full case study here: See how Nordic Telecom leaders, Three Sweden create an agile and iterative display advertising process.



2. How Rich Media can grab the attention of consumers
For many years, the humble banner ad was static and offered very little in terms of interactivity. This isn't the case anymore thanks to the use of Rich Media. As a minimum expectation, your Black Friday ad should feature some form of engaging Rich Media.
Rich Media refers to features that encourage viewers to interact and engage with a HTML5 banner ad. These are elements that set your Black Friday brand apart and gives you a higher result. For example, it could be a simple as a hover, exploding confetti, or even a basic animation. More advanced ads might even feature Spotify playlists, video, forms, games – the sky's the limit!
Creating Rich Media HTML5 ads is easier than you think too. However, that wasn't always the case! Once upon-a-time Rich Media campaigns took weeks of repetitive coding with an agency.
Today, if you use a creative management platform (CMP), complex display campaigns can take less than a day to create, in-house. And thanks to HTML5 widgets even the most advanced features can quickly be added to any Black Friday ad.



3. Why using digital video helps make your ads stand out
When it comes to standing out from the competition during the busy Black Friday period – video is your best friend. In-banner video is an effective way to capture the attention of viewers and is easy to implement too.
In fact, according to Bannerflow data, video banners gives an 18.4% higher click-through rate (CTR) than their static counterparts. According to IAB Europe, video also makes up one-fifth of all display ads.
Georg Jensen is a great example of an e-commerce brand who use high-quality video to make their ads stand out from the competition. And experience a far higher engagement rate as a result.
In-banner video can be used as a simple backdrop to a banner or more creatively, as part of an animation. For instance, a product trailer that ends with a product feed and a CTA.
To read more on video display advertising, read our best practice guide here.



4. How real-time data feeds can add relevancy and urgency
Data feeds are a great way of making your Black Friday banner ads more relevant. They offer the ability to present consumers with 'live' content. For example, specific products or the latest offers.
But what is a data feed? A data feed is essentially a spreadsheet that regularly updates the content in an ad. Often, display advertising feeds are XML-files, which contain data such as words, and sentences, numeric values, image URLs, and links. You can even use them to dynamically display live product inventory.
Thus, for many brands they are perfect for Black Friday. For example, you could schedule different offers to appear and disappear during the day, or supply live updates of the exact number of products that remain in your brand's product inventory.
Adding live feed to your perfect Black Friday banner isn't difficult either. As with adding Rich Media, a CMP, such as Bannerflow, makes it easy for a designer to hook up a banner sets to display content fed by a data feed.
Meaning your Black Friday ad can remain relevant and make consumers eager not to miss an opportunity during the event!



5. Why a variety of ad sizes enables more efficient media buying
Having flexibility over the sizes of the banners you produce will work in your favour when buying media – especially over the winter holiday season. After all, the more screens your ad appears on, the better!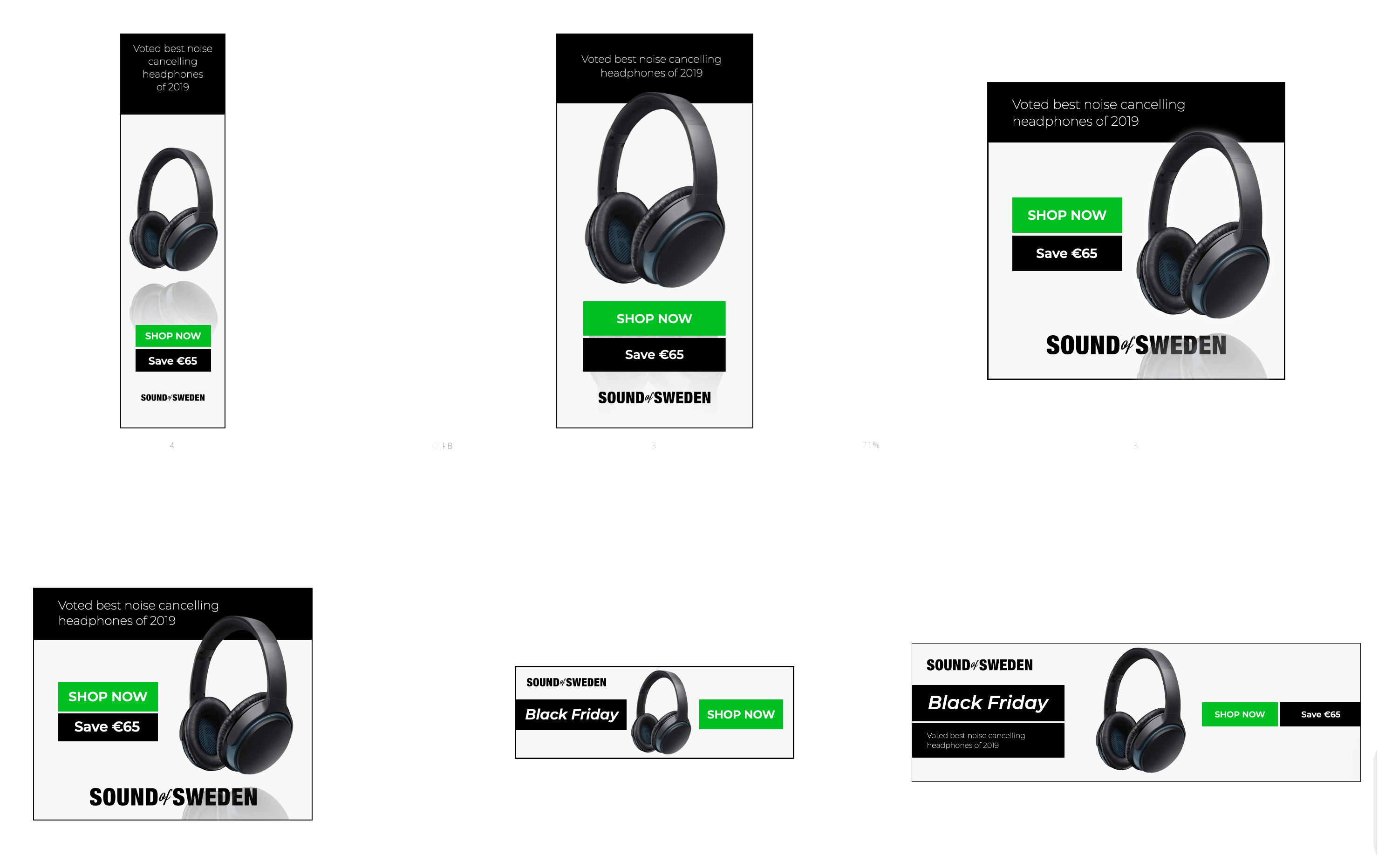 Moreover, creating Black Friday ads in less popular display sizes will ultimately:
Reduce your cost per mille (CPM) since competition is lower for the less popular sizes.
Allow your demand-side-platform (DSP) to make learnings faster, as it can now test from a variety of sizes.
Make buying inventory easier when you're not restricted by different publishers size requirements.
Using a CMP makes scaling your Black Friday ads into different sizes simple too. Using smart algorithms, design assets and text are copied into new sizes in the correct format.
Thus more banners you make, the better the learning. And the more banners you have on Black Friday, the opportunities you have to convert!



6. Why real-time updates are essential to beat competitor offers
We all know that during the Black Friday rush products and pricing on sale can rapidly change. And often, if your ads are handled by a third party, it can be difficult to keep them up-to-date with these changes.
For Head of Tre Creative Agency and Creative Director of Three Sweden, Kristian Lundman, having the ability to amend ads in real-time is important for staying ahead of the competition: "We have an agile process once our display advertising has gone live, and are always ready to make adjustments, react and optimise our ads."
With a creative management platform, advertisers can amend live campaigns ads and have those amends live within 15 minutes. So if your nearest competitor drops their prices, you can retaliate with an even better offer!



7. The benefits of optimising your display ads during Black Friday
Over such a short – yet crucial – time such as Black Friday, it's important to have an eye over performance in real-time. However, reacting and improving ad performance with amends in real-time can be tricky, or nearly impossible without the right ad tech.
For display advertisers it is essential that you use a creative management platform that provides live analytics data for real-time banner optimisation. An enterprise-level CMP should have a real-time editor tool too, this enables instant publishing and updates on the fly.
For Paradox, a leading global publisher of video games based in Stockholm, Sweden, analysing and optimising plays a huge role in their display advertising production. "[Using Bannerflow] we can create the first set, and create two or three variations with different CTAs, slogans or imagery easily. Typically, we will have three different sets running and switch them out quickly based on performance throughout the campaign."
Furthermore, for each campaign it's crucial to A/B test different variants of copy, design and CTAs. Plus, to keep an eye on performance and switch out lower performing campaigns with replacements as the holiday period progresses.
To learn more about effective A/B testing read our ultimate guide.



8. Using retargeting to make every view count
Time and time again, the data shows that retargeting ads perform better than standardised campaigns. Average CTR for banners is 0.07%, yet the average for retargeting banners is 0.7%. Therefore, why not use this tactic for your Black Friday banners too?
This can take the form of an ad that retargets users after they abandon their online checkout with selected products still in their basket. Or rather, an ad that simply retargets visits to your website with your most popular products.
Simply set-up a retargeting pixel on your website, and apply it when setting the publishing rules for your display campaigns. For more information, read about retargeting here.
Note: There's nothing more annoying than repetitive or irrelevant banner ads. So remember to set your frequency capping and stop retargeting after viewers have completed a purchase!
Conclusion
In display advertising, if your brand fails to make an engaging and relevant Black Friday ad then they risk being lost amongst all the noise.
Black Friday is a gold mine for advertisers but like a gold rush – it's all about being prepared, having the right tactics, and tools. Only then will you beat the competition!
Using the right technology and strategies helps your display advertising to perform. Get in contact with Bannerflow to find out how our CMP can help you ou can create your best Black Friday campaign.
Share this article