Best winter display ad campaign 2019
Helping marketing teams create exceptional ads with ease is Bannerflow's mission statement.
Using our tools, Bannerflow customers can produce truly creative campaigns. Yet sometimes, some display campaigns really stand-out. This is what this blog is all about – celebrating the best of the best!
The winner:
The Bannerflow best display ad campaign of winter 2019 went to Hallon. The Swedish Telecom brand was selected for its engaging and innovative omnichannel campaign.
Interview with Three and Hallon, Graphic Designer, Erika Fridehäll

The Bannerflow Team spoke to Erika Fridehäll to discuss her winter ad campaign.
Firstly, congratulations on winning the best display campaign of winter 2019. How does that make you feel?
Thank you so much! I'm really flattered to receive this award since I only just recently started working with digital advertising. It gives me more confidence as a digital designer!
Tell us about the winning campaign design. What was the purpose of this particular ad?
The concept for our campaign came from our creative agency. The idea is that it's the inside that counts.
We want subscription plans for mobiles to be easy and accessible to everyone, and this was translated directly into our design. And we emphasised the sim-only offer by using people instead of just advertising mobile phones. In our ads, the models make direct eye contact with the viewers to really stand out!
We also used simple graphics, block colours – and of course – the cute grandmother in the bathtub to engage our audience. This message of this campaign can be summed up as 'new year – new me – new cheap and easy mobile subscription.'
Which design challenges were the most satisfying to solve? How did Bannerflow help in achieving solutions?
For me, it was finding a fancy solution for the long campaign headlines and editing objects in the smaller ad formats. It's always nice when you can get the price, USPs and CTA to look fabulous and get 'clicks' at the same time!
The Bannerflow in-banner video solution was really helpful too – it was such a smooth and easy process!
Were the assets for this banner custom built exclusively for the ad campaign or were they part of a bigger media campaign?
The assets are part of Hallon's wider campaign, but for this banner, the headline, price, and choice of theme (the video of the grandmother in the bathtub) were specific for this campaign.
We also made DOOH, OOH, and print ads for daily newspapers for this campaign using the same assets.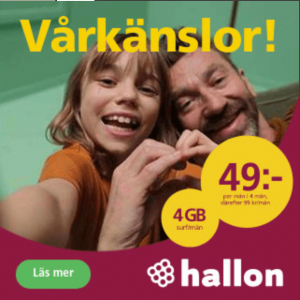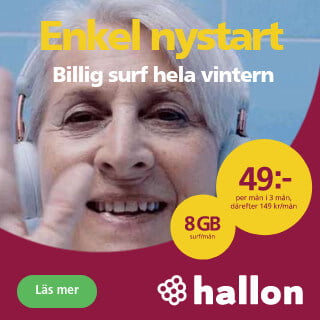 Could you tell us briefly how your team is structured and who else contributes to the creative process from outside your team?
We create concepts, designs, and campaigns for both Three and Hallon. I'm a part of the in-house creative agency team at Three, a team consisting of Designers, Copywriters, Production Managers, and one Creative Director.
For this particular Hallon-campaign, my co-worker Ehsan set the guidelines for the graphics movement in Bannerflow and later on I fixed the layout and fine-tuning for all the formats.
When working on the design process which other tools, beyond Bannerflow, do you use?
I create most of my assets in Illustrator and Photoshop first. Later on, I import them into the Bannerflow library and then the magic of creativity starts!
What is it about the Bannerflow platform that makes designing ads smoother?
I would actually like to mention many features! For example, the opportunity for several people to work on the same project is a great USP for the platform, since we are more than just one person who makes the banners.
I also like how easily I can update an asset or text field and it will spill over on all ads – so that I don't need to open up every ad and update. This feature is really nice for us designers, because if something like the price needs to be updated ASAP I only have to update the asset once. And of course, the function to easily scale ads to different sizes is really awesome.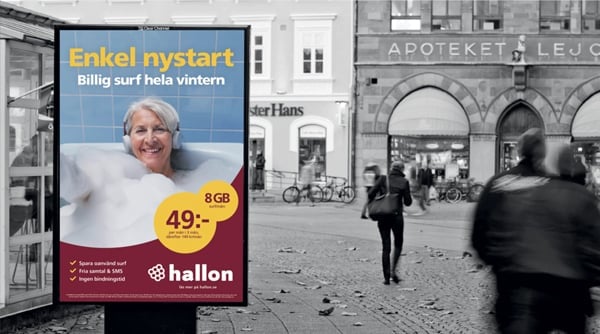 Are there any particular/favourite features that have helped you and your team take banner ads to a higher level? How?
I would say that the ability to publish our campaigns to several ad servers makes it possible for us to upload a batch with just a few clicks. It's a great time saver!
With Bannerflow, our design team can focus on making our designs the best they can be.
What are you looking to try out in your new ads this coming year?
I look forward to learning all the features that are on the Bannerflow platform. I'm still a newbie and I love it! I'm also excited to improve the design together with my team and make even more engaging ads, both for Three and Hallon!
What to know more?
With the help of Bannerflow, Erika and her team were able to create some great campaigns. Display ads can be creative and engaging with the right people and the right technology!
If you would like to find out more about our creative management platform and the benefits it can bring to your marketing team, apply for a demo now!
Stay tuned for next season's winner – it won't disappoint!
How we selected the winning campaign
Bannerflow's Customer Success and Operations teams together decided on the best banner campaign of winter 2019. Each team considered the aesthetics, performance, complexity, creative features, and formats for each submitted campaign.
Selected campaigns were presented to a panel of judges and given a ranking from 1 – 10 based on these same merits. The campaign with the highest total won the prize!
Share this article