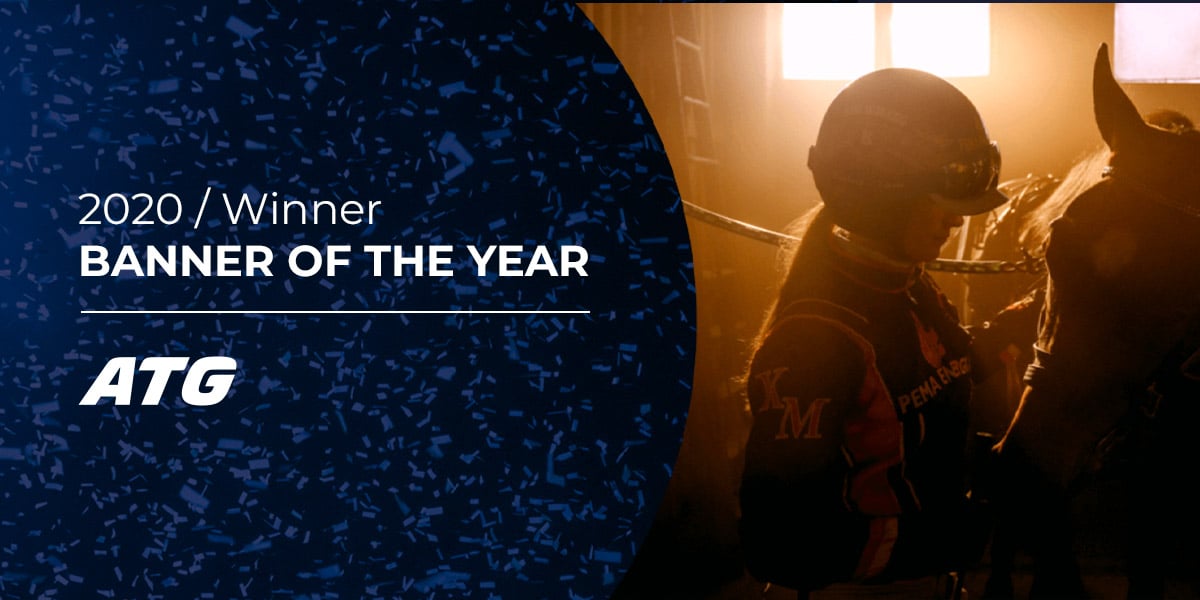 Best Display Advertising Campaign of 2020
These are the best display advertising campaigns of 2020. And yes, while there may be many reasons 2020 was a year to forget – it did still produce many remarkable display ads.
Whether alone in the office, working remote, or surviving home-schooling, designers and marketers collaborated via the cloud to get the job done. At Bannerflow we are proud that for many of our customers our advertising platform was up to the task when it mattered most.
Finding the Best Display Campaign of 2020
Every year, there are seasonal winners of our display campaign competition and this year there were four notable entries. Not only do they show design flair and technological know-how but did so under the most extreme of circumstances during the past year.
However, from our quarterly winners there can be only one ultimate winner!
But first, a reminder of 2020's seasonal champions…
Winter 2020: ATG
And after much deliberation, the first winner of our best display advertising campaign competition for 2020 went to Swedish betting company ATG.
ATG's emotive and sleek display campaign uses video to show a different angle to the world of horse racing. It's also a great example of how to be clever and creative with existing resources.
Even before the onset of the Corona pandemic, ATG reused b-reel footage from an earlier campaign to create something that was new and fresh. Over the course of 2020 this would become a creative trend for many other brands and one that helped deal with the real-world impact of working during a pandemic.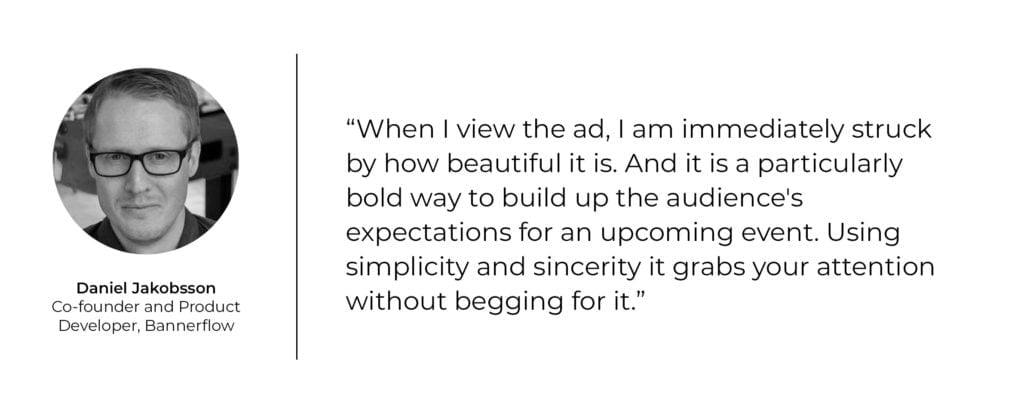 Read more about how ATG produces its display campaigns and this in-banner video campaign here.
Spring 2020: City Gross
Spring was a testing quarter for many brands but digital advertising rose to meet the challenge head-on, with some exciting and experimental campaigns. And Swedish supermarket chain City Gross' winner of our spring best display campaign was no exception.
Designed using our latest ad creator, Creative Studio, it incorporates both rich media animation and video to grab the customer's attention. Best of all, it uses well-chosen Easter-related recipes!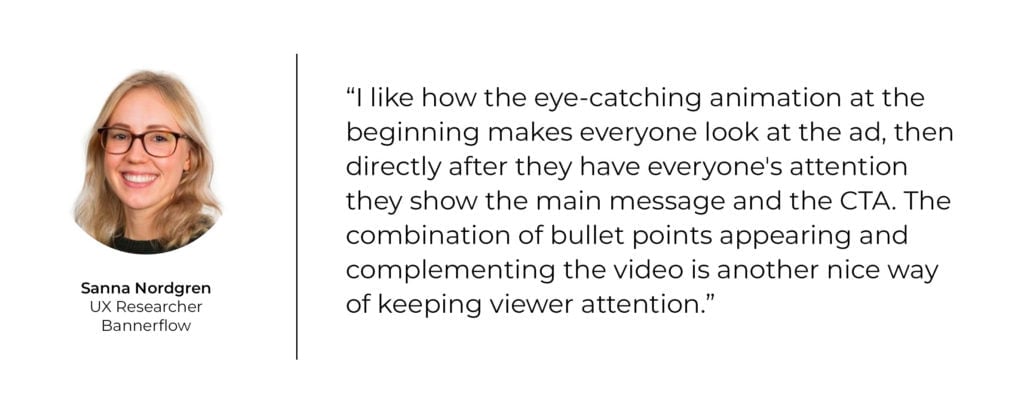 Read how City Gross, Art Director, David Sundh and his team created display advertising during the spring. Plus, how they were able to move into working remotely.
Summer 2020: CM.com
Summer's winning campaign from CM.com is a great example of a strong message and animation combining to make something more powerful. Remarkably it was also the first campaign the team at CM.com built and published using Bannerflow!
CM.com's display campaign was designed to help launch its latest mobile marketing platform. And its concept of turning an anonymous profile into a person with preferences and habits using HTML5 animation was a great way of showcasing the idea of how its personalisation offering works.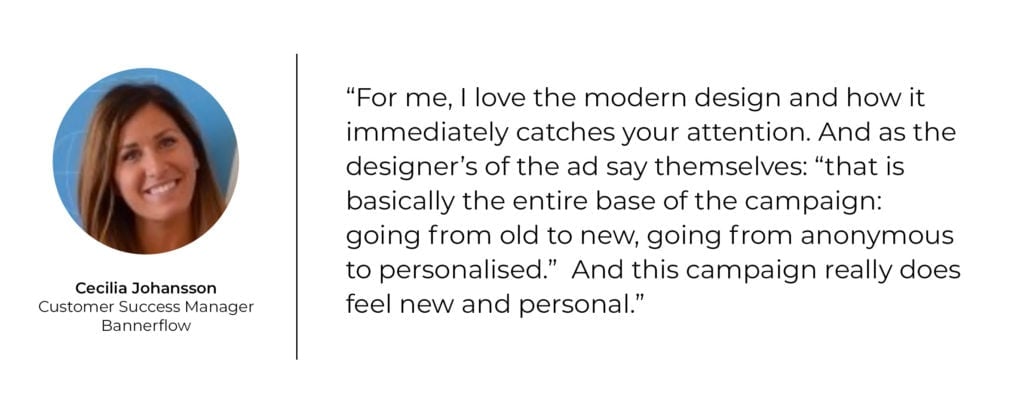 Read how the CM.com team went about creating their first campaign using Bannerflow.
Autumn 2020: Supla+
The last entry for this year's competition was a great example of a Black Friday campaign. Supla+'s winning campaign engages through HTML5 animation and makes a visual impact through its premium feeling design.
Supla+'s campaign was designed as a cross channel digital advertising campaign for social, display and email channels. Uniquely it evokes the 1980s in its design choices, through the use of neon signs and colours. It also uses a rich media widget countdown timer to display to the viewer the time remaining on the Black Friday offers.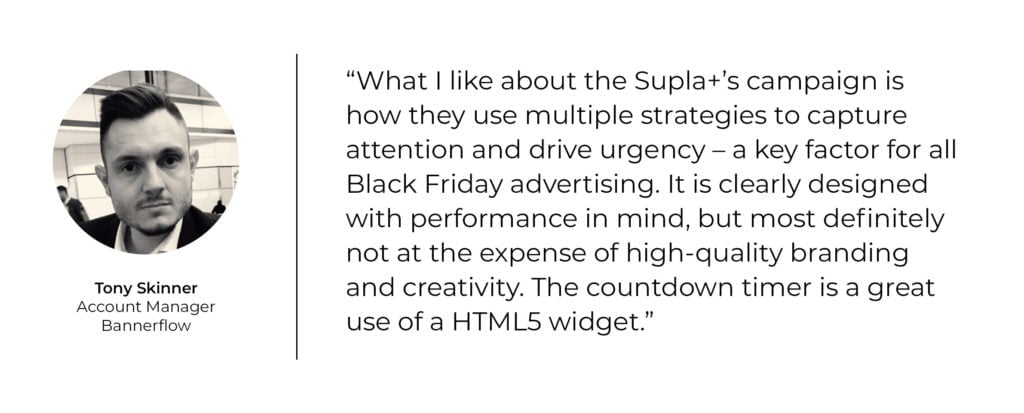 Learn how Art Director, Sanna-Maria Pihl designed and built her winning Black Friday campaign.
The winner of best display ad campaign of 2020: ATG
Finally, the ultimate winner of our 2020 competition went to Swedish betting company, ATG, for its beautiful and resourceful winter campaign.
We caught up with Graphic Designer, Frida Bergsten, and ATG's Senior Designer/Creative Lead Mattias Hallbom.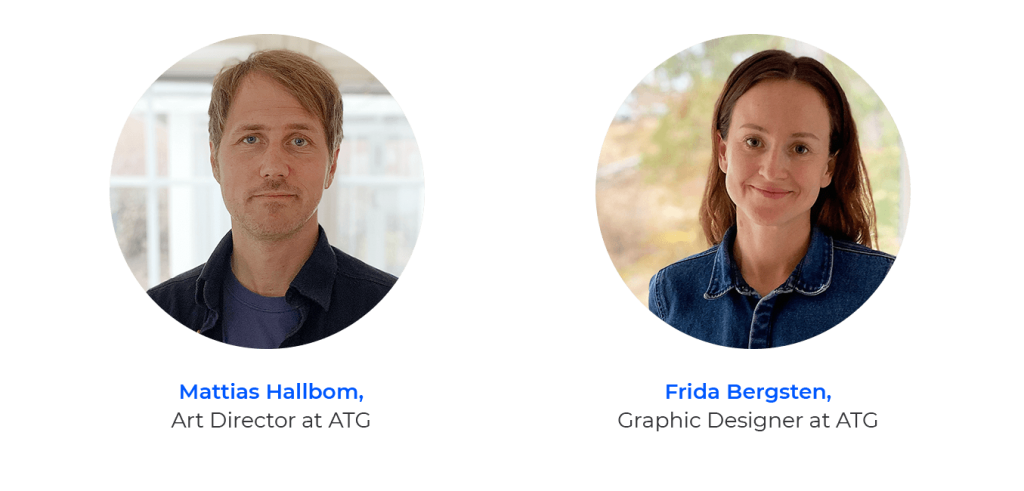 Congratulations on winning Bannerflow's Best Display Advertising Campaign of 2020! How do you feel?
Frida Bergsten, Graphic Designer, ATG: Happy and Proud.
Mattias Hallbom, Art Director, ATG: Surprised and excited!
What is it in your opinion that makes your campaign so great?
Frida: There is a calm, warm feeling in the banner which I think is nice. The video clip, together with the copy, tells the story of the interaction between the jockey and the horse before a race. Which I believe makes the banner interesting.
Mattias: For me, it's the cinematic feeling, the calmness and absence of a pushy selling message which makes the campaign stand out. All together I think it makes ATG appear confident, bold and trustworthy.
What are you looking forward to achieving across digital advertising in 2021?
Frida: Keeping up with what is happening across different digital advertising trends, etc. As well as, continuing to increase the creativity we show within our banners.
Mattias: I hope we can continue to explore this path when it comes to content/the tone of voice in our communication. Plus, also within the technical aspect of what we do – using more video, motion, and effect widgets.
Thank you to all our ad creators
Everyday countless marketing teams design and publish display campaigns using Bannerflow. And these four quarterly winners are the tip of the iceberg when it comes to the sheer volume of display ads!
Last year our in-house team sifted through many different entries, from all sectors, and different parts of the world. And it was our pleasure to view the range of remarkable ads our customers produce! Today, creativity is very much valued for the return on investment it brings and nowhere more so is this clear than within display advertising.
Lastly, apart from Bannerflow, what all the teams we talked to over 2020 had in common was a drive to constantly produce the best advertising they could. Here's to 2021 and better times ahead!
Like what you see?
If you would like to find out more about how Bannerflow and Creative Studio can help your marketing team design and produce remarkable display advertising campaigns then please get in touch, or apply for a demo.
How we selected the winning campaign
Bannerflow's Customer Success, Product and Operations teams, as well as co-founders Daniel Fahlén and Daniel Jacobsson voted on the best display campaign 2020.
Each team member considered the aesthetics, performance, complexity, creative features, and formats of each winning campaign from the year. The campaign with the highest number of votes won the award!
Share this article