Mother's Day Ads: 7 That Will Delight (and Dismay)
Mother's Day ads are important the world over. Yet, it doesn't matter what country you live in, whether the United States or Sweden, Mother's Day sees its fair share of both good, and bad, advertising. When it's good it can be extraordinary, and when it's bad… it can kill a relationship stone dead.
Remember everyone has a mother! Bad ads, bad social media, and bad copy have to be avoided. Also consider this: it's an annual revenue generating machine. According to the National Retail Federation (NRF), $23.1bn was spent by United States consumers in 2018 alone! An average spend of $172.22 per person.
However, in 2020 things were slightly different (for obvious reasons). In it's latest report the NRF found that the vast majority (77%) of those it interviewed were spending less on Mother's Day due to the impact of COVID-19.
Yet, even during a global pandemic Mother's Day is still big business. So what makes Mother's Day ads awesome? And what can we learn from some of the best (and worst) of recent years?
1. Bloom & Wild – Opting out of Mother's Day
Personalisation in 2021 is all the rage but how can you use it effectively? And most importantly, sensitively? Online Florist , Bloom & Wild, does just that. Indeed, it noticed that while for many of its customers Mother's Day is a day to celebrate – for many others it may be a day of sadness.
In 2019 Bloom & Wild began to allow customers to opt-out of email reminders about Mother's Day but in 2020 things were taken a step further. Using it's CRM all customer's who were logged in and who opted-out of receiving Mother's Day cards, now saw no mention of Mother's Day on the website either. No mentions on key areas such as the homepage, navigation menu or product pages.

And the best news? The company has repeated the concept for all potentially sensitive occasions, for example, Father's Day and Valentine's Day. It also launched a new preferences section that makes it easier to opt-out of reminders to what you might see as a sensitive occasion without having to wait to be asked.
Today, in 2021, it has taken this brilliant idea and gone one step further, working with other online brands to create The Thoughtful Marketing Movement. Its mission to make opt-outs simple for those who want to avoid sensitive occasions. We simply love how personalisation technology has been used to change the way brands market.
2. Magical Mother's Day – Disney UK
Back in 2015 agency Gravity Thinking was tasked with creating sharable content for Disney UK on Mother's Day. After engaging in a social listening review, it discovered many positive conations between Disney films and mothers. According to Gravity Thinking, "a large number mentioned watching Disney films with a mother or grandmother and in turn mothers and grandmothers watching with their kids." This concept was pounced on by the agency. Magical's Mother's Day ad was composed of short videos of mothers and their children watching and reacting to Disney classics.
The films were conceived as sharable conversation starters for Disney's different Facebook channels and Twitter accounts. On only a small budget, 485,000 saw the ad. While Gravity Thinking estimated that 9% watched and then directly engaged with the brand via social media. This campaign worked because insight was used to created content users could relate and respond to. Mothers wanted to engage with Disney because what they saw represented was an aspect of their lives.
3. Shot on iPhone, Mother's Day – Apple
Released across channels before US Mother's Day, Apple's 2016 video Mother's Day ad is simple and effective. For Lizzie Plaugic of The Verge Apple embraced Mother's Day: "via some very heart-warming photos and a nice man with an inoffensive voice and an acoustic guitar." The Apple ad features photographs uploaded to social media that have been "shot on iPhone". These photos then create a montage of touching moments between mothers and their children.
It's an excellent example of how a brand can use social networks to sell a feature of its product: its camera functionality.
The ad has since caused controversy for Apple who have been accused of censorship by LGBT publications. After its release it emerged that Apple had removed an image of a same-sex couple with their two children from its Mother's Day ad for some international markets. However, what a marketer should take from the campaign is that Apple positioned itself as a representative of all modern mothers. It's aspirational take on motherhood: buy our product and you can be an Apple mother too.
4. British Roses for HM 'The Queen' – The Body Shop
So you're an international cosmetics company of British origin and one of your key selling points is being different. How do you embrace this? Highlight your organic credentials? No, get the Royal family to sell your wares! That's not so easy you say? The Body Shop would happen to agree. Step forward satirist Allison Jackson to save the day. A Bafta award winning artist, Jackson specialises in paparazzi style videos that use doubles and lookalikes. The result is below.
This Mother's Day ad carried on from a similar 'home' video release in 2015, only this time expanding the concept to introduce a new Body Shop scent, British rose. In a sense, The Body Shop reviewed the success of its previous campaign and upped the ante with an expanded ad for 2016. Cited as one of the best Mother's Days ads of 2016, for Hannah Allen, of Verily, it shows that "not all the best odes to moms have to be serious". Which is something worth noting: amusing content also happens to get shared more across social networks! And yes, I really did think that was Camilla Parker Bowles in the ad.
5. Mum's the Word – Sainsbury's
UK Supermarket chain Sainsbury's get the award for the most thoughtful Mother's Day ad with its Mum's the Word campaign. An award winning cross channel campaign that worked brilliantly. Ad agency phd sought to help fathers and children surprise their loved one with pancakes. Phd discovered – via NetMums research – that 80% of mothers spent a substantial proportion of Mother's Day cooking and washing up. While only 9% have ever had a meal cooked for them by a family member on the day.
The campaign was simple. Prior to Mother's Day, an advert containing a recipe for dads and kids to cook was 'hidden' within male environments of UK newspapers. Not only did this appear in print but online and mobile too. The campaign was a success, managing to minimise a mother's exposure to the ad and inspiring dads and kids to cook pancakes for her. The ad resulted also in a 15% increase in sales of the brand's own-brand jam.
It's a great example of how thoughtful timing and effective ad targeting (as well as how to use puns appropriately) can be the right ingredients for a brilliant campaign.
6. Thank You, Mom – Proctor and Gamble
Named one of the top ads of the 21st century by Advertising Age, Proctor and Gamble's "Thank You, Mom" is an emotional masterpiece. The latest in a series of 'mother' themed ads by the consumer goods giant. The ad was launched to coincide with both US Mother's Day and the Rio Olympics. Through short vignettes it details how mothers have helped young athletes develop courage. This particular "Thank You, Mom" ad began "with the insight that behind every athlete is an amazing mother", according to Marc Pritchard, P&G's global brand officer.
And boy does it deliver. Each young athlete faces a threat: tornadoes, terrifying turbulence, taunts and car crashes. Facing these life changing moments with them is a composed mother…and in a way so is P&G, supporting the mother through its brands.
At the heart of the ad is emotional storytelling.
For marketers, it's worth noting that Mother's Day is a particularly good day to celebrate strengths of all kinds – this idea resonates whatever the advertising channel. Better than just buying flowers, P&G positions its products as the enabler for mothers to be heroes. The ad ends poignantly with the athletes embracing their mothers and for Tim Nudd of Ad Week the "final onscreen lines of the spot are perfect, too". "It takes someone strong to make someone strong."
7. Pandora makes Snapchat relevant to mothers
Pandora, an international Danish jewellery manufacturer, took a different path with it Mother's Day ad. It got down with the kids and used Snapchat. The luxury store encouraged UK mothers and daughters to take Pandora inspired selfies together.
The agency behind the idea, Cream UK, encouraged users to pick up their smartphones by using five well-known mother and daughter duos to use the filters and promote the jewellery brand on the day itself. Helen Harris, Head of Digital at Pandora UK, commented: "we've worked with some truly talented bloggers whose warmth and creative approach showcase our collections in a new light whilst demonstrating new expressions of what motherhood can be and can do".
Not only was Pandora the first brand in the UK to use Snapchat's Geofilters (it was KFC in the States) but it crossed generations too. The takeaway is that by experimenting with new ad tech tools Pandora was able to engage with millennials and make itself relevant for the Snapchat generation…and their mothers!
…And one to dismay! Mr Clean and out-of-date stereotypes
So far you must be thinking Mother's Day is easy for advertisers to get right? Wrong. Once upon a time, way back in, er… 2011, Proctor and Gamble – who released one of the best adverts featured in this blog – allowed this beauty to make its way into the world.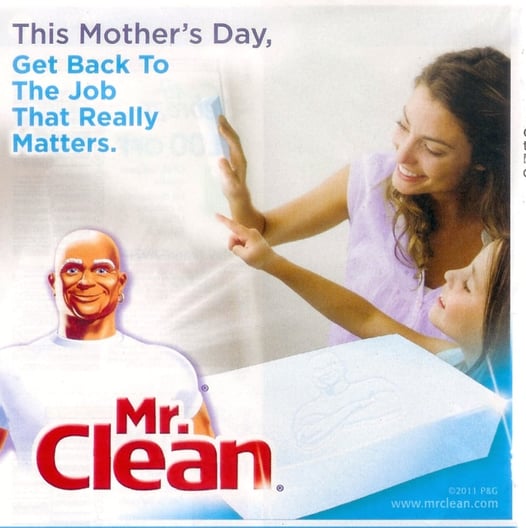 Yeah, the copy really does say: "get back to the job that really matters".
And here is the problem with the ad: it relies on dated stereotypes and enforces old fashioned ideas. A man goes to work, a woman takes care of the kids and the house, etc. It doesn't take a high school textual analysis to list the problems with the ad. Likewise, it's just not a reflection of modern family life. Released back in 2011, we can only assume – judging by its more recent efforts – that P&G has learnt its lesson!
Whatever your product: always represent and engage with insight and sensitivity.
Some other Mother's Day ads that missed the mark
A special mention goes to book publisher Penguin. Back in 2015 it failed to grasp the importance of choosing a Twitter hashtag carefully. It innocently asked users to tweet them with the hashtag #YourMum. For those you don't get it here's a link to the Urban Dictionary – be warned.
The result was over 7,000 people hijacked the campaign to share adolescent jokes. Marketers at Penguin certainly increased brand awareness and social engagement but whether they sold more books for Mother's Day is debatable. A little bit of research goes a long way sometimes!
Thanks for pointing our #YourMum has an alternative meaning you guys! Now back to the books…

— Penguin Books UK (@PenguinUKBooks) March 9, 2015
And one last item to chortle over. The award for best misjudged tagline belongs to diamond store De Beers. Back in 2003 it's seemingly innocent line "the mother of all Mother's Day gifts" just so happened to mirror one of Saddam Hussein's favourite phrases: "the mother of all battles". Not so great when Mother's Day in the UK that year happened to coincide with the start of the second Iraq War.
Conclusion
Mother's Day is a special day wherever you are in the world. Thanks to the internet, mobile technologies, and home delivery, it's an event that is valuable to brands, as well as mothers! What's more online is the way forward. With Tyler White, Senior Manager of data science for Adobe Index, noting that for Mother's Day "consumers are shopping online more because it is convenient and they are used to it".
So where does that leave advertisers? Making the best online display advertising is certainly one step, and with creative management platforms like Bannerflow on the market, now has never been a better time to create remarkable campaigns.
Moreover, embracing creativity, using emotional storytelling, and applying insight across channels, are all elements that help make awesome Mother's Day advertising. And – as any dutiful son or daughter knows – remembered!
P.S. Here's a link to the Wikipedia page for Mother's Days around the world. Just in case you were wondering when it is in your country.
Share this article