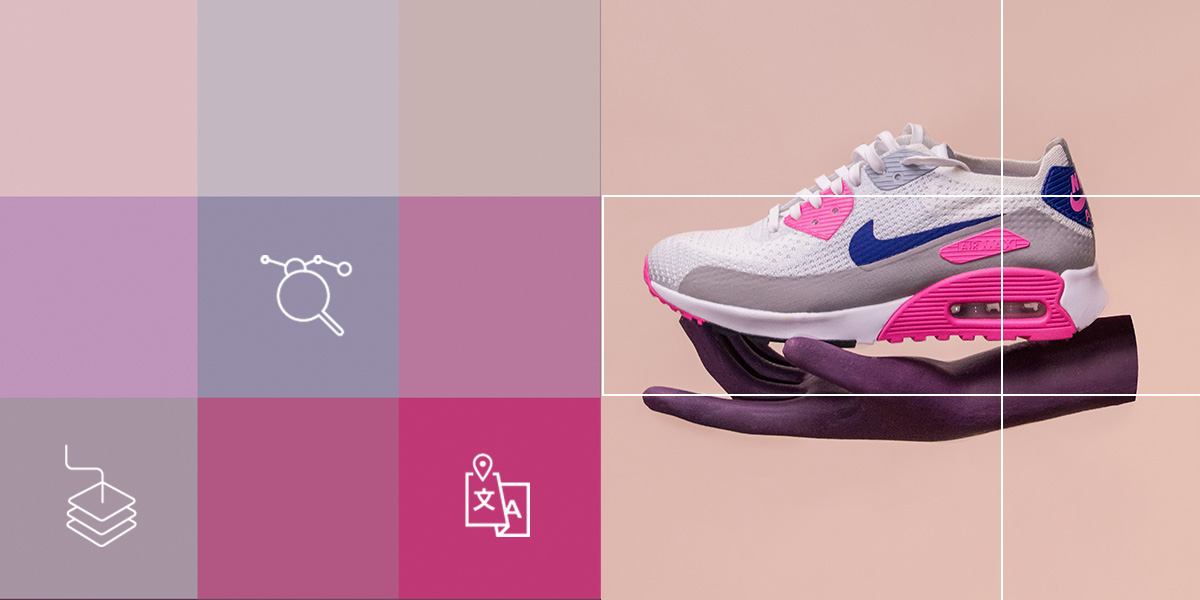 6 top e-commerce display advertising ideas
The impact of Covid-19 has certainly highlighted the importance for retailers to have a strong e-commerce display advertising offering.
Offering frictionless, cross-platform shopping online has quickly become essential. This is where e-commerce display campaigns for your retail brand can step in to maximise your ROI.
A report from Catalyst Digital revealed that 66% of consumers choose retailers based on convenience. This need for convenient shopping experiences may have something to do with Primark's revenue decline during the first lockdown in 2020. The retailer famously offers its customers no online shopping option – so with stores closed, there was no easy way to shop with them. As a result, Primark lost out on £800m – a revenue fall of 75%.
In this article, we'll be looking at ways your brand can create e-commerce display ad campaigns that stand out from the crowd. We'll focus on everything from automated production to personalisation and the use of live data feeds.
6 ways to create your best ever e-commerce display advertising campaign:
Automated production
Reuse and repurpose creative assets
Real-time updates to live ad campaigns
Personalise ads with dynamic creative optimisation
Create display and social ads simultaneously
Use of live and automatic data feeds
Looking to the future
The latest Adobe Digital Economy Index findings, highlighted by Forbes, revealed predictions of e-commerce sales reaching $4.2 trillion globally this year.
Looking ahead, Statista data projects that 2022 will see worldwide revenues for e-retail grow to $5.4 trillion.
Meanwhile, researchdiscussed by Econsultancy also shows how consumer habits are likely to evolve as we emerge from the pandemic. Data collected by Mood Media from across the US, UK, France and China shows that ordering online to collect from a physical store was a popular option.
The projected numbers for e-commerce growth certainly show the importance of investing in this area – especially across channels and platforms.
However, it's clear that some brands – such a Primark – are not set up for what the data suggests will likely be a busy autumn/winter 2021 for e-commerce sales.
As we move closer to the busy period leading up to Christmas, there are key dates in the retail calendar for you to consider targeting. Therefore, devising solutions and strategies for your brand's e-commerce offering could prove vital. So let's take a look at the role e-commerce display advertising could play for retail with everything from real-time updates to ads, personalised banners and more.
Struggling to create retail display ads at volume? Look no further than automated production
The e-commerce world is competitive, so having the ability to be a step ahead can make a real difference. All brands are continuously searching for ways to maximise ROI. An effective way to ensure this is to create best-in-class display advertising campaigns through the automated production of your e-commerce ads.
Many marketing teams may still be feeling the effects of pandemic furlough or even redundancy. Keeping pace with online retail leading up to a busy autumn/winter campaign can be a struggle without ways to automate your advertising efforts. Automated production can step in as an answer to these resource issues by helping you to make ads, at volume, in a matter of minutes.
Not only can you create thousands of e-commerce display ads at pace, but these assets also adjust automatically to be utilised across various platforms. Additionally, you can keep costs at a minimum as there's less need to send work externally and instead you can create what you need in-house.
How Bannerflow Creative Studio can help
At Bannerflow, our Creative Studio is an ad creator that can assist with this. Whether you want to launch e-commerce display ads for your retail brand on social media or you're looking for personalised banners, this advertising product can help. The great thing is that this can all be done from one location – then all you need to do is create a schedule and watch them launch.
Case study: Elko
Icelandic consumer electronics retailer and user of the Bannerflow solutions, Elko, won our summer advertising display campaign in 2019. This campaign is a fantastic example of how Rich Media can be used in e-commerce ads and shows how automation can step up your brand's game.
The clever Rich Media slider created eye-catching, interactive e-commerce banners, which heightened engagement and increased click-through rates.
Digital Asset Manager at Elko, Guðrún Ósk Sigurjónsdóttir, explained how using the Bannerflow Creative Management Platform as a total solution and its products helps them:
"For us, it's really easy to produce all the different sizes. We just make one banner and then scale it to the different sizes we need – without any of the repetitive design tasks! I would say we now create ads around 50% faster compared to before."
Couldn't use certain assets last year? Reuse and repurpose them
Covid-19 moved the goalposts for many businesses in many ways. This might have been due to the previously mentioned necessity for furlough stretching resources or having to shelve planned campaigns completely.
The latter became a huge problem for marketers last year. Marketing Week reported in April 2020 that 86% of marketing teams delayed or reviewed campaigns due to the pandemic.
Where are all those assets now? Incredible imagery and designs are available for use right now!
By reusing or repurposing what you already have, you'll enjoy maximum value from these existing assets. Your pre-pandemic spend could essentially bear fruit more than a year later – bonus. This could also free up a little budget to work on and launch other e-commerce display advertising ideas you've had and take a step ahead of the competition.
Ever-changing offers? Update live ads in real-time
As we move closer to the autumn/winter shopping seasons, you're likely to have changing offers as a retail brand, so your e-commerce display ads and campaigns need to keep pace.
In the lead up to the Christmas period, Black Friday is closely followed by Cyber Monday and this is when many consumers choose to do their festive gift buying. In fact, a staggering £2bn was spent on Christmas presents in the 2019 Black Friday sale while 70% of UK consumers said they planned to shop on the day in 2020.
Agility in real-time for e-commerce display advertising
Being able to stay ahead of the competition in the e-commerce landscape can rely on digital advertising agility through being able to update your display ads – live.
With Bannerflow, you can instantly adapt your offers to beat or match the competition – something that could be particularly helpful for Black Friday and Cyber Monday.
Using direct publishing and network integrations you can display all your most important latest offers, such as discount codes. Via the one platform, you'll have a view on insights to make informed adjustments to help convert interest.
Not only this, but with Bannerflow's Campaign Management capabilities your expert marketing team can also instantly edit published ads – in just a few clicks, across campaigns. So, when we use the Black Friday/Cyber Monday example – you can show an offer for the first campaign and then update it live for the next without having to republish.
Want to know how to create the perfect Black Friday campaign? Check out these eight steps and create e-commerce banners that get the maximum ROI on your Black Friday advertising efforts.
Want to get personal? Create e-commerce display advertising with dynamic creative optimisation (DCO)
It's no secret that personalisation has now become the expectation. According to Instapage, 79% of retail consumers are more likely to interact with an offer if it correlates with previous engagements they've has with the brand.
Additionally, it frustrates 74% of customers when content on a website isn't personalised. Without personalisation efforts in a competitive e-commerce landscape, consumers are likely to look elsewhere for products or services.
This is where DCO can step in to offer control of creating better ads, with increased relevance. An e-commerce display advertising campaign using DCO can target the right customers with the best quality creative.
What is DCO?
Dynamic Creative Optimisation, or DCO helps marketing teams to utilise HTML-5 ad placements in place of generic website content such as images and videos. These e-commerce ads change depending on the customer viewing them and this type of personalisation can be achieved at scale.
DCO utilises data appropriate to each returning user based on things such as behaviour and location. This process results in relevant, personalised content that speaks to each target audience.
Benefits of creating retail display ads with DCO
When you use a total solution such as Bannerflow's Creative Management Platform (CMP) for your retail brand's e-commerce display ads, you can expect the following benefits:
Personalisation possibilities
Complete control in real-time
Increased ROI
Heightened creativity
Ad placement relevancy
Case study: Bannerflow for the Tokyo Olympics
Bannerflow, along with Essence and Adform were nominated for an award for their efforts to drive users to sign up to the Olympic Channel to build momentum for the games.
Due to Covid-19, the 2020 Olympic Games was postponed to 2021, setting it a year apart from the 2022 Winter Olympic Games in Beijing. The IOC launched a campaign to drive sign ups to the Olympic Channel to create a buzz around the events.
By using dynamic creative ads, the sign up targets were far exceeded – achieving 63% greater engagement levels than other, standard formats.
Budget headaches? Simultaneously create e-commerce Display and Social ads
Covid-19 has impacted businesses in various ways. It's seen some reduce their staff numbers, some cut budgets and some close their doors altogether. Although, research discussed in CityAM shows that while advertising spend dropped to a record low last year, there are ways to save money.
By producing all of your e-commerce display advertising and social ads (Facebook, YouTube, TikTok and Instagram) using a cloud-based ad creator you can reduce costs.
Bannerflow's Creative Studio can do just that. Using this powerful tool, you can create all your e-commerce ads in one place.
Thinking of branching out into digital out-of-home (DOOH) media too? Retail display ads for digital billboards or screens in locations such as shopping centres can also be created alongside your display and social ads in Creative Studio.
The great thing about intuitive creators, such as the Bannerflow tool, is that training isn't an issue. Another cost saver. Design expertise is always preferable for the best results, but any member of your marketing team can create display and social ads to shine a light on your retail brand.
Stay on brand and on message across all platforms by producing your creatives in one place – and save money in the process.
Can in-housing help?
Leading consumer electronics retailer in the Nordic region, Elkjøp, made the in-house move and also uses Bannerflow for its ad creatives.
Marketing Technology Manager, Thomas Sourour, explains how in-housing and automation through Bannerflow's solutions helps them become more efficient and saves costs:
"…in Denmark, Finland and Sweden we use the Bannerflow platform to produce display creatives. We always want to do more ourselves as the more we do the more control we have and the closer we get to our customers.

Producing display advertising more efficiently frees up time to focus on what really matters, and that is creating amazing experiences for our customers. Any money saved we focus back onto our customers, whether that is through better customer guarantees, or more creative campaigns."
Want to be on the pulse this autumn/winter? Use live and automatic data feeds in ads
Throughout the autumn/winter period in the world of retail, deals and offers frequently change and there are many developments. To stay ahead of your competitors, it may pay to keep your customers in the know. You can do this with creative campaign management using live and automatic data feeds in advertising to update your e-commerce display ads.
Automatic data feeds can update your display ads with whatever you want, whenever you want with specific product offers. Live data feeds can amend your ads in real-time with information such as product stock inventories.
Both are perfect for the fast pace of both Black Friday and Cyber Monday. You simply need to ensure the data feed informing your ads updates on a regular basis.
Conclusion
An effective advertising campaign featuring e-commerce display ads, banners, social and DOOH could be vital for your brand this busy retail season.
In a saturated market, impacted by the strains and stresses applied by Covid-19, being dynamic will be key. Customers expect personalisation, transparency and fast updates – without this, they'll shop with a competitor.
Harnessing the power of a total solution such as Bannerflow's Creative Management Platform and its products, getting ahead – in real-time and at scale – could be simple.
From automated production to updating live retail display ads and using DCO for personalisation, you could have the key to unlock e-commerce success this autumn/winter.
Interested to learn more and see if it could work for you? Book a demo with Bannerflow today and experience our platform in action.
Share this article