8 e-commerce trends to pay attention to in 2019
To say that e-commerce is exploding right now would be an understatement.
Seriously, though.
A projected 15% spike in holiday spending is nothing to scoff at. Meanwhile, increased mobile sales in 2018 further signal how our space is not only growing but also evolving.
As a result, merchants can't afford to rest on their laurels and expect the same sort of growth in 2019. There is no better time to assess today's top e-commerce trends and how merchants can adapt ASAP.
What trends will dominate e-commerce in 2019?
If you haven't fully defined your sales strategy for 2019, don't panic.
To help you we've broken down the more pressing trends merchants need to know about in 2019.
From more advanced tech to ever-changing consumer behaviour, these eight areas deserve your undivided attention.
1. Emphasis on voice search and SEO
SEO has always been a top priority for merchants and 2019 is no different in that department. This is especially true given the constant flux of new e-commerce brands hitting the scene on a day-to-day basis.
However, consider just how much user behaviour is changing when it comes to how shoppers search for products.
Take the rise of voice search, for example.
Voice search and shopping via virtual assistants like Amazon Echo may have been little more than a novelty in the past, right?
Times have changed. In fact, voice search is projected to represent a $40 billion market by 2022 as opposed to the $2 billion market it is today.
Merchants must, therefore, consider how they can integrate more spoken, long-term and colloquial keywords into their SEO strategy.
As noted by ConversionXL, the top result in Google's "featured" snippet is oftentimes also the top result for a voice query. This further cements the need for merchants to create in-depth, long-form content while also targeting relevant keywords in the process.
Phrases such as "where can I buy a SNES classic" represent the sort of specific, intent-driven queries that we're talking about.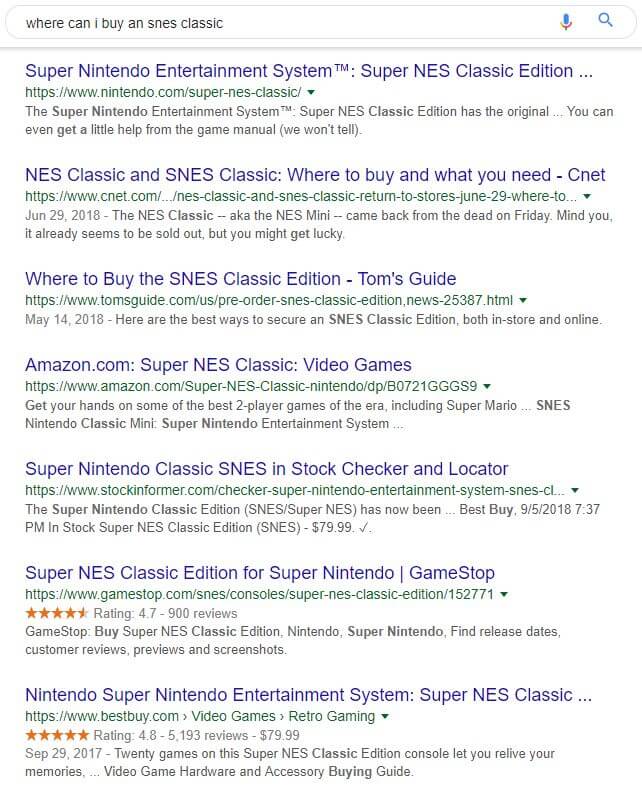 Content marketing remains a staple of e-commerce for a reason. Beyond creates valuable how-to's and product-centric shopping guides, merchants should also look to avenues such as YouTube to beef up their SEO strategies.
Relevant product videos (hint: use keywords and recent dates in your titles) can help land you on that ever-so-coveted top spot.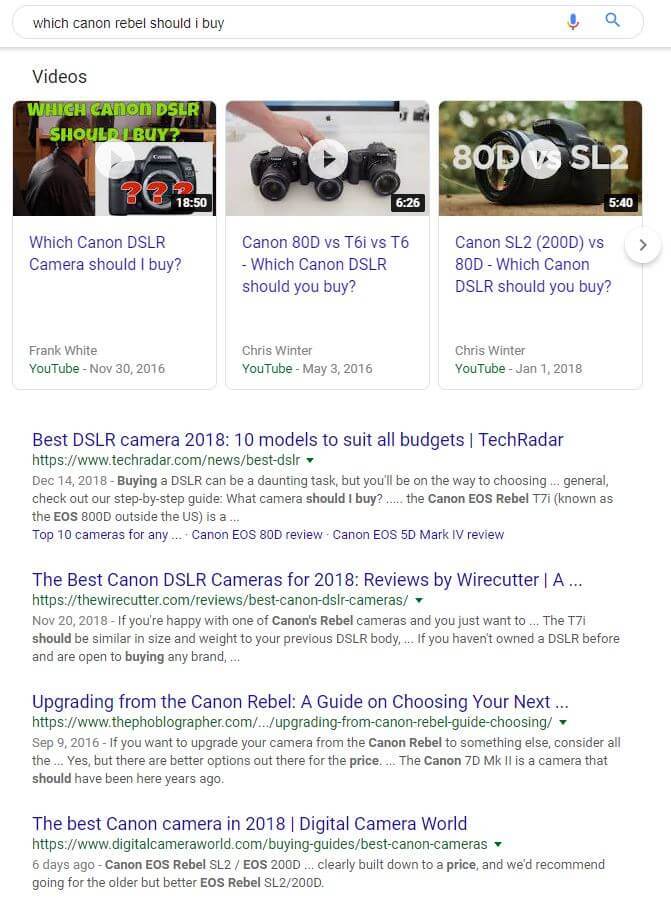 2. Even more marketing automation
E-commerce merchants are today are among some of the busiest folks in the digital marketing world.
And so the more you can effectively put on autopilot, the better.
There's a reason why companies that invest in marketing automation see a 10% bump in revenue within a year of doing so.
Think about it. With cart abandonment rates sitting around 70%, automation tools and behaviour-based marketing can be a game-changer for retaining customers and boosting your bottom line. Read more about cart abandonment here.
The need for merchants to collect customer data and use it as marketing firepower is apparent in 2019. There's a wealth of e-commerce-specific solutions to help you do exactly that if you aren't already.
For example, here's a sample workflow from Agile CRM which uses behaviour-based targeting to seal the deal with customers depending on the actions they take on-site. This ensures greater customer retention without having to manually chase your leads around.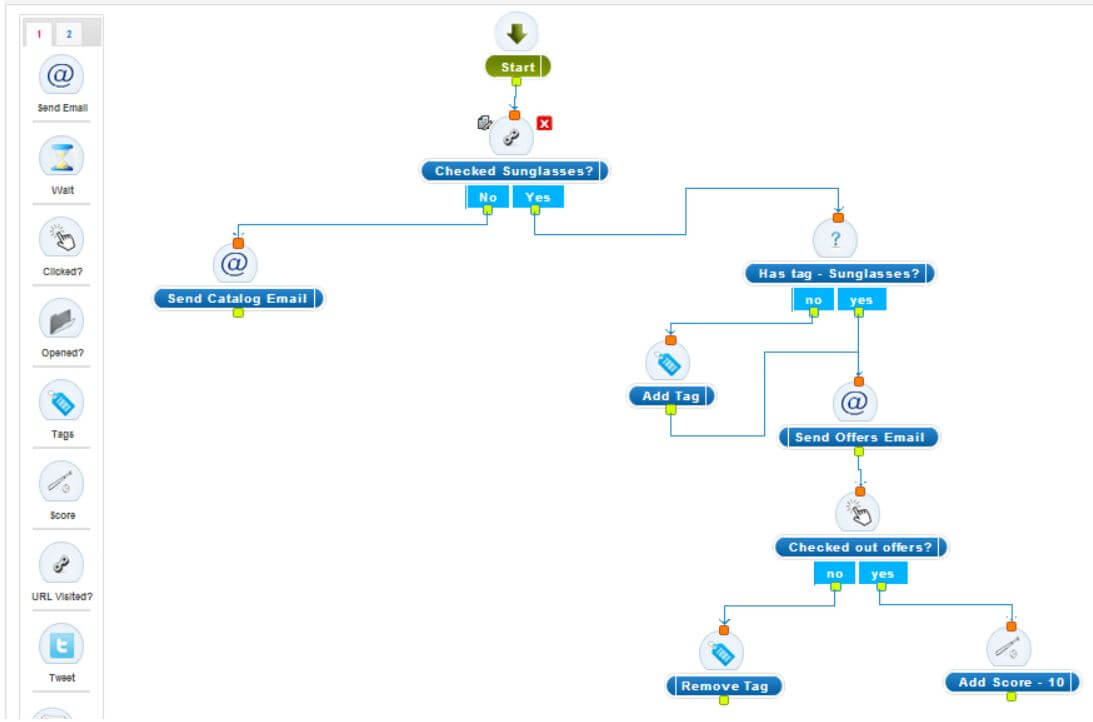 Another trend to watch for in 2019 is the growing need for marketing personalisation. With personalisation resulting in higher conversions, anything you can do to give your automation a more human touch is a plus.
Tools such as Drip boast features such as content customisation to help merchant deliver content and deals based on their on-site activity. The ability to track and tag your customers allows you to tailor your ads accordingly rather than push out "one-size-fits-all" marketing messages.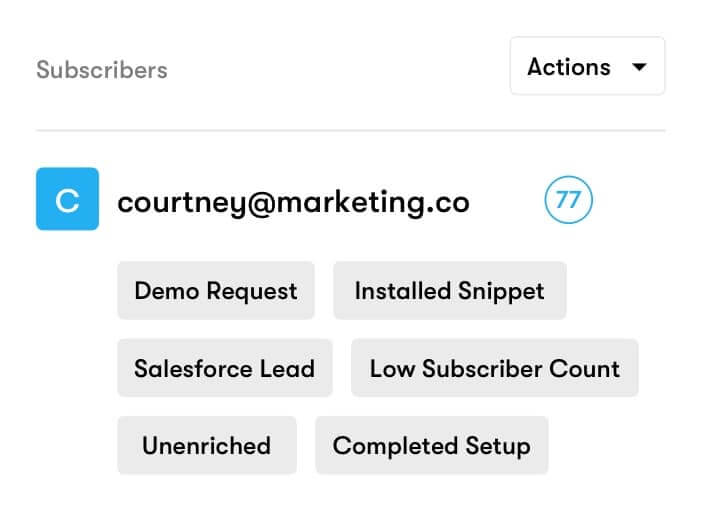 3. Smarter social selling
Reality check: social media is no longer the wild, wild west of marketing ROI that it used to be.
Sure, the likes of Facebook and now Instagram have historically had their place in nurturing leads.
But again, times have changed. Although brands have traditionally been discouraged from being too "direct" on social media, the rise of social selling tells an entirely different story.
Here's some food for thought: half of all revenue in major e-commerce industries is influenced by social media in some way, shape or form. This includes not only researching products to purchase but making purchases directly.
Much of this can be attributed to the popularity of social ads. Facebook's remarketing ads, in particular, continue to be a goldmine, especially given the 2018 algorithm update which signals the platform's status as a "pay-to-play" channel.
The ability to target extremely specific customers and create custom audiences is invaluable for e-commerce brands. Given how specific brands can get with their targeting while also keeping their budgets in check, there's a reason why such ads aren't going anywhere in 2019.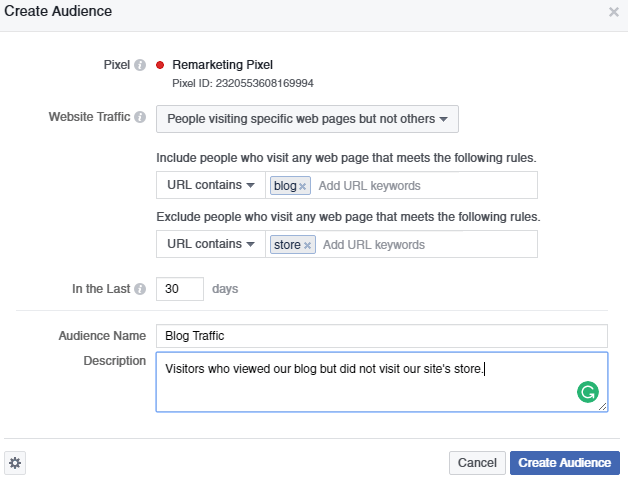 Meanwhile, Instagram continues to roll out new business features on a regular basis. Stories ads are yet another example of how e-commerce brands can leverage their creativity to create more compelling ads for their products.
As noted, brands are also growing bolder in terms of how they sell directly via social. Check out how Topshop points directly to their storefront via their Instagram bio with a trackable link.
Meanwhile, Topshop aggressively advertises their latest fits within their Instagram captions while still getting plenty of love from their followers.
Expect trends such as user-generated content (UGC) to continue to crush it in 2019, too. In fact, UGC remains one of the biggest factors that influence purchasing decisions on social media.
Shoppable social feeds serve as social proof to shoppers and create yet another avenue to show off your products in the wild. Here's a good example from Gymshark's homepage: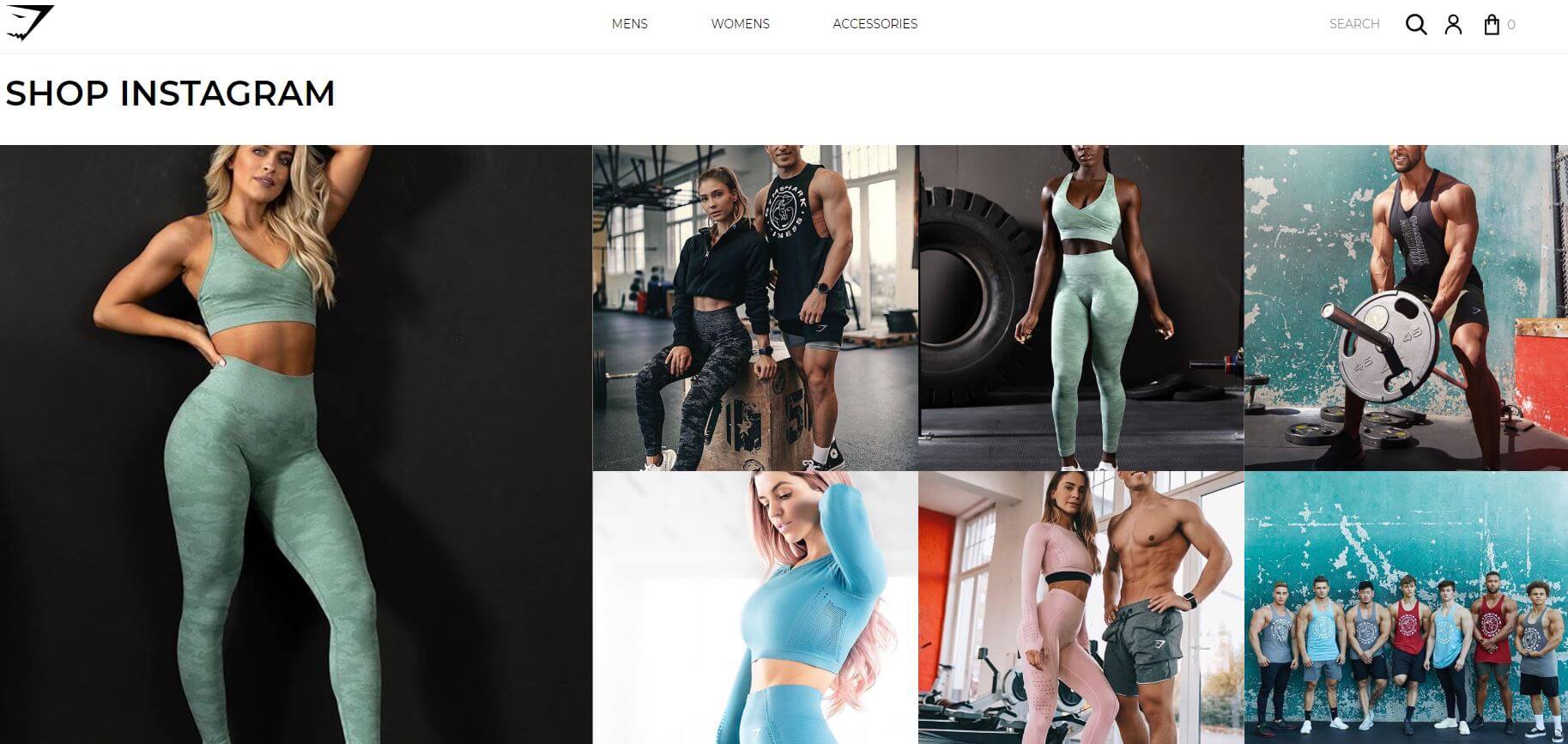 And to piggyback on the popularity of automation, expect even greater investment in social chatbots moving forward. Brands like Sephora represent the gold standard when it comes to providing a seamless, personalised social selling experience through their Facebook Messenger bot.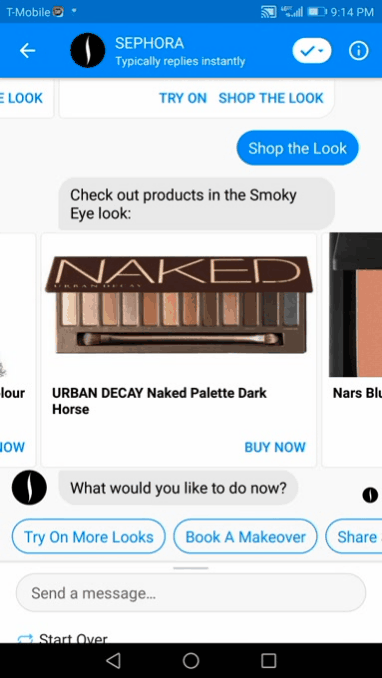 4. Impulse buys
Flash sales and time-sensitive offers are all-the-rage right now for tapping into modern customers' microscopic attention spans.
After all, urgency and scarcity have historically been proven to encourage shoppers and the same rules apply in 2019.
ThinkGeek's recent "second Cyber Monday" sale with a four-hour window is a prime example of this.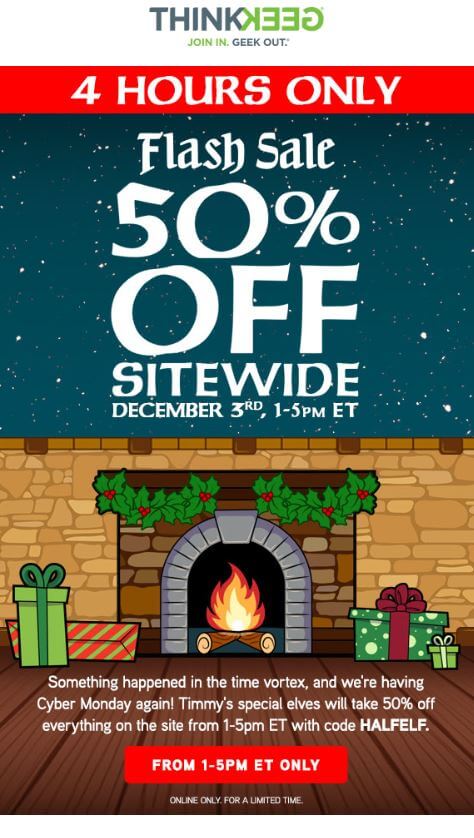 Flash sales coupled with steep offers make shoppers feel like they're getting a sweet, exclusive deal that's for their eyes only. These sorts of deals also highlight the value of being on your email list.
This flash sale on Instagram from Warby Parker combines the art of social selling with urgency. Offering exclusive social deals again provides a strong incentive to encourage long-term followers.
This limited-time sale from TOMS ticks all the boxes of what makes an effective flash sale, too. Straight to the point, shoppable and ideal for shoppers on-the-go. However, these sales must be optimised for mobile customers by being short and sweet.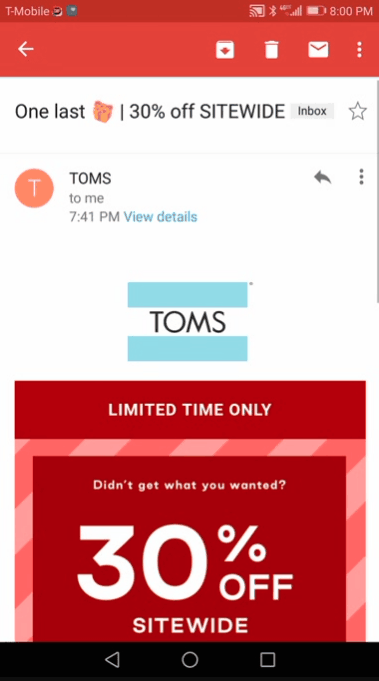 5. Video marketing is now a must-do
The takeover of video content has been a long time coming. Chances are you've heard the oft-cited projection that 82% of the web will be video traffic by 2022, right?
Video does double duty of appealing once again to shoppers' shortened attention spans while also showing off your products in action. As an added bonus, video content is also prime for filling up your social feed.
Mini-commercials on your product pages like this one from Ulta can help win over skeptical shoppers and likewise encourage them to spend more time on-site.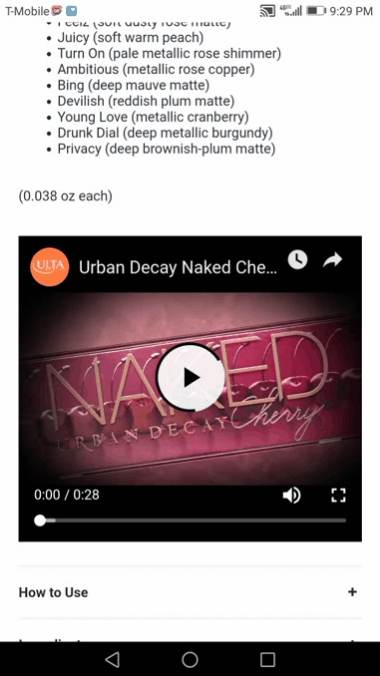 Creating product videos, tutorials and commercials also allow you to take advantage of YouTube's ever-growing platform. Doing so goes hand in hand with the best practices of SEO as optimized videos can help you gain traction in the SERPS.
Here's an example of a product video from Birchbox which would be fair game for their homepage or the likes of Facebook:
Educating customers with products is also a smart strategy if you're pressed for video content. How-to's and tutorials on social media represent an opportunity to engage and educate your audience beyond a bland product page.
If you aren't on the video bandwagon, now's the time to reconsider. With 2018's launch of IGTV alongside YouTube's recent growth, producing video is becoming the norm for today's e-commerce brands.
6. A focus on omnichannel e-commerce
Simply put, e-commerce should represent a seamless experience regardless of where your shoppers are coming from.
That means the ability to purchase from mobile, desktop and social media alike. It also means that your ads and offers are coming from multiple corners of the web, including social, email and even through sites like Amazon.
BigCommerce continues to be a major proponent of omnichannel e-commerce. Their 2018 data points to the sheer diversity in buyer behaviour as well as the channels preferred by certain demographics.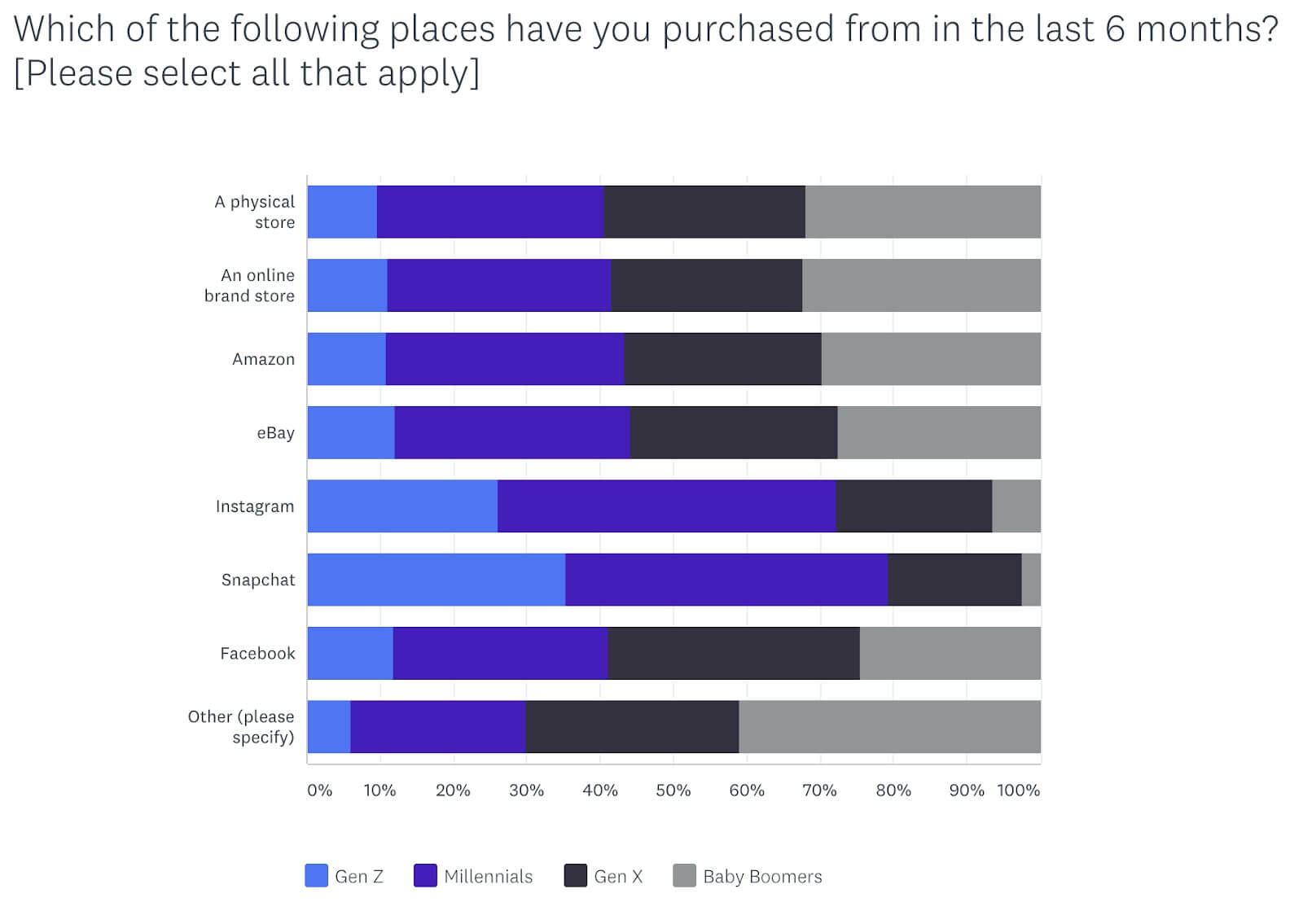 The takeaway from this data and these trends at large is that shoppers come in all shape and sizes. The more channels you can cover, the less likely you are to leave potential buyers out in the cold.
Plus, there are sophisticated tools available that assist with the production of ads across different channels. For example, with a creative management platform (CMP) – such as Bannerflow – it's easier than ever to produce your digital advertising in-house.
On the flip side, it also pays to understand which specific channels deserve the lion's share of your attention.
7. Greater convenience and speedier response times
Amazon, in particular, has created an expectation of near-instant gratification for customers.
This rings true when it comes to the likes of fast shipping and returns, but also stellar customer service.
Expect tools such as live chat to become more robust as buyers engage with them more and more. Although some merchants might see them as "cold," the fact remains that over 50% of consumers are more likely to buy from a business with live chat capabilities.
A fast alternative to lengthy email back-and-forth or awkward phone calls, platforms like Drift offer an instant line of communication with would-be buyers.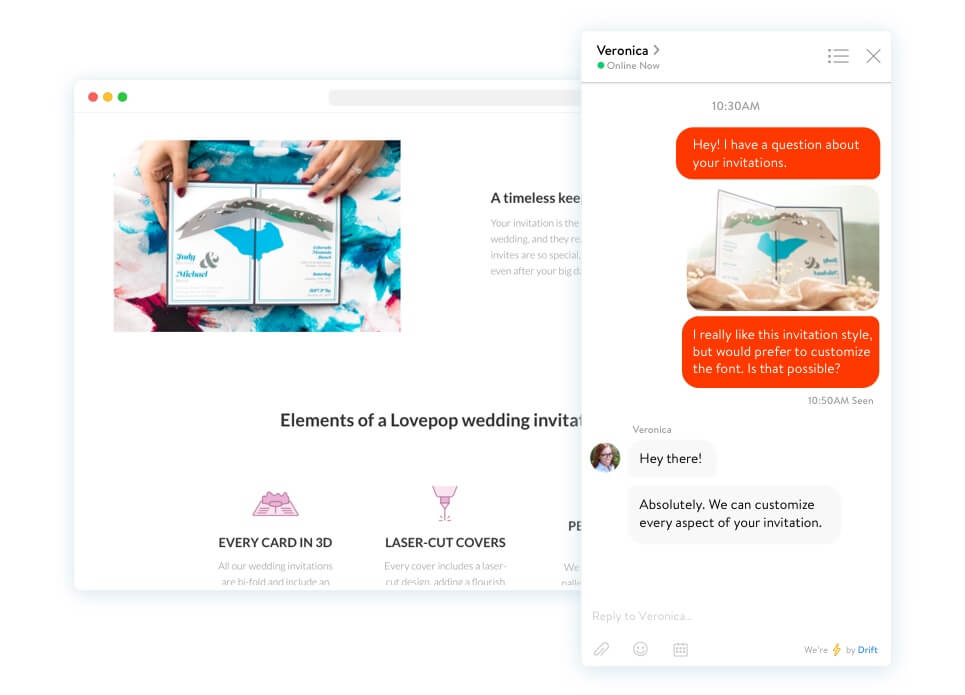 In addition to live chat, simply offering multiple options for getting in touch is a smart move for better customer service. Billabong highlights their live chat as well as a phone number, an email address and social channels.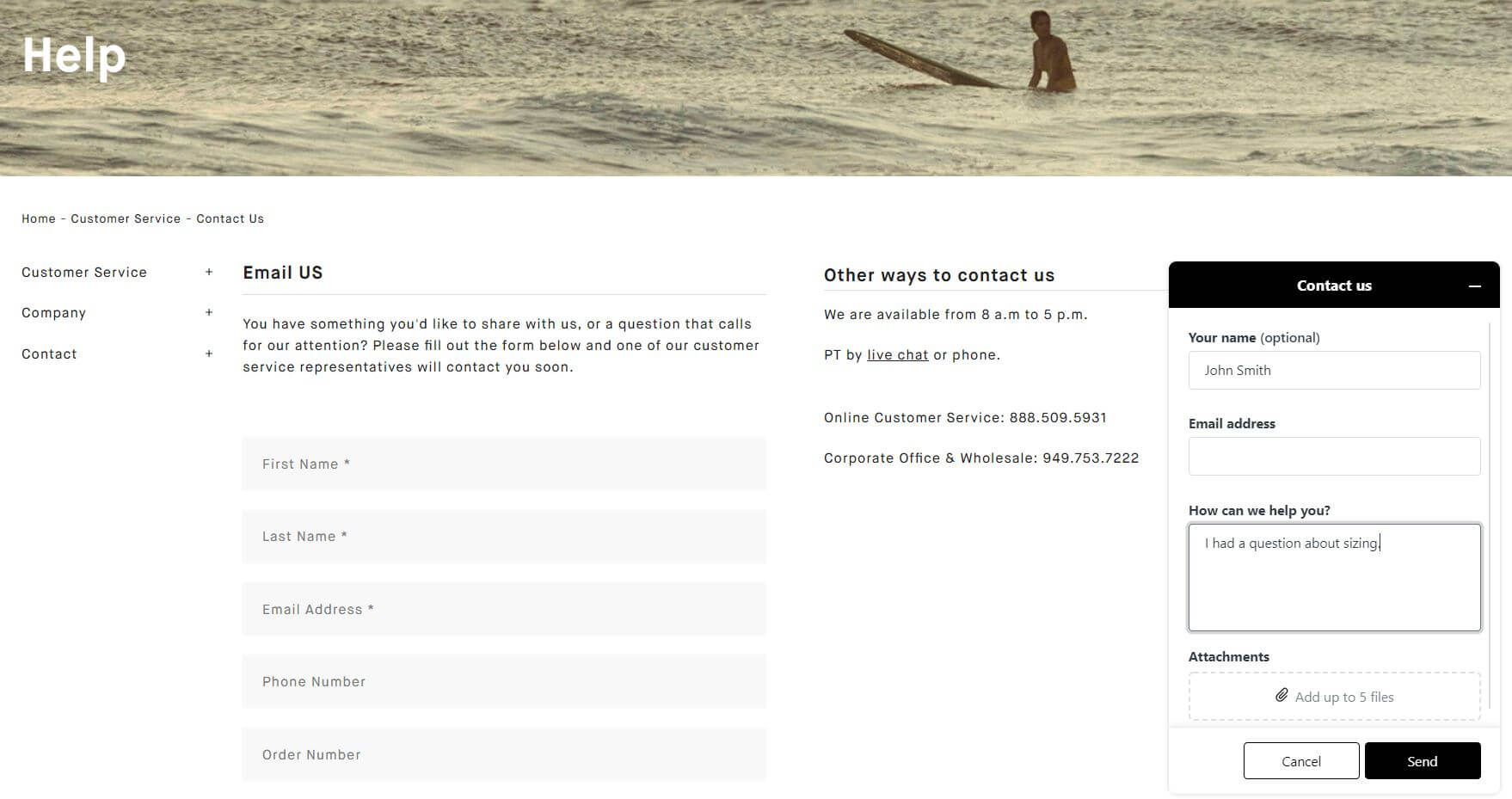 Speaking of social, half of all consumers take to social media ask questions and raise concerns about products.
Oh no! We can set up a replacement for you. DM us your order details.

— Warby Parker (@WarbyParker) December 24, 2018
Most of these same consumers expect a response within 24 hours from merchants, meaning that timeliness counts when it comes to customer service.
If you've struggled with social media in the past, consider its strengths as a customer service channel and keep a close eye on your messages and mentions accordingly.
8. Rethinking mobile optimisation
Finally, take note that mobile spending continues to tick upward year-over-year.
And so having your storefront optimised for mobile is a no-brainer.
Bear in mind, however, that responsive design isn't the be-all, end-all of what makes a high-converting e-commerce store.
Brands such as Bellroy are totally killing it when it comes to mobile optimisation. They offer an experience that's just as visually compelling as its desktop counterpart.
Easy-to-read text? Attractive imagery and color scheme? High-converting features like homepage video and live chat?
Yep. Bellroy ticks all those boxes and then some. The site's intuitive mobile design and scroll-friendly make it a cinch for visitors to tap around to get from Point A to Point B.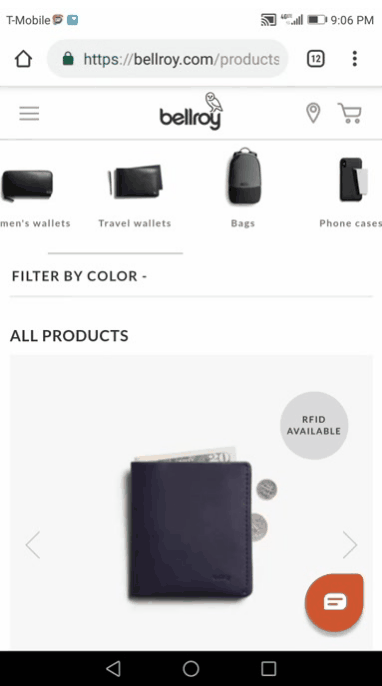 The takeaway here is that merchants shouldn't just be satisfied with having a mobile version of their stores. In 2019, make it a goal to create a truly compelling mobile experience that rivals whatever you're doing on desktop. As mobile traffic continues to flood your store, you'll be glad you did.
How to prepare your store (and take advantage)
To wrap things up, e-commerce merchants can be put into two distinct categories.
Those that adapt to buyer behaviour and those that sit on the sidelines.
With these trends in mind, you ensure that you prepare your brand for more traffic, followers, and sales in 2019.
Because adapting your storefront not only keeps you in the best practices of your industry but also a step ahead of your competition.
With that, we wish you the best of luck in 2019 regardless of what you might be selling.
About the author
Emil Kristensen is the CMO and co-founder of Sleeknote: a company that helps e-commerce brands engage their site visitors — without hurting the user experience.
Share this article