5 great programmatic campaigns that you need to embrace
Programmatic advertising offers marketers diverse opportunities to produce outstanding advertising campaigns. If done correctly, advertisers can maximise their budget and build campaigns that are both creative and data driven.
The capabilities of programmatic ads are endless. Brands can push creative boundaries to create perfect ads at scale. However, creative leads must conduct research first in order to create high-performing programmatic ad campaigns.
Looking for examples? Here are five outstanding campaigns that show the true power of programmatic advertising. Each one combines all the elements of programmatic that make it such a successful and exciting medium.
Use these to inspire your future advertising campaigns.
Using audience data, at programmatic scale: The Amanda Foundation
This was an ingenious campaign for a great cause. Based in L.A., the Amanda Foundation set out to rehome pets that were spending their last days at shelters across the area. The ads were targeted towards viewers who were most likely to adopt a particular cat or dog.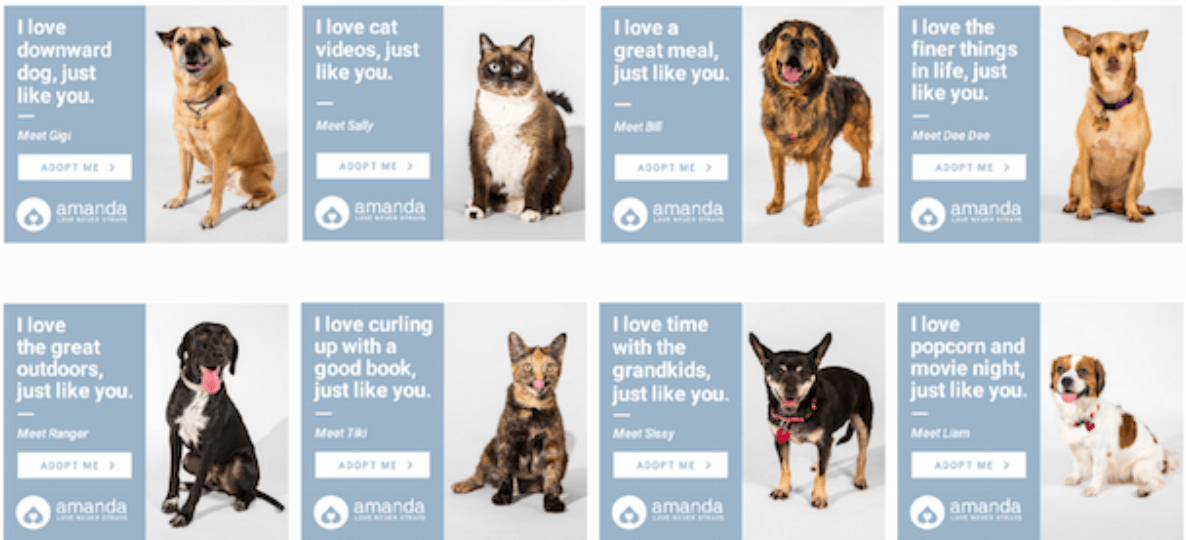 They used data on users' browsing behaviour for different breeds, as well as demographic data to target viewers with display ads featuring pets they might be interested in adopting. For instance, if someone was considered to have an active lifestyle and interested in larger dogs, they might be targeted with an ad for a German Shepherd or Labrador.
The campaign, developed by Saatchi & Saatchi in L.A, is remarkable for its use of audience data. Indeed, targeted advertising to different audiences, at scale, is one of the many benefits of programmatic advertising. Meaning you can get the right ad, in front of the right person, at the right time.
This type of campaign shows how brands can take full advantage of the advanced targeting capabilities that programmatic offers, especially when you offer multiple products and services. It allows you to drill down your audience and expose them to ad content based on demographics and search behaviour.
Capturing the programmatic moment: CMC Markets
Programmatic advertising offers marketers the ability to maximise the moment. Take a story or event and surf the crest of it. That's exactly what CMC Markets did in the UK with their display ad campaign hours after the British General Election of 2017. The context: the governing party, the Conservatives, rather than winning, lost its majority. A result known in the UK as a "hung parliament" (when no one party can form a government alone).
CMC Markets reacted instantly. It used the unexpected election result to maximise the effectiveness of its programmatic advertising. Using humour, and wordplay, they sought to engage and profit. Here's an example of the display advertising:
CMC Markets benefited from using the right ad tech too. The same ads were also published in traditional print media, thanks to a creative management platform their online variations were live before the presses had even started rolling. The result: the first ad viewers saw referencing the election was CMC Markets'.
Applying large-scale programmatic display campaigns through creative management platforms allows businesses to stay on top of reactive moments. It allows efficient ad production which is then boosted through multiple programmatic channels.
Maximising a small budget: Missing People
British charity Missing People is a great example of how to maximise a small programmatic budget. Ross Miller, director of fundraising and communication at Missing People, needed to find missing kids across the UK. He found salvation in programmatic and the charity's Child Rescue Alert campaign. With a focus on out-of-home (OOH) advertising, it used 10 million pounds of donated digital display to extend its reach and impact.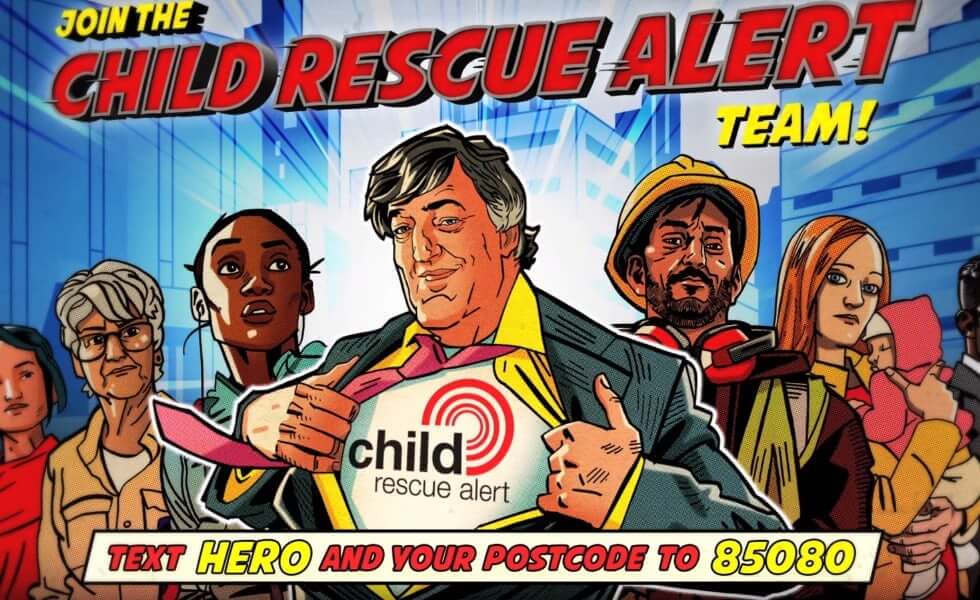 The use of programmatic OOH means that the charity can now better target those who might otherwise miss or disregard a print appeal. It realised that most people are more likely to respond to a message relevant to the area in which they live. So it used digital technology and data to make location-specific appeals.
The charity credited its shift from print to programmatic campaigns with helping it to "save lives". This change in campaign strategy allowed for ads to be nimble, with creative changing once people were found. For Miller, "switching to programmatic OOH led to response rates rising from 50% to 70%".
This campaign signifies the importance of location and how much it can impact your audience. Being able to promote location-based ads makes a campaign more relevant and personal to the vicinity. This, in turn, helps your programmatic campaign budget go the extra mile.
Using programmatic campaigns to enhance TV: O2
Telecom firm O2 crossed channels with its programmatic campaign to promote a TV commercial. For its O2 Refresh campaign the brand repurposed the same TV ads for mobile but made them more relevant. Using data about the user (data such as device, and location) messaging was added with the display ad. Enforcing the TV message in a targeted way.
According to Jack Simpson of Econsultancy "O2 naturally has a huge number of data collection points: from behaviour in-store, to profiling people based on their My O2 account activity. This enables O2 to carry out very precise personalised targeting.
O2 marketers created more than 1,000 versions of the video ad over the course of the campaign. The result: a 128% increase in click-through rate compared to a "normal" generic video ad.
Once again, the power of programmatic shines through in this example. Brands can personalise every bit of the ad experience through user data and create multitudes of ads to drive CTRs. Additionally, this is also a great opportunity to maximise KPIs. Personalising the user's experience, as well as how well an ad is positioned, increased ad viewability and frequency – something to keep in mind.
Programmatic creative is the future – now: The Economist
Programmatic creative takes programmatic campaigns to the next level. It allows advertisers to produce advertising that is dynamic, with creative and copy variations decided by data. The Economist embraced programmatic creative in the pursuit of new subscribers. The aim of its display ad campaign was to grab the attention of readers reluctant to try The Economist. Using digital display, the goal was to reach 650,000 previously unseen prospects and to stimulate a change in perceptions (not just a click).
The campaign used Economist content and headlines that contained humour and wit; headlines that sparked curiosity. To do this they analysed their subscriber usage to identify the best Economist content. Context was key to where The Economist banner ads were placed too. The idea was to link Economist content to the stories its "reluctant readers" were currently reading.
The advertising creative was built in real time, matching page context and viewer profile to the Economist feed, before serving an appropriate ad. The goal was to hit the right people in the right context. More than 60 executions were created. For example, here's a banner that linked an Economist story on US cops use of fire arms to a story about a police shooting featured in the Guardian: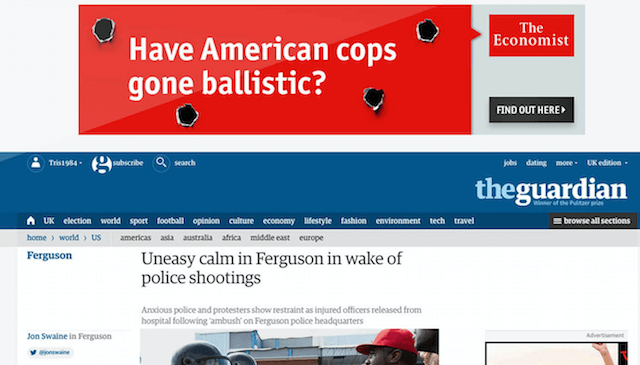 The results of this programmatic creative push were 650,000 new prospects, 3.6m people taking action, and a campaign ROI of 10:1, on a £1.2m media budget. It's worth noting that The Economist followed up this display campaign with another, this time focused on millennials. It again used programmatic creative but focused on social networks. It won gold at the 2016 DMAs for the best use of programmatic and gained thousands more subscribers.
For brands, programmatic advertising campaigns marry real-time capabilities with user data to create endless ad ideas. Capitalising on user's website behaviour can help you create bespoke ads that will resonate with the audience and encourage them to convert.
Conclusion
Brilliant and effective programmatic campaigns are easier to create than you realise. With the sheer scale of data at a marketers fingertips, it's possible to produce creative campaigns that reach the right audience.
In order to build the ads you need for such a campaign, it's worth investing in the right tools. Book a demo with us to discover how the Bannerflow creative management platform (CMP) can enable effective online advertising.
Share this article