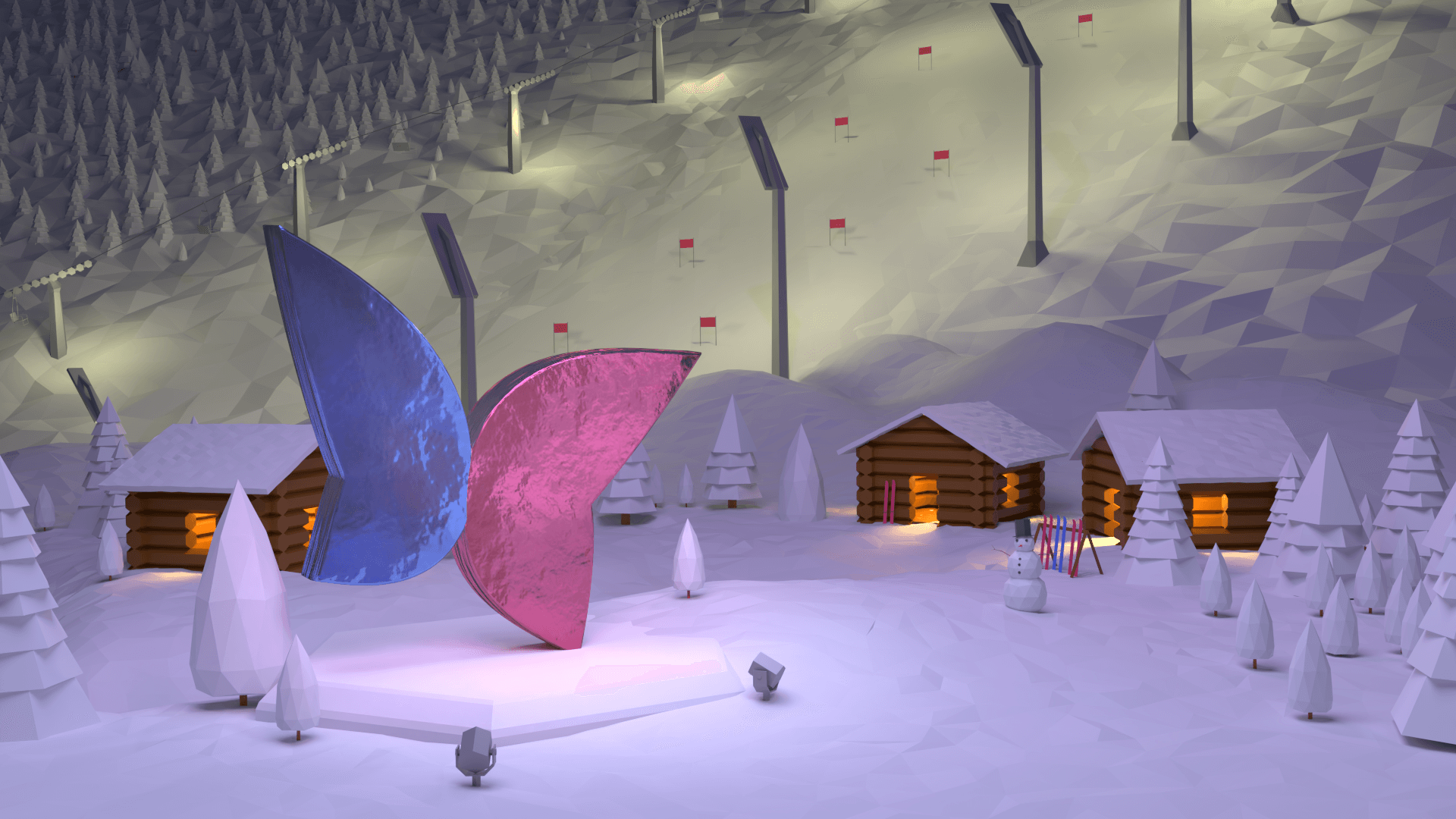 Bannerflow: Winter Olympic banner insights
With the Winter Olympics now over, here at Bannerflow we thought we'd share a few insights into how display advertising performed during the games. Appropriately, we'll focus a little more on the Nordic nations when it comes to the stats. Snow, of course, being a national resource, and blanketing most of our region for what seems like half the year.
But fear not readers from other nations, there are some pretty exciting general trends too!
Mobile usage increases during the Games
Here's our first piece of insight. It regards the device of choice for how banners were viewed during the Olympic period, across all countries. It turns out that viewing ads via mobile increased during the Olympic period by 5.59%. While if you were to look just at the weekends – normally when most ad viewing takes place – there was an increase of 3.51% across all three Olympic weekends.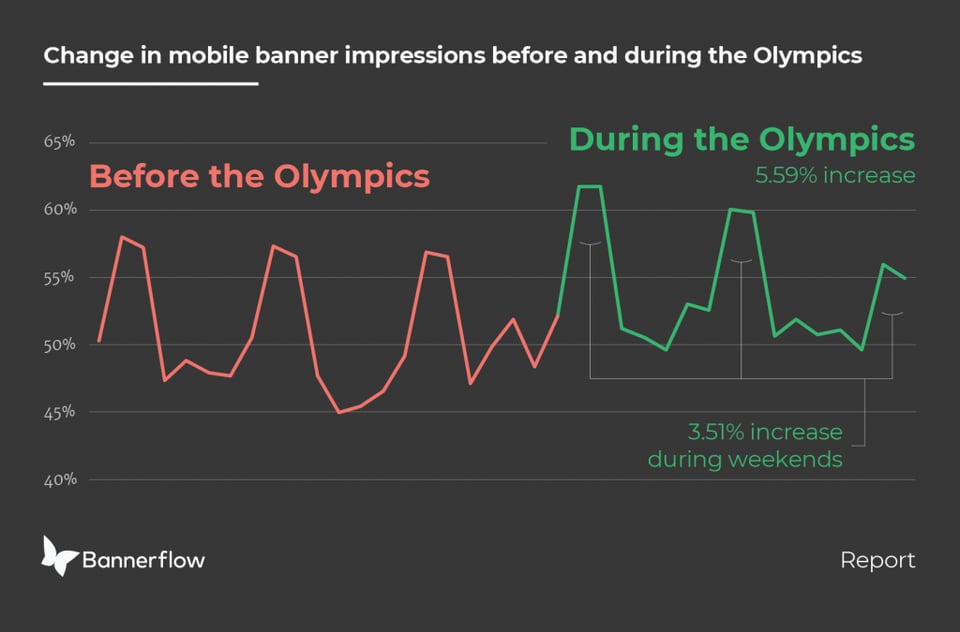 While there's a general shift towards mobile anyway – it is 2018. This noticeable rise, compared to the three weeks previous, perhaps shows the preference viewers have for mobile as their second screen during sporting moments. Not surprising given that, for example, Finnish viewers would have been glued to one screen for Iivo Niskanen's brilliant gold in the 50K cross-country skiing but messaging friends on another. (Heja Finland!)
For Bannerflow's, Head of Insight, Antonia Lindmark, "the increase in mobile usage also indicates engagement for following the competitions out of home". What the stats show is that investing in mobile banner sizes is a no-brainer for brands. It's likely we'll see this particular trend replicated in the summer for the football World Cup too.
Impressions rise to the occasion
Impressions rose across most of the top performing banner sizes during the Olympics. In particular, sizes geared towards mobile saw the biggest percentage increases – which makes sense given that mobile usage increased during the games. Mirroring Norway's actual medal haul, which was also annoyingly impressive.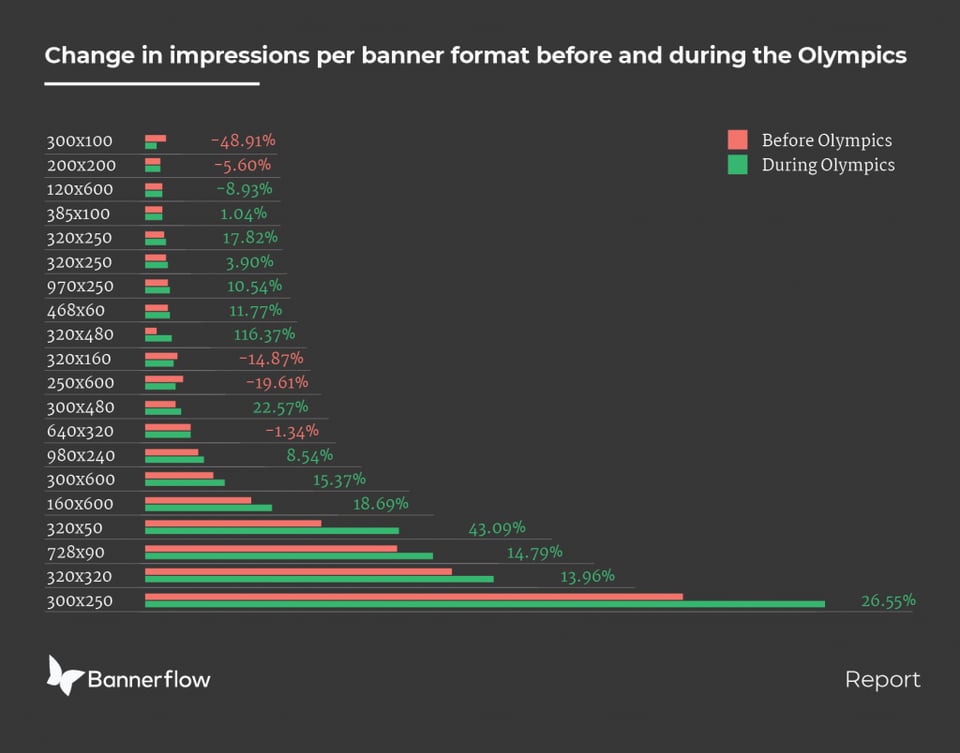 The gold medal winning sizes were…
Before I say anymore, a moment of honesty: not all countries are interested in the Winter Olympics. There I said it. I'm sorry but only very diehard sports fans in the UK will be watching the biathlon…which is a shame because Hanna Öberg's victory for Sweden was awesome.
However, those that do, are passionate. So in this section, we'll focus on the three Nordic countries who adore winter sports: Finland, Norway, and Sweden. (Sorry Denmark but winter sports aren't your thing). But we will throw-in The Netherlands – who it turns out are rather nifty on a pair of skates. Again, well played The Netherlands, especially considering you hardly ever skate to work.
The news, much to our surprise, was that there was a fair bit of deviation between the four different nations. This variation of top performing banner sizes was unexpected but perhaps shows the viewing preferences of the different nations. Good to know for all those brands producing display advertising for multiple markets!
Without further ado, our top 5 banners for those nations by percentage were: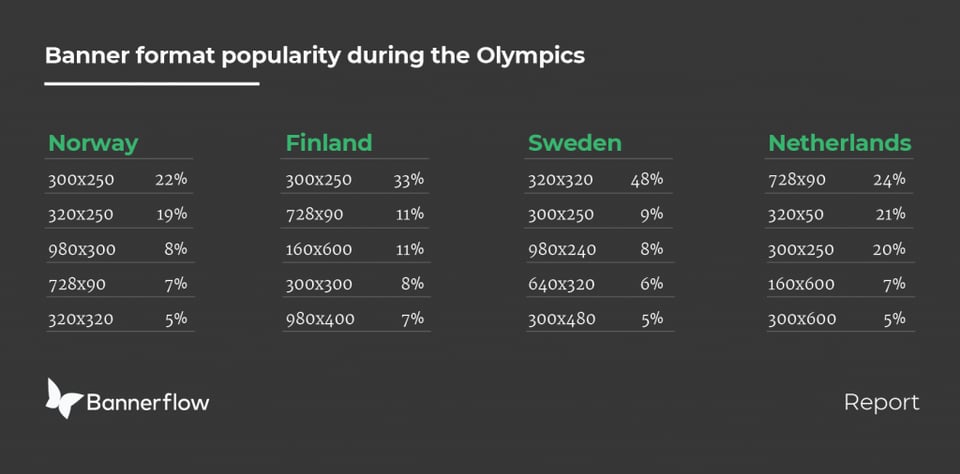 Which industries benefited the most?
Here at Bannerflow we noticed large percentage increases in impressions for entertainment, travel, e-commerce and iGaming. With the Ester Ledecká award of the games going to entertainment with an impressive 78% percentage rise in impressions during the games compared to the same period before before. A huge increase, exceeding that of the travel industry by another 24%.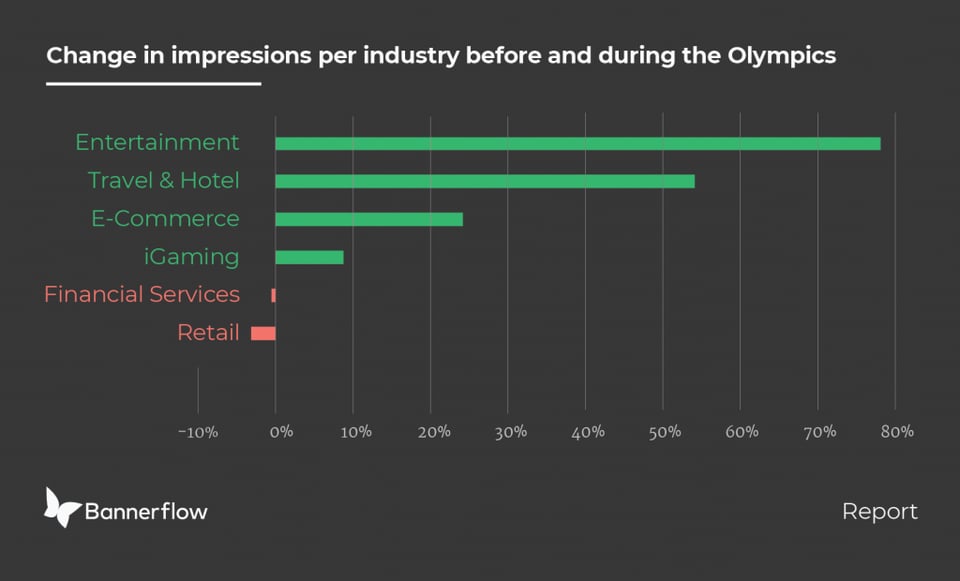 However, retail and financial services saw slight decreases in impressions during the Olympic period. For retail, the Olympics coincided with the end of the sales season, fewer campaigns, and a moment in the year when consumers generally spend less anyway.
What do these insights suggest?
There you have it, some interesting insights to take-away and mull over your hot cocoa. The Winter Olympics were an interesting moment for brands, it is after all a bigger moment in some markets than others. For particular viewers they're a massive part of their lives. In the Nordics the games are a matter of national pride and identify. While, in the UK, well, they're more of a curiosity.
Interestingly, advertisers are believed to spent less at these Winter Olympics than previously, with a greater focus on targeting specific consumers. Which is good news for platforms which help brands build and control dynamic creatives. Moreover, the products and brands associated with the Winter Games are generally more premium offerings, meaning showing relevant display advertising across devices is even more important.
Finally, a word from Bannerflow, Product Owner (and wizard), Björn Karlström: "It's great to support ideas based on hard data. What our Olympic data shows is the importance of understanding how your audience consume media during certain times. Mobile-first baby!" Not many would disagree Björn.
One thing is for certain though and that's having the ability to make the most of these insights. Whether that's being able to create the mobile sizes you need, or reacting in-banner to your target market's successes (and failures). Use a creative management platform like Bannerflow and hopefully you'll be up there on the podium celebrating too.
Share this article