Creative Studio: Introducing Bannerflow's next generation ad creator
Ad tech is constantly evolving but quite often the creative part is left behind. Or worse, it's an afterthought. Bannerflow's newest ad creator, Creative Studio, is designed to resolve this.
Creative Studio is version three of the Bannerflow ad editor and at its core is ten years of digital advertising user experience. In our opinion, it's the best ad creator on the market.
By Designers, for Designers
Creative Studio is made by designers, for designers. Bannerflow has long been invested in making sure the design experience for our users is extraordinary. It's part of our history and stems from our co-founders Daniel Fahlén and Daniel Jacobsson.
In particular, Jaccobson had a simple vision, which was to produce an ad editor that made his life, and designers' lives easier. Creative Studio is the latest version of this dream.
And for us at Bannerflow, design has always been an essential part of successful digital advertising. According to Bannerflow CEO, Nicholas Hogberg: "Design should always be at the forefront of a campaign. That's why Creative Studio is as important for marketers, as it is for designers."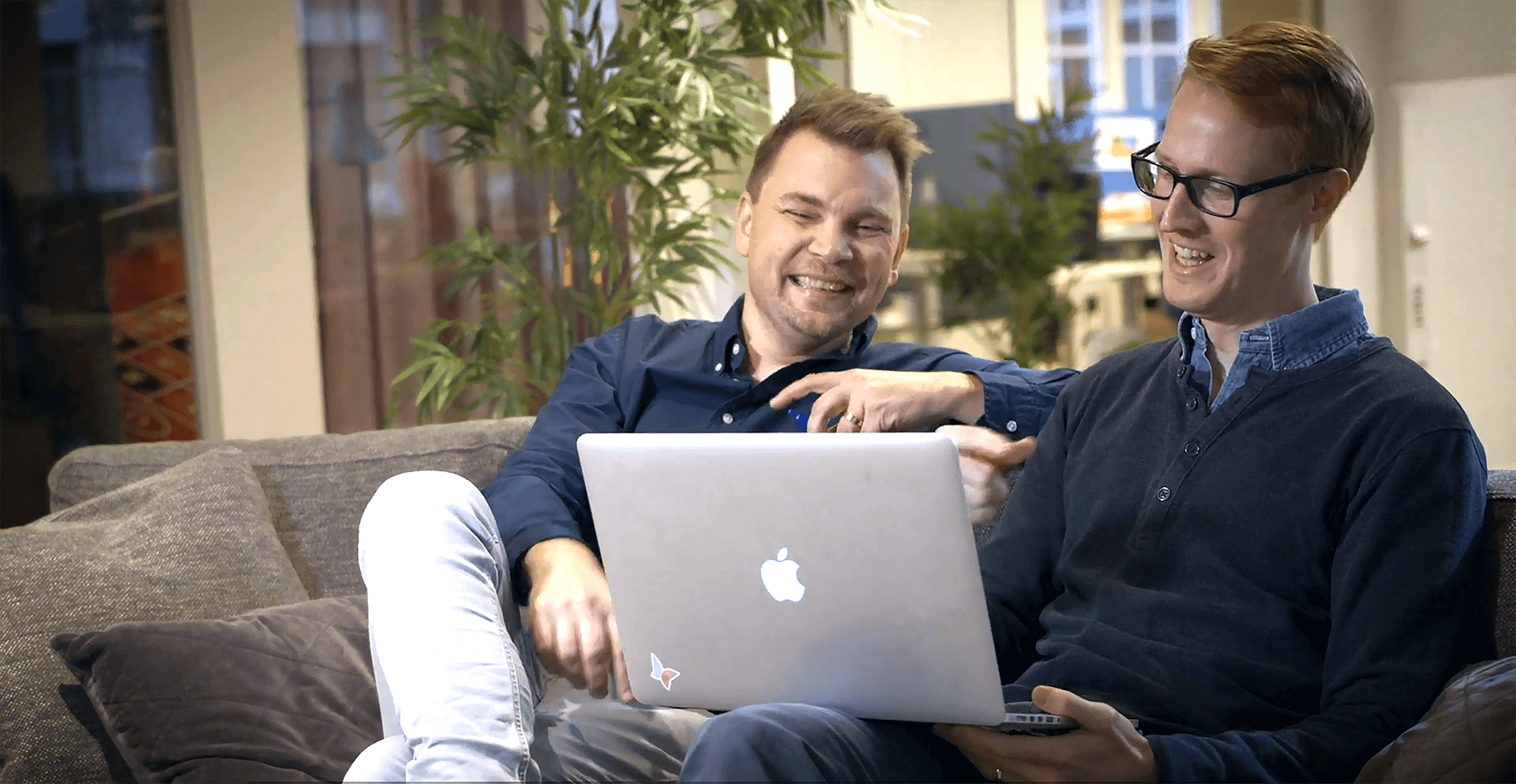 Combating "bad" advertising
At the heart of Bannerflow is innovation and disruption. Why is that? Sure, we want the design process to be exceptional but we also want to end bad advertising. As Daniel Fahlén states, "a lot of digital advertising is actually awful."
Our Creative Studio won't stop this overnight but it will help automate production – setting designer's free! It's why Bannerflow exists.
How does Creative Studio help with this? By making the life of designers easier and enabling them to create ads theys can be proud of. Daniel Jaccobsson, and the countless other designers who have used our ad editors over the years, remain essential to what we do, and how we work.
Quality digital advertising, at scale
We know that speed and ease of use are critical when designing ad creatives. Today the demands and requirements put on digital ad designers are massive.
To create digital advertising designers now must create more sizes, with more versions, across more channels than ever – with zero mistakes. And network requirements are always increasing too!
Mass reproduction is an area of ad creation that Creative Studio helps design teams hugely. The artificial intelligence used in the scaling and versioning engine of Creative Studio is the most powerful and sophisticated that the Bannerflow team have ever developed for a creative management platform.
First, and foremost Creative Studio is an enabler to create personalised, quality ads – at scale.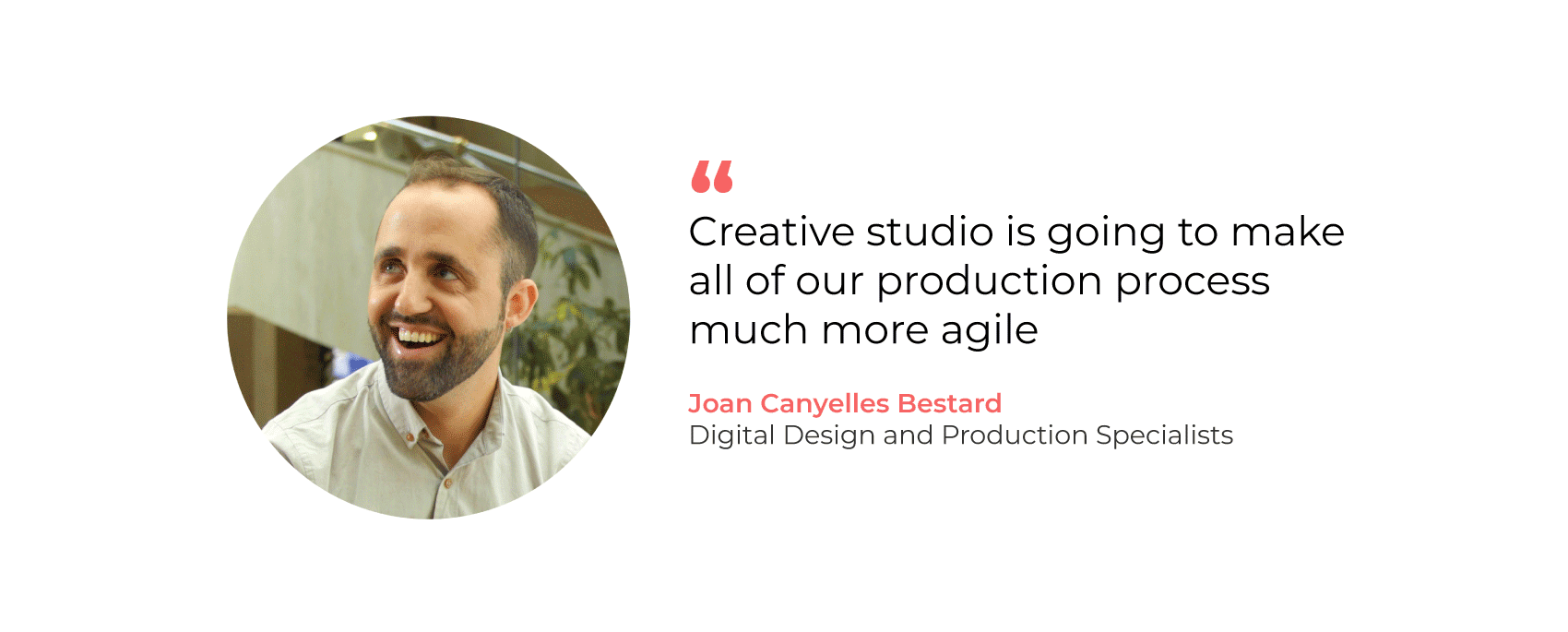 Idea in the morning, campaign live by the afternoon
And why is this important? When it comes to ad production, being able to quickly scale from one ad size to another, without having to do a lot of manual work (aka repetitive design tasks), cuts production time dramatically.
Creative Studio is easy to use and for how marketing teams function in reality. This means teams can work collaboratively in real-time, across multiple locations, on large, multi-channel, multi-market campaigns.
Using Creative Studio – enables marketing teams to have an idea in the morning, and a campaign live in the afternoon.
User feedback is everything to us
Refining Creative Studio and tailoring its user experience to designers has taken thousands of developer hours.
At Bannerflow we know from experience – and years of research – that designers need to work in a platform that assists them. This means working in a space that is designed specifically for them, which is fast and intuitive – and familiar.
Working with selected power users, both in the field and our Stockholm lab, we've developed a keen understanding of what our users want in an ad editor. Creative Studio is brand new, built from the ground up and based on designers' feedback – it isn't just the next iteration of our much loved Banner Builder.
We understand the need to remove complexity and the frustration of comment cycles because user feedback means everything to us.
Next generation ad creation
Not only does Creative Studio enable you to work more quickly – but users will be able to create even more impactful and personalised digital advertising.
Creative Studio is specifically designed for data-driven advertising campaigns, and technologies such as dynamic creative optimisation. And, it makes it simple to add dynamic creative, data feeds, and unique interactivity to even the smallest of campaigns.
Furthermore, it's developed to be format agnostic: from HTML5 display advertising to mobile, to video and social channels. It is made for next generation ad creation.

After all, design is everything
That's why an entire area of our platform is just for designers. We know that they have different and unique requests compared to marketers.
Creative Studio is where designers can do what they do best, and create anything they want to. It's where they will spend their time in Bannerflow and create the best ads they have ever created.
Designers who use Creative Studio will feel pride in their work and are no longer restricted in their design choices.
Indeed, our CEO Nicholas Hogberg says it best: "I want to achieve all the designers out there feel joy when they are working with digital campaigns, and have the courage to do great creative material."
After all, at Bannerflow, design is everything.
Want more information about Creative Studio?
Creative Studio is the next step to making better digital advertising.
If you would like to find out more about our next generation ad creator, or would like to know more about the Bannerflow Platform get in touch or book a demo.
Share this article