How a CMP removes the pain of translating
Good translating is essential for travel advertising.
In this blog, we detail how a creative management platform (CMP) takes the pain out of translation management by:
Removing repetitive tasks
Letting translators see ad copy in context
Enabling instant feedback between designers and translators
Providing a platform for effective optimisation
By comparing the "old way" of production, with the in-house method using a CMP the benefits are clear.
Talking the language of your customers
Creating tailored campaigns is now part and parcel of travel marketing. Yet, without smooth translation management, this type of personalisation just isn't possible.
For Thorsten Kresin, Designer, at Nordic Choice Hotels, CMP's are essential for good translation management: "as a designer, Bannerflow helps me save time when creating banner sets in different languages, across campaigns."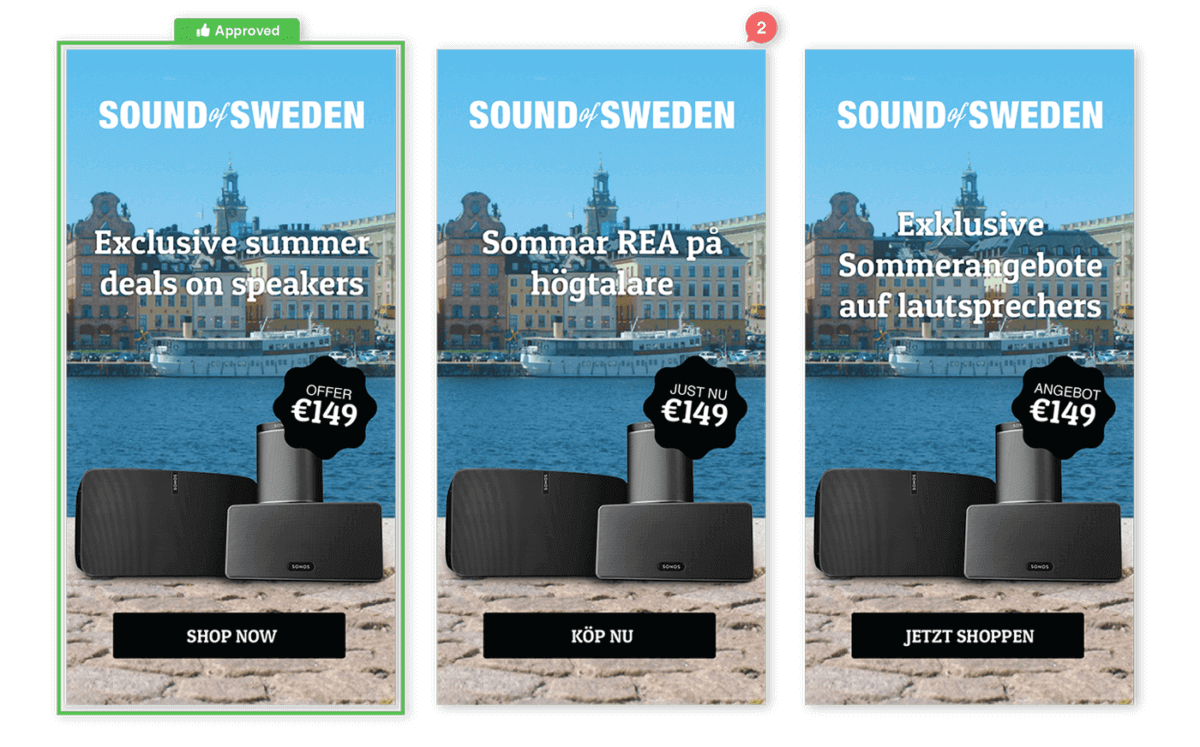 But not all brands are so lucky.
Indeed, for travel brands requiring many language variations per campaign, it can be a frustrating task to produce ads. Especially for those brands without access to a CMP and still marketing the "old way".
Translating without a creative management platform
Producing a travel campaign for multiple languages, without translation management, is painstaking.
For example, should a campaign run in more than one language, translators need to be contacted by a production agency, or in-house translation manager. Everything would then need to be coordinated via a project manager, via excel sheets, and email chains.
Sound familiar?
Time wasted on repetitive tasks
Next, a banner designer then has to open each ad size, duplicate the file, and replace existing copy with new alternative copy from the excel sheets. At no point was there direct communication between a campaign designer and the copy translator.
Plus, each banner then has to be amended to fit the new copy. Each small tweak and adjustment having the effect of adding hours to a designer's workload. What's more, a designer might have to totally rebuild the ads for a complicated language such as Finnish.
No context behind any copy changes
Oh, and while this is going on, the translator would have no idea what the ad looked like. In other words, any contextual input would be completely lost. Meaning costly mistakes, rewrites, and further design tweaks.
For a typical global travel campaign, the whole process could take weeks.
And once the translated campaign was published that would be that. Optimising the campaign, or updating the ad copy, just wasn't worth the time and effort.
Translation management with a creative management platform
Things are different with a creative management platform.
Simple and smooth workflows
Using a cloud-based CMP, like Bannerflow, translators can write directly in ads and see their copy contextually across all formats. Meaning, they work collaboratively with designers to edit, revise copy and other elements – using instant feedback.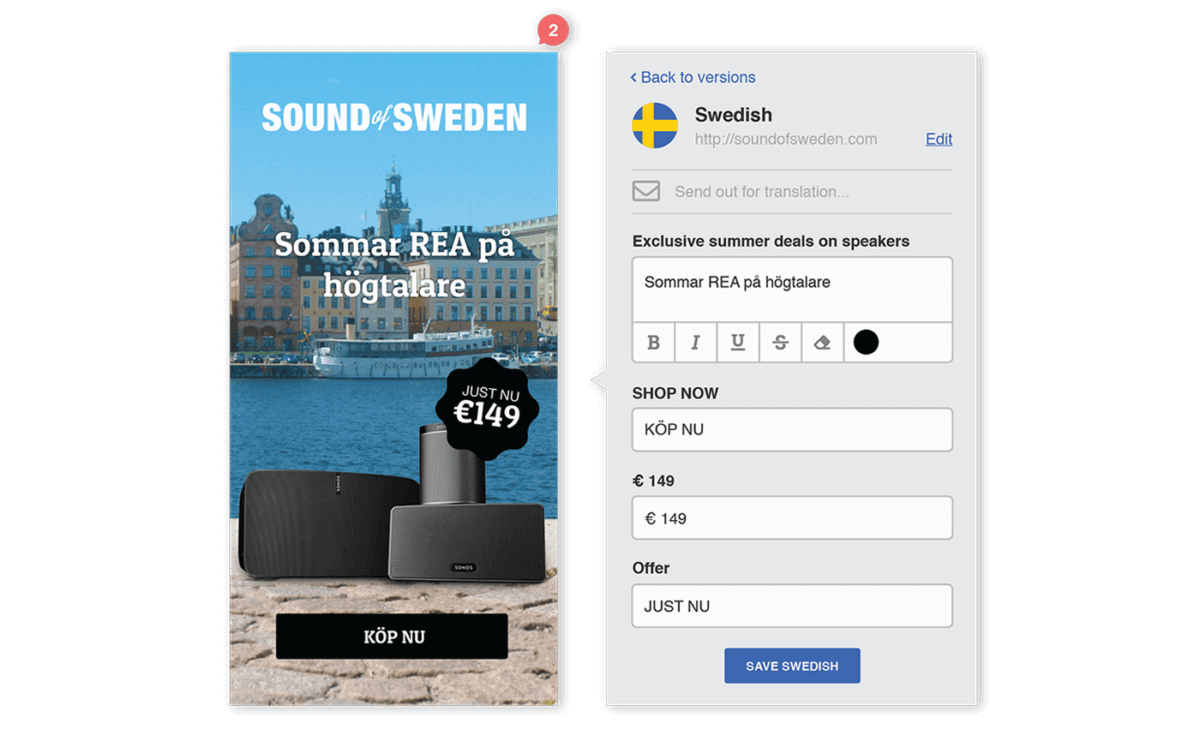 Messy spreadsheets and complicated workflows it is not.
Moreover, it's now simple to translate ads into all the languages and ad variations you need. With built-in translation management, simply select a banner set, and share it, with in-house translators or a translation agency.
Effective optimisations and quicker production
Plus, with automatic banner ad optimisation, repetitive design tasks are no more. Designers simply add translated copy to the master creative and the CMP automatically injects it into the entire banner set.
And the cherry on top?
A CMP also allows for the easy optimisation of translated copy in live banner ads. Meaning, there's no longer any back and forth: no waiting, no need to republish! Refining complicated, multi-market campaigns is simple.
Therefore, it's now possible to translate digital advertising in minutes instead of weeks.
Conclusion
Finally, translating for different markets is key to producing travel campaigns that perform – which is why translation management with a CMP is a game changer.
However, it is worth remembering that translation management is just one feature of a creative management platform.
Want to know more?
The Bannerflow creative management platform is changing the way thousands of in-house brands operate. In our exclusive CMP focused travel guide discover:
Why everything you know about creating display campaigns is wrong
How a CMP will change the way you produce travel advertising
In-depth explainers to the features and tools of an enterprise-level CMP
Plus, practical tips, advice on strategies, and much more…
Share this article