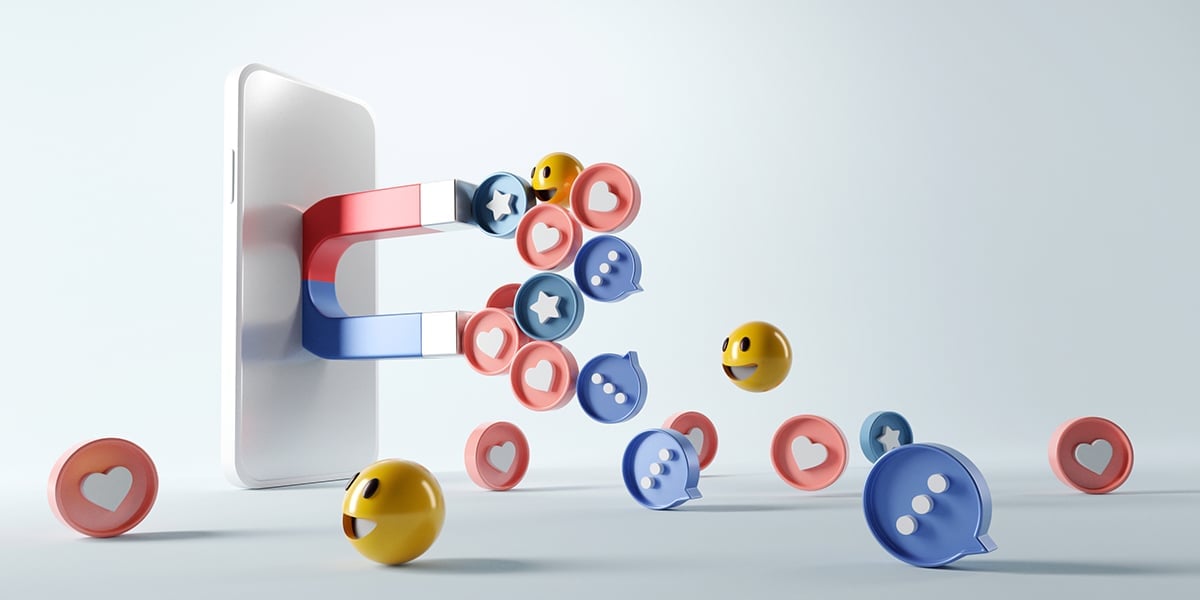 Social media advertising strategies for B2B
The power of social media goes beyond brands selling to consumers. B2B social media advertising is a growing industry, with more companies tapping into the latest social media advertising trends for 2022 to reach relevant decision makers.
After search engine marketing, social media advertising ranks second in terms of success, according to recent research – and is used by 83% of B2B marketers.
But marketing to businesses differs from consumers. For this reason alone, you need to consider your social strategies to ensure they'll be as effective as possible.
Understand why you need a plan before delving into a range of social media advertising strategies for B2B below.
What will we cover in this guide to social media advertising strategies for B2B?
Why do I need a social media advertising strategy for B2B?

Start with SMART goals

Pick your platforms

Market with multimedia

Keep a consistent brand voice

Personalise with your employees

Join the conversation

A/B test your posts and ads

Create with a Creative Management Platform (CMP)
Why do I need a social media advertising strategy for B2B?
The B2B landscape is highly competitive and marketing executives are increasingly using social media to gain advantage. When you consider 71% of decision makers say social media is influential when researching or considering a new product for their business it's no surprise. Even though you're selling to businesses not consumers, it's still a person. Getting your social media strategy right is essential to nurture that prospect into a lead.
Rather than working it out as you go along, some of the main benefits of building a social media advertising strategy for your B2B brand are to:
Increase reach –

Businesses, prospects and existing customers already use social media. Expanding into these channels offers an easy way to reach them.

Provide support –

Many people go straight to social media pages when they have a question. Using it to direct existing and potential customers to the right video, blog or other page is useful.

Promote your brand –

Being active and engaging in relevant discussions adds trust and expertise to your business' image

There are many different strategies you can employ to make the most of such benefits.
Start with SMART goals
SMART goals are used across various business strategies to ensure everything stays on track. Understanding your goals is key to any B2B social media advertising strategy. There are various ways to do this, but using the SMART model is among the most effective.
SMART goals are:
Specific –

Something that's clearly defined and not vague, so you can decide whether it's achieved.
Measurable –

You can use social media metrics to measure aspects such as number of followers, post views and more.
Achievable –

Make sure any goals set are attainable within your resources.
Relevant –

Relate goals to your business and its aims, so they have a clear positive effect.
Time-bound –

Set a timeframe to reach these goals, so you know when they're achieved or if they require more work.

In terms of a social media advertising strategy, it's likely your SMART goals will be based around number of followers, clicks, likes, and comments. These can demonstrate engagement levels, lead to increased web traffic and even conversions – with a clear way to measure them.
Pick your platforms
The number of social media platforms where your business can have a presence continues to grow. It's tempting to create profiles with as many as possible, but then you risk spreading yourself too thin.
Think about where is most relevant for your brand to be, based on the platforms those you want to engage with use most. Often this will involve one or more of the following, depending on your business:
LinkedIn –

The primary social media platform catering for business professionals,

96% of B2B content marketers

use LinkedIn for organic social marketing. It's the place to share longform, thought leadership content and focus on building a business network. Use LinkedIn ads to reach

more than 750 million professionals

.

Facebook –

Millions of businesses have their own Facebook pages, even those working B2B. It's a great place for sharing news and videos, creating groups and engaging with your audience. Ensure the about section is updated to signpost users in the right direction.

Twitter –

Many consumers head to Twitter to engage with brands, and the same can be true for B2B. Its short form is ideal for announcing news, product launches and engaging with customers – though it generally has a more informal feel.

Instagram –

If there's a strong visual element to your business then an Instagram profile may be suitable for sharing photos and videos. Instagram is highly informal, so be sure it suits your style.

TikTok –

Short-form video is an increasingly popular format, with more businesses turning to TikTok to convey their messaging.

One billion users accessed the platform during 2021 which translated into an annual revenue of $4.6 billion – a 142% YoY increase. This is another informal platform, but it's fantastic for creating communities.


Understand more about the best platforms and effective methods in our social media advertising guide.
Market with multimedia
You can post more than just words across different platforms. Beyond text, sharing a variety of content formats can help grab your audience's attention in new ways. Experimenting with these may help you work out which you can incorporate well into your strategy, such as:
LinkedIn documents

Twitter polls


Instagram stories

Avoid using multimedia just for the sake of it. Make sure there's a purpose, it suits your brand and aligns with your digital transformation.
Keep a consistent brand voice
Develop a distinguished, recognisable brand voice. Even though you're speaking as a business, it should sound human rather than robotic. You're still talking to people, remember. Create guidelines for writing social media posts and adverts that match your business' outlook.
As well as being unique and engaging, your brand voice needs to be the same across all social posts and adverts. This helps build your brand and instil consistency across channels. Check every post aligns with your tone of voice before hitting publish to ensure readers can recognise your brand when they read it.
Personalise with your employees
Putting faces to your company's name is an easy way to introduce a personal touch. Social media is a natural place to do this, whether it's introducing new team members, celebrating anniversaries and achievements, or simply spotlighting their expertise.
Why not encourage employees to share posts about their place of work? This can grow the number of potential shares to a wider network, helping your business reach more potential customers. Creating this sense of community can provide a real boost.
Join the conversation
Social media is designed to create connections and encourage (online) conversations. This applies to brands too – it's not a place for simply selling. See what your target audience is talking about and consider whether there's a relevant opportunity to get involved. A few effective ways to do this include:
Asking open-ended questions

Setting up polls

Replying directly to messages from customers

It depends on your brand, but responsibly joining customer conversations can be a great way to develop your voice and reach new audiences.
A/B test your posts and ads
Following a regular posting schedule is vital to build your brand, maintain consistency and instil your voice. It's important to keep things fresh. Try making tweaks to your posts and adverts to work out which ones perform best.
You can experiment with your social posts and ads in a few ways, by changing:
The day and times you post

Positions and wording of links

Use of emojis

Number and type of hashtags

Including a video or image

Replying to posts

Then compare the numbers. See which posts reach a larger audience, get more shares, likes, and comments. Also assess the quality and sentiment behind them – as a pattern of negative comments won't do much good.
Create with a Creative Management Platform (CMP)
When creating and testing your own ads as part of your social media marketing plan, using a Creative Management Platform (CMP) provides a high level of control. Creating and controlling ads in-house ensures you can easily implement any of these strategies and adapt where necessary.
Any object within an ad made in a CMP is editable, which suits A/B testing, while personalisation is also possible. As the wider team can access ads, it ensures checks are made to align with your brand voice. In-housing improves efficiencies and removes the reliance on others that may delay the process. Discover more about the state of in-housing
Start your
B2B social media advertising
strategy today
With a wide variety of social media advertising strategies suitable for B2B, knowing which is best for your business can take time. Try a few or combine elements of those that appeal to see what works – a lot depends on your company's style, goals and circumstances.
For further help and advice around building a strategy right for your business, check out our ultimate guide to social media advertising.
Want our latest articles to your inbox? Subscribe today!
Want to try our platform for yourself? Book a demo with us today and a specialist will reach out to help you experience Bannerflow in action. See what our technology can do for your ROI.
Share this article