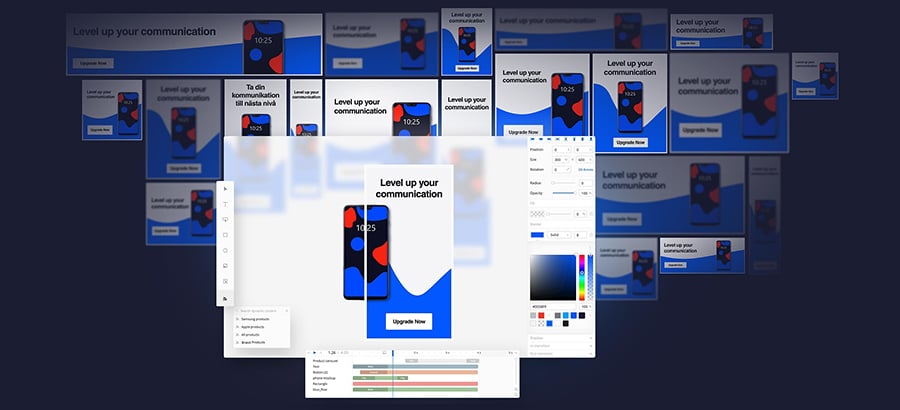 How CMC Markets manages digital on a global scale
Fintech moves fast and for CMC Markets being timely with its messaging is crucial. Not only that but having the agility to work across teams, as well as deal with the unexpected means having a platform, like Bannerflow, is essential for digital advertising production.
CMC Markets is one of the world's leading online financial trading providers. It offers a web-based trading platform, as well as native mobile apps, enabling clients to perform a vast number of different trades. While, its innovative and customer-centric approach has seen it win over 50 industry awards globally.
We spoke to Hannah Taylor, Interim Head of Marketing for Europe at CMC Markets, about how her in-house team creates display advertising using Bannerflow.

What are some of the challenges facing your industry when doing digital marketing?
Hannah Taylor, Interim Head of Marketing for Europe, CMC Markets: "The biggest challenge for us – not just in digital marketing but all our activities – is working in a heavy regulated environment. This puts restrictions on the type of digital marketing that we can run and also the content of our activity .
Like all digital marketing teams, we also aim to make sure we get an efficient balance between the time spent on strategy and execution.
In terms of strategy, how long does it take to go from idea to publishing?
Hannah Taylor: It depends on what the idea is. And whether or not we need to, onboard a new supplier in order to bring the idea to life. Typically if something doesn't involve too many different people (or third parties) we can turn it around very quickly in a matter of days.
We work in sprints so I like to have tasks finished within the two week sprint period; however, often going from idea to published ad can take much less time.
How does CMC Markets work with display advertising as a channel?
Hannah Taylor: Display is largely used for upper funnel activity, it is a way for us to drive reach and awareness. Typically the kind of retail space available in a display ad unit is larger than what we use in social, for example.
In particular, the larger format units provide more space to communicate our product features and benefits and display as much information as possible to potential customers.
What are the most effective creatives for your audience?
Hannah Taylor: We obviously don't want to give that information away – but what I would say is that my preference is to use ads that are more dynamic. Anything that is topical and relevant tends to get more engagement from viewers.
During the Corona lockdown is it more important to stay hyper-relevant and get messages out as quickly as you can?
Hannah Taylor: Yes and no – being relevant and quick is not really linked to Corona at all, it's something that is seen all the time for our industry, what drives people to trade is often closely related to what's going on in the geo-political environment.
How do you handle times when you need to ramp up digital ad production?
Hannah Taylor: We operate an in-house model but we also have partners that we can lean on when necessary when we want to ramp up production. Additionally, being a global organisation we tend to do most things at scale anyways. If we do outsource, the resizing of display advertising is an example.
We also share all our marketing assets globally, meaning we are not "reinventing the wheel each time", for each and every market. This gives us more time to be more productive. And react and publish when there is an opportunity for a specific market.
How does Bannerflow help with your digital ad production?
Hannah Taylor: Yes definitely! We don't create every language from scratch, we create in one language and then just duplicate the ads – dropping in the translations later.
Obviously, the fact that multiple parties can access our Bannerflow account helps greatly. Our designer can create the initial design, and then we can use a third party who can quickly do the resizing, before handing it to the local marketing team who just go in and drop in translated copy. The fact that we can all collaborate in one tool is really helpful.
Plus, for me it's the fact that there's enough functionally in the software to satisfy all our designer's requirements, but that it's also simple enough to use for a non-designer. For example, even I can go into campaigns and resize things. I can even go in and create a whole new ad set in a different language in two minutes – it's that easy.
Does Bannerflow help your team to work remotely?
Hannah Taylor: Yes, it does – even before our enforced WFH due to the pandemic. My team is spread out across Europe, and we all operate and collaborate from different offices. Bannerflow is really useful to collaborate in, not only with my team across Europe but third parties.
Is there anything else you would like to add about using Bannerflow?
Hannah Taylor: On the topic of making our campaigns smoother, I would highlight the integrations into the Google networks and the fact that Bannerflow links directly into Campaign Manager – that's really helpful.
Finally, it's really useful that we can make amends in live campaigns. We often need to change our disclaimers for example and that would be very time consuming if we had to reupload and edit each and every ad everytime.
In all, there's just a lot of features within Bannerflow that makes my team's life much easier.
Want to know more?
Learn how your marketing team can achieve the productivity required for global in-house digital advertising with a creative management platform (CMP). Simply, get in touch with Bannerflow, or request a demo now!
Share this article