5 ways to be creative and data-driven with display advertising
Producing display advertising that is data-driven is essential for today's marketer. And the trick to making high performing campaigns is to use this data to inform the creative process.
In this article, we detail five ways marketers can be both creative and data-driven, including:
Using heatmaps to aid the design process
Optimising through A/B testing or multivariate testing
Applying dynamic content and data feeds
Creating user journey targeting campaigns
Setting-up dynamic creative optimisation
Why being data-driven and creative is key
Access to transparent metrics, such as click-through rate and conversion tracking, has transformed how we measure campaign performance. Yet, some marketers are failing to realise the potential of this data (as well as other sources of data).
Furthermore, Bannerflow research into the state of in-house marketing found that 88 percent of senior European decision makers believe their teams focus too much on return on investment (ROI) – at the expense of creativity.
And the reason for this is simple: data is measurable – unlike creativity which can be more difficult to define. Yet, to achieve a greater ROI in display advertising, combining data with creativity is the best strategy.
According to Bannerflow Product Owner, Björn Kalstrom: "Display advertiser's need to be both data-driven in order to increase performance and creative to breakthrough to viewers. If you're not creative then you won't reach the performance you want and if you're not data driven you will never understand what actually works."
Here are five ways display advertisers can enhance their ad performance by using data and creativity together…
1. Using heatmaps to aid the design process
Firstly, heatmaps offer a visually appealing combination of data and creativity. Just like in app or webpage design, they offer the ability to see performance.
What are heatmaps?
Heatmaps use colour to visualise data. For example, clicks and user interactions with a display ad or landing page. The more intense the colour, the more interactions.
A creative management platform (CMP), such as Bannerflow, will offer heatmaps that display live click and hover data as standard.
What are the benefits of using heatmaps in ad design?
Heatmaps are valuable tools for designers as they provide live feedback on copy and design choices. They assist designers in finding out which specific objects in an ad are performing and which are not.
By using heatmaps designers can make informed creative decisions and optimise banner ads. Indeed, ad optimisation should always be part of a campaign. What's more, knowing which objects are the strongest driver of clicks via data can improve future campaign performance and increase ROI.
2. Optimising through A/B testing or multivariate testing
A/B testing has long been the method of choice when refining display advertising. It is one of the best ways to optimise design via data and achieve a better ROI.
What is A/B testing?
A/B testing can be as simple, or as complicated as you want. A/B testing is when you test and measure the success of different copy or creative elements in an ad. It may involve two slightly different versions of the same ad, or multiple variations (multivariate testing).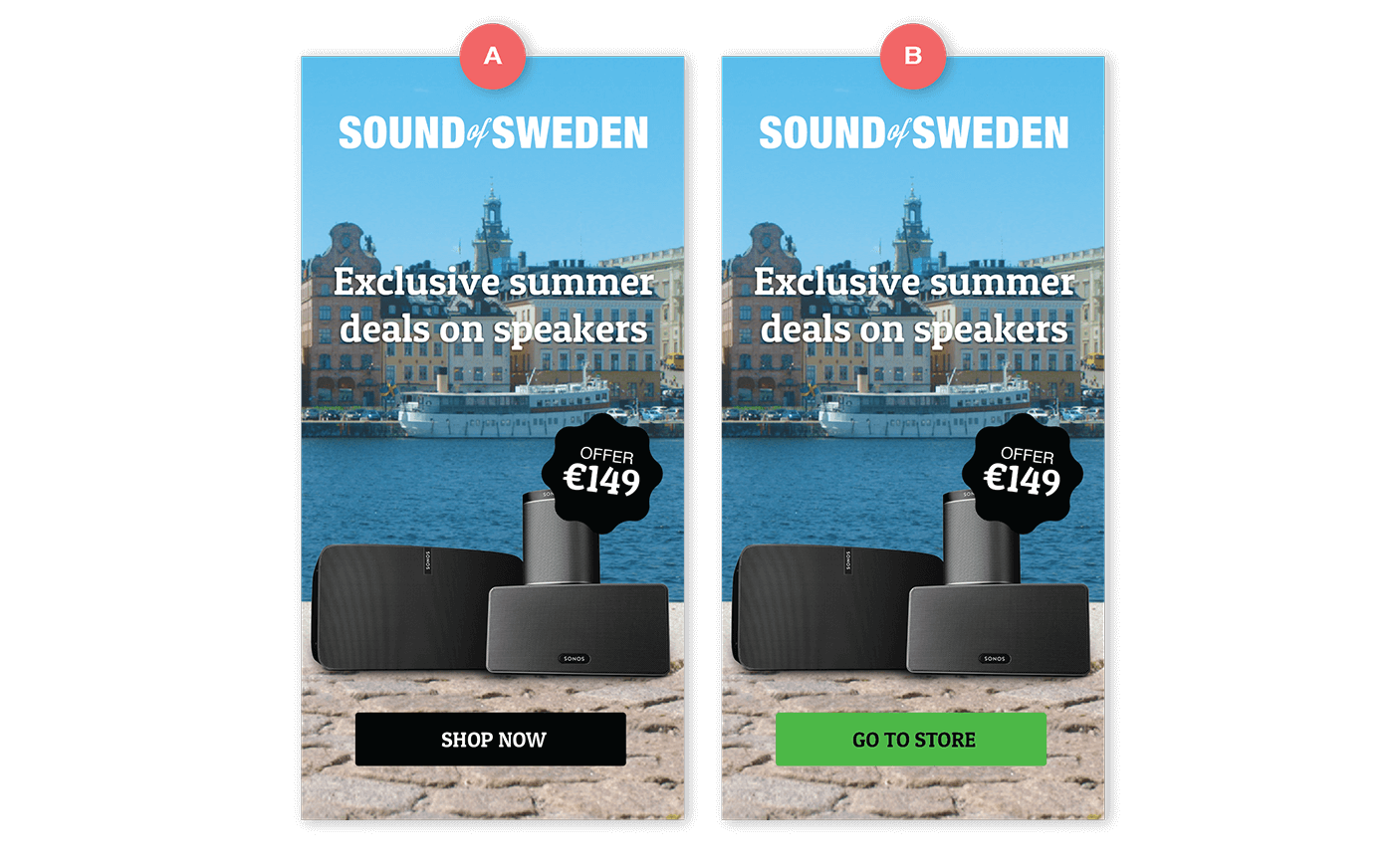 Essentially, you publish ads and measure the performance of each, reaching a conclusion over which is the better version. You then begin again with another ad element and repeat the process.
What are the benefits of A/B testing?
A/B testing is an easy way to use data to enhance design and copy. However, the more specific the changes you make, e.g. micro copy, the more data you need to prove a positive or negative impact.
But it does work. Lara Mormosa, Digital Creative Specialist at iGaming company Casumo notes on A/B testing ads that: "we've seen that even small changes, like swapping copy or the CTA, can influence the success of a banner." You can read more about A/B testing in our best practice guide.
3. Applying dynamic content and data feeds
Instead of optimising your campaign creative via data, you can also use live data to power ad creative. However, according to the latest Bannerflow's research, many brands have yet to embrace this ad tech.
If you use dynamic content powered by data feeds you can show specific copy and/or ad creative to different consumers. For example, geolocation data can be used to inform a data feed, which then shows a specific offer – live and in-banner – based on a consumer's location.
What are data feeds and dynamic content?
Data feeds help to make your display advertising engaging and relevant. They offer the ability to present consumers with dynamic content that can range from selected products to offers, all via live, or spreadsheet-based data, in-banner.
What makes these campaigns notable is their relative ease to create and control via a CMP. All you need to do is connect a data feed to your master creative. This will then show the products or offers you want displayed across all ad sizes and variants of a display campaign.
What are the benefits of data feeds and dynamic content?
The benefits of using dynamic content and data feeds is that it makes your advertising more relevant and personalised to the consumer.
Another added bonus is that ads can be enriched with interactive and creative elements. For example, a different video background can be used to reflect the time of day when the ad is viewed, or the data for a weather forecast could update every 15 seconds, alongside new imagery.
The truth is there is no limit to what you could do.
4. Creating user journey targeting campaigns
Imagine targeting consumers at each stage of their interaction with your brand? And then showing them ads tailored specifically for them? Well, that is what user journey targeting is all about.
What is user journey targeting?
User journey campaigns show consumers ad variations designed specifically for each level of the sales funnel. From top to bottom, from awareness to retention. You only show viewers ad variants with the message and imagery that is right for them.
To enable user journey campaigns you need to integrate a data management platform (DMP) into your ad production workflow via a creative management platform. From one banner template, you can serve creative relevant to where a consumer is in the sales funnel – according to your own data.
What are the benefits of user journey targeting?
User journey targeting uses your own first person, customer data to show specific ad variations, with design and copy made especially different viewers. Meaning you can display engaging ads to specific audience segments.
For example, you can re-engage viewers after they've left your site, with only the products or offers they've expressed an interest in. It's a great way of using your own customer data to make more engaging ads.
5. Setting-up dynamic creative optimisation (DCO)
Lastly, the best and most effective way to be both data-driven and creative in display advertising is to use DCO. These campaigns are hyper-relevant to consumers and use personalised ad creative.
Dynamic creative optimisation is serving the right ads, to the right person, with the best creative combination.
What is dynamic creative optimisation?
A DCO ad shows the best copy and/or design variation for a consumer based on precise and multiple data points. It combines elements of A/B testing, targeting, and dynamic content to produce a personalised advertising experience.

However, a common mistake made by brands running DCO campaigns is that they forget the "creative" in their dynamic creative optimisation campaigns.
The best DCO campaigns are not just ads that use simply copy, image, and CTA variations. They use different creative variations too, from rich media to video. After all, better ad creative means increased conversions.
What are the benefits of DCO?
DCO is currently the best way to be both data-driven and creative within display advertising. It offers unbeatable performance and the ability to target with creativity.
Sara Rosa, Digital Marketing Strategist at Casumo explains why: "much depends on the funnel stage – how we target our audience. Therefore, dynamic banners help us a lot as we can set different types of creatives and different types of strategies for different viewers."
Using DCO technology means a range of creative and data-driven options are available for the same campaign too. It offers a way to measure success but be creative in approach and content. It is an outstanding display advertising strategy, which you can read more about in our guide to DCO.
Do you want more display advertising insights?
Combining creativity with being data-driven is just one challenge marketers face.
To support you with producing your best ever display campaigns, Bannerflow has analysed the billions of ads produced in our platform to provide you with more useful insights for improved display ad conversion in 2019.
Download our free display advertising trends 2019 infographic to find out the biggest trends you need to know, including:
How adding video to your display ads gets results
Which industries are benefiting from personalisation
Why building mobile first is now essential
Which banner sizes are proving the most popular

Share this article