10 creative Christmas display advertising campaign ideas
It used to be that December marked the beginning of the Christmas period (those were the days!). Now, it seems planning for festive campaigns begins December 26th and the marketing soon thereafter.
Yet, using a creative management platform (CMP) for your display advertising means there's no hurry to join the herd. Design, scale, and publish campaigns in days rather than weeks.
But if you're a little stuck for creative ideas for the holidays, then this post will help with some inspiration!
1. Best Buy
Christmas advertising doesn't have to include a jingle and a jolly Santa to be classed as a successful festive advert. In fact, when done well, simplicity is just as effective.
Take this advert by Best Buy.
There are three simple frames that begin with a question and end with a product offer. The design is clean, the copy straight to the point, and the animated elements smooth and highly visible. The snowflakes are all the hint you need for Christmas and easy to include if using a HTML5 widget from a premium CMP.
2. The Cosmopolitan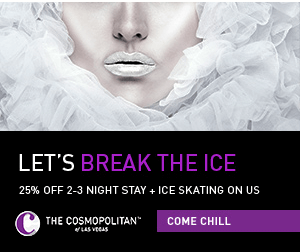 The Cosmopolitan Hotel keep it clean and captivating with this advert. With bold imagery, colours, and value led advertising this wintery themed ad catches the eye.
They're also a brand that uses retargeting and storytelling effectively for their direct response campaigns.
Results have shown that retargeted banners perform better than those without. For a successful festive advert, invest in a comprehensive media buying strategy and watch your engagement soar as a result.
3. Georg Jensen
Video is an incredibly effective tool no matter what the channel. Georg Jensen's business relies heavily on sales over the festive period, accounting for roughly 35% of their annual sales, so creating exceptional banner adverts are a necessity.
For Kasper Sierslev, Head of Brand and Content at Georg Jensen, premium elements are incredibly important for banner design. 'We see our video banners performing 3 to 6 times better than those without. What's more, by connecting the video with dynamic content, we are able to tailor product offerings to different audiences.'
With these ads, Georg Jensen has not only produced high-quality display advertising but also leveraged them to tell a story from social to their website – with continuity throughout. This brand is certainly one to watch for festive advertising, both now, and in the future.
4. Shutterstock
Shutterstock has access to millions of high-quality images which it uses to captivating effect in the design of its banner ads. Their always on campaigns use high quality imagery and bright colours to effect. Yet, for this particular ad, simplicity is key.
The Shutterstock team have also invested heavily in where their adverts appear. These ads can be seen across the internet for display, but also on interstitial pages for design themed publications.
This isn't just an effective festive strategy, it's something important all year round. In a post-GDPR landscape, contextual targeting is becoming increasingly popular.
5. Norwegian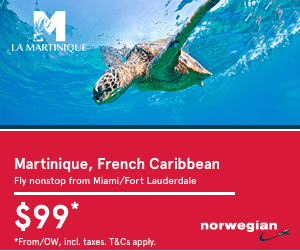 Here's a question: why make your adverts festive themed at all? After all, if you're a travel brand why not tempt consumers with white sandy beaches, crystal clear waters, and warm sunshine? It certainly sounds more enticing than a wet London winter…
Better yet, go further and personalise your creative and offers dependent upon location, browsing history, or demographic data. The possibilities are endless with dynamic creative. Serving the right ad, to the right person, at the right time is just as important as Christmas jingles.
6. Waitrose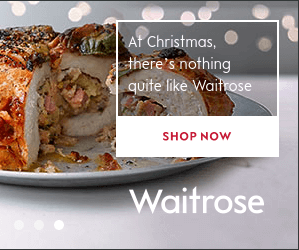 At first glance, there isn't anything particularly remarkable about Waitrose's Christmas advert. Simple image, classic call to action, and logo are all included but animated or dynamic features are lacking.
Yet, this is a perfect example of how a brand awareness display campaigns can contribute to an omni channel strategy. This ad serves as a simple reminder of the TV advert – which has been highly rated this season.
An effective omni channel strategy is just as important for engaging Christmas advertising as a single banner is.
7. Marks and Spencer
Consistency in your brand design is not the only important consideration for your adverts. M&S demonstrated that continuity in messaging can be just as effective. The 'Must have' aspect of their copy repeats for every product themed variation of their ad.
Showing continuity throughout your advertising is key. But so too is having a clear theme from ad to landing page. M&S have demonstrated this perfectly and what is more, with a CMP, creating banners through to landing page can be done all within the same platform.
8. CDON.com
For any ecommerce business, being able to link products directly from your inventory is essential for a festive advert. It's not difficult either, with a premium CMP or DCO solution adverts such as these are easy.
This ad from CDON.com is simple in its conception, yet shows a range of products that the viewer might be interested in in the lead up to Christmas. By adding product feeds to your banners you can instantly let viewer's know about stock listings on items they may be interested in.
9. Coca Cola
You cannot talk about Christmas advertising without mentioning Coca Cola. After all, it was Coca Cola who reinvented Santa Claus in a red outfit over his traditional green! Coke show just how effective the power of advertising can be.
And you don't need to reinvent the wheel with your festive advertising either. Sometimes, consistency in your ads year-on-year is far more effective for brand awareness than a new widget could ever be. If you have something golden like Coca Cola, then don't mess it up.
10. RAM
That being said, some brands can take Christmas and twist it terribly. For example, what do RAM cars and gingerbread houses have in common? …Yeah, we're not quite sure either.
It's not uncommon for companies to go all out on Christmas imagery but in this case, some moderation would have been welcome.
But, hey, they certainly get points for the all out Christmasness of it all!
Takeaways:
Christmas advertising doesn't have to slap you in the face. Sometimes, it's the cleaner, simpler designs that can be the most effective.
Use rich media to make your ads stand out. A simple animation or a countdown feature can make your display advertising engaging.
It isn't always about the ad – implement an effective retargeting and affiliate marketing strategy to get your ads in front of the right people at the right time.
Think outside the box. No need to have a Christmas ad at all in fact. For travel brands offering beach vacations can be particularly effective.
Remain consistent across channels and with your message to show clear brand continuity across all your advertising.
Product or value led advertising is important. Link your display ads to your inventory or include data feeds for captivating e-commerce campaigns.
Sometimes simplicity is best. Stick to what works.
Conclusion
Remember, there is no set way to create a Christmas advert! For each brand, there is a formula that works, and one that doesn't. The important thing is whatever you produce should be high quality and should have an effective strategy around its distribution.
Want to know more how our creative management platform can help you produce effective ads? Get in contact with us today.
Share this article