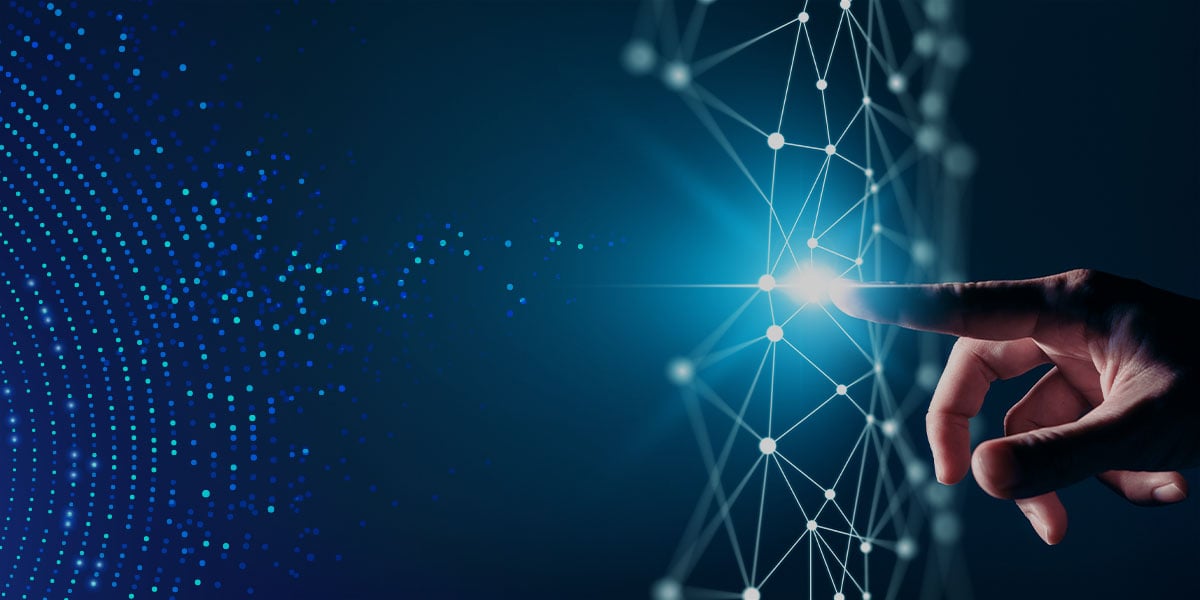 What Is Digital Transformation?
Over the past year, the term digital transformation has been a huge focus for many businesses. This is no surprise considering the impact of COVID-19. In a reaction to this we've created an Ultimate Guide covering the subject of Digital transformation which includes key strategies, technologies, and best practices.
Companies across a variety of industries have had to stand up to varying challenges the pandemic brought about with short-term fixes. However, many have used this situation as an opportunity to speed up their adoption of new practices and technologies for the long-term too.
Some studies have also shown how the process of digital transformation has actually advanced by a matter of years.
A McKinsey report showed that businesses have sped up digital communications and interactions with their customers and suppliers by up to four years. Furthermore, companies surveyed showed that 'the share of digital or digitally enabled products in their portfolios has accelerated by a shocking seven years.'
Another study, highlighted in IoT Now, discovered that COVID-19 has moved digital transformation forwards by 5.3 years. Businesses have had to adapt to such unique and unprecedented times and find fixes for current challenges. In addition, they've also used the situation to get ahead digitally.
Many industries have had to press fast forward on technological conversions that may have been phased in over a longer period of time in any other circumstances.
The global situation is helping to create a bigger-than-ever buzz around digital transformation. However, not everyone makes the same journey. And, many brands still ponder what exactly digital transformation is.
In this guide, we provide an introduction to digital transformation. We will explore its definition, what it means for your business, and provide examples and services that could help evolve your brand.
What will we be covering in this digital transformation guide?
What is digital transformation?
Why is digital transformation important?
Digital transformation services
Digital transformation examples
1. What is digital transformation?
The overarching term 'digital transformation' is essentially the name given to the incorporation of digital technology into all aspects of your business processes. These adjustments are put in place with the aim of transforming the way in which a company operates for the better.
Every process a business refines should ultimately be there to better serve the customer – and this is exactly what one of the main focuses of digital transformation is. By changing your processes to make them more efficient. You're also providing vast improvements for your customers or clients when it comes to delivering value, speed and effectiveness.
This kind of conversion into the digital space requires buy in from every person within a business and also needs a cultural shift. Businesses have to be open to adapting to a completely different way of working and this often means parting with embedded practices. COVID-19 forced this on many industries during 2020.
What does digital transformation mean for my business?
The definition of digital transformation will have a slightly different meaning for each business. Practices and processes will be dependent on the industry and circumstances. For instance, what an online retailer views as digital transformation will be independent from that of a graphic designer or a gas engineer.
However, as we've said above, in the broad sense, digital transformation means integrating digital technologies within every area of your business processes. What that looks like in your sector and for your particular business will depend on your existing structure.
2. Why is digital transformation important?
No matter which sector you operate within, business is increasingly competitive. What the global pandemic has done is intensify this. Customer demand has morphed – their expectations have heightened along with the need for services to be digitised. Not only this, but previously manual processes won't work in the socially distanced coronavirus climate. A company's time to market is under undue pressure and supply chains have been in disarray.
The way in which consumers have reacted – in terms of purchasing decisions and the services they choose to interact with – might change post-pandemic. However, these are behaviours being adopted over a prolonged period of time, so they're unlikely to disappear completely.
Digital transformation is so important because it satisfies customer needs and helps them encounter heightened value. This level of service and experience will now, therefore, be the benchmark.
What's become imperative is a business's ability to be agile and swiftly adapt to these extraordinary challenges. This is largely done by removing pressure from traditional, outdated or manual processes and replacing them with more efficient technologies.
Digital transformation is important for your business and simply surviving is precisely the reason why this is so.
In a competitive landscape, under extra pressure, small 1% differences can help you to stand out against rivals and see your business not only survive, but thrive.
Without meeting customer demand for efficiency and value, people will simply look elsewhere – and competitors which have successfully adopted new technologies will reap the benefits. Customers think and act digitally, so you need to do likewise.
Can in-housing play an important role in digital transformation?
In-house marketing has experienced a surge in popularity in recent years. And this growth feeds directly into the need to adapt and have control. In-housing can put the power in the hands of your business. It also facilitates successful digital transformation and speeds up processes.
In fact, the Bannerflow State of In-housing 2021 report highlighted some fascinating statistics showcasing the operational benefits of bringing creative work in-house. A stand-out fact being that 63 percent of the respondents said their ROI had seen a positive change from in-housing.
In addition, tech was transformative in terms of how in-house teams used data, were creative and how they collaborated:
58 percent said they use data more than ever before
55 percent said creativity levels have been boosted
54 percent are seeing greater collaboration.
When we consider the way in which businesses are having to operate due to COVID-19, many face more remote working in 2021 and beyond.
This isn't a concern for a number of the in-housing report respondents, though – it's largely being seen in a positive light:
62 percent of respondents said in-housing will allow for efficient remote working
59 percent said it would improve agency transparency
58 percent said it would save external costs
In-house marketing looks set to accelerate the digital transformation efforts of an organisation.
3. Digital transformation services
Investing in digital transformation services can assist businesses by enhancing how agile they can be. In order to scale, you'll likely need to work with increased levels of information. Plus, you will need to successfully utilise data as and when required.
This can be swiftly achieved by improving how easily organisations can access and harness this information. The improvement of insights and leveraging that data can be key.
But what is a digital transformation service? In short, it's a management solution – or collection of management systems – designed to help businesses get optimal value from their technologies.
Businesses may also find it useful to employ the services of digital transformation agencies. These organisations can ensure a holistic approach is taken; helping you execute a successful process with the correct tech for your business.
These solutions can heighten efficiencies within the operational function of your organisation by designing workflows that fit for your specific business and by creating slick processes. Without these technologies in place, businesses have to rely on outdated or manual processes, which can leave them in the shadow of competitors.
Digital transformation of digital advertising
Once you understand what a digital transformation service is, it's very easy to understand how Bannerflow fits into this world and can transform an organisation's digital output.
With our cloud-based platform, brands are able to bring together and control all their digital advertising efforts from this one solution. A process that would previously take multiple tools, people, agencies and more, can be streamlined with this powerful technology.
In-house marketing departments can have full control over the output of their brand from this single source. This is from designing, scheduling and publishing all the way through to ad optimisation and personalisation.
This isn't just on a small scale, either. The possibilities for any brand's advertising efforts are global and wide ranging. Bannerflow's creative management platform (CMP) can operate across markets, channels, different languages and at volume in real-time.
Digital transformation strategy
It's important to note that embarking on transforming the operations of your business into the digital space can be easier in theory than in practice. This is why having a robust and comprehensive strategy is key before taking on the challenge of reorganising your business in this way.
A strategy for any digital transformation project is essentially a plan of attack. It is essentially how an organisation could, should and must thrive in the digital landscape. As we've already discussed, customer and consumer behaviours have transformed and will continue to do so. Businesses must keep pace with these changes. By doing this you can stay ahead of the curve – and harnessing tech is the way forward in order to be successful.
What a strategy does is first help your brand with what it can do with your business model to use the latest technology and how it can transform this operationally. Read our digital transformation strategy and framework guide for more detailed insights into this subject.
4. Digital transformation examples
It can be incredibly helpful as a business decision maker to see examples of digital transformation in practice. And, of course, understand how other brands have made things work is useful too.
At Bannerflow, we have worked with many businesses and brands to transform their digital capabilities and give them the power to succeed.
Digital transformation case studies:
Here, are some of our favourite case studies of digital transformation in a action.
Telia Company
Telia is uniquely positioned as a showcase of what can be achieved with the assistance of robust technology. The telecommunications brand has redesigned its digital marketing operations with the help of a Bannerflow CMP.
Lena Lindgren, Digital Transformation Manager for the brand said:
"Technology has allowed us to scale our production without using extra resources. It's a very cost-efficient way of mass-producing our online advertising.
"Moreover, since using a CMP, we have been able to shorten our go-to-market time from 20 to 4 days!"
Read the full Telia interview here
Kindred Group
This in-house marketing force manages some of Europe's best performing gambling brands. By adopting Bannerflow, Kindred Group is able to be innovative at scale, serving a number of different languages.
Without the use of a CMP, Max Taub, Head of Acquisition Optimisation at Kindred Group, says they'd require far more staff:
"(We'd need) a lot (more people). Just thinking of all the translations, optimising, and then having a designer do it all manually – you just can't go back to the old way."
Read the full Kindred Group interview here
Bonnier Magazines & Brands
By streamlining processes with a CMP and bringing display ad production in-house, Bonnier has eliminated the need to use multiple external agencies. In doing so, the brand has reduced costs, regained creative control and has increased the speed and agility with which they can produce ads.
Kajsa Lindwall, Campaign Production Specialist at Bonnier told us that this digital transformation has helped them to become more flexible:
"We changed from a traditional organisation to one with an agile workflow and structure. This means that we are now working in sprints and reach the end of the projects fast so – it's important we can be flexible."
Read the full Bonnier interview here
More resources
If you want to discover more examples of what embarking on a digital transformation journey can help your organisation achieve, head to the resources section of our website.
In this area, you'll find all of this and more:
Display advertising examples
Trends
Reports, guides and e-books
Webinars
Conclusion
There's no question that the process of digital transformation is happening across all industries. What this looks like in yours will surely differ to others. However, what will always separate one brand's success from another – regardless of the industry or circumstances – is how quickly and how well fresh technological solutions are integrated.
During the past year of global turbulence, consumers have been forced to look online for services in even greater numbers. As a result, they are becoming more demanding of these services. In order to keep pace, businesses need to become agile and take a holistic approach to their digital transformation strategy. This long-term perspective will stand any business in good stead for evolution and will ensure competitive advantage.
Has this guide left you feeling inspired? Are you ready to take the next steps towards transforming your processes and heightening your efficiencies? Bannerflow can help your business to put the customer at the heart of everything. Create powerful, memorable, personalised digital advertising assets with our premium cloud-based platform.
Apply for a demo today to experience this seamless CMP process for yourself from ideation to roll out and beyond.
Share this article