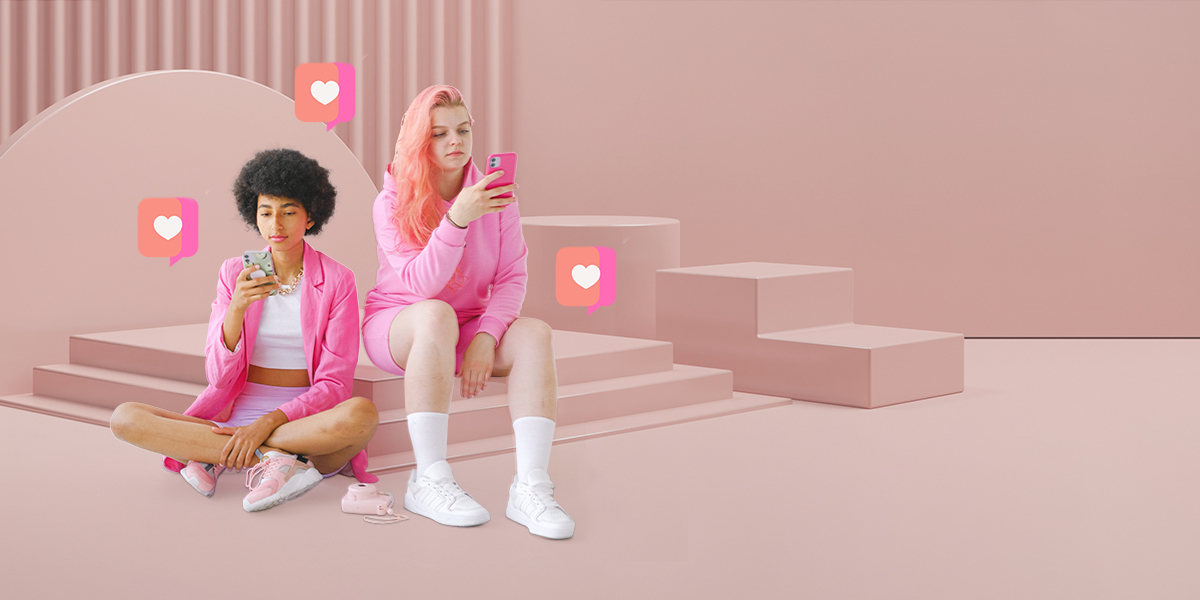 Valentine's Day Advertising: Tips and Inspiration
Love is in the air! That's right, barely have we caught our breath from the Christmas whirlwind and the next event in the calendar is already around the corner. It's time to dust off those designs and start thinking about your Valentine's Day advertising.
Love it or loathe it, Valentine's Day is huge business. In 2021, Valentine's Day sales in the US hit $22billion. Of course, that's not just sales of roses and chocolate. Brands from all sectors have jumped on the Valentine's Day bandwagon to huge success.
But what makes a great Valentine's Day campaign? What do the best Valentine's Day ads look like? And what can we learn from them to apply to our own campaigns and Valentine's Day display advertising?
In this article we'll show you a selection of the best Valentine's Day ads and dish out some Cupid-inspired tips so you can be sure your campaigns send a winged arrow straight to your customers' hearts.
Valentine's Day topics we will cover:
How Valentine's Day advertising has grown and evolved
eHarmony's "How kids see Valentine's Day"
How Pandora got real for Valentine's Day
"The best first date I've ever been on in my life" from Ford
Deadpool's "True Love Never Dies"
Ikea's cheeky chairs
WWF's "Love it or lose it" campaign
Display advertising genius from Nextory
The very worst examples of Valentine's Day ad campaigns
Essential strategies to make sure your Valentine's Day campaigns hit the spot
How Valentine's Day advertising has grown and evolved
It was in 1714 that Charles II of Sweden began gifting flowers. It's here the red rose symbolising love stems (no pun intended!) from. Just over 100 years later, in 1822, UK chocolate giant Cadbury sold the first heart-shaped box of chocolates.
Fast-forward another 100 years and cards were next to get in on the act. In fact, it was card manufacturers who ran some of the very first Valentine's Day advertising campaigns.
This is where the true commercial story of Valentine's Day starts. From the mid '80s onwards, Valentine's Day has seen increasingly lavish ad campaigns – pioneered by the likes of Hallmark and Channel – dominate proceedings.
Today, Valentine's Day is a multi-channel marketing bonanza – and it's worth $billions.
With the majority of spending happening online, now is the time to double down on your Valentine's Day ads and put the right messaging in front of your star-crossed lovers.
From user generated content and social media campaigns to sophisticated display ads and viral videos, Valentine's Day is an opportunity for brands of all shapes and sizes to strike while love is all around.
Most of your customers are going to want to spend their hard earned cash this Valentine's Day. Your job is to draw in with compelling copy, knockout design and the kind of content that will leave them love struck.
To help get you inspired, here's some examples of the best (and worst!) Valentine's Day advertising campaigns we've seen…
1. eHarmony's "How kids see Valentine's Day"
Online dating websites aren't always purveyors of good taste. But, back in 2017, dating site eHarmony enlisted the help of some incredibly cute children to get its Valentine's Day message out there.
They asked a group of children a very simple question: "What is Valentine's Day?" The answers, as you can see in this video, are inspired, insightful, innocent and (more often than not) hilarious.
Valentine's Day has become so commercialised it's easy to forget how simple love could – and should – be. By enlisting the help of these kids, eHarmony gives us the chance to see things through their eyes, to remember the innocence of love and to smile about it.
Top Tip: Don't be afraid to look at things differently or put a different angle on your message. By shifting perspective – and keeping it simple – you can see great results.
2. How Pandora got real for Valentine's Day
It's increasingly easy for consumers to see through gimmicks. It's why so many brands have thrown traditional advertising scripts out of the window in a bid to capture the Holy Grail of authenticity that more and more customers crave.
Jewellery giant, Pandora, did this in 2021 to great effect. With a campaign called "Little Acts Of Love" Pandora asked real couples to explain what Valentine's Day meant to them. The campaign was mirrored across their socials and display ads. It brought a healthy dose of authenticity to Pandora's ads and messaging, making it instantly relatable and intimate.
Top Tip: Be authentic and relatable in your Valentine's Day advertising campaigns. It's so easy for your customers to see through you if you try to be something you're not. People relate to people and, often, our purchasing decisions are driven by emotion. Tap into this and you're on to a winner.
3. "The best first date I've ever been on in my life"
Unless you're a certified petrol head, a Ford Mustang isn't likely to be the first thing that springs to mind when you think about love. Yet, back in 2015, Ford combined their Mustang and Valentine's Day to perfection.
Ford's "Speed Dating" saw a series of unsuspecting gentlemen go on a blind date with a woman who just so happened to be a professional stunt driver. They weren't privy to this information and the result is a huge amount of fun and marketing gold.
Top Tip: Of course, not everyone has the marketing budget of Ford. But look to see if there are ways you can subvert expectations in your ad campaigns to elicit a response from your viewers. And don't be afraid to have fun. It's a fine line to tread (as you'll see in the examples of the worst Valentine's Day advertising campaigns) but, get it right, and there'll be smiles all around.
4. Deadpool's "True Love Never Dies"
Traditionally, the run up to Valentine's Day sees a slew of rom-coms hit the big screen. And it's not hard to see why. A Valentine's Day night to the movies to watch two people fall in love is bound to be a sure-fire success, right? Which is why more than a few eyebrows were raised when off-beat superhero movie Deadpool, was pencilled in to open over Valentine's weekend.
It turned out to be an inspired move. Deadpool grossed more than $132million in its opening weekend – a record at the time in the USA for an R rated movie. From rom-com style posters and banner ads through to promo clips from Deadpool (Ryan Reynolds) himself, the marketing campaign was a huge success.
Top Tip: Just because something isn't wrapped up in the traditional Valentine's Day trimmings, it doesn't mean you can't create inspired campaigns around it. By thinking outside the box you can stand out from the crowd.
5. Ikea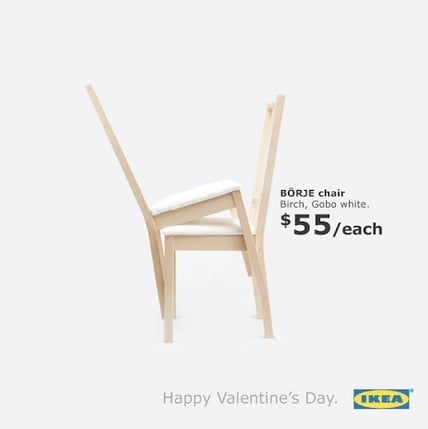 This cheeky, provocative ad from Ikea blends great design with Ikea's clean, clear aesthetic to really stand out. It's playful, Karma Sutra-inspired take on two chairs stacked together brings a smile to the face and raises the eyebrows. It's fun, on brand and very effective.
Top Tip: Chairs aren't the kind of product that scream 'love' or are begging for a Valentine's Day advertising campaign yet, with some creative thinking and a playful approach, Ikea created a stand-out ad. Get creative with your ideas and – as long as you stay true to your brand principles – you'll be able to design ads your customers will love.
6. WWF's "Love it or lose it" campaign
This gorgeous video from the World Wildlife Fund, released in 2021, encourages us to love and protect the natural world…or risk losing it. Set to a cover of the classic "Love Me Tender" the video tugs on the heart strings and uses Valentine's Day as a lens to help us see things differently. It ends with a beautifully simple message and gives viewers the choice to "love it or lose it."
Top Tip: Valentine's Day advertising doesn't always have to be about sales. It can be an opportunity to deliver a powerful message and, when done right, it can have a significant impact.
7. Display advertising genius from Nextory
Display advertising that's fun and interactive will always go further than static designs. One of the best examples of this is from Nextory, a streaming service for audiobooks and e-books.
The ad asks the simple question "What's your next love?" before rapidly displaying over 50 titles from the streaming service. Viewers are invited to take a screenshot to select their next title to read or listen to. This fun and interactive campaign was featured across Nextory's display and social channels.
Top Tip: Interactivity, especially when it comes to display and social ads, can elevate your campaigns to the next level and your viewers will love it.
The very worst examples of Valentine's Day ad campaigns
Perhaps more than any other event, Valentine's Day is littered with examples of ads that completely miss the mark. The worst Valentine's Day ads are tone deaf, flat out insulting or just plain confusing.
There's this from Wonderbra, an ad that manages to offend everyone from Brazilian jewellers Natan, and this particular gem ("No ring? Give her wings!") from Hooters – to name but a few.
By all means, have fun with your Valentine's Day ad campaigns but be mindful that, even with the best intentions, ads can backfire if you try and push the boundaries of taste too far.
Essential strategies: production automation and campaign management for Valentine's Day advertising
You can turbocharge your Valentine's Day ads with next-level production automation and campaign management powered by an industry-leading Creative Management Platform (CMP).
You can save huge amounts of time by making your display and social ads at the same time with production automation. And, by focusing on data feeds in the run up to Valentine's Day and on the day itself, you can utilise real-time publishing with advanced campaign management to update your messages.
With a CMP, creative production can easily be automated and scaled. You can go from a single creative to an entire campaign spanning all formats and channels in minutes. A CMP enables you to optimise, test and tailor ads at high speed – without the need for coding. This gives you the power and control to replace generic ads with many more personalised variations.
Conclusion
Valentine's Day advertising campaigns can increase engagement in a big way, as long as you do it right. It shows that as a brand, you are up to date, agile, and eager to celebrate with your audience.
For Valentine's Day in particular, there are so many angles you can take. You can appeal to the sincere side of love, or you can appeal to the singles with cynicism. You can poke fun at the day, or treat it entirely seriously. It all depends on your target audience, and the offer you have, but the tips in this article will be really useful, whatever you decide to do.
If you want to find out more about how Bannerflow can help power your digital advertising for Valentine's Day 2022 and beyond, then get in touch for a demo and let us show you how.
Share this article