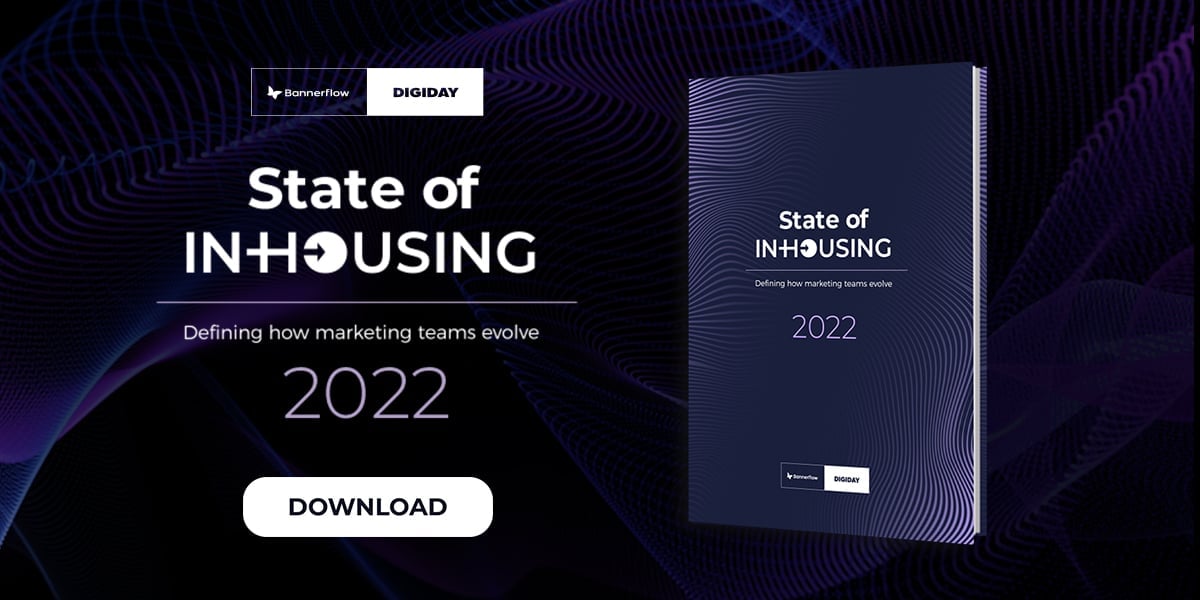 The State of In-housing 2022: A Strange and Extraordinary Year
The state of in-house marketing in 2022 is all about normality, or at least the "new" normal. In-housing in 2022 is both accelerated, maturing, and adapting to the needs of the many brands who have adopted the strategy.
For the fourth year in a row, Bannerflow and Digiday have once again partnered to survey senior European marketers to investigate how in-house marketing is evolving in 2022. This year's report includes responses from a range of businesses, across a variety of different industries. And is the most authoritative survey of in-house marketing to-date.
If you would like to download the report directly then click on the link below. Or if you would prefer a taster of what's in the report then please carry on reading.
Download The State of In-housing 2022
In this article we briefly cover the following four main areas from the State of In-housing 2022:
What is the state of in-house marketing in 2022?
How marketing teams are meeting new challenges?
Why does digital transformation remain essential?
How are the priorities of in-housing changing?
1. What is the state of in-house marketing in 2022?
In-house teams reporting full digital competency is increasing, and this is very evident throughout the answers to this year's survey. Linked to this, headcount within in-house teams is also increasing – but not across all industries. For example, 40% of consumer tech brands report increasing headcount. While other industries, such as iGaming have reduced headcount – with 23% reporting as having done so. A question that remains unanswered is whether this decrease is an indication of technological maturity within more advanced in-house teams.
Elsewhere, where and how teams are operating is very much influenced by the pandemic with nearly half all of respondents reporting working remotely. While, the role of traditional agencies continues to alter, with some industries, such as financial services becoming more independent in capabilities. However, it is the relationship between agencies and clients that is more intriguing, with many respondents reporting more flexibility in agency relationships, and in some industries an upswing in agency usage for particular marketing tasks in the last 12 months.
2. How are marketing teams meeting new challenges?
Centralising and consolidating in-housing capabilities is highlighted as an ongoing challenge in this year's report. The need to work faster and be more personalised than ever before is resulting in a demand for more control over content and a need to to work even faster across channels formats. The volume of tasks and productions in-house teams is also increasing, and with it a need for new technology and skills. Get it right, and as our report has found for the majority of marketing teams, an increase in return on investment (ROI) is the outcome.
However, deciding and then finding the correct skill sets to bring in-house is seen as a priority amongst teams. And it's a very real challenge. However, European brands, whether in-house or not, are experiencing similar dilemmas in recruitment, as reported elsewhere. How you manage and retain staff is just as important an issue for in-house teams too.
Indeed, keeping talent satisfied is a lot more complicated in 2022. Rob Foster, Senior Consultant, of communication and marketing consultancy, The Observatory International, (from an interview in the report) states, "teams must implement processes to avoid burnout and boredom among talent. Especially among members who have worked across multiple brands in the agency world. And who now might be working on campaigns for a single brand".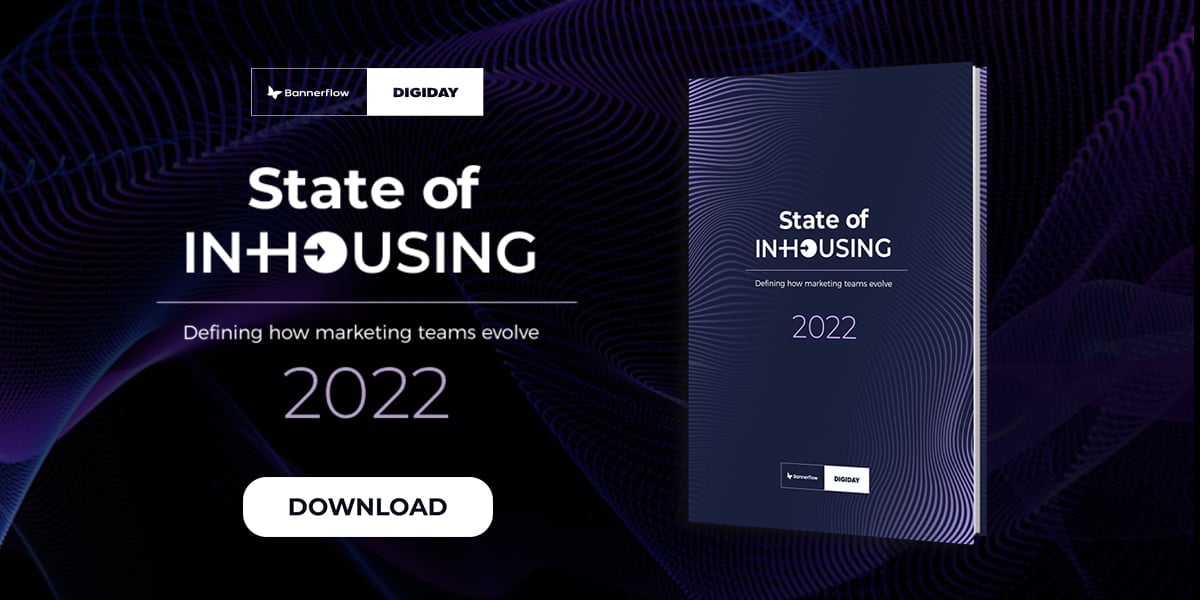 3. Why does digital transformation remain essential?
At the heart of successful in-housing remains the impact of digital transformation. Do it well and there are clear benefits. Indeed, the pandemic has clearly demonstrated that those brands who were further along in the cycle were better positioned to transition to more agile ways of working. This can be seen in the number of marketing teams that felt ready to move to a more hybrid or digital way of working.
Marketing teams have also seen other benefits from more mature digital transformation. Indeed, the last two years have seen growth in the skills sets within teams, with more advanced teams searching for staff for more complex strategies. While, relationships between in-house teams are shifting based on the adoption of technology too.
This year our report found 40% of marketers commenting in-housing enables them to increase creativity. The fact is that brands who were able to operate during the transition to (and benefit from) the "new" normal (thanks to a progressive digital strategy) were also the ones further along in their digital transformation journey.
4. How are the priorities of in-housing changing?
Since the very first in-housing report in 2019, in-house marketing has been seen as a prime driver of innovation and experimentation for marketing teams. And nowhere is this as clearly demonstrated as in marketing teams being closer to data, insights, and strategy.
In fact, this year's report discovered that 39% of senior marketers questioned believe they are using data in a better way thanks to in-house marketing. And, as previously mentioned, the right technology is very important when gaining a sufficiently good level of transparency and data control for this to occur.
Collaboration is another priority area for in-housing looking forward, and not just between team members. For certain marketing functions, such as media buying, many brands have long sought to bring this in-house. However, there is now a shift in how brands are undertaking functions such as these. Marketing teams are making sure they have the right skills within teams to understand complex tasks, even if they do not do them wholly themselves.
Indeed, specialised agencies still have a vital role to play in the success of in-house marketing. In particular, this is because of the unique skills they provide – and nowhere is this clearer than in the area of media buying. Read the full report to get more insight into how priorities are changing for in-house teams – and why.
Download The State of In-housing 2022
Read the full State of In-housing 2022 report now
In-house marketing matured further in 2021 and will remain a key strategy for many brands over the coming years. And with the continuation of the pandemic (at least in the near future) the benefits it provides teams with a hybrid way of working cannot be underestimated.
However, it is essential to know the latest ebbs and flows within the movement to in-house marketing. Knowing how the best brands do in-housing is essential for forming your own team's best practice. Read our latest report now to learn how leading brands, such as Arla, ComeOn HSBC, and Telia Company are meeting the challenge and finding success in an in-house way of working.
Share this article