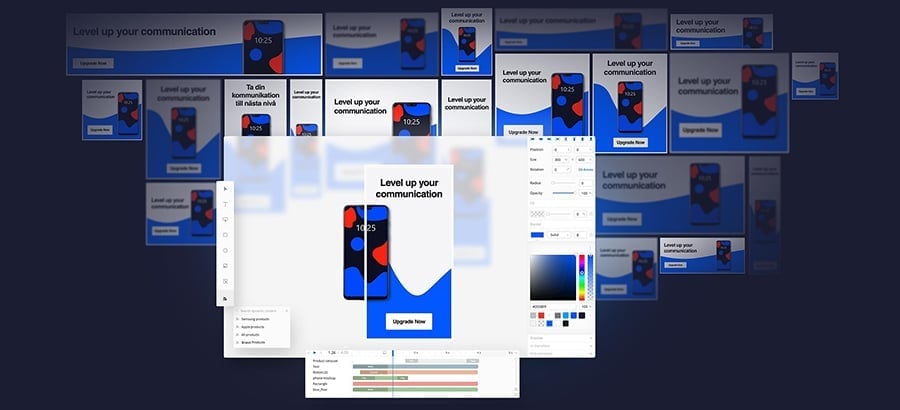 The State of In-housing 2020: Creativity and ROI Flourishing
Across Europe, in-housing is now surpassing its previous "trend" label and fast becoming a necessity. In fact, 85% of marketers have moved, or are in the process of moving operations in-house.
Not only are more and more brands taking control of their digital marketing but astonishingly these same brands are reporting a spike in creativity and better ROI thanks to moving operations in-house.
Yet, as well as these benefits are still challenges for brands to overcome. These include, time, lack of talent, and a pressure to deliver serious impediments to success.
These are just some of the findings detailed in Bannerflow and Digiday's latest in-housing report – the most authoritative analysis of the European in-house marketing movement yet. Featuring the thoughts of 200+ senior marketing decision makers from brands, in-housing agencies, and consultancies across Europe.

63% of marketers report in-housing is driving creativity
Cost savings and increases in return on investment have long been associated with bringing marketing functions in-house, yet the 2020 report reveals a surprising surge in brand creativity.
Of those questioned, almost two thirds (63%) of marketers admitted to experiencing a higher level of creativity after their business moved traditional agency operations in-house. However, the reasoning for this increase is particularly interesting.
Moving in-house has enabled brands to take back control of creative production. Moreover, this comes at a critical moment too for brands,! Creativity is now regularly cited as a key commodity for future business growth. In fact, a fifth of marketers said that increased levels of creativity via in-housing gave them a competitive advantage!
Advantageously, the report also finds that 45% of in-house marketers are now able to put KPIs in place for creative endeavours, with a further 48% experimenting to find the right methodology to do this accurately. This suggests that having control over creative production allows managers to set informed, creative focused KPIs.
For 58% of brands positive ROI is an outcome of in-housing
Another key stat unearthed by the second edition of our "State of In-housing" report is that 58% of marketers have seen positive ROI since moving their digital marketing in-house. While, just 3% report having no improved ROI since moving in-house.
Furthermore, 74% of those questioned – who have seen an increase in ROI since in-housing – note that levels of creativity have strengthened. Thus, it appears for these brands, there is a correlation between greater creativity and positive ROI. A remarkable achievement! And something which plays into another marketing trend of re-embracing creativity by brands.
Indeed, the need for a better ROI is not just connected to the in-housing trend either – it is a perpetual demand from business. In-housing is part of a wider worldwide trend to reduce costs and achieve improved ROI. In an exclusive interview, within the report, this is noted (among other things) by CMO of Getty Images, Gene Foca.
Reacting to the report he notes that for Getty Images "it's not that we're seeing strong ROI because we moved in-house. We're seeing strong ROI because we've steadily, systematically improved most areas. We're holding people accountable, we're measuring performance and we're working collaboratively and inclusively. Those are the things that are driving ROI.

For 39% transparency remains a key reason for in-housing
Transparency is a constant concern across marketing, so it's no surprise that it appears among the top three benefits of in-housing again for 2020. Indeed, for 39% of correspondents it remains the key reason for moving in-house.
Moreover, following-up from last year's report, trust of media agencies remains an issue with 56 percent of brands replying that "yes, transparency is still a major concern". However, some progress does appear to have been made with 40% now describing themselves as only "somewhat" concerned. Only 4% of correspondents are satisfied.
Other key reasons for making the move in-house highlighted by key decision makers were cost saving (38%) and greater agility (38%). However, interestingly greater control over brand messaging (35%) and greater control over creativity were also key reasons. Again, this appears to fit with the overall uplift in in-house creativity and industry factors such as increasing ROI.

The changing role of agencies: 36% use a hybrid model
Leading on from issues surrounding transparency, agencies are having to react and adapt to new in-housing models. Indeed, one of the more fascinating pieces of research has been the development of "hybrid" in-house models.
For example, a separate in-house agency, set apart from the marketing team – sometimes with an agency directly employed by, or created from scratch, by a brand. Fascinatingly, 36% of decision makers questioned, describe their brand as following this form of hybrid model.
Taken from an interview in the report, Simon Buglione, Managing Director, Brand and Creative at Sky summarises the benefits of Sky's in-house agency. "We are a minute's walk away at any given moment, which means we can be agile and reactive. We also inherently understand the brands we work with. Often it's the stuff that can't be captured in a brief that's most important".
Yet, there remains familiar hurdles blocking brands when moving to an in-house model. Marketers still cite a lack of support internally for transition, a lack of existing talent to build a strong in-house team, and gaining buy-in from management as the biggest barriers to making the switch. All of which were major concerns in the 2019 report too.
However, in order to overcome these perceived barriers, brands are turning to digital transformation agencies and specialist consultancy firms to guide them in the move to in-house marketing. Indeed, 34% of correspondents admit to using digital transformation agencies, on a monthly basis for support.

34% of marketers describe technology as key for confident in-house collaboration
Undoubtedly, in-housing is maturing and that can be seen in the confidence and size of in-house teams. Of those questioned, 78% of decision makers describe having an in-house marketing team of 6 persons or more. While, 31% describe the move in-house "as straightforward"– another 44% describe in-house as "not without its challenges but worth it."
Technology is certainly a critical enabler of confident in-housing. Just 6% of marketers describe a "lack of technology" as an impediment. Indeed, the positive role technology plays in the in-housing movement can be seen in the marketing functions it enables brands to undertake with 57% of brands performing social media, content creation (49%), and 47% of all design work now in-house.
Confidence is high in the use of technology in-house. 40% of brands report wanting to make sophisticated strategies such as artificial intelligence (AI), and 38% augmented reality (AR) in-house competencies.
On top of this, technology is helping improve in-house working through the analysis of all forms of available brand data. Not only are 41% of senior decision makers saying they are using data better but they also report greater collaboration (34%) and efficiency (27).

Want to know more? Read the report
And where does this leave the state of in-housing in 2020? Is it the new normal? Maybe.
A fundamental shift has happened and the momentum appears unstoppable. More than 8 out of 10 marketers now work in-house – the way many brands work has changed forever.
However, while for many the transition has been positive, not all is plain sailing. 25% of correspondents describe the move in-house as a "real struggle with many hurdles". How in-house marketing will develop as it matures will prove very interesting.
To find out more about the state of in-housing and its impact, download the Bannerflow and Digiday's report now. Or catch the Digiday webinar on February 26th by clicking this link.
Share this article