The Latest Updates on Social Media Platforms - June 27th 2023
TikTok
TikTok to Introduce Visual Search Feature for their E-commerce Offering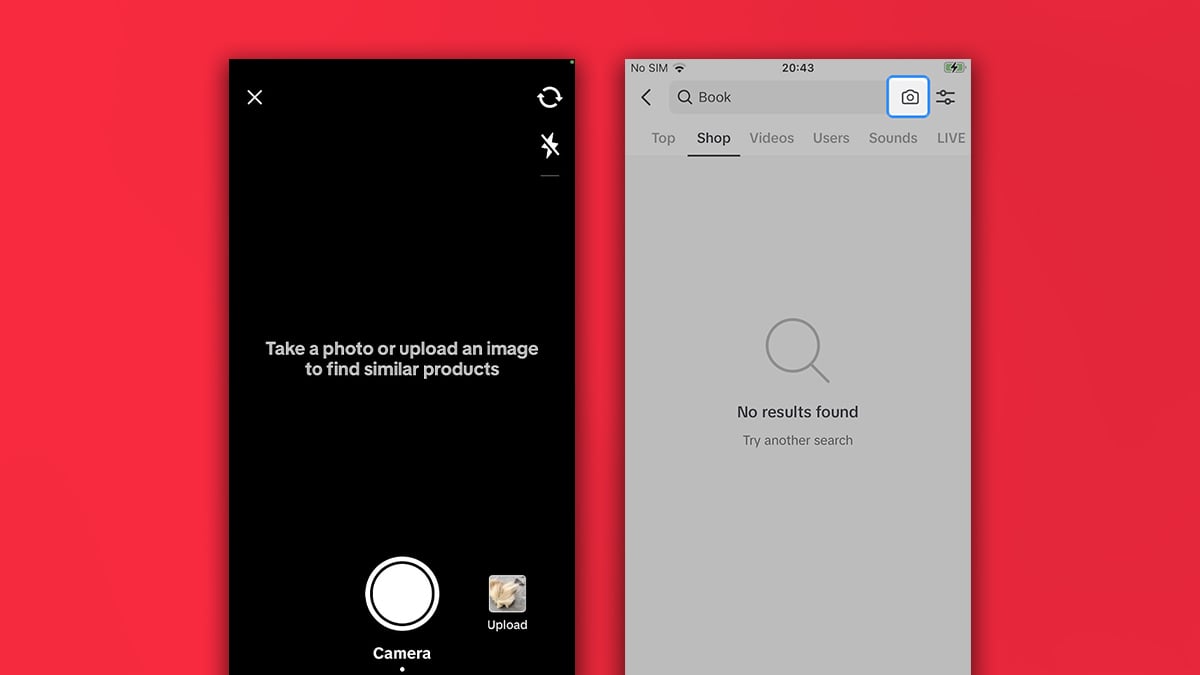 TikTok, the leading video app, is enhancing its TikTok Shop with an innovative visual search feature. This feature uses image recognition to transform the shopping process, making it smoother and more interactive for users.
Through visual search, customers can identify and buy products directly from images or videos, reducing the need for text-based searches. Just click a photo or select an item in a video, and TikTok will suggest similar products. It can connect users with everything from trending clothes to unique home items.
This fresh approach could redefine online shopping, offering a visually driven, simplified search experience. Viewers can immediately locate and buy items featured by their favourite TikTok creators, making shopping a breeze.
Moreover, visual search could boost businesses by facilitating consumer access to their products, thereby increasing sales. It provides a new avenue for influencers and creators to profit from product promotion in their content.
With successful testing, TikTok's visual search could revolutionize e-commerce, encouraging other platforms to adopt this technique. It follows in the footsteps of successful visual search adoption by Pinterest and Instagram, with TikTok's vast user base offering an ideal platform for this innovation.
In summary, TikTok's visual search is a game-changer, offering users a fun, seamless shopping experience and businesses an opportunity to reach more consumers and drive sales.
Tiktok Launches Ai Script Generator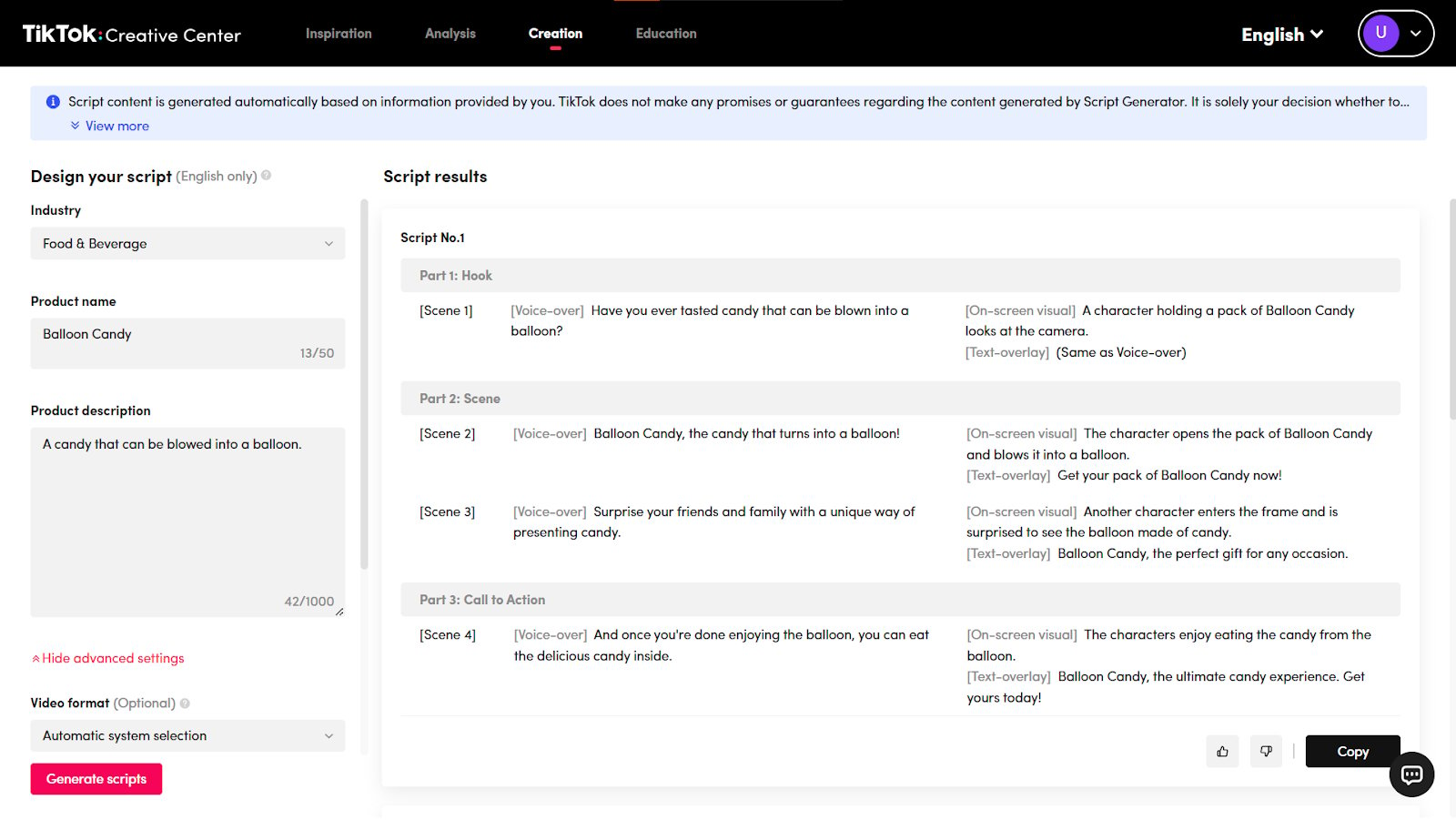 TikTok's most recent innovation, the Script Generator, is an AI tool engineered to revolutionise video ad scripting. This tool streamlines the process by asking users to input their product details and their preferred video duration. With a mere click, it can churn out a variety of scripts, all furnished with hooks, scenes, and requisite calls to action.
Nonetheless, it's crucial to remain cognisant of the risks this convenience poses. The AI could potentially deliver inaccurate information or yield rather generic content. Such mishaps might trigger a dip in brand engagement and potentially impact reputation adversely. TikTok itself counsels users not to fully rely on AI, emphasising their role in validating content accuracy and ensuring legal compliance.
Despite potential snags, the tool has earned plaudits from key industry figures, such as Anton Reyniers from Google. AI-generated content has emerged as a valuable asset in PPC advertising, though TikTok underscores the significance of maintaining a balance with human creativity.
As the Script Generator rolls out to desktop users of the TikTok Creative Centre, we eagerly await the intriguing developments it might spark in the digital advertising landscape.
TikTok and IAS Expand Partnership Into More Countries
TikTok is broadening its relationship with Integral Ad Science (IAS) to encompass 23 new regions. This move is designed to instil greater confidence in advertisers regarding the efficacy and positioning of their campaigns on the app.
The cutting-edge AI technology deployed by IAS scrutinises video content and assists marketers in verifying the quality and safety of their TikTok ads.
This enhanced partnership extends IAS's brand safety measures to a host of new regions, including Argentina, Brazil, Japan, and many others. Such an expansion is a significant stride in providing credibility and assurance to advertising collaborators across all social media platforms.
META
Meta Rolls Out New Tools for Creators, Including Facebook Reels Templates, Analytics, Ad Tools and More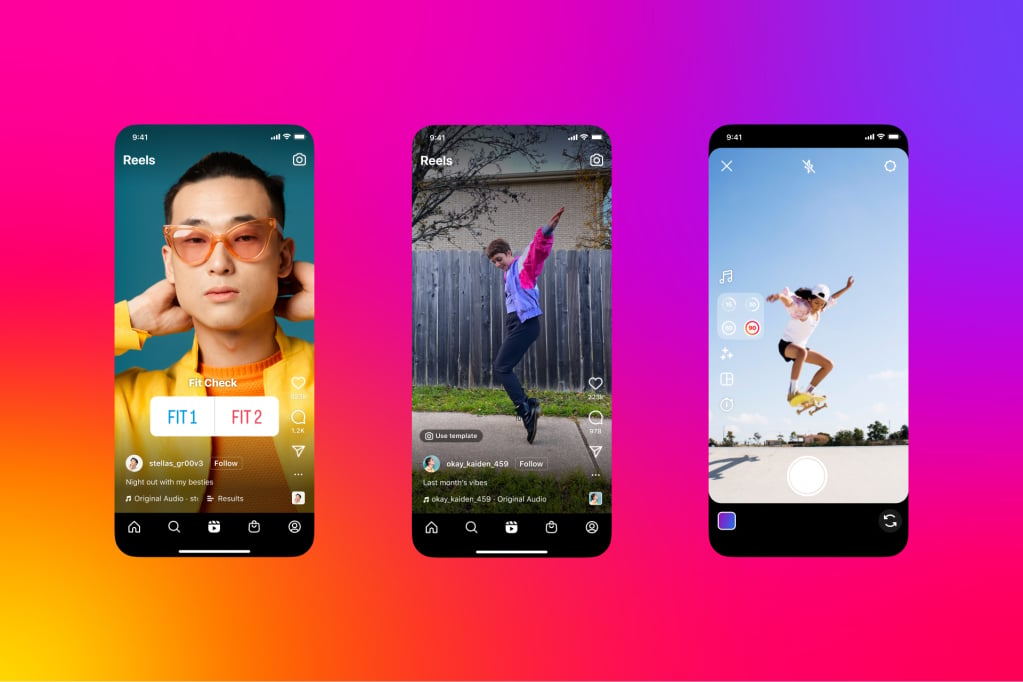 Meta has unveiled a host of fresh Facebook creator aids to enhance content delivery and mimic TikTok's success. A core aspect of this is an emphasis on Facebook Reels. The newly introduced Inspiration Hub will provide information on trending content and popular hashtags and music.
Moreover, the creation of a Templates Hub will simplify the use of video templates for influencers, while an in-app editing window for assets such as text and music will streamline content creation processes.
Updates to the Professional Account include features like a completion checklist for profiles and a "Creators to Follow" section to foster a creator community and stimulate growth. Additionally, the Follow button will now appear next to public comments made by Professional Account users, potentially boosting their follower count.
Coming weeks will see the release of fresh performance insights, providing data about engagement, reach, new followers per reel, and more. This information will be critical for content optimisation.
Monetisation enhancements include cross-posting Reels and Stories on Facebook and Instagram and permitting partners to advertise from creators' accounts for improved reach and revenue.
More creators will also be invited to the Performance Bonus Program, which rewards user engagement with Facebook content.
Lastly, Meta is lowering the eligibility criteria for the Stars feature. Creators with a minimum of 500 followers can now use the feature, down from the previous 1,000 follower requirement.
Meta and Microsoft Seal Agreement Ensuring Ethical Application of AI
Meta and Microsoft, technology heavyweights, are responsibly innovating by weaving AI into their systems. To quell concerns of risk, they've pledged to a pact, known as PAI, fostering responsible use of AI. This initiative seeks to curb copyright violations, fraudulent profiles, and the propagation of misinformation.
Their regulatory effort invites global collaboration, extending to various sectors including digital applications, to assure user safety against AI misuse. Smaller firms too, via legal and procedural measures, can substantially reduce AI-associated risks, heralding a potentially transformative epoch in the tech sector.
PAI, introduced at the start of the year, has won the support of numerous industry leaders, media entities, and other tech giants. Its aim is to formulate practical recommendations to fortify AI's future, with a strong emphasis on transparency.
Meanwhile, U.S. senators are working against the clock to transform these proposals into statutes, though the task of securing majority approval remains daunting. While platforms must redouble their efforts and assess their societal contributions, Google too has championed the initiative by setting its own principles for responsible AI use.
Twitter
Twitter will shift its focus towards video and commerce as part of a fresh business realignment strategy
Under Elon Musk's ownership and the new leadership of CEO Linda Yaccarino, Twitter is rebranding as X Corp and aiming to evolve into a super app with diversified business streams.
Beyond digital ads, video content, creator collaborations, and commerce alliances are in focus. Negotiations with political, entertainment, and media figures are underway, aiming to foster potential partnerships.
Despite early turbulence post-Musk's acquisition, including staff layoffs and advertiser withdrawal due to content moderation concerns, the hiring of Yaccarino, an experienced ad executive, has reassured investors.
Now, major advertising companies have restarted their campaigns on Twitter, with key brands like Warner Bros, McDonald's, and Walmart, among others, resuming their advertising. Consequently, several sectors have seen a 40% increase in ad spending year-on-year.
Part of the reinvigoration strategy involves the growth of vertical video content, already accounting for over 10% of time spent on the platform. High-profile launches like Tucker Carlson's new show demonstrate the potential to monetise this through ad sales and sponsorships.
Additionally, in line with Musk's super app vision, Twitter is seeking money transmitter licenses across all U.S. states, paving the way for digital payments and additional services.
LinkedIn
LinkedIn Says goodbye to image carousels, profile videos, and clickable links.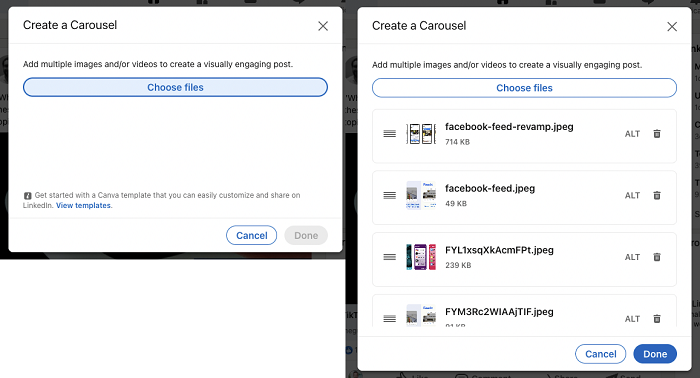 LinkedIn is about to overhaul a few of its creator features due to their less-than-stellar performance. As detailed in a recent letter to creators, the networking platform is eliminating carousel posts, profile videos, and the option for in-image linking starting from 26th June, based on feedback from its users.
Carousel posts, which have been used for some time through a PDF attachment workaround before becoming a built-in feature, will no longer be natively supported, forcing users to revert to the PDF method for their carousel-style content. This is considered the most significant removal since carousels were quite popular for their engagement potential.
Profile videos, introduced in 2021 and linked to users' profile pictures, haven't really taken off despite various prompts to encourage usage. Consequently, this feature will also be made redundant by the end of the month.
Lastly, the option to add clickable links within post images and videos, launched in August of the previous year, hasn't caught on either and will be discontinued.
While none of these changes are expected to cause significant disruption, they will certainly affect some users' LinkedIn strategy. Users' existing posts will remain viewable despite these adjustments.
Pinterest
Pinterest Introduces Premiere Spotlight and Travel Catalogs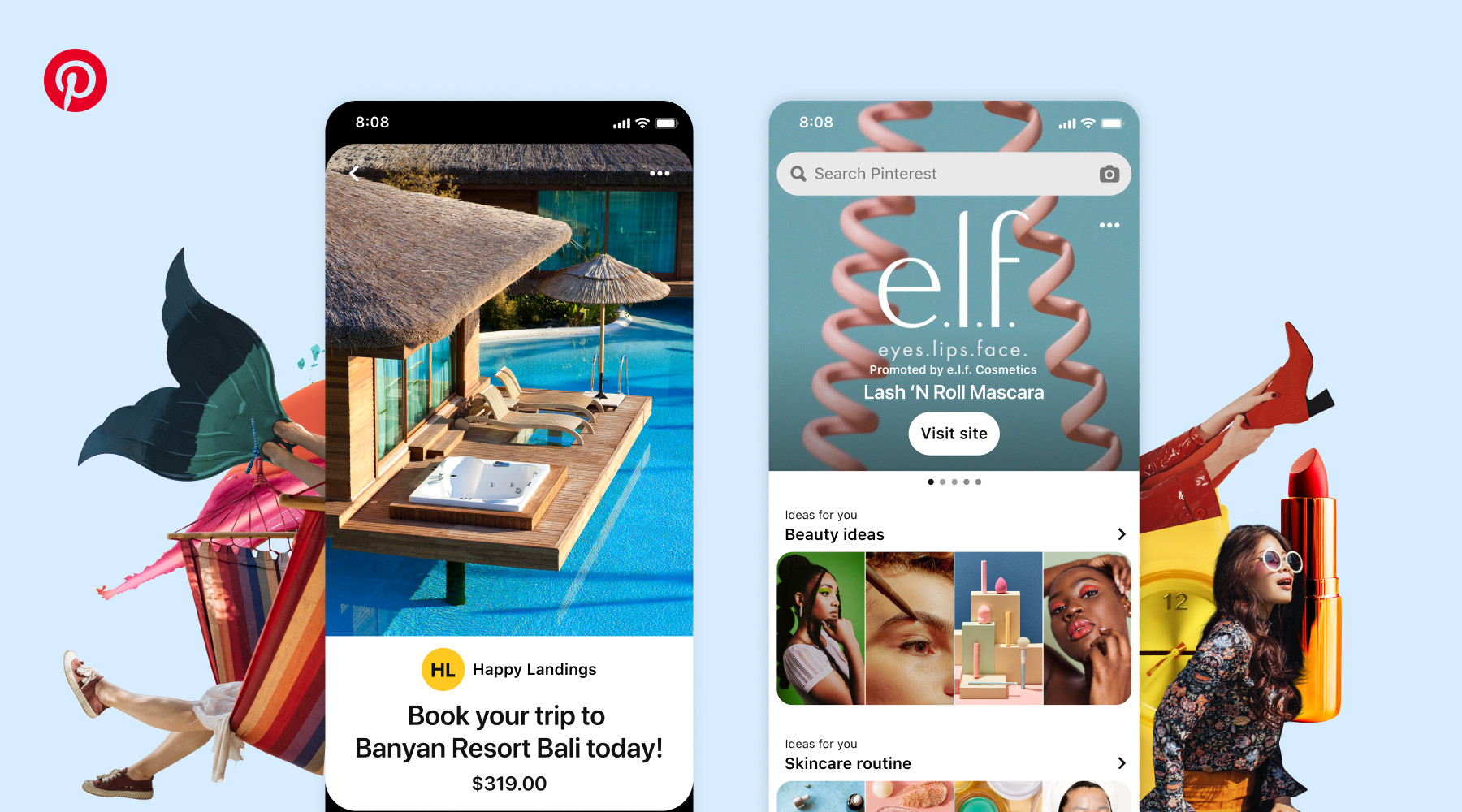 Pinterest recently unveiled Premiere Spotlight and Travel Catalogs, innovative ad solutions engineered to bolster advertiser success.
Premiere Spotlight, a highly visible and potent ad scheme, facilitates brands in capturing large audiences during critical phases. It allows brands to seize prime spaces on the platform during a specified timeframe, ensuring the utmost exposure to the Pinterest community.
Premiere Spotlight brings to life video ads at prominent spots such as the search page - Pinterest's idea discovery hub. Brands can monopolise screen real estate during product launches, occupying nearly half of a mobile device's display on the search page.
In parallel, Travel Catalogs leverages Pinterest's catalog technology, offering travel companies a simple method to list their offerings. Once uploaded, Pinterest spontaneously converts each item into a dynamic product Pin, furnished with essential booking details like hotel names, prices, imagery, descriptions, and more, including a direct link to the booking site. The brand can also utilise location data from the feed to target more holidaymakers.
Uploading a catalog has proven fruitful for brands, evidenced by retailers reporting almost a 30% surge in associated checkouts after catalog submission and product tagging. (Source: Pinterest Internal Data, global, October 2022-March 2023 vs. October 2021-March 2022)
With millions globally engaging with travel content on Pinterest every month, the platform has become a hotbed for travel planning. (Source: Pinterest Internal Data, global, Oct 2022)
Using Travel Catalogs aim to make the journey from holiday inspiration to booking become straightforward. A user intending to travel can tap on a brand's Travel Catalog Pin and book directly from their website.
Share this article