7 benefits of in-house as defined by Europe's Top Marketing Chiefs
In-house marketing is no longer a wild frontier. In fact, it is now firmly established within many European brands.
Moreover, according to an exclusive Bannerflow and Digiday report, 91% of decision-makers believe that in-housing is now the new normal.
Yet, the question is: why? Why are brands electing to take their marketing in-house?
Well, here are 7 reasons…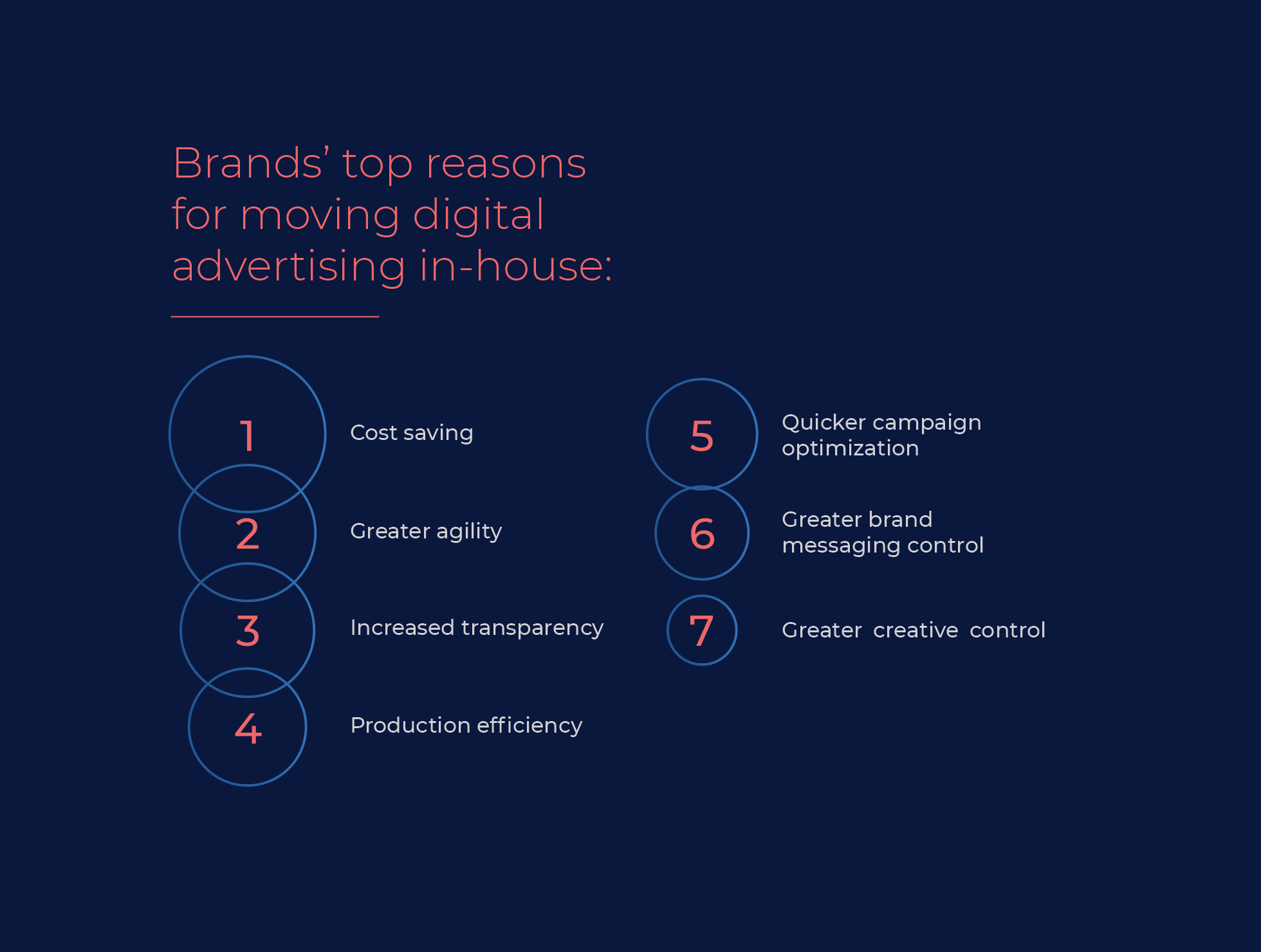 Read how Lonely Planet came to work in-house.
1. Cost-saving
One of the primary motivators behind in-housing is cost savings. In fact, cost-saving was ranked as the principal reason for many of respondents to move in-house.
And for Ville Heijari, CMO at Rovio (an early-adopter to the in-house movement) it ranked among his top-three: '…media planning and buying: cost-savings, efficiency on trading and creative production..'
With agencies frequently accused of "black boxing" in recent years it is unsurprising that in-housing has become such popular movement. Indeed, full accountability is far easier when you can take ownership over media-buying, creative, and optimisation.
Takeaway: Do away with unnecessary parties and processes – take control of your digital marketing.
2. Agility
For many of our respondents, agility was one of the main drivers behind the in-housing movement. Ultimately, it is far easier to be of the moment with your campaigns if you have your creative processes in-house. Brands are able to take action as and when they want on current events and trends.
For Rick Oakley, Head of Digital Marketing at Lucozade Ribena Suntory 'The speed and flexibility with which we work with has allowed us to deliver some amazing additional customer opportunities at short-notice.'
And for Mark Evans, Marketing Director at Direct Line, his 'internal team can move ultra-fast at virtually zero cost as opportunities arise.'
Forget tedious back-and-forth with agencies and delayed delivery on creative. With the right technology and the right in-house team, the time between idea and action is dramatically reduced.
Takeaway: With in-house teams, marketing in the moment is simple.
3. Concerns over transparency
Remarkably, 9 in 10 marketers were concerned with the transparency level of media agencies. Coverage in the news has not been kind to many agencies in recent years, and often for good reason.
Naturally, this has thrown up a lot of questions surrounding the validity of the traditional client-agency model. As a result, it is unsurprising that many brands have chosen to take back control and reintroduce transparency back into digital marketing.
For Rebecca Sykes at MOFILM, it's a movement that makes sense: 'I think this sudden realization that they can bring that back in-house and own that, and not be subject to a lack of transparency and control, has been a bit of an awakening.'

Takeaway: In this age of increasing transparency, it is no longer the norm for brands to outsource the most vital aspects of their marketing.
4. Ownership of digital tech
A lot of the language surrounding in-housing cites ownership as the main driver of the movement. Particularly having an understanding of what technology your team is using and how best to utilise it.
As well as 96% responding that technology was a key facilitator in the in-house movement, many see having direct control over these tools as a benefit of in-housing.
Rick Oakley again: 'Having this team in-house means we're far less reliant on agencies and consultants to understand and adopt marketing or ad tech. This makes us even more agile and able to respond to changes in technology faster, with greater confidence, and at a lower cost.'
For instance, take the creative management platform (CMP). With the ability to create, scale, publish, analyse and optimise in one – why outsource your online advertising?
Takeaway: We have been saying it for years, but effective ad tech really is the ally of all in-house teams.
5. Harnessing your data
The path between data and optimisation can be a twisted one when there are too many players involved. As a result, many key decision makers chose to take their marketing in-house. Having ownership of over your first-party data creates a seamless journey to creative – one devoid of silos.
This is an important consideration for Anders Nygren CEO at Peregrine: 'That whole capability of combining marketing customer data, building segments, and then activating those segments in your communication is something that really draws growth.'
And for Ville Heijari: 'total ownership of marketing data enables us to govern all stages of the conversion funnel.'
Indeed, for many in-house teams, data is crucial in their marketing strategy and it makes sense from an organisational perspective, to take ownership over that data.
Takeaway: Data is becoming ever more important in marketing decision making. Why leave that responsibility to someone else?
6. Owning brand messaging
One of the problems of agency teams is their lack of familiarity with the brand. With in-housing, marketers can really learn about the product their selling. Ultimately, this reduces the time each campaign takes to produce, and hopefully, can only increase its success.
Ville Heijari notes out that 'from a strategy perspective, the in-house team has more experience with our brand and products and can balance tried and true approaches with new experiments and with minimal effort.'
Again, it's all about taking ownership over the things that are important to your brand. Messaging seems like a key element – wouldn't you agree?
Takeaway: Knowing a brand is key to understanding its unique selling points, just ask in-house teams.
7. Building a team of internal experts
It's not enough in today's marketing landscape to know your brand or even the best way to market them. Indeed, for in-house decision makers, being able to have experts in digital processes enables creative and business success.
Lucozade – 'You cannot produce quality, cost-effective work without the right talent, but this isn't limited to creative teams. We're lucky enough to work in a place that values creativity and is committed to developing people, not just in the TED team but the entire business.'
Furthermore, building an in-house team allows you to cherry pick the best for your brand. No longer limited to whatever an agency has on offer, you can decide your priorities and build a team of experts around them. Whether that's in data or creative, develop your brand, not just your ROI.
Takeaway: Building a team of internal experts that spans across disciplines will take your marketing campaigns to the next level.
The result: the evolution of agencies
The final reason is more a symptom of the movement, rather than a driver for it. Nevertheless, the evolution of agencies has certainly helped facilitate the in-housing trend.
Rick Oakley: 'the current, full-service model is in decline and will become ever-more adept at delivering collaborative solutions to clients. This could be a really effective sweet spot, combining the best of both worlds.'
In fact, 18% of respondents from the State of In-housing report run an internal marketing department with support from a specialised external agency.
Agencies like MOFILM have positioned themselves as experts in certain matters. Clients use the agency for the more technical or intricate tasks; ones that would be too infrequent and specialised to be worth hiring in-house teams for.
Takeaway: In the future, with the help of technology, we see a partnership of in-house teams and agency specialists.
Conclusion
In-housing is no longer a movement on the fringes of marketing – it's the new normal.
And when you consider the numerous benefits, this is unremarkable. Furthermore, this move has been helped by the availability and development of ad tech that aids in-house teams.
With 96% of respondents believing that ad tech enables effective in-house marketing, there's never a better time to discover Bannerflow's creative management platform (CMP).
Read the full report here and discover more insights on this fascinating trend.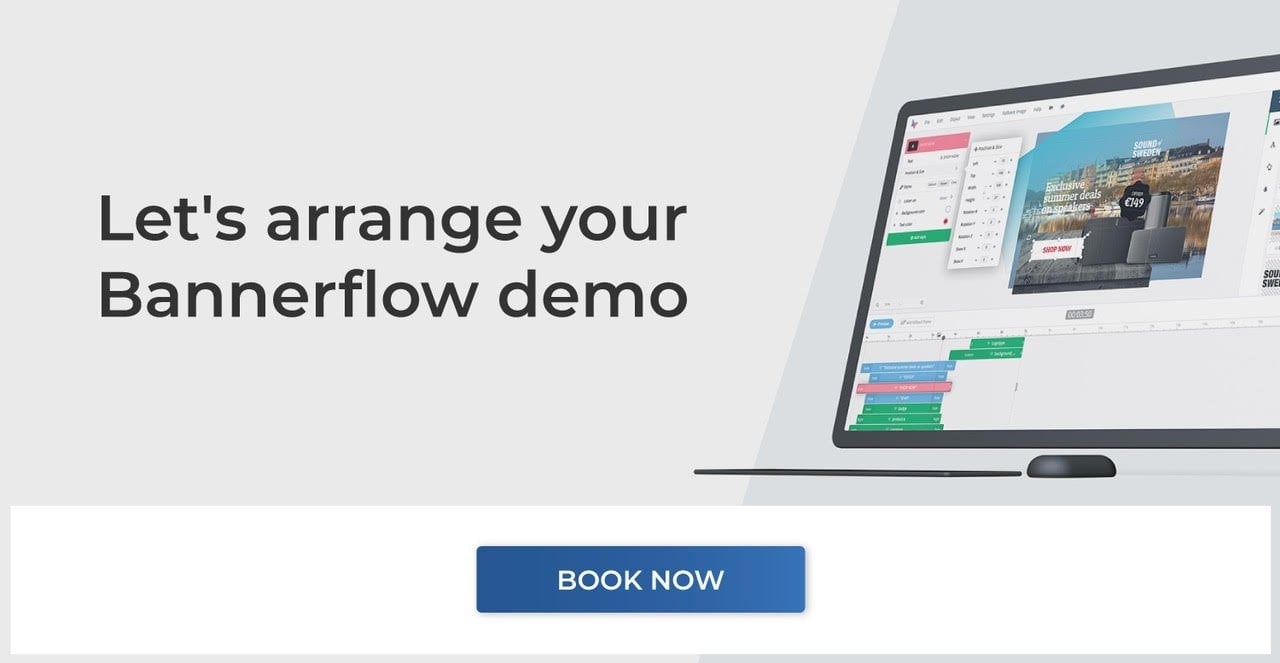 Share this article