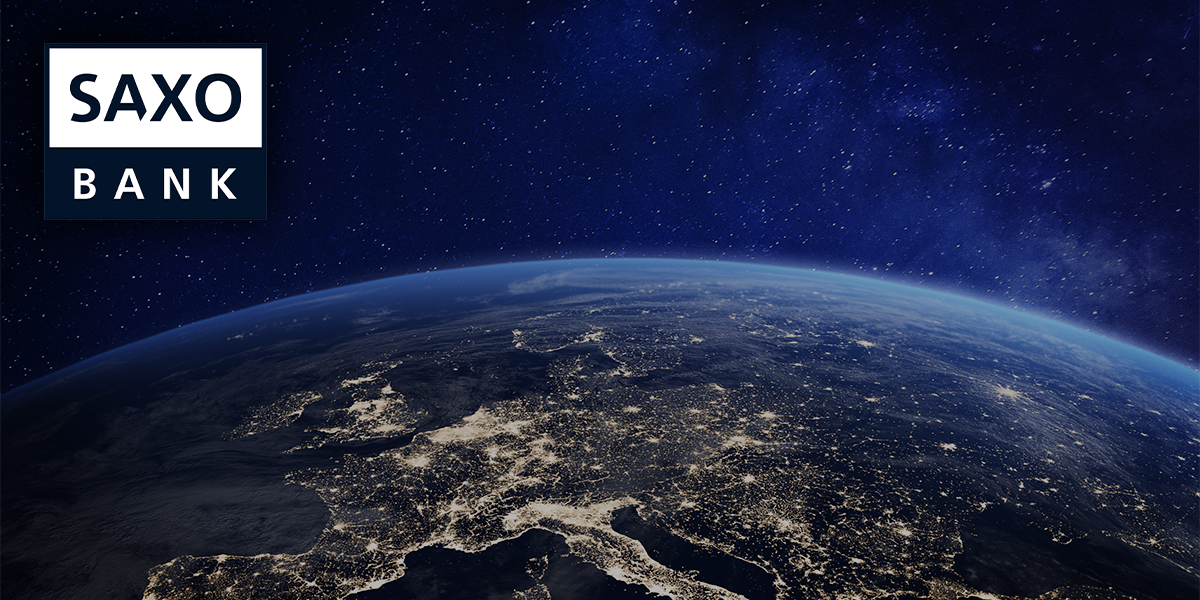 How Saxo Bank transformed its display advertising
Saxo Bank Group is a pioneer of fintech and is one of the most trusted and respected names in the industry. For the past two years they have used Bannerflow and other partners to transform how they perform display advertising.
Before Bannerflow, display production at Saxo Bank was cumbersome and time consuming; from production timelines and review rounds, to hosting, and distribution. However, today display advertising is bringing in clients and providing value for money.
We spoke to Mads Cramer, Global Head of Brand, Content and Design at Saxo Bank about how he and his team have found success within display advertising.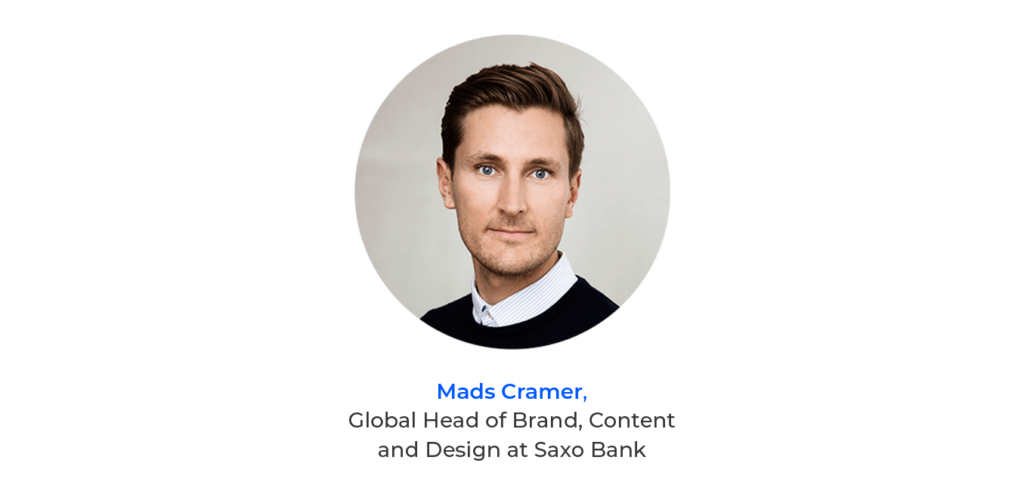 How have your digital marketing processes changed?
Mads Cramer, Global Head of Brand, Content and Design at Saxo Bank: To simplify our digital advertising, we decided to divide our internet advertising into two main areas, one being Facebook, the other being Google. Today we work with a very strict performance marketing strategy where we aim to optimise both our return on ad spend (ROAS) and what we call a lead value score.
What both these metrics do is that they enable us to forecast potential client intakes and the revenue coming from that. This is important because on those terms, marketing ends up being a significant voice in how we build our business performance strategy.
What are some of the challenges facing the financial industry when doing digital marketing?
Mads Cramer: Online investment banks and brokerage, which Saxo Bank is a part of, is at the forefront of finance.
Traditionally, a lot of retail banks are reliant on people walking into affiliates on the street. In comparison online investment banking is actually financial e-commerce. We reach clients online. We onboard them online. Our whole communication with our clients is online.
And on those terms, online advertising plays a quite crucial role for us in how we generate and predict growth over time. However, the challenge is that we are in a highly regulated industry. There are a lot of things that we can't do. For example, certain products can't be marketed, or we need a long disclaimer on all our marketing.
We also have a fairly complex product line. For example, we have some financial products that you can trade and invest in, in some markets, but in other markets, you can't.
While, in some markets, such as France, we need to localise, and then in others we don't.
Again, there are certain products, for example, in the MENA region that we can't market. So the complexity around our messaging is quite high and that really sets a quite strict demand on our marketing production rollout needing to be intelligent.
Essentially, we are a global organisation and people can join our platform anywhere.
How does this affect how you do display advertising?
Mads Cramer: Going across borders, means we have to adapt to local legislation and restrictions.
For example, if you take Saxo Bank, we are Saxo Bank in Denmark, and in Singapore we are known as Saxo Markets. And that's from the very simple point of view that in Denmark, we have a banking license, and in Singapore we don't. There we call ourselves Saxo Markets and are an online broker.
The same goes for our branding and translations as well. It is essential to make these distinctions so as to provide a seamless customer journey when serving clients globally.
I heard somebody say that we are going from 4 to 400. 15 years ago, we produced primarily four formats: a TVC, a print ad, a radio ad and an out-of-home. And that was the four formats that all companies did. Today we are 400! Every time we produce one single ad, it needs to be in 400 formats!
It's YouTube pre-rolls, Facebook formats, different display formats, regional formats, and formats for all the websites we serve programmatically. The complexity of doing one single marketing campaign has increased dramatically.
Then there is speed, availability, and the actuality of the market. We need to have assets going live the same day. However, we can't expect to brief local vendors and have them code a HTML5 banner – sending it as an attachment in an email, for us to check and approve.
Our production instead needs to be super seamless. And through a fairly tight design system, and in combination with platforms, such as Bannerflow, we handle the speed of the market. Today, we have an idea in the morning, and by the afternoon we are live with a campaign.
Can you describe your display advertising strategy at Saxo Bank?
Mads Cramer: If you look across all campaigns, and all markets, and if you look at the mix, you see that social and display displays are two quite different activities. Whereas on social we tend to use a bit more storytelling, our communication via display is super on point.
At Saxo Bank we generally use three different types of display campaigns. We have upper funnel, mid funnel, and low funnel campaigns. Upper funnel is branding. Mid funnel is constant activities, and low funnel is tactical advertising
In total, I would say we probably produce between 2000–3000 display advertising variations a year.
Display is an interesting format to be designing as a designer, as you don't have a lot of space to talk complex stuff, such as fintech. The more simple and design led we are, the better a display campaign performs.
How has display advertising changed with Bannerflow?
Mads Cramer: Originally display production was quite manual and it was quite time consuming, in such a way that it actually stressed the organisation. From production timelines and review rounds, to hosting, and distributing campaigns.
Now we are smarter in production, can A/B test easily and can utilise a creative concept much more effectively. Today our display advertising is really doable, and we can produce the creatives we need for display campaigns.
Not only that but we can create and control master concepts, which are shared with our smart production agency, Createch Garage, who finalise and scale-out our campaigns for us via our Bannerflow account. We've managed to save time by removing these repetitive tasks.
What are the benefits of using Bannerflow?
Mads Cramer: Firstly, I believe there are three main areas of benefit in using Bannerflow: production, hosting and the availability of assets, and innovation.
1. Production
Programmatic display is a really important part of our media mix. Yet, producing for it can be cumbersome. However, through the use of A/B testing, and automation, we have found the display ad formats that we know work best for us, and now focus on creating sizes which provide the most value.
2. Hosting and the availability of assets
I would say our production time is minimised too because there is less complexity around hosting ads, making variations for new markets, and publishing. For example, we can take a large bulk of ad creatives and reproduce a campaign for say Switzerland, based on an ad set for the Italian market. We just copy it, re-scope it, and add new text before distributing.
3. Innovation
The last benefit – but not the least important – is innovation. Previously animation in our display ads was a hurdle because the code added a lot of weight to our ads. Instead, Bannerflow, automatically optimises ads so they don't weigh more than a hundred kilobytes. And that's super important for us: a fast loading speed. After all, it's the small things that make a huge difference.
We're also exploring personalisation through dynamic creative optimisation (DCO). Embedding smart data into our assets, such as live pricing or rolling news feed in our live banner assets, and targeting affinity audiences with tactical messages.
In my opinion, programmatic display is a great opportunity to get bang for your buck. Bannerflow reduces our production costs greatly and because we are lean in the production part of the project, we have more time on creative optimisation.
How would you describe the collaboration between you and your production agency?
Mads Cramer: It's really good. With Createch Garage, we have a relationship where we are super efficient, and still really creative – probably even a little bit more creative because we are now design led.
However, together we have found that creativity, like really crazy creativity is not always needed. This is especially true for low funnel, tactical elements, where display is particularly useful.
I heard a really nice quote from somebody saying "that by the time that the creative format, or the creative concept reaches production, there is nearly no money left". And I think this is what brands and agencies often tend to forget.
The simplicity of using Bannerflow, with our agency is that we can just say, "hey, reuse the same concept as last time. Take this CTA and the copy and let's just refocus it for a new format. Let's run it again, see how, see how it performs."
What's more, If we can increase the reuse of assets, minimise our production spend and optimise the activation of assets, this provides a better return on ad spend. In fact this type of design scalability is something I think we'll be talking more about going forward, especially for global companies, because Corona has made it so obvious.
If you were to sum-up what Bannerflow means to Saxo Bank what would it be?
Mads Cramer: Today, when it comes to display advertising, we are constantly increasing our click-through rates and our return on ad spend (ROAS) of display. Thanks to a combination of us becoming better at buying and optimising our buying of audiences, and building campaigns in Bannerflow.
Bannerflow's Creative Management Platform (CMP) has made it possible for us to work with a not so prestigious ad space, display, and actually optimise and utilise it effectively to bring in clients successfully. Helping us to meet our performance marketing and business performance goals.
We are very much satisfied with the solution and looking forward to going to the next level.
Share this article