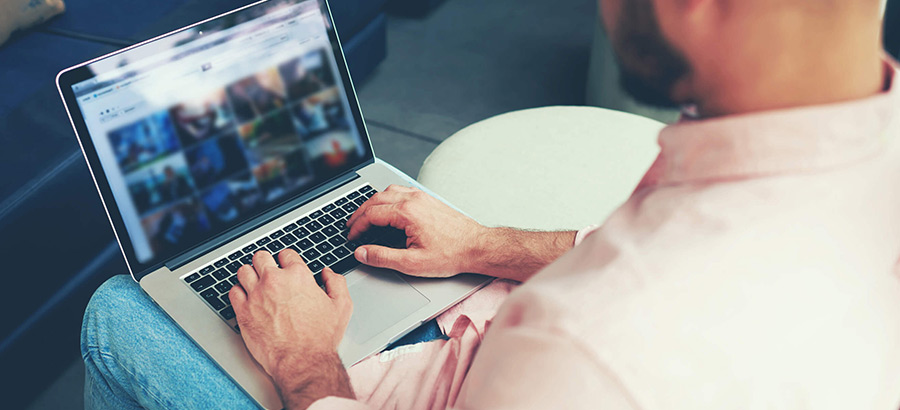 Retargeting: What is it and how does it work?
Retargeting is one of the most prevalent marketing methods around, but what exactly is it, and how does it work? More importantly, perhaps, why is it so popular? Read about the most common fails in retargeting and how to avoid them.
Here on the Bannerflow blog, we constantly try to improve our content, as well as reaching as big an audience as possible. For a while though, we were on a plateau. The content was improving, the SEO was more effective, the graphics and style was evolving, but our readership stayed roughly the same.
Not only that, but the percentage of our users that were returning visitors was relatively low, and the number of new readers remained high. So it meant a lot of people were coming in, reading the specific article, then going elsewhere.
We were confident in the content itself, so why weren't more people coming back week after week? Well, how often do you see an interesting article on a website you're not familiar with, enjoy it, and then forget about it? In reality, it happens all the time. As much as you think your site stands out, people can always use a gentle reminder.
So we decided to ramp up our retargeting efforts.
As soon as we implemented the strategy, returning visitors rose, as well as email subscribers, and traffic in general just grew and grew. This is all down to retargeting, so we thought we'd share a little about what it is, how it works, and why you should be using it.
What is retargeting?
Retargeting is a marketing technique where you display an ad or send an email to a user based on their previous behaviours on your website. The focus is about bringing users back where they have shown interest previously, and trying to convert them into regular visitors or customers.
Say, for example, you run an online clothing retail site, and a user looks at a certain pair of shoes but doesn't make a purchase. Through ad retargeting, you can show them adverts for the same when they move away from your site, in an attempt to get them to return and purchase.
How does retargeting work?
For site retargeting, you add a small piece of code to the page or pages where you want to focus your retargeting efforts. This places a cookie into the browser of any user which visits these pages, which in turn allows these users to be tracked, although all data is anonymous.
This cookie allows you to display ad campaigns which are designed specifically with that user in mind. They're highly targeted, and based entirely on user behaviour and the interest they have shown in certain products or services.
If the user then clicks the ad, you need to include something called a burn pixel, which will uncheck that user once they have completed the action you wanted them to. This means they won't continue to see your ad, which is important as if they have bought the product or service, it will only annoy the user if they continue to see ads for it.
If you're looking into email retargeting, you still need to analyse cookie data and separate your users into different lists based on behaviours and items looked at. It's just that rather than them browsing your website, the ads will be shown to them based on what they've clicked on in an email you have sent to them.
Why should you use it?
Research has shown that only around 2% of visitors to a website convert into customers first time, so 98% of your users are going elsewhere.
Without retargeting, you're just hoping that they will remember to return. Using retargeting however, you can get back in front of the 98% and remind them that you're there, and that you're still offering what they were interested in. There are a few great reasons for using retargeting, so let's run through a few of them:
1. Increased Conversion
As mentioned, a vast majority of visitors won't convert first time, so retargeting can boost this figure drastically by bringing them back. Conversion can improve by hundreds of percentage points, which is pretty incredible.
Add in the fact that these users should already be familiar with your brand and product/service, so are more likely to click on your ads, and you should see some spectacular results. This means your return on investment also improves massively, which is one of the most vital points of any ad campaign.
2. Brand Awareness
The only surefire way to increase brand awareness is to stay in front of your audience as much as possible, and retargeting is fantastic for this. Rather than spreading your ads out over various inventory slots, you are showing your banners to the right audience, based on what they did on your site.
You will be shown in various places, but only to the people likely to recognise your brand. This means you can stay in their thoughts as they browse, and this will raise the profile of your company. Also, the more you are in front of your audience, the less your competitors are.
3. Upselling opportunities
Retargeting isn't just for getting people to come back after visiting your site once or twice. It's also possible to implement campaigns where you target people who have already bought your product or service, and suggest things that will complement that purchase.
For ecommerce companies in particular, this is perfect, and once again will give a huge boost to your conversion. It also means, in the eyes of the user, you care about them. You're suggesting things that they might actually want, which is a huge advantage over standard ad campaigns which are more likely to be based on trends rather than the individual user's taste.
4. People return to abandoned shopping carts
The statistics for the amount of people who fill online shopping carts and never complete the transaction are surprisingly high. On average, around 65% of users do this, but often the figure is higher than that.
So that's potentially more than half of your potential customers walking away before paying for products or services that they're clearly interested in. The reasons for this are different depending on the individual, of course. It could be that they simply got distracted, or that they decided to shop around for a better price, but these are potential customers you need to try to win back.
Again, this is where retargeting is a huge benefit. You can gently remind these users that they have the products waiting to be purchased, and all it takes is a couple of clicks. This may be enough to get them to finish the transaction.
If not, you can start to offer discount codes to try and push them over the line. Whatever happens, through retargeting you're giving yourself a huge chance of turning these window shoppers into actual customers.
Conclusion
Retargeting is one of the most effective tools at a digital marketer's disposal. What's more, it's relatively straightforward to implement, so there's really no reason for not looking into it.
It's a surefire way of re-engaging your audience, and shifting the balance between new and returning users. It will grow your audience and customer base, and will ensure awareness of your brand consistently rises.
One important point – make sure the your ad designs are attractive. Then it's more likely that they will draw your retargeted users back to your site, and improve your conversions as well as your ROI, which is a real bonus for any marketer.
There's a lot more to learn about retargeting, but we've helpfully written an ebook all about it! You can download it for free by clicking the button in the text above.
Share this article