How Rootz increased their Net Gaming Revenue by up to 100%
"Bannerflow for us is standard. That is probably the highest praise you can give to a tool."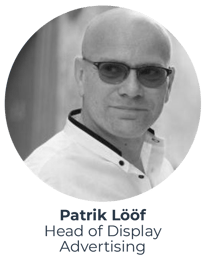 Working with advertising in a highly competitive market with an ever-changing legal environment can be challenging. Many things can change, and it's often fast when it does.
To tackle these swift changes, Rootz has developed a marketing strategy that can be updated by the minute if needed. And they sure know what's required to stand out in the highly competitive crowd that prevails in the iGaming industry.
Rootz is a Malta-based iGaming company offering roulette, spins and classic games. They are running five different brands in various markets and recently got a license for Germany. In the coming months, they will expand to more regulated markets.
Using Bannerflow, Rootz Net Gaming Revenue has increased by 50–100%. In this article, Patrik Lööf, Head of Display Advertising, and Andrew Treglown, Programmatic Marketing Manager, share their experiences using Bannerflow and why it benefits their company.
How does Rootz use display advertising in the marketing mix?
Patrik: Where we run it, it is an always-on acquisition-pushing activity that aims to get as many 'playing for real money clients' at as low a cost as possible.
What are the challenges facing your brand when doing digital marketing? In particular, display advertising?
Patrik: The legal landscape is a big challenge right now. It's changing a lot, very fast. It's different in every market, and there is no logic in understanding everything. So we must stop, pause, and restart our display advertising many times and constantly be on our toes to be legit. It's also an ever-changing technical landscape where the death of cookies is one thing everyone talks about now. And, of course, it's a highly competitive market where it's hard to get conversions, and we're competing with companies that have a lot more money than we do.
How is Rootz overcoming these challenges?
Patrik: Since we don't have unlimited money, we have to be smarter than anyone else to do what we're doing. And generally speaking, we are trying to run a basic strategy that is effective yet so simple that we can quickly adjust and work with it as we go. We are not locked into one way of thinking and working. And then checking and knowing what's happening in the industry so we can change things rapidly when needed.
What's the overall experience of using the Bannerflow platform?
Patrik: Bannerflow for us is standard. That is probably the highest praise you can give to a tool. It's like the light switch in a room is standard; you don't pitch about it until it doesn't work anymore. We could not do what we're doing without Bannerflow.
You talked about rules and regulations changing all the time. What are the benefits of having Bannerflow in place when the legal landscape changes?
Patrik: Well, of course, how quickly you can change and update things. And how Bannerflow is working seamlessly with the advertising tool we are using. So, instead of taking down and modifying our ads, we can quickly update everything in the platform. We can be compliant within minutes of hearing of a new rule.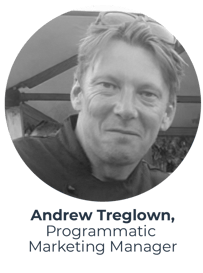 "With the Bannerflow platform, where you create one design and then duplicate it in different sizes, whether it be square or skyscraper, we are able to save hours of work."
Andrew: Also, on that subject, quite recently we had a thing to overcome with a new market. We had to have a link in the terms and conditions that took a user to a responsible gaming site. We managed to set that up, by having Bannerflow make an extra widget for us. Something that is absolutely needed for us that Bannerflow helped us out with within no time.
How many hours does it take to build a display advertising campaign, and how many ads and language variations do you have to produce?
Andrew: It varies and depends on how complex the banners are, we run up to five banners per campaign, and we got five brands and languages. That's a lot to update and change each month. With the Bannerflow platform, where you create one design and then duplicate it in different sizes, whether it be square or skyscraper, we are able to save hours of work.
Patrik: If you remove the idea that we have Bannerflow for creating and rotating the banners, and we would start making a campaign from scratch. Without exaggeration, that would be a month of work only for building banners. Now, we never reach that "oh my god, we have to do all this before we go live". We always do something quickly, run it and then work kind of like behind the scenes to optimise it into something excellent.
Are there any particular features of the Bannerflow platform that have helped you take ad production to a higher level?
Patrik: I can say that implementing JSON feeds has increased our NGR (net gaming revenue), the actual money we get to our hand for advertising, by between 50–100%.
Andrew: The JSON feeds are brilliant because whatever product or offer is on-site, we can tap into that, and it also helps us collaborate with other teams, such as the CRM team. They change things daily, weekly, and monthly. Instead of meeting with them to see what's going on, manually uploading and updating copy and getting new graphics, we can have our system attached to theirs for automatic updates. When they press the button to edit a campaign, it automatically updates our banner set. That's brilliant. Pretty far ahead in our market in doing this.
Also, the scheduling in Bannerflow is excellent. There is no pressure on us now, on the last day of the month or a Friday, to get something out for the weekend. We can schedule weeks in advance. Set, ready, banners approved, and it updates automatically. It's a very reliable system. We haven't had any problems with it, so I'm happy with that feature.
Do you have any unique strategies you use? What are they, and how do they improve your campaign performance?
Patrik: No, not really. Generally speaking, display advertising is about feeding algorithms to do stuff. It's about trying to understand how an algorithm works, running banners and other tools you have and then looking at the stats, following up on performance. Here it's important to remove your prejudice and ideas of what looks good and instead look at hard data and follow that.
Andrew: The ads that perform best are often the simplest. And the ones you looked at initially and thought were going to underperform because the colours were off or it was a simple GIF banner can go mad with a 15% more CTR than the rest. You get pleasant surprises in that way. Over time we get to see what works very well and what performs averagely. So we base designs on that knowledge. But again, always surprises.
Does Bannerflow help you collaborate effectively as a team?
Patrik: Yes, mainly since we are spread all over the world. Being able to share images and talk to each other is vital. We don't think about it much, but Bannerflow is a slack channel where we communicate in the company.
Andrew: It's brilliant to have the option in the banners for people to go in and comment. Country Managers, or the CRM team, could go in and make comments. But, the best feature is giving someone a link, and they can look at a whole ad set live and decide what sizes to use, all or just some of them, and in what languages. It's easy and quick to do, done in 10 seconds.
What is it like producing and controlling campaigns across multiple markets or segments of users?
Patrik: It's very, very hard. And Bannerflow is excellent in helping with it. It would be very tough to do this, especially in our business, where it's not just different languages but also legal systems and offers.
Lastly, is there anything you'd like to add?
Patrik: I want to give a massive shoutout to your support, which is a large chunk of why we're using Bannerflow. Suppose support would have been an autogenerated email when you pop in a question – that would take away 50% of the benefit we have of Bannerflow. Now we get to talk to very fast, professional, knowledgeable support agents.
Andrew: We're still not using all features available in Bannerflow. We're constantly consciously staying ahead of our competitors with the innovation of how we do things, and we look forward to using more available features in the coming months.
Share this article