The most effective ways to advertise your e-commerce business
It can be difficult to know the best way to advertise for your e-commerce website, with there being such a huge range of options available to you. No one has an infinite budget, so whatever the size of your business, you need to choose your methods carefully.
Not that there's a glaringly incorrect way to do it. As they say, all publicity is good publicity (although this, of course, is a lie), so any advertising you do will have some sort of positive impact on your business. Now though, with the sheer amount of analytics and data available to us, it's clear that some methods are more effective than others.
Let's take a look at a few of the advertising methods that are really working for e-commerce businesses right now.
1. Instagram ads
Back in 2012, Facebook spent some of their vast amounts of money on acquiring Instagram. At the time, it looked like they were just buying up a social competitor, but recently it's become more and more clear what was in it for them.
It's yet another advertising revenue stream, and one that appeals to a different audience than the standard ads on Facebook. Of course, Instagram is all about the visuals.
This works perfectly for e-commerce businesses. If you have a product to sell, you can post a beautiful photo on Instagram, place a simple, elegant call-to-action on there, and target it towards your key demographics through the built in programmatic platform.
Ad spend on Instagram increased by 30% between February and April 2016 alone, which shows that advertisers are really getting results out of the platform.
The key is to use a great image of the product you want to push. One that stands out in the feed, but puts the product front and centre.
Levis had great success with one of their own ad campaigns. They managed to engage over 7 million of their target audience in the US alone, and around a quarter of those who saw more than one of their images could actually recall them. So, not only was the reach impressive, but the engagement was fantastic too.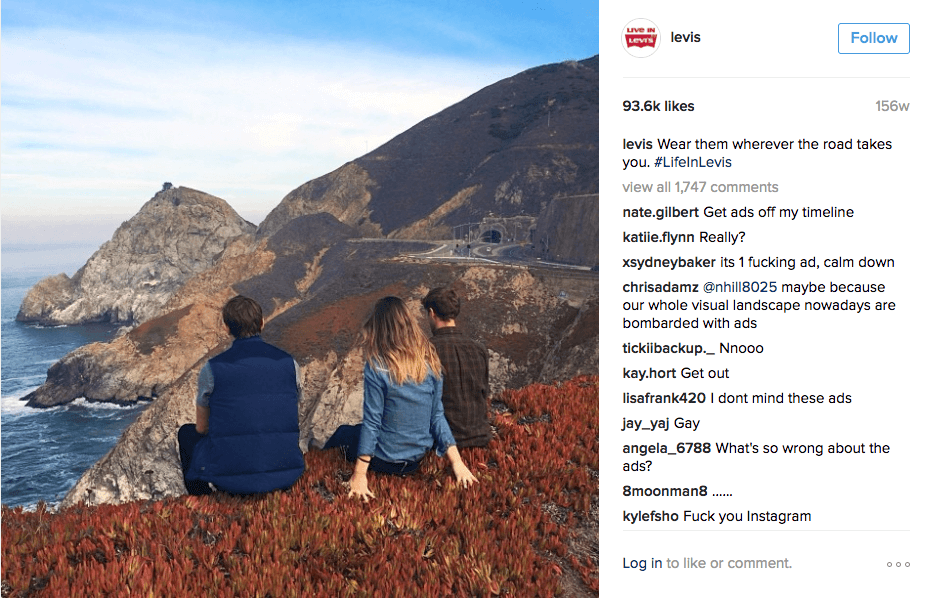 Picture courtesy of Levi's Instagram account
The pictures were really well done, and whilst the people in them were wearing Levis products, the backdrop they were against was equally as important. Beautiful landscapes alongside beautiful products.
One real benefit with Instagram is the fact that it's so synonymous with mobiles, and purchases through smartphones are increasing year on year. This also goes some way to explain why the click through rate on Instagram ads has overtaken that of Facebook on mobiles.
2. Facebook Carousel Ads
Facebook advertising is going from strength to strength, both in terms of the revenue it generates and the opportunities it grants to advertisers. A few years ago, when native ads first came around, they were highly effective, but relatively inflexible in terms of what you could do with them, particularly on Facebook.
Now though, they have really pushed their ad platform, and one of the most effective options for e-commerce businesses are the carousel ads.
These are simple, elegant, image based ads which allow companies to advertise multiple products in one space. To see more, all the user has to do is scroll or swipe, depending on their preferred platform.
It's perfect for websites to advertise a range of products, with a simple call to action on each. Also, to help with targeting, Facebook's programmatic platforming boasts a wide range of options to help you show the right ads to the right people.
Carousel ads on Facebook are already a proven success too, with advertisers seeing a 20% increase in conversion, so this is definitely an option worth exploring for any e-commerce business.
3. Rich media banner ads
Banner ads have long been the standard for any company looking to advertise online, but the technology within the banners themselves is constantly evolving and improving. Now, thanks to software solutions like Bannerflow, it's easier than ever to create interactive, engaging, and beautiful banner ads.
Rich media banner ads have been proven to increase engagement too, with one report stating that the engagement is eight times higher when compared to standard banner ads.
The only question is, what type of rich media will work best for you? Will you create something interactive, or utilise video functionality to demonstrate the products you have on offer.
This all depends on the aim of your ad, so brainstorm a few ideas, do some testing, and see which works best for you.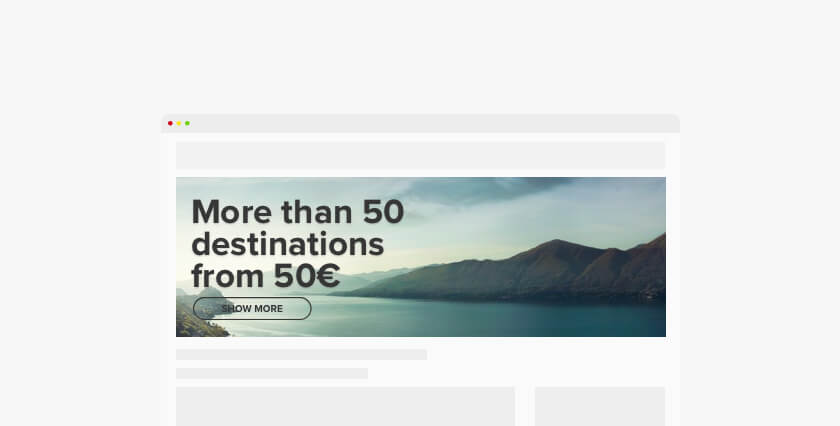 4. Retargeted ads
We've written a lot about retargeting, and with good reason. The stats speak for themselves, with some advertisers seeing a huge 50-60% increase in conversion when they use it.
If you want a more detailed look at what retargeting is, you can read about it here, but in basic terms, you're showing ads to users based on their behaviour on your website.
So, for example, if someone goes on to a clothing store, looks at a shirt, but then goes elsewhere, you can show them ads for this shirt on other websites to try and bring them back to complete the purchase. This is done through placing cookies in the user's browser. It's totally anonymous, so there are no privacy concerns. It just allows you to show your audience highly targeted and relevant ads.
These can be shown on both social media platforms, and on banner ads, so you can cover all bases. All you need to do is choose the right retargeting platform for you, and design a great campaign geared towards bringing these potential customers back to complete the purchases. This can have a huge impact on the revenue for any e-commerce business.
5. Blogging
This technique is more of a long term strategy, but it's been proven time and again to be of real benefit to e-commerce sites.
You can use your blog for basically anything, from talking about your own products, to providing your own commentary on the industry in which you work. You just need to keep one question at the centre of everything you write: is this valuable to our audience?
Here at Bannerflow, we use our blog for a whole range of things, from keeping our audience updated on the world of digital marketing, to providing ideas on how to advertise, to telling our customers about our latest launches and new product functionality.
In the world of e-commerce, Topshop have a really strong content strategy. They know their audience, and tailor their blog for this group of people. Yes, they write content about their own brand and products, but much of it is more about things that their audience will find interesting outside of clothes from Topshop.
If you blog regularly, and do it well, not only will you grow your audience, but you will improve your brand awareness and subsequently make it more likely for your audience to buy from you, rather than your competitors. One of the best things is, you don't have to have an actual budget to push your own content. You just need to write with passion, enthusiasm, and share your content in as many places as possible.
Conclusion
There are so many options for advertising your e-commerce business, and this is just scratching the surface. However, the techniques above are proven to be successful for online shops, and are a great place for any website to start.
Effective advertising relies on a number of things, but as long as you know your audience and where to find them, advertising to them can be simple, creative, and will ultimately lead to a successful, profitable e-commerce business.
Share this article