Why dynamic creative optimisation (DCO) doesn't work
Dynamic creative optimisation (DCO) performs when done right. Fact. In a recent eMarketer survey, over 200 top level US marketing executives responded that personalisation was the most important factor for increasing sales and customer retention.
Then why do so many fail at it?
At the same time, these marketers also stated that they found data driven personalisation the most difficult marketing tactic of all…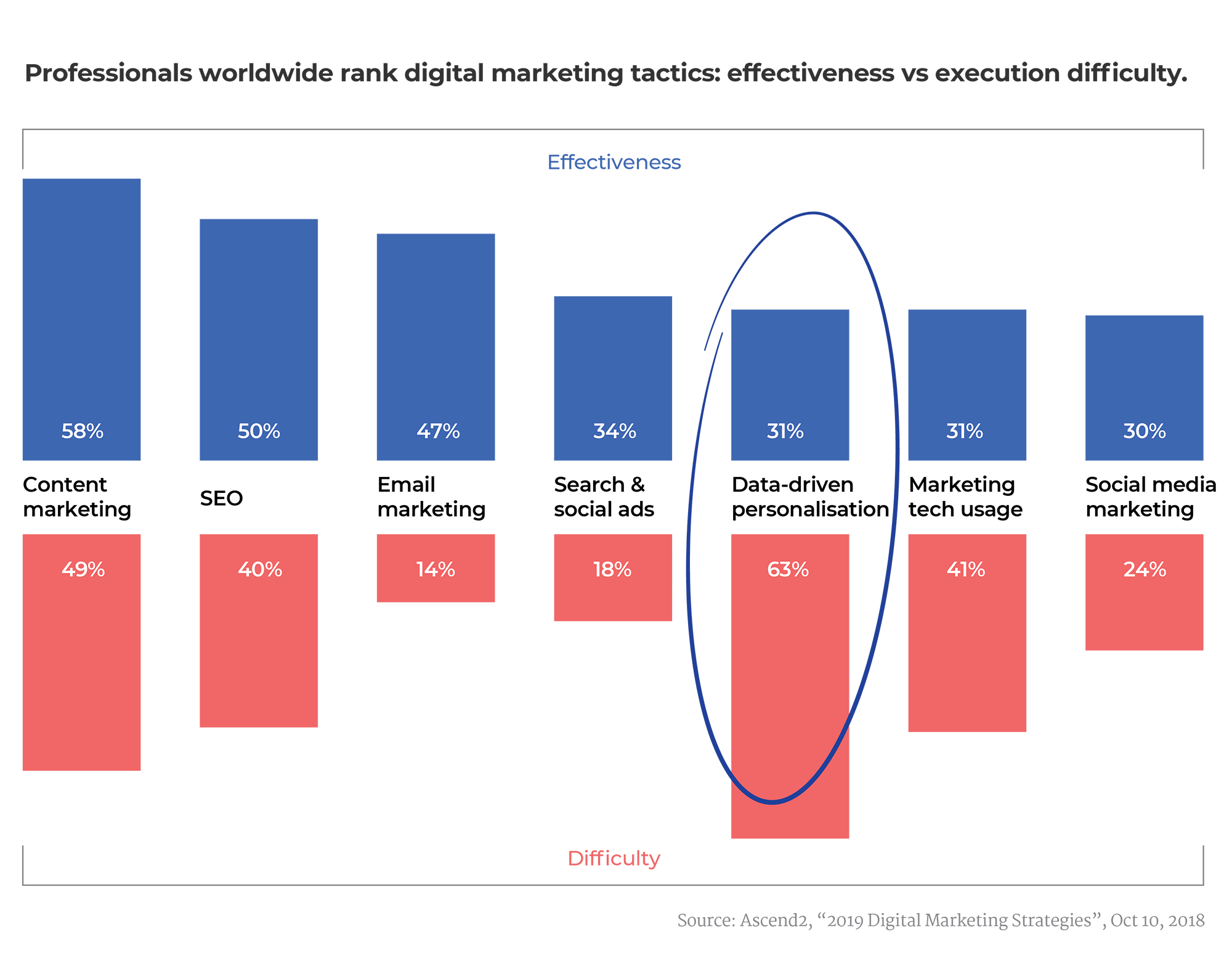 This goes a long way to explain why up until this point DCO has been a largely ineffective method of online advertising. (Controversial, I know!)
To help you understand how to make the most of what DCO offers, we've put together this best practice guide for producing a powerful DCO strategy.
First of all, what is it?
You only have to enter DCO into Google to understand that it can mean many different things to many different people. But what is it? And how does it work?
DCO is a form of programmatic advertising that takes advantage of the data sources that you have available to tailor your ads. For each impression that your ad is served to, imagery, and copy can be amended dependent upon demographic, geographic, behavioural, context, as well as many other factors. You can read how, here.
Whether you use DCO by creating the ad versions yourself or choose to use artificial intelligence to produce them automatically using an algorithm – a creative management platform (CMP) is essential for producing the creatives needed with ease.
Set your goals
So how do you achieve the most effective DCO campaign? First, much like with any display ad set, set your goals. Tips for success vary depending on whether it's a direct response or brand awareness campaign you're producing.
Of course, this will also impact your performance; CTR and attribution models will differ depending on the type of campaign that you choose. So bear this in mind when measuring the success of your DCO strategy.
Mistakes to avoid in direct response campaigns
For many brands, direct response campaigns are the most popular for their display advertising. Results are easier to measure and easier to justify in your marketing budget. Yet they can also be difficult to execute effectively.
Features such as in-banner search, live feeds, and carousel formats have all been shown to increase return on investment (ROI). However, done correctly, DCO is possibly the greatest tool for engaging consumers.
Avoid these pitfalls in order to make the most of DCO in your campaigns:
1. Failing to continually test and monitor campaigns
This will lead to at best, a mediocre campaign, or worst, a train wreck that will put you off DCO forever. If you set goals early on and continually re-adjust throughout the lifecycle of the campaign you're far more likely to succeed.
2. Lazy conversion tagging
Retargeted campaigns may perform better than others but DCO can only be used effectively if creative is adjusted depending upon what stage of the user journey your viewer was at.
3. Basic retargeting with the best sellers
DCO is ingenious in that machine learning can apply a weight and score to various products on the back end. For better results, target a viewer with popular items in the same category they looked at. Even better, with a premium CMP or DCO solution, your ads can be linked directly to your inventory – never show out of stock items on an ad again!
4. Testing too many variables at once
The wonder and the downfall of DCO is in the endless possibilities for optimisation. You will fail to reach statistical significance if your ads have too many variants. Typically fewer variations work for smaller and shorter running campaigns.
5. Thinking that the work ends at the ads
In order to carry through your conversion make sure that your ad copy matches your landing page. It's possible to vary your click-through links for each creative set so there's a seamless journey from start to finish for your customers. And so the offers, copy, imagery, and style matches for both.
6. Failing to take advantage of audience data
The effectiveness of DCO will be limited if data is not applied. Segment your audience according to demographic and behavioural data available from your publishing partners and target accordingly. Better yet, integrate your DMP with your CMP for the best results.
Mistakes to avoid in brand awareness campaigns
Brand awareness in display campaigns is something that has increased in popularity as thinking has evolved over the use of banner ads in online marketing. And if you're running a brand awareness strategy your DCO approach should change accordingly.
Of course, many of the lessons for direct response campaigns also apply for brand awareness, but it's important to distinguish between the two for the best results.
Steer clear of these mistakes for effective brand awareness campaigns:
1. Too much disconnect in your branding
Smart versioning presents innumerable varieties for your campaigns. However, make sure to maintain consistency in look, feel, and messaging throughout.
2. No clear frequency rules
Low frequency capping is generally better for direct response campaigns but for brand awareness, higher numbers are a necessity. Watch closely and add more creative versions if engagement continues to drop at high frequency rates.
3. Limited retargeting
Retargeting can still be a useful tool in brand awareness. Through sequential messaging, you can use display to tell a story on a product or topic a viewer has expressed interest in.
4. Neglecting a hyper-local approach
Leveraging geo-targeting data for your advertising can be an excellent way of engaging your audience. Creative and copy variants should be as specific as possible. Include geographic elements such as maps and category specific content (local events, sports teams, or weather for instance).
5. Failing to get to know your audience
Map your buyer personas, segment according to geography, demographics, and context and plan your key message accordingly.
6. Failing to recognise that there are some essential practices
Analyse and optimise through A/B testing, consistency between ads and landing pages, and testing a relatively small number of variants at a time are all crucial in running any sort of successful campaign.
Conclusion
Follow these simple rules for direct response and brand awareness campaigns and you will produce highly effective DCO ads. It's important to remember, that without an idea of best practice, DCO is just another ad tech acronym not worth the hype.
Moreover, once brands understand and harness the full capabilities of dynamic creative optimisation then there will be less discussion of brand failures, and more regarding their successes.
Using a creative management platform alongside your DCO is a natural partnership. With a CMP, you can set up data feeds, as well as all the creative assets needed for the most successful campaigns. Contact us to learn more.
Share this article