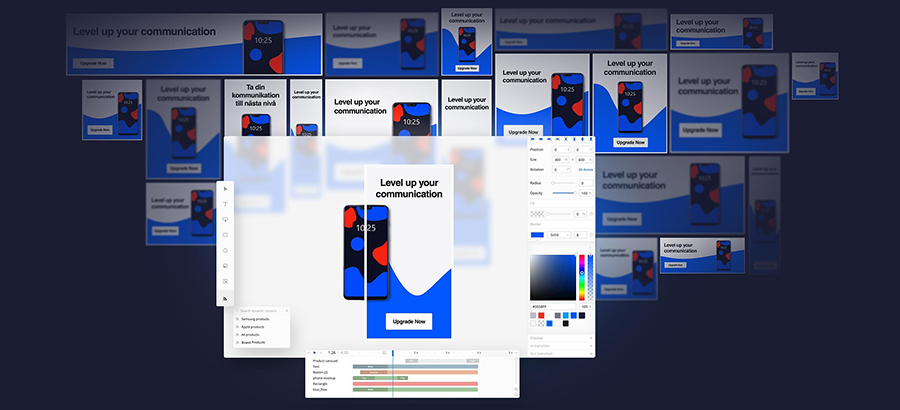 A telecom marketer's guide to mastering display advertising
The telecom industry is a challenging environment for marketers and it can be hard for display advertising to cut through the noise.
New disruptive players and established giants are in direct competition. Plus, customer loyalty has never been lower! According to a recent study by Accenture, 41% of consumers switched providers last year in the US alone.
Nevertheless, there are solutions that tackle the biggest challenges in telecom marketing. What's more, using the right technology and strategies, display advertising can have a huge impact.
Bannerflow has created this guide to help, support, and advise telecom digital marketers with practical solutions for overcoming the biggest challenges to telecom marketing.
It includes examples and best practices from leading operators such as Telenor, Telia Company, and Three Sweden – all of which enable the production of more creative and higher performing display advertising.
Read on to discover the biggest findings from the report or download the full guide here.

Challenges and solutions for attracting new customers
In order to stand a chance against other telecom operators, marketers must present the right ad, to the right person, at the right time. Indeed, with market saturation for hand-held devices at an all-time high – it is becoming harder and harder for marketing teams to attract new audiences.
Key to overcoming this is producing an effective top of funnel display ad campaign. For with creative, engaging, and data-driven designs your ads are far more likely to stand out from the crowd and convert.
In our telecom marketer's guide, we breakdown our top 4 solutions for effective display advertising. With real-life examples and how-to guides, it's a go-to for better brand awareness campaigns.
The essential elements of an effective brand awareness strategy
We also explore the essential strategies for successful telecom brand awareness campaigns.
Using examples from Telenor, Telia Company, Three Sweden, and Nova, this chapter demonstrates how video, rich media, live feeds, and geo-location can be used to attract the eye.
Indeed, the data shows that in-banner video can increase click-through-rate by as much as 18.4%. Whereas, at least 80% of ads could benefit from personalisation technology.

Plus, we speak to Head of Creative Agency and Creative Director of Three Sweden, Kristian Lundman, to learn how Three Sweden use technology for agile and impactful display advertising.
Download the full guide here to get a complete break-down of successful brand awareness tactics.

Challenges and solutions for boosting customer loyalty
Your competitors are working continuously to reach your customers with even better devices and better offers. And with so many providers out there, retaining customer loyalty can be a challenge.
So how do you gain the upper hand over other operators and keep your customers engaged throughout the customer lifecycle? Display advertising can play a crucial role in an omnichannel strategy geared toward encouraging customer loyalty.
In the second part of our guide, we show exactly how marketers can use advanced tactics to re-engage customers using display advertising.
Practical solutions for boosting customer loyalty
The right strategies alongside the right supporting technology can help you enhance your display advertising. Indeed, your display ads can act as a driver of both brand awareness and customer loyalty.
The fact is, display advertising has developed considerably since the first ad in 1994. Now, data management platforms (DMPs) and dynamic creative optimisation (DCO) exist to make the sync between data and creative as seamless as possible.
Dynamic content is an effective way of personalising your advertising, at scale. Currently, iGaming (28%) and Retail (16%) marketers lead the way for using dynamic content yet telecom still lags far behind.

We breakdown exactly how to leverage the latest technology to create smart and data-driven display advertising at scale.
Plus, Telia Company's Digital Transformation Manager, Lena Lindgren, details how digital transformation has played a part in more effective display strategies. Ultimately helping them to win customers and retain loyalty far more successfully.
Applying a DCO strategy for greater personalisation and conversion
By combining your ads with data, and using the latest dynamic technology – display advertising can be a game-changer for display advertising!
However, in a 2018 survey by Sizmek, 37% of 522 brand marketers in Europe and the US stated that they did not have the knowledge to implement a DCO solution as part of their display strategy.
In light of these findings, we break down step-by-step exactly how to set-up your very own DCO campaign from beginning to end. Enabling marketers to take their display advertising to the next level.
Download the telecom marketer's guide to display advertising to find out more!

Next steps
In the competitive field of telecom marketing producing effective display advertising isn't always simple. However, with the right technology and strategies, you can build display ads that both convert and engage.
Download the full guide to mastering your display advertising throughout the telecom marketing funnel to transform your online marketing practices.
Click here to learn from leading telecom marketers Telia Company, Three Sweden, Telenor and many more!
Share this article