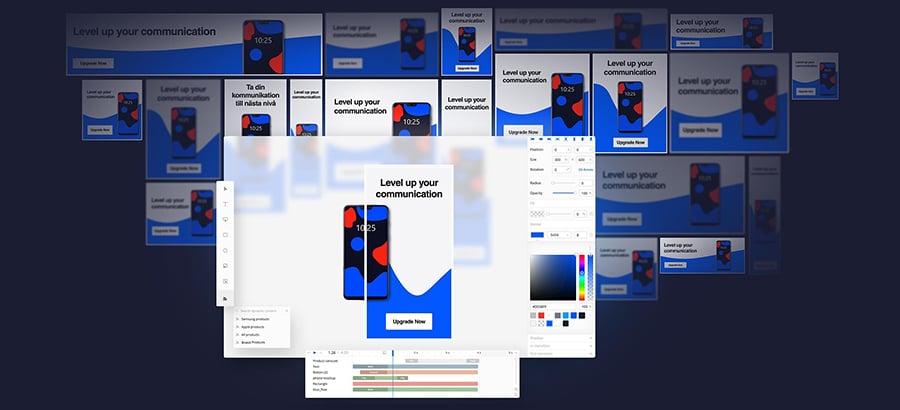 Programmatic advertising trends | 2020
Before you start reading, please consider checking out our latest blog on programmatic advertising trends for 2022.
As the industry evolves and adapts to an ever-changing marketplace, programmatic advertising is growing in importance. The uprising of programmatic channels mean they're at the forefront of the agenda for digital marketers everywhere – making it essential to be on the pulse of programmatic trends.
If you're still struggling to get to grips with the concept of programmatic advertising, then head to our definition guide. In this guide you'll discover all you need to know about this indispensable aspect of modern advertising.
Yet, what does the future look like for programmatic? It has been predicted that almost 88% of US digital display ad dollars will be transacted programmatically by 2021, which equates to a staggering $81 billion!
Numbers like that are impossible to ignore. That's why, within this blog, we are shining a light on the top programmatic trends to adopt in your digital advertising for 2020. These trends include the following:
The continuation of programmatic growth
High impact ad creatives to return
Programmatic TV and audio
Dynamic Creative Optimisation comes of age
1. The continuation of programmatic growth
As we highlighted in the introduction, it's been forecast that up to 88% of digital display ad dollars in the US will be exchanged programmatically by 2021. Zenith also predicts that advertisers will spend $98 billion on programmatic advertising in 2020 alone, which will make up 68% of their total annual digital media advertising spend.
Brands are committing large chunks of their digital media advertising budget year on year, with this continuing in 2020. Showing how important this method continues to be for digital trading.
Furthermore, of the USA, Canada, the UK and Denmark, Zenith's insight predicts that programmatic advertising will climb over 80% in all four of these markets when it comes to all digital media by 2020.
Additionally, the duopoly of Facebook and Google is set to continue to dominate the market in the USA. In fact, eMarketer predicts the giants will boast a staggering combined revenue equating to more than half of advertisers' total programmatic display budgets. It has also predicted that this slice of the ad spend pie will increase further during 2020 – climbing to a huge 63%.
2. High impact ad creatives to return
High impact ad creatives are making a big resurgence in 2020 thanks to the rise of creative DCO (dynamic creative optimisation). Through the use of a CMP (creative management platform), brands can now easily implement creative DCO. Enabling the creation of quality, relevant, and high impact ads for consumers.
These high impact ads are visually captivating and designed to hold the attention of the audience. The success of high impact ad creatives relies on a number of factors. These include: using the correct ad formats in the right environment – making them viewable. And ensuring that viewability is matched by memorability.
However, viewability doesn't always translate to memorability. Kargo and tobii produced a whitepaper investigating this precise topic. The report advises that marketers shouldn't focus on viewability, but rather update their measurement scores to include a score for creative. Thus, underlining the importance of high impact ads.
The report's conclusion highlights the following point:
"Research shows that factors such as ad creative and messaging, ad placement and the digital environments in which brands advertise in are critical to the overall advertising mix and can lead to building greater brand awareness down the line."
Creativity for creativity's sake won't wash with consumers. No matter how high impact the creative is, if it's intrusive it will reflect poorly on your brand. Relevance is key. Using the correct formula, your brand can produce well thought out, timely, personalised, and innovative advertising with a focus on creativity.
3. Programmatic TV and audio
The rise and rise of connected TV is driving notable growth in programmatic television advertising. Television streaming is growing year on year with new services being launching all the time, opening up a wealth of opportunity for digital marketers.
In fact, an eMarketer forecast that the number of connected TV users in the US will climb to 204.1 million. More than 60% of the country's population!
Programmatic was launched into the mainstream in 2019 with streaming services such as Hulu leading the way with ad formats. This year it announced 'pause ads' and 'binge ads' and is actively working on the development of other platforms for 2020, namely their 'transactional ad format'. The latter will offer viewers a second screen to interact with a brand's advertisements on their own terms.
The rise of programmatic audio
Similar to the rise of connected television and TV streaming services, online, and digital radio is on the rise. Along with music-streaming and podcasts which are remaining incredibly popular. During 2020 and beyond, this will continue to be a great space to target as it's still establishing itself.
In fact, head of automation for Europe at Spotify, Zuzanna Gierlinska told The Drum: "We're seeing a tipping point where consumers will spend the next decade in screenless media. Increasingly people are using when they're working, cooking or driving. It just enables more touch points with people in ways brands can get with visual media."
This is an exciting shift! As it opens up a new way for a brand to interact with its customers and broadens possibilities. This is certainly a programmatic trend to embrace in 2020, as Zuzanna notes: "In the last year we've seen a marked shift in brands leaning in and trying it as a medium."
There are still a number of challenges for advertisers targeting campaigns in the television space due to factors such as privacy issues. However, these challenges are becoming easier to navigate and are more than worth attempting to overcome as these are two of a handful of programmatic trends set to sky-rocket.
4. Dynamic Creative Optimisation comes of age
Produce the ultimate display campaign with the help of one of 2020's most exciting programmatic trends. Dynamic creative optimisation (DCO) is set to come of age in 2020, and it's fast becoming an advertising essential.
By using the best processes and tools, implementing DCO for brands is a breeze. Furthermore, the combination of a DCO platform and a CMP, such as Banneerflow, enables brands to produce, and control, thousands of real-time, dynamic creatives. All of which are far more engaging and interactive than simple variations of copy and text.
Indeed, there are many advantages of using a CMP for a brand when it comes to DCO. For example, it frees up time for your marketing team to be more creative. Meaning a better return on investment (ROI) as designers are quicker to produce advanced designs. Further enhancing your DCO efforts and personalisation with viewers.
What's more, there is no better programmatic trend to drive conversions for a brand. By making use of valuable customer data, brands are able to remain relevant and provide timely offers to their customers. Therefore, heightening the chances of elevated conversion rates!
Next steps
With 2020 just around the corner, brands have a range of opportunities to begin this new decade by employing these amazing programmatic trends.
In order to implement these advertising trends seamlessly, consider adopting a creative management platform, such as Bannerflow. CMPs are the perfect tool to give brands full control and take away many problems for digital marketers.
Please get in touch with our team if you would like to discover more about how Bannerflow can help your brand.
Share this article