How to create the perfect in-house marketing team
In the last decade, many brands have started to recognise the importance of having some – if not all – of their marketing capabilities in-house. Indeed, the recent Bannerflow report on the State of In-housing found that a hybrid model that shared responsibilities between agencies and in-house teams has started to become increasingly popular.
But this move hasn't been without its issues. Coupled with a new way of working, comes the added pressure of recruiting and maintaining an effective in-house marketing team. In fact, the most recent Bannerflow report found that a lack of knowledge around buying programmatically and a lack of funding to build a competent in-house team were viewed as the biggest barriers to effective in-house marketing.
For all those struggling in this area, or looking to start hiring their own team, this concise guide will help you assemble that perfect in-house marketing team. We will cover:
What are the benefits to moving your team in-house?
How do I assemble the perfect in-house team?
How do you attract and maintain the perfect team?
Have the right technology to support your in-house team
Examples of effective in-house marketing teams
Conclusion
What are the benefits to moving your team in-house?
Bringing your marketing in-house comes with its own set of rewards. Yet, before you begin to build your own in-house marketing team, it's good to get a picture of exactly what is to be gained from taking control of your marketing efforts.
1. Full transparency
Understanding where exactly your money is being spent is just one of the reasons why marketing is moving in-house. In the 2020 Bannerflow State of In-housing report, 39% reported that transparency over ad spend was one of the greatest benefits to in-house marketing. Indeed, despite P&G's Marc Pritchard's famous speech being over 3 years ago, transparency is still a major buzzword within marketing circles.
2. Agility
Agility is another advantage for 38% of Bannerflow respondents in 2020. Without the need to coordinate between several agencies it is easier to keep track. In-house marketing teams have full ownership over budgets, methodology, and branding – making pivoting direction so much easier.
Forget long and convoluted email chains. It's a matter of communicating face-to-face (or for the socially distanced era – a quick Google Hangout).
3. Cost-saving
For Gene Foca, Chief marketing officer at Getty Images, saving money was a key consideration: 'When I arrived at Getty Images, I determined a few things: 1. We did not have enough functional expertise in the marketing team; 2. We were not organised for success; 3. We were spending too much money externally on marketing functions that we should be legitimately doing in-house.
Saving money is surely one of the greatest advantages to in-house marketing. For 38% of respondents, having control over exactly where and how your money is being spent is crucial to cost-saving in this new era of marketing.
4. Ownership of your data
In a similar vein, in-house teams are able to respond instantly and act upon first-party data. In the post-GDPR landscape it's important to have ownership of your data. Or at least have an understanding of how it and where it is being used.
5. Greater control over branding and creativity
In-house marketing teams live and breathe your brand day in day out. Therefore, it naturally follows they'll have an intrinsic understanding of your branding and creative process.
Of course, having that outsider's perspective can also be good for challenging the norm and driving new ideas – which is partly why 36% of respondents work using a hybrid model with agencies.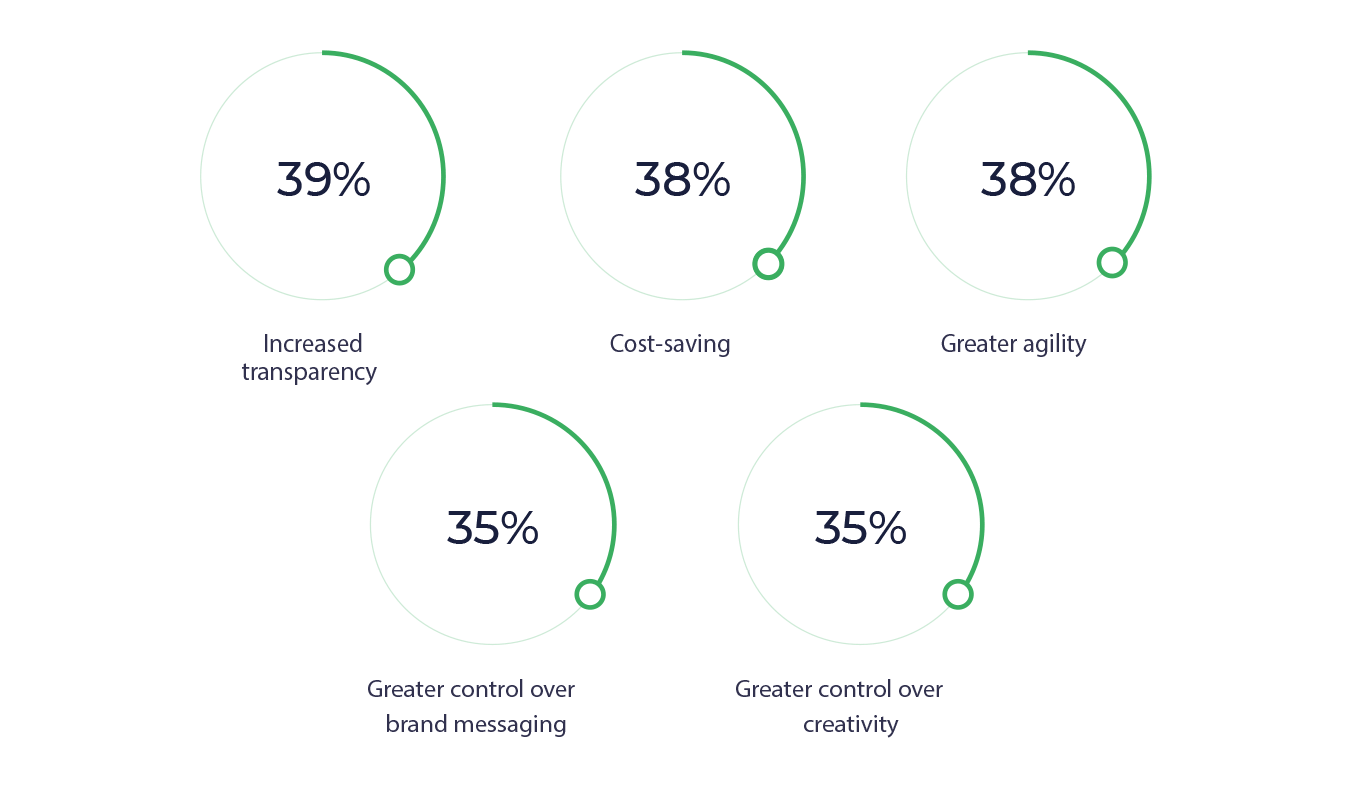 How do I assemble the perfect in-house team?
The perfect marketing team looks a bit different for everyone, depending on the size and marketing needs of your business.
The Bannerflow 2020 report found that the majority of in-house teams have between 11-20 people (40 percent), followed by 6-10 people (32 percent), 1-5 people (22 percent) and 20+ people (six percent). This varied between a traditional in-house model, a hybrid-model and full digital capabilities with no external support needed.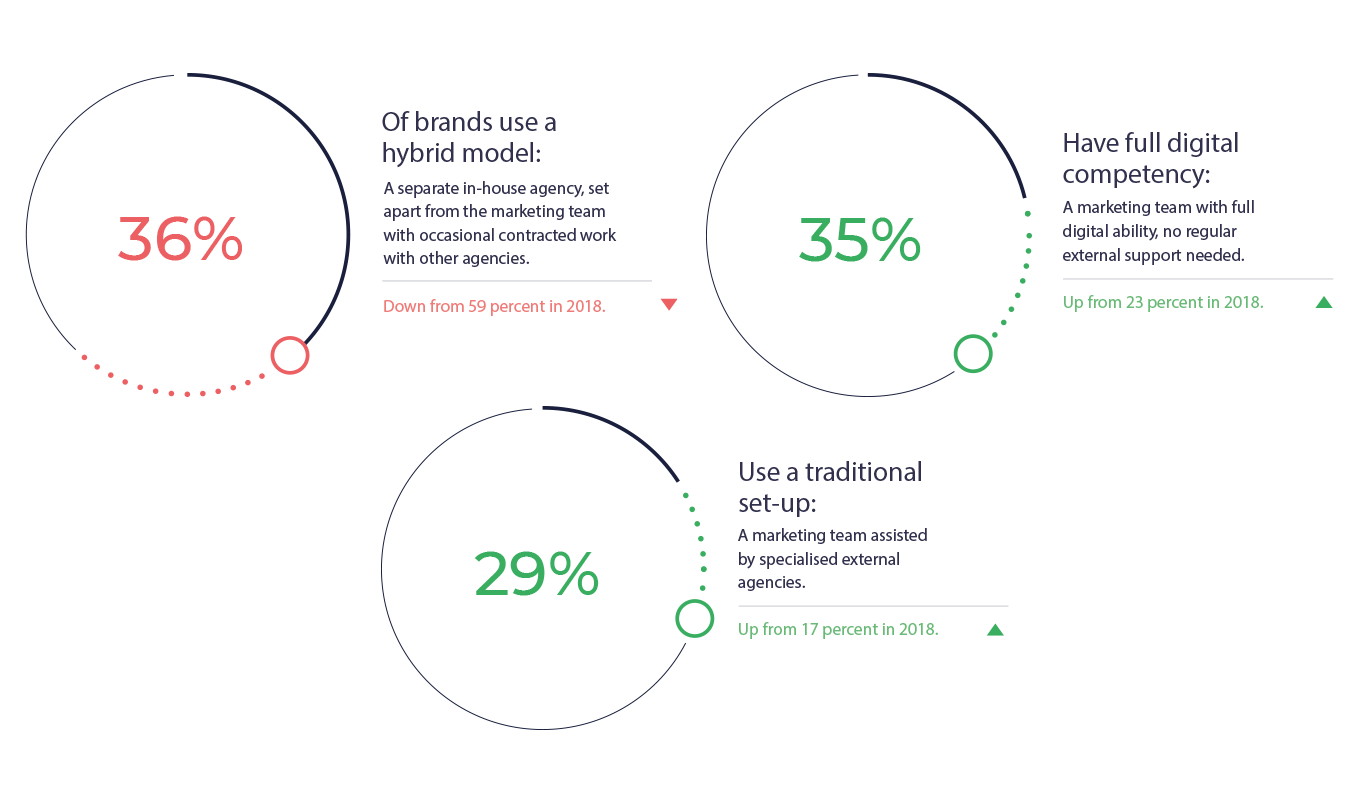 Nevertheless, no matter your needs, there are some key roles to any effective marketing team:
1. Content
One cannot overstate the importance of an effective and engaging in-house content team. They're the bread and butter of your marketing output. So make sure you're hiring someone creative – extensive experience in the field is not always necessary.
When you're hiring a content team, an established understanding of your personas is essential. Where are their content watering holes? What types of content do they respond better to? What are their pains and how can you solve them? This will heavily shape the type and timings of the content your team will be producing.
Bonus: Do they have extensive SEO experience too? Keyword search intent and regular reporting on search engine performance will help you see a more immediate return on your content marketing efforts.
2. Design
The ideal candidate will have extensive tech stack capabilities and have experience in the industry in which you operate. Take note of how they have worked in a team environment before.
The best way to identify if they're the right fit for your business is to give them a test project. Give them a time limit (4hrs max) and compare the quality of work produced over other candidates. Itiviti's Head of Creative Design, Daniele Tottle, suggests: "consider paying them for a project such as this, designers don't appreciate being taken advantage of."
The job of an in-house designer often involves juggling priorities across teams and projects so a designer who works well under pressure is a definite must!
3. Digital Specialist
They should have considerable experience, as well as exposure to search and performance KPIs. Their employment history – either agency or in-house – will usually be a measure of the pace they're used to working at.
Someone who already understands your tech stack is crucial to your hire. If they have the experience in it in the beginning, they'll be able to hit the ground running!
For Gimi's Chief Marketing Officer, Lucy Hemingway, hiring a thought leader who has opinions on "what digital marketing success should look like" is an important consideration. For Digital Specialists can be key drivers in shaping the priorities of the everyday in your marketing team.
4. Paid Marketing
The best paid marketers pair the combination of data-driven in-house marketing with innovation and creativity. They should have extensive experience not just in your channels of choice, but also your industry. Best practice varies widely between B2B and B2C.
With constant updates to algorithms across channels, they will need to have a hunger for keeping up to date with the latest industry updates. From one year to the next, something seemingly as simple as Facebook advertising can change rapidly!
5. Analytics and SEO
It's all about the data. Ask any modern marketer and they'll tell you that you need to be able to analyse the effectiveness of your campaigns and act upon it. Make sure you hire a killer team of SEO and analytics members so you can act upon your first-party data.
Look out for a candidate who not only has a proven track record with SEO, but also someone with a well-rounded understanding of marketing.
6. Social media
Social media is an important part of any in-house marketing mix. Whether you're a B2C or B2B business, social media is just as important as ranking highly in Google search.
Although Wetherspoons, the hugely successful British pub chain, (with the cheapest pints and stickiest floors around) may have sworn off social media the reality is that you need social media for success. Hire someone with imagination and experience across platforms – not just someone skilled with a selfie stick.
7. Media Buyer specialist
More and more brands are moving more specialised roles in-house – media buyers being a prime example. The trouble with agency media buying is that it often relies on junior team members to take control. Hire a candidate with experience in the right technologies and who stays up to date with strategies for greater ROI.
For some more top tips, Paul Evans from Vodafone has key insights in this webinar. And for Bannerflow's Product Owner, Björn Karlström, "it's important you favour a candidate that isn't only a strategist but also isn't afraid to get their hands dirty."
7. CMO
Your CMO is your chief strategist, coordinator, and team leader. Ideally, you want someone with an understanding of the different expertise of their team. And ultimately, you should hire someone who knows far more than you in regards to marketing. Someone who can challenge both you and their team to be better and succeed.
Of course, the role types and numbers of employees will vary depending on your business size and needs. The most important thing to remember is to have patience when it comes to building the perfect team!
How do you attract and maintain the perfect team?
One of the difficulties is in attracting the best candidates and continually challenging them. Agency staff are surrounded by like-minded individuals and have a myriad of brands to try their hand at.
But in-house is becoming increasingly popular: with many citing greater work-life balance, better communication, and more freedom as reasons to opt-in. So there's a good scope for attracting the right candidates!
How can you attract them, and more importantly, maintain the most effective team?
1. Culture
Projecting your company culture is critical in this competitive arena. Marketing these days is all about creativity and investing in the health and happiness of your employees, make sure you show this when candidates come for interviews.
You can always showcase your culture on social media, as well as get your employees to help with reviews on sites such as glassdoor.com (hopefully they're positive).
2. Dedicated HR
It might be worth setting up a dedicated HR department for hiring your marketing team. A recent report by Digiday found that many brands had greater success this way. Indeed, talent matters and hiring is one of the most essential elements to both building and maintaining a successful in-house team.
According to Michael Olsson, HR Director Bannerflow, "Setting up a dedicated talent acquisition team helps support understanding what skills and competencies are needed to create the most value for your in-house team.
What's more, the right talent acquisition team will not only help speed up identifying and attracting the best in-house talent but will also improve company culture, employee engagement, and help cultivate the future success of both a marketing team and a company."
3. Onboarding
Make sure to invest in a good onboarding programme. You can't afford for your team to gradually to learn the ropes over a period of several months. Kickstart their employment with an in-depth and comprehensive onboarding process. This will help you get the results you desire sooner.
4. Constantly develop
You've attracted the right candidate and you've got them settled in. So what next? Marketing is always evolving, and as are the technologies and strategies that go with it. In order to compete with agencies, your in-house team needs to constantly improve their practice. Leave room in your budget for courses and encourage employees to sign up for online resources and webinars.
5. Introduce fresh talent
Too much employee churn can be unhealthy for your business. But periodically introducing new employees with fresh ideas will aid creativity and challenge existing norms.
Have the right technology to support your in-house team
Of course, no modern in-house marketing team can perform without the perfect tech stack to complement their efforts. In today's highly-competitive, highly-personalised digital world, brands need to keep up. Which means enabling your team to succeed with high quality creative and the data needed to optimise it.
1. For off-site advertising campaigns
Creative management platforms (CMPs)
For any in-house marketing team looking to scale their production, serving, and optimisation of their online marketing campaigns – a CMP is essential. Combining drag and drop design capabilities for display, social, and video campaigns – it's a no-brainer for a team that can't afford to be slowed down by too many manual processes.
To learn more, read how leading iGaming brand Casumo, uses a CMP in-house to serve dynamically enabled online creative.
Customer data platform (CDP)
Having ownership over your first-party data is key for any business-to-consumer marketing team. CDP's combine all of a company's first party data together to hold it in one efficient solution. This will be key for supporting your in-house media buying team assess exactly where and how to spend your funds.
Demand side platform (DSP)
Simply put, demand side platforms are what allow your marketing team to buy online advertising programmatically, at scale. Outside of normal ad networks, DSPs enable your team to buy, serve, and track ads in one centralised place – and therefore optimise as a result.
2. For on-site customer communication
Customer Relationship Management (CRM)
The all important CRM is critical for your marketing success. It gives you the ability to consolidate, sort, and segment your audiences so that your marketing team can keep track of how and when your leads are moving through the marketing funnel.
More advanced CRMs, also give you the ability to interact with your leads through this platform – combining email templating and workflows to keep potential customers engaged.
Experience Optimisation Platform (EOP)
For more enterprise brands, experience optimisation platforms allow you to consolidate your online testing and personalisation to optimise experiences for consumers across the whole digital lifecycle. This can be used across product, customer service, and marketing teams to deliver highly personalised at every touchpoint.
Examples of effective in-house marketing teams
In-house marketing is nothing new. Big name brands such as Spotify and Marks & Spencer have been successfully operating some, if not all, of their marketing in-house for some time.
In an interview with MarketingWeek, former VP of brand and creative of Spotify, Jackie Jantos spoke of the immense advantages of in-house. No longer impeded by a cumbersome back and forth between creative agencies, they were able to act in an agile manner. As evidenced by their David Bowie tribute in the New York metro. Creating a team that can implement ideas quickly is imperative for a hyper-relevant marketing strategy.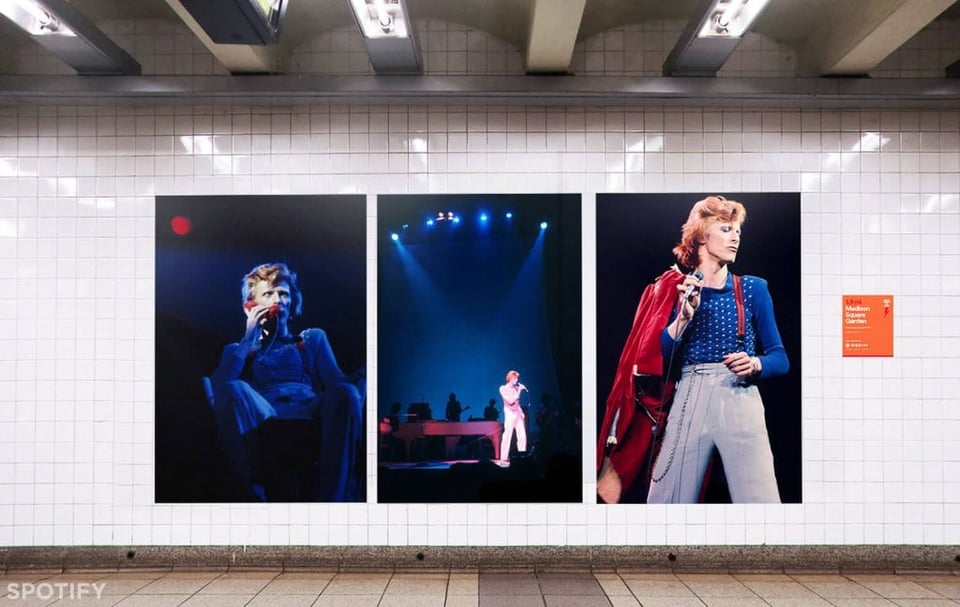 More recent examples include the BBC's in-house creative agency, BBC Creative. Who, during the global pandemic and worldwide lockdown, released the "The Great British Singalong" – aimed to inspire and bolster public morale during those difficult times.
In-house marketing teams are not only beneficial for their ability to create impactful creative on the fly. They are also advantageous in their management of branding and quality control across all your online sources. Meliá Hotels International is a perfect example of this. Their team manages campaigns across 7 brands, 2 loyalty programmes, in 43 different countries, and engages customers in 9 different languages – all while maintaining a consistency in their designs and messaging.
Conclusion
Creating the perfect in-house team can be difficult. But get the right balance of strategic and agile thinkers as well as foster a creative culture, and in-house marketing can bring excellent results for your brand.
Of course, the perfect partnership to an in-house team is the right technology. Being able to design and scale ads with ease as well as collaborate across teams is essential.
Get in contact with us to learn how Bannerflow can aid the development of your in-house team.
Share this article