The impact of mobile vs desktop display advertising for your industry
The rapid growth of mobile users has made digital marketers rethink their display advertising strategies, with mobile display ads being the front-runner. Results from our latest all-industry ad campaign research, gathering data from Bannerflow's platform, indicated that smartphones take up 68% of the device share compared to desktops. This is up from a 46% share in 2018 – signalling a continuation of the shift to a mobile-led strategy.
So, should your strategy focus solely on mobile display ads?
There is no right or wrong answer.
Online marketers need to curate a strategy based on the industry they're operating in, as well as the different online behaviours of their customers. That will ultimately dictate the success of a digital advertising strategy.
In this blog, we'll explore the differences between display advertising methods and how they have evolved. We'll also measure the impact of display ads on different devices and how you can use both methods to maximise your ad performance.
Mobile vs desktop display advertising
Simply put, mobile display ads is display advertising created to be consumed on smartphones and tablets. Desktop ads, on the other hand, are intended to be consumed on full-screen monitors.
Overall, in the past five years, desktop display ad views have seen a dramatic decrease. The latest stats from our recent 2022 ad analysis, reviewing over 1 billion ad impressions in Bannerflow's platform, show that in 2021, desktop ads generated a CTR (Click Through Rate) of roughly 0.07% compared to a healthy 0.1% in 2017 – a 30% decrease.
Whilst desktop display ads have faltered, mobile ads have enjoyed considerable success, with significant CTR growth year on year. This is simply because users have regular access to mobile devices, and we are slowly shifting to a world where search and discovery are available wherever you are.
Recent data from Insider Intelligence predicts that by 2023, mobile usage will account for around 35% of total media time. Last year US population spent 75% of their mobile time on smartphones; you can only imagine the data worldwide. This enables advertisers to frequently target users with dynamic ads via mobile advertising.
Another key benefit of mobile display advertising is the ability to harbour personal targeting data. Through tracking capabilities such as location and clicks data, businesses can provide personalised ad experiences to entice consumers based on their online behaviour. Whilst desktop advertising provides similar information, it is not to the same extent as mobile, due to IP address limitations (amongst other factors).
As mentioned above, although mobile display ads convert to higher CTR figures for businesses, it doesn't mean desktop advertising is a thing of the past. In fact, the travel industry benefits exponentially from desktop ads, which we've explored further below.
What are the impacts of display ads for both mobile and desktop devices?
Our ad analysis spanned many business sectors, from consumer to corporate. Below, we've gathered industry-specific data from our platform, demonstrating the device share split over the last five years.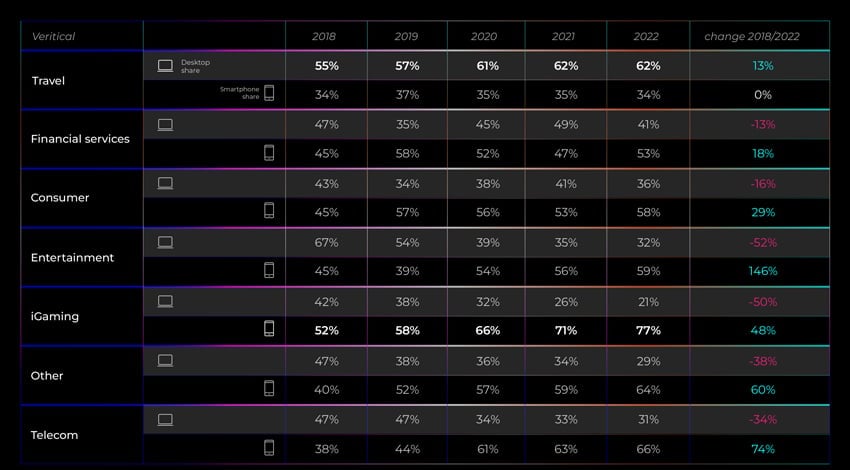 From the above data, we can conclude:
The travel industry is the only industry to see any growth within desktop share over the last five years.
Within the iGaming, telecom, and entertainment sectors, the smartphone share has increased dramatically by 48%, 74% and 146%, respectively.
The stark difference in device share brings to light the differing strategies businesses should apply to achieve high conversion rates.
How can you create an effective campaign on mobile and desktop?
It's clear from the data that when it comes to high-ticket purchases, such as travel, users prefer the security, comfort and visibility obtained from desktops. Given this, travel companies should adopt the below desktop advertising strategies for effective conversion:
Implement effective ad sizes – Typically, large/medium rectangle and leaderboard sizes are appropriate for successful desktop ads.
Ad placement – Although desktop advertising provides the luxury of space, ad placement should be a strong consideration. Above-the-fold placement ensures the ad instantly catches the users' attention.
Design considerations – It's crucial that your desktop ads stand out, especially on a busy webpage. Experiment with contrasting texts, font colours and backgrounds to see the impact on CTR.
Flipping the script onto mobile advertising sectors, where mobile devices have significant dominance, following strategies could be adopted:
Incorporating video formats – As we all know – video is king. Using animated content captures the viewers' attention and delivers the most interactive user experience, which is perfect for awareness-building ads.
Utilise user data – As mentioned previously, mobile advertising allows businesses to gather personal data, which you can use to retarget them with personalised ads, such as discount gaming codes and much more.
Concise call-to-action buttons – Mobile ads provide limited space. Therefore you should optimise ad copy and call-to-action buttons to reduce ad space – short and snappy is the key!
As you can see, although mobile advertising seems like the future, desktop advertising still holds a stake in display advertising. It just depends on the industry you're operating in. A final food for thought, you could effectively implement both methods into your strategy based on where the consumer is in their journey.
Mobile advertising is very effective at capturing attention and building awareness. On the other hand, desktop advertising provides a unique opportunity for online marketers to drive home key messages and convince the user to purchase. Since users consume information on multiple screens, you can effectively take them from awareness to consideration across both mediums.
After reading this blog, if you want to find out how to implement either (or both) display advertising methods into your strategy, don't hesitate to get in touch, and we can help transform your advertising strategy.
Share this article