19th February, 2020
In-house Marketing Trends 2020: What you need to know
In-house marketing trends are developing all the time. In 2020 they are changing the way brands operate and causing marketing teams to evolve. Knowing the facts is essential in order to make in-housing a success.
All the stats feature in this article are taken from Bannerflow and Digiday's State of In-housing 2020 report. Featuring the thoughts and insight of 200+ senior European marketers it is by far the most thorough analysis of the in-house marketing trend.

In this piece you will learn the essential facts on the in-house marketing trend. Including:
Confidence and experience of in-housing
Year-on-year, brands' confidence to in-house operations has stayed about the same. 90 percent of brands are confident in taking the step to go in-house (in 2018, 93 percent of brands were confident in taking the step in-house).
This is also reflected in how the brands we surveyed described the process of in-housing. Almost a third found it "a walk in the park, very straightforward". While, 44 percent said it's "not without its challenges, but worth it". And finally, a quarter admitted that it was "a real struggle to be honest, there were many hurdles".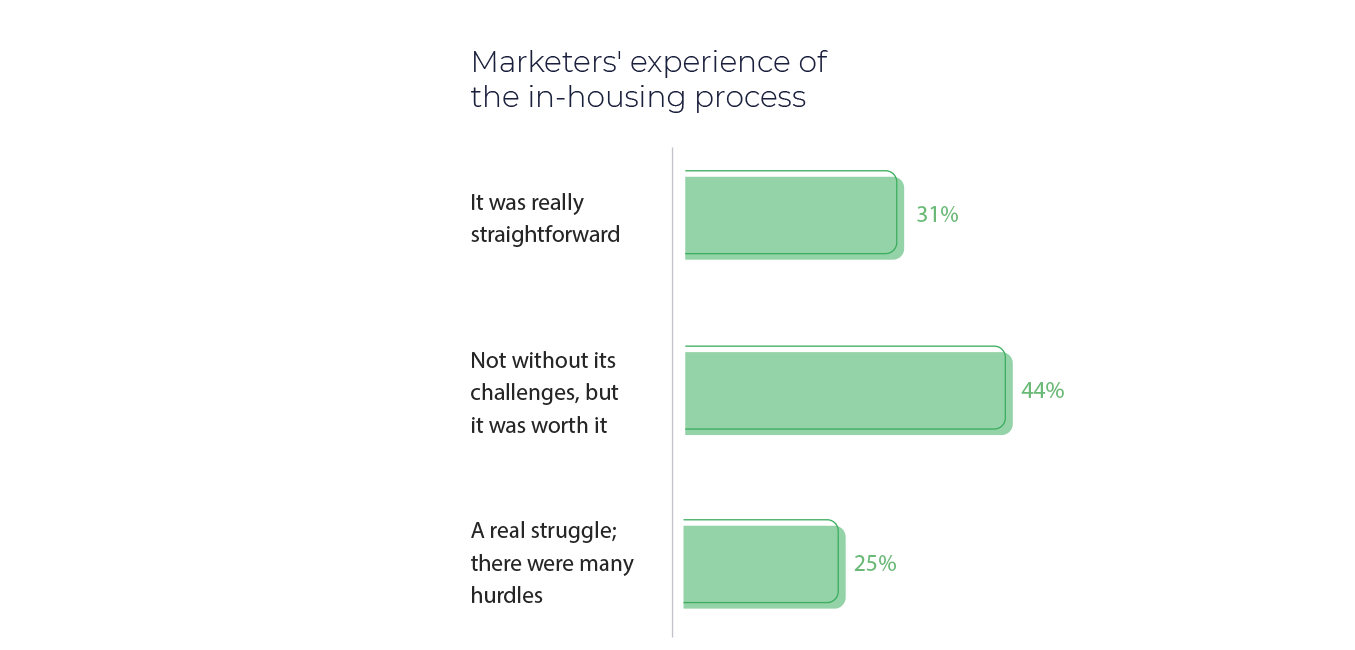 The top five benefits of in-housing
Transparency is a constant concern in marketing, so it's no surprise that it appears in the top three benefits of in-house marketing. However, when it's joined by cost saving and agility, there is a clear picture of what in-house teams provide to marketers and their companies as a whole.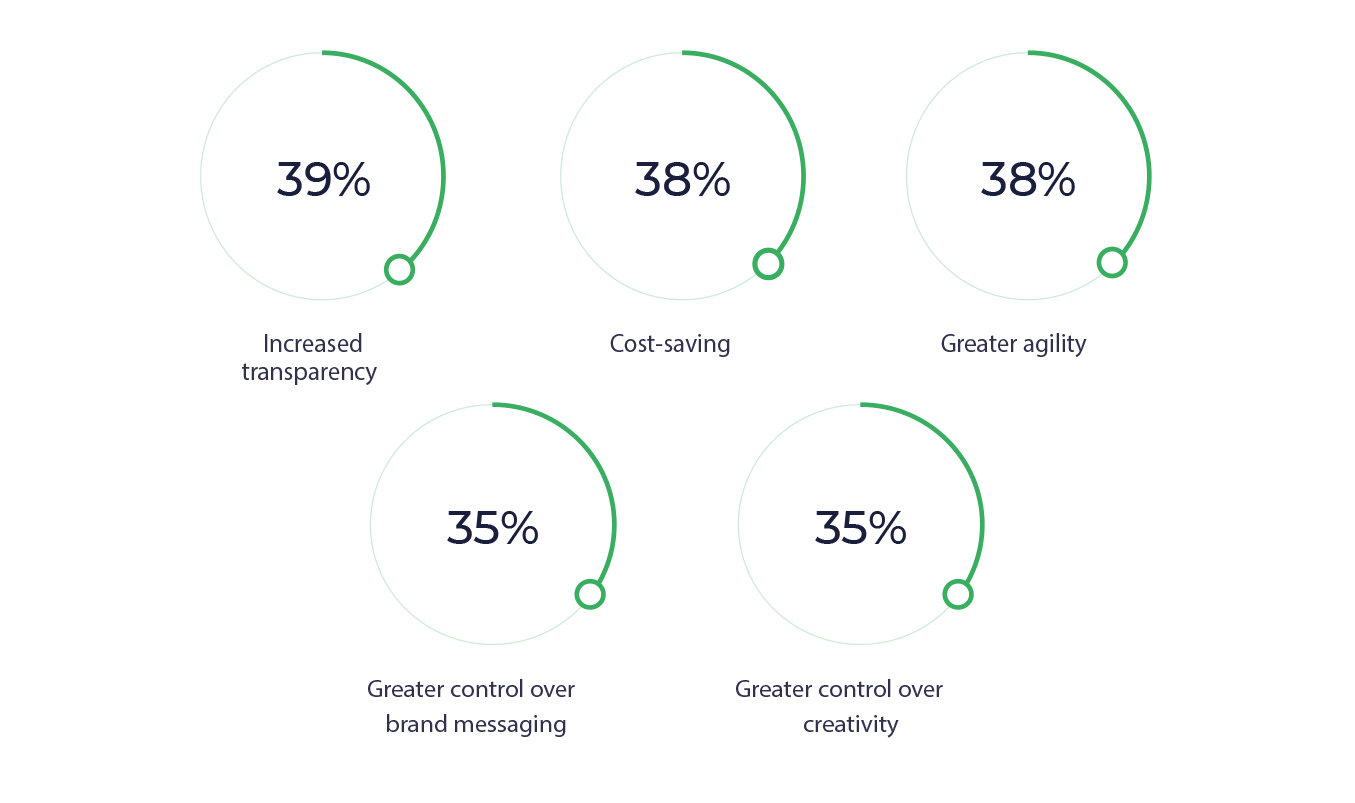 Marketing team barriers to in-housing
A lack of talent and skills is in the top three barriers but it is not the number one barrier for marketers. This year, internal support on the decision to in-house tops the list, followed by a lack of existing talent and skills to build a competent in-house team. Then communicating the purpose of in-housing and gaining buy-in internally.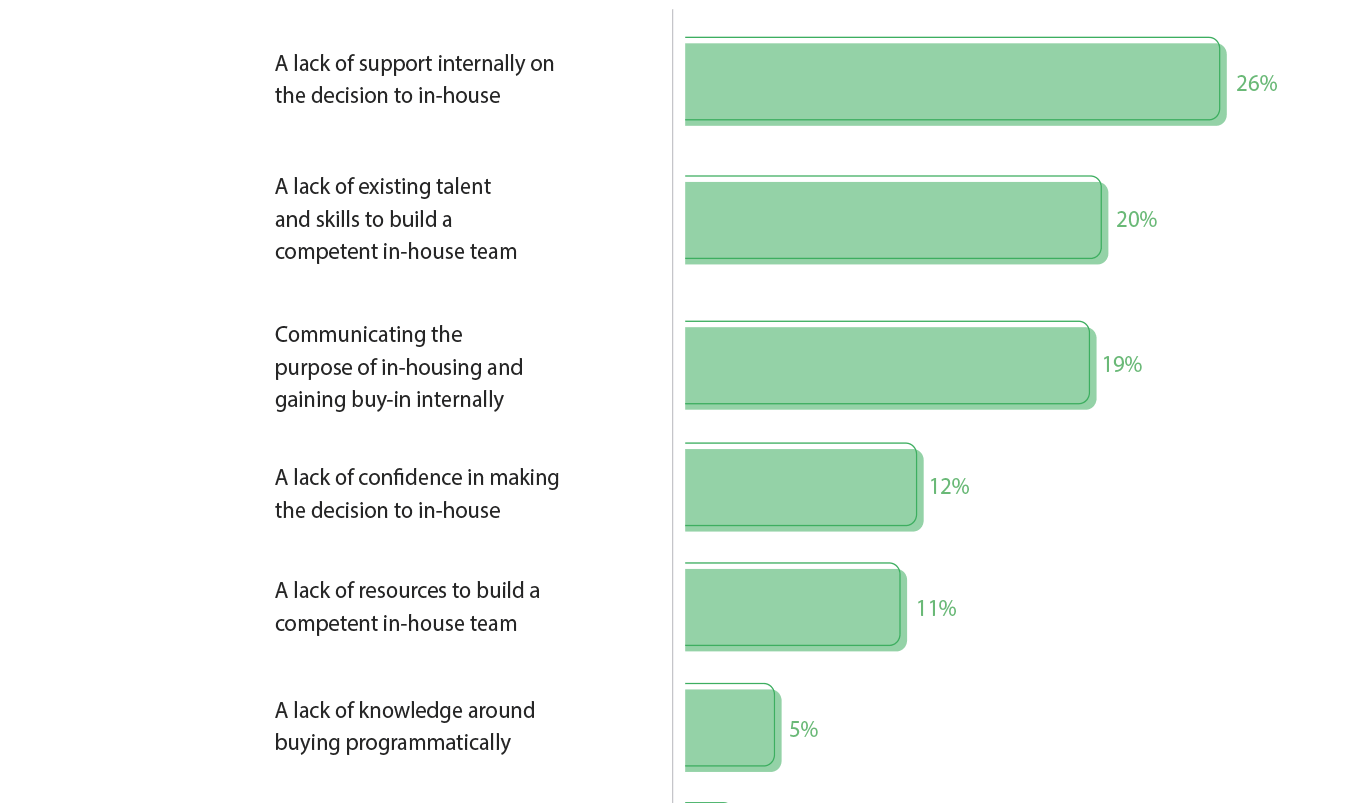 The top five skills in-house teams are missing
To gain a picture of the skills and resources missing from in-house teams, we asked those marketers who listed 'a lack of existing talent and skills' and 'lack of resources' as a barrier to list the capabilities that are unaccounted for. The data shows that 34 percent are missing digital marketing knowledge/qualifications, followed by creative thinking (27 percent) and organisational skills (21 percent).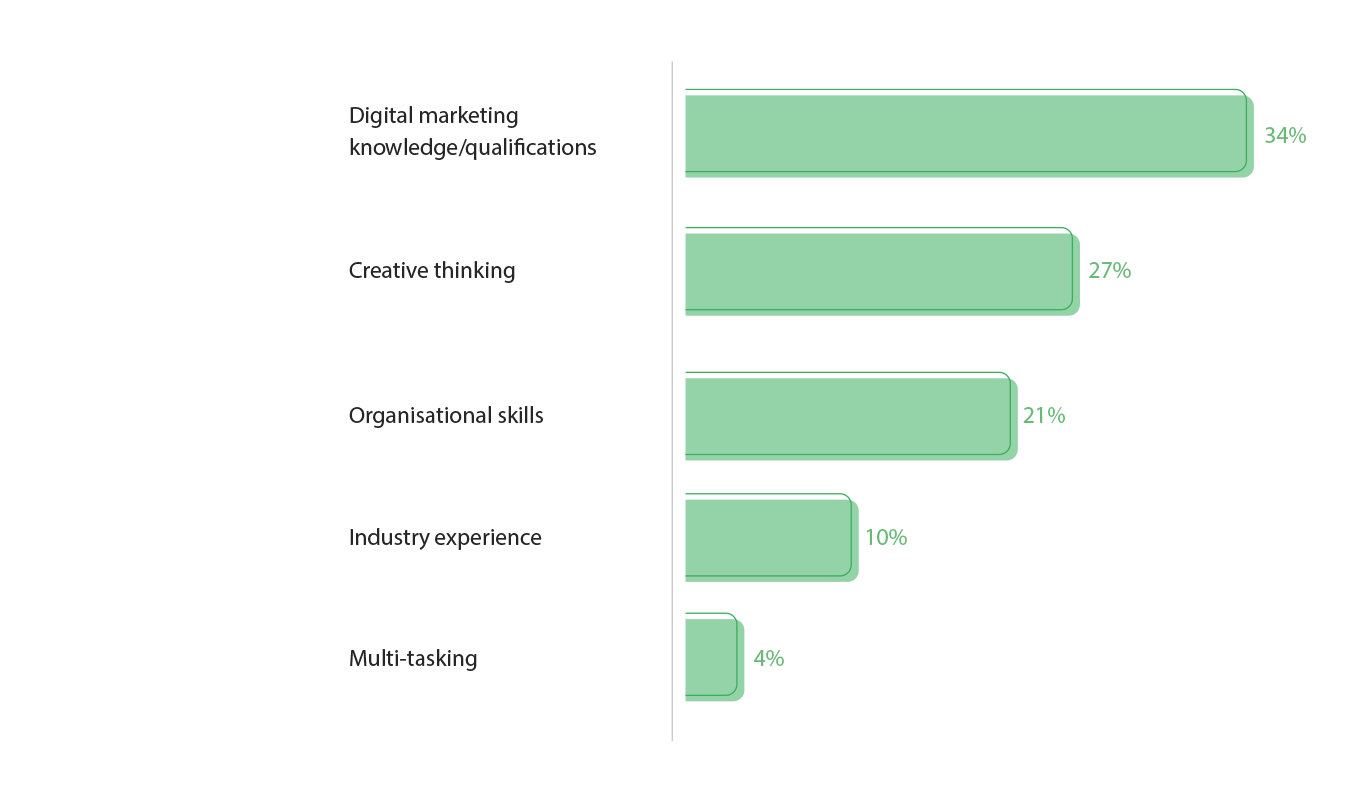 In-house marketing models and team structures
It is clear there is no one-size-fits-all approach to in-house marketing. Marketers are identifying existing internal capabilities and adapting their external digital marketing requirements from experts and agencies. The result is three clear in-house models and structures.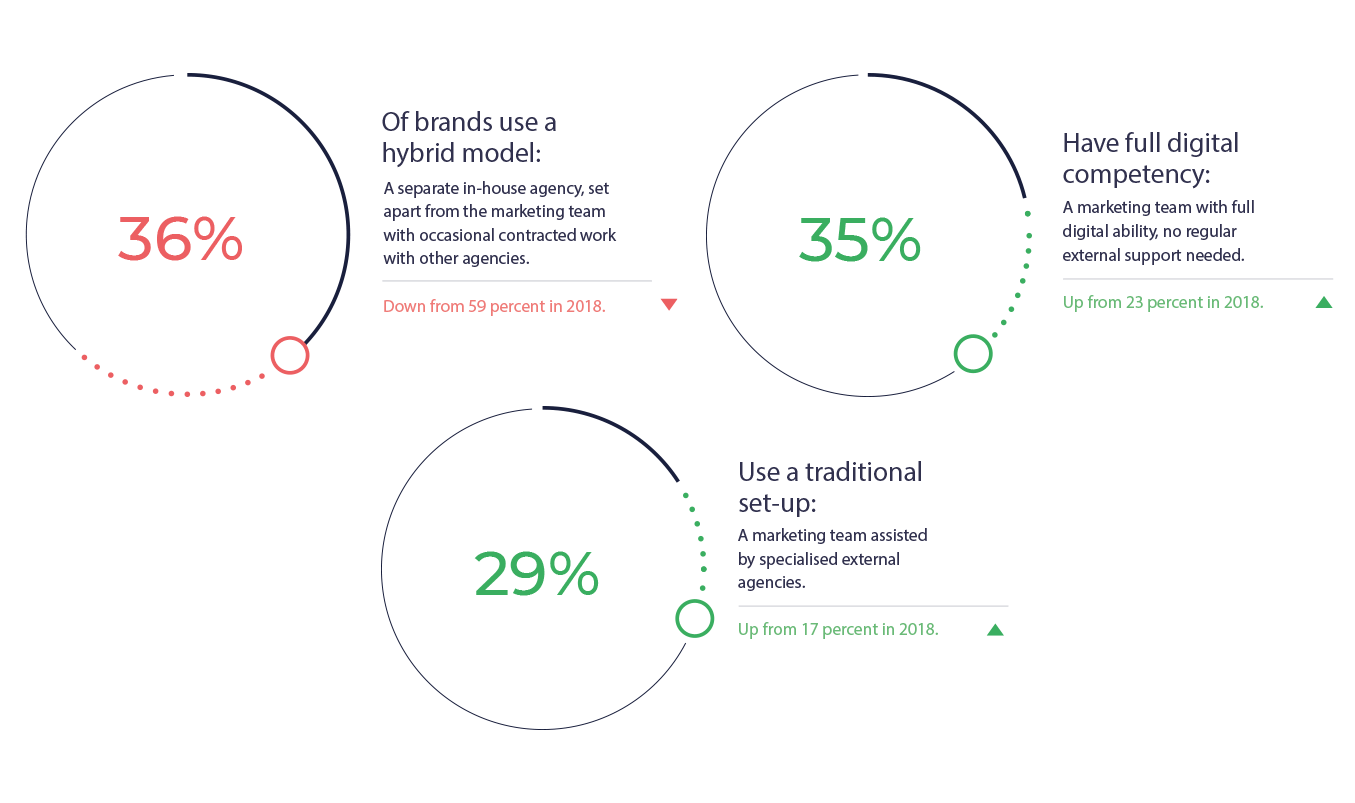 The top five skill sets brands have already brought in-house
Within marketing there are a clear set of skills that brands feel more than comfortable to perform in-house. Indeed, social media, content creation, and design, form the top three functions. Indeed, these creative skills enable brands to maintain control and consistency in messaging.
The top five skill sets brands are planning to bring in-house
Technology plays an important role in the enablement of in-house marketing. It would also appear that as an in-house marketing trend, more senior marketers want advanced marketing technology as part of their in-house tech stacks. Artificial intelligence, augmented reality, and media buying are among the top three most wished for skills.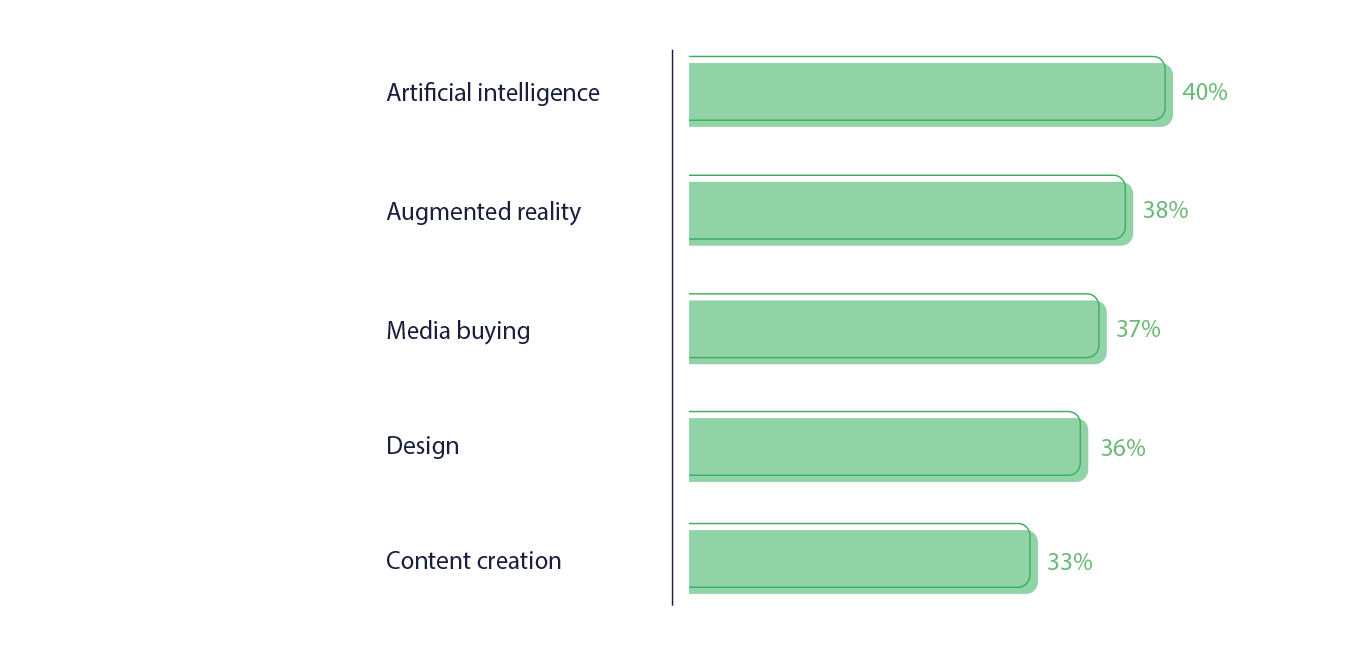 Agency relationships and transparency in 2020
Transparency in media agencies is an issue for brands. In fact, only four percent of brands are happy with today's situation. However, 40 percent say they are now only "somewhat" concerned. Yet, with brands listing transparency as a key benefit of in-housing, agencies are having to react and adapt to hybrid in-housing models.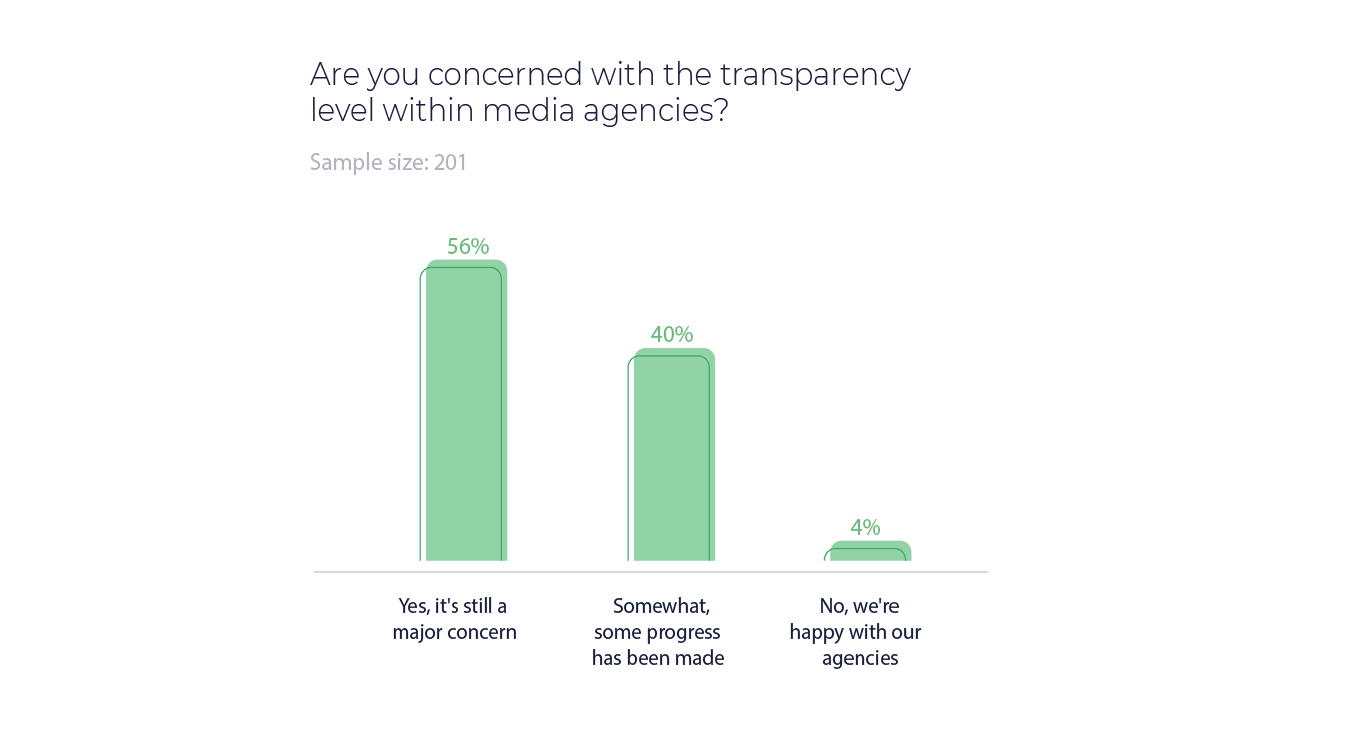 How in-house marketing impacts ROI
In-house marketing is fast becoming a necessity in modern marketing but are brands getting a good return? Interestingly, our research shows that 58 percent of brands are seeing ROI from in-housing. Good news for those who have made the transition to an in-house way of working.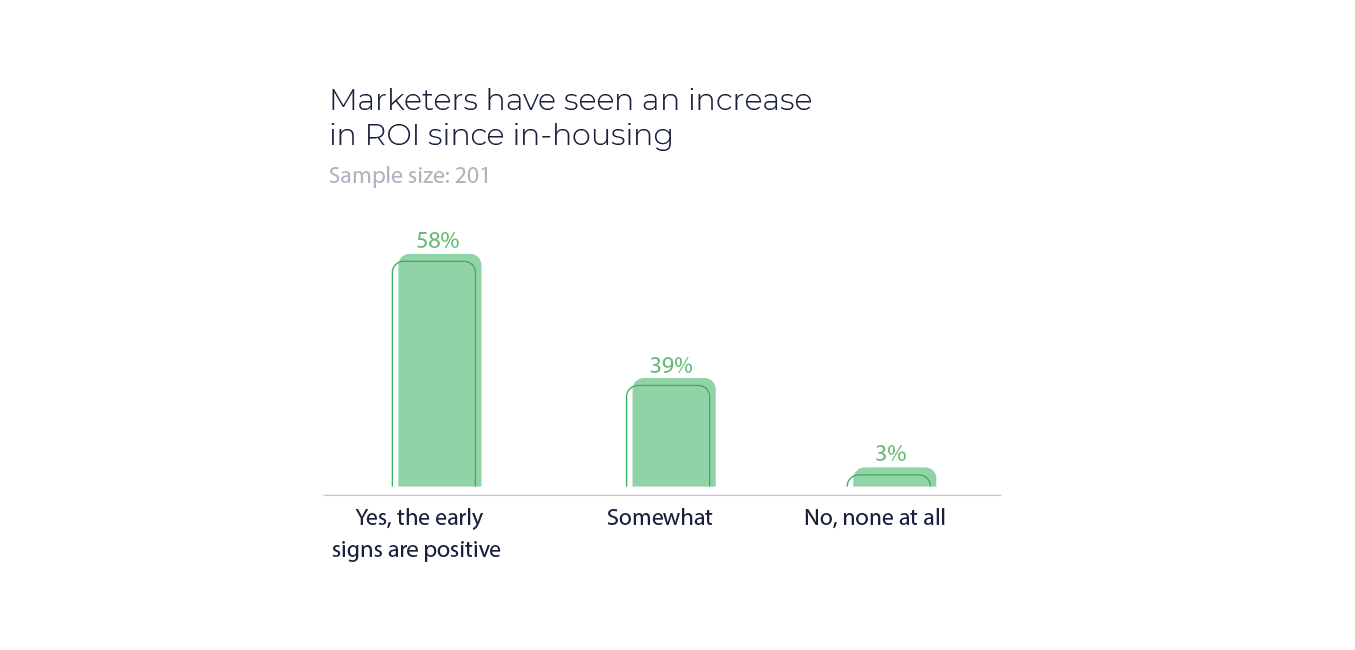 Competitive advantages of in-house marketing
How in-house marketing provides a better return on investment can be seen in the competitive advantages. Nearly a third of senior marketers questioned report quicker reactions to marketing trends and better control over data. While, 1/5 admit to boosted levels of creativity, and another 10% proclaim to have broken free of marketing silos!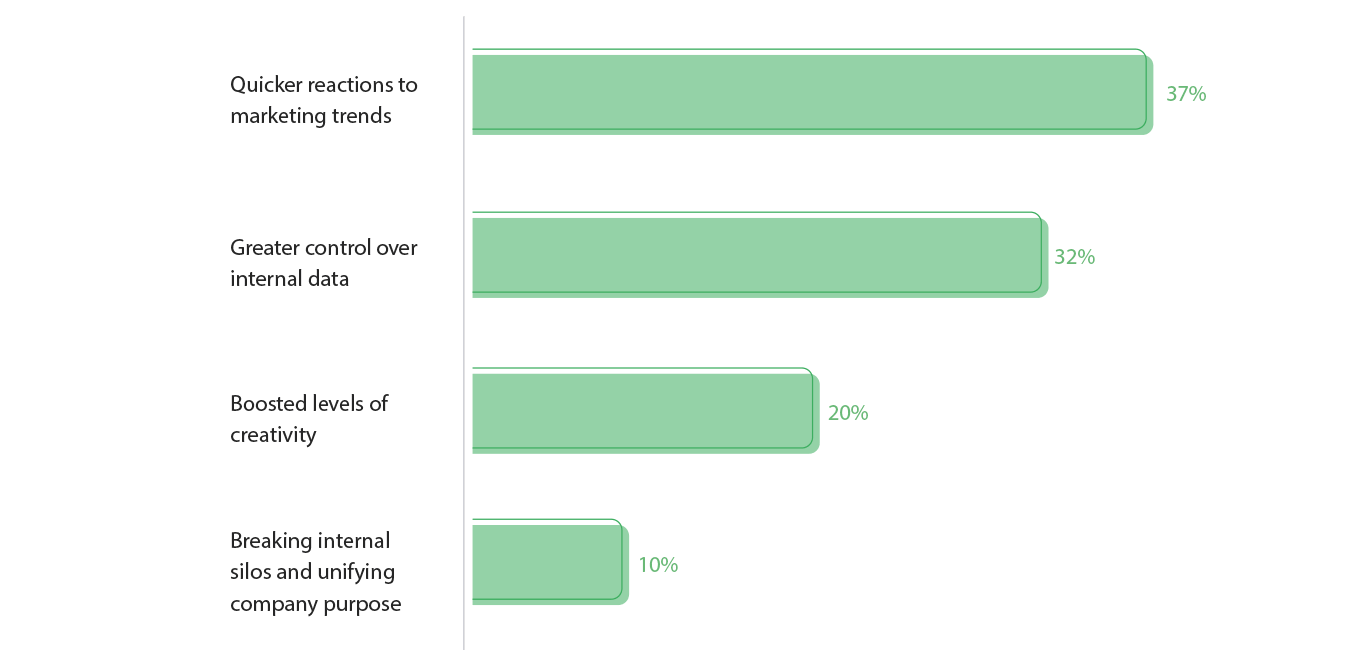 Barriers to creativity within marketing teams
In the 2018 State of In-housing report by Bannerflow and Digiday, the core three blockers of creativity within existing marketing teams were time, costs, and skills. This trend repeats itself in our 2020 trend data.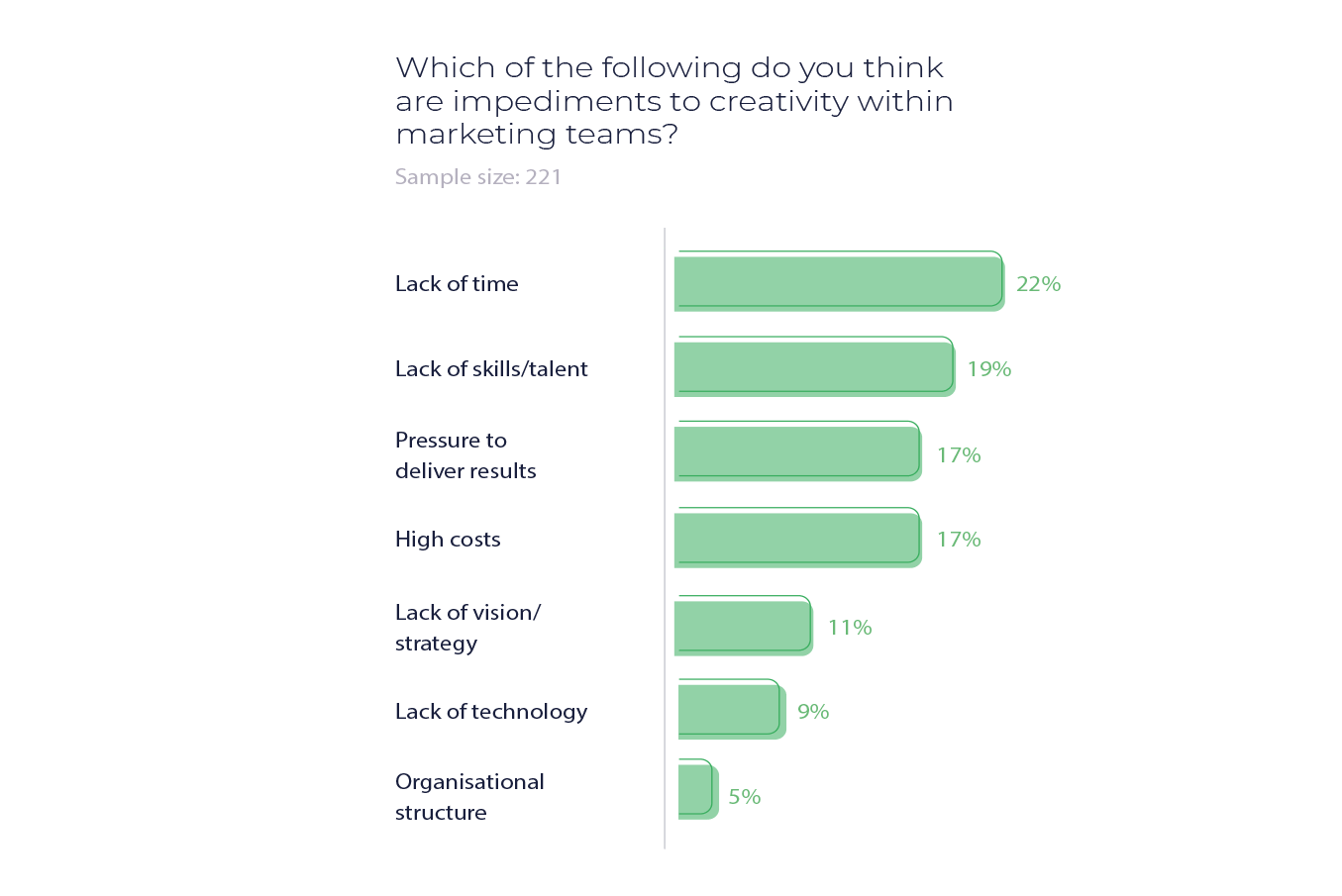 In-house creativity and the development of KPIs
Following on from barriers to creativity, these blockers should ease as marketers move more functions in-house. Our 2020 data shows in-housing has boosted creativity within teams, many of whom now have KPIs in place to measure their creative outputs. This combination of a creativity boost and measurable reporting is a very intriguing benefit of in-house marketing.
Increased In-house creativity and ROI: the facts
Indeed, on a positive note for marketers' in-housing efforts, the data shows a strong correlation between increased ROI from in-housing digital marketing and boosted creativity levels, defined KPIs, and the application of technology.

The impact of technology within in-house teams
Lastly, in regards to the impact of technology and in-house marking, 41 percent of brands say they are using data in a better way. Plus, 26 percent of brands say they are using data more than ever before, while roughly a third report greater collaboration.

Want to know more? Download the full report
To find out more about the state of in-house marketing in 2020, download Bannerflow and Digiday's State of In-housing 2020 report now. Featuring exclusive analysis and insight by senior European marketers at the forefront of the in-house movement.