Is in-house marketing a passing trend or here to stay?
In-house is a movement that is changing the face of marketing. Yet, is it here to stay?
91% of European marketing decision makers moved some – if not all – of their marketing in-house in the last year. Nevertheless, other statistics from the Bannerflow/Digiday State of In-housing report suggest that its future is not such a sure thing.
In fact, 63% of respondents actually believe that in-housing is a passing trend. Could they be correct? Or is there more to this statistic than meets the eye?
What are the barriers to in-house marketing?
Of the 200 marketing decision-makers who responded, many reported having difficulties with in-house marketing. Certainly, the first few years of building an in-house team can be challenging.
Teams have been struggling with issues surrounding talent recruitment, lack of skills, resources, and challenges to creativity.
Europeans are not alone in their barriers to in-housing. The Association of National Advertisers (ANA) in the US reported that for many marketers, handling the increasingly large workload was difficult to manage.
Yet dig a little deeper into the data and the results are interesting. Those respondents from the State of In-housing who believe that in-house is the future were actually the most concerned with the barriers to in-house marketing.
With 49 percent of those respondents who believe in its future saying the pressure to deliver results is a restriction to creativity, compared to just 18 percent of 'passing trend' respondents.
What does this tell us? Ultimately, that the pains of the in-house marketers are most important to those who are invested in the future of in-house. Whereas those who see it as a passing do so for other reasons…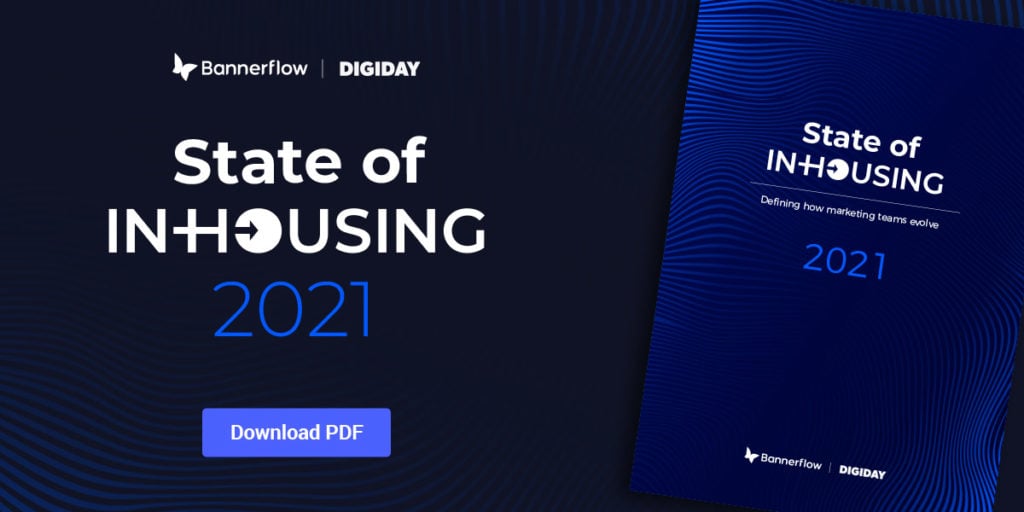 Why is in-house marketing seen as a passing trend?
The backlash against agencies gained prominence in January 2017, with Mark Pritchard, Procter & Gamble's (P&G) Chief Brand Officer, demanding that digital media agencies clean up their act. As a result, P&G has cut $200 million in digital ad spend while actually increasing its reach by 10 percent. This, and other examples of media agency 'black boxing' has created an us vs. them mentality to in-house marketing.
And thousands of brands have followed suit; choosing to in-house at least some of their marketing in order to take back control and gain insight into their media spend.
However, this isn't necessarily the model of in-house that marketers see for the future.
Indeed, some agencies are starting to adapt to this new climate. In an article with Forbes, Will Burns, CEO of Ideasicle, urged agencies to see the opportunities in the in-house momentum, '…outside agencies can still be quite handy providing creative ideas, outside perspective and project-oriented support on an as-needed basis. In the future, I believe outside agencies will need to allow in-house agencies to remain in control of the brand (they have the inside knowledge), while providing much-needed support.'
Could it be that the future of in-house marketing is uncertain because the nature of in-housing is in fact, changing?
So what does the future of in-house marketing look like?
Some agencies are already starting to reposition themselves. Rather than seeking to be a catch-all solution to brand's marketing, they are taking more of a partnership approach; enabling central in-house control whilst providing strategic and technical expertise from the outside.
Anders Nygren, CEO and founder at marketing consultancy Peregrine, sees a new future to in-house marketing, 'Agencies and marketing consultants could change more towards supporting the brand, within the processes and technology infrastructure.'
This partnership can take many forms and alter the landscape of in-house marketing. We see the new agency/brand relationship changing in three key areas:
1. Support brands in technology adoption and onboarding
In this age of MarTech, programmatic, and marketing jargon it's easy for in-house teams to lose sight of what tools are right for them and how to get the best out of a product.
Agencies have the possibility to position themselves as the technology experts for in-house teams: providing expert advice based on a wider understanding of the industry and client needs. These Digital Transformation Agencies are the trusted 3rd party in this scenario, lending expertise on what product is right for them and even providing training to in-house teams on how best to use them.
2. Provide creative oversight and strategy
The disastrous case of the Kendall Jenner PepsiCo advert is a big advertisement for having an outside agency thought-check your creative process.
In fact, 38 percent of respondents from the State of In-housing report were concerned about lack of vision/strategy in their in-house team. And where media agencies really excel as an external partner is in creating exciting top-level concepts and strategies for brands.
The future of in-housing might start to see more collaboration again in this process, with brand ownership over production and deliverables, but agency top-level input.
3. Skilled specialists
A large motivator for in-housing is cost-efficiency. However, it doesn't always make sense for brands to in-house every aspect of production when cost-savings are a primary goal.
In the case of MOFILM, Rebecca Sykes reports that her company often work on a partnership basis when it comes to video, 'When [brands] start to break down video they realise the number of skill sets required, and they realise they can't afford it because they don't need it all the time.'
For in-house teams, it's important to realise when outsourcing is the smarter option. For content used infrequently and requiring specialised expertise – agencies are often the better choice.
Learn more about how Bannerflow works with agencies and brands.
Follow in-house as it develops
In-house marketing is the future, just perhaps not in the way we originally thought.
The black and white picture of in-house marketing vs. agency has had its day. Those agencies that are surviving and thriving in this landscape are working in partnership with in-house teams to provide expertise and skills where needed.
Read the full report from Bannerflow/Digiday on in-house marketing here.
Alternatively, check out our blog or read more on Bannerflow's take with this article by our CEO Nicholas Högberg.
Share this article