Is in-house marketing the new normal? 91% of decision makers agree
In-house marketing is dramatically changing the way brands and agencies operate across Europe.
According to a new Bannerflow and Digiday report, an astonishing 91 percent of brand decision makers have, or are in the process of moving part, or all, of their marketing in-house.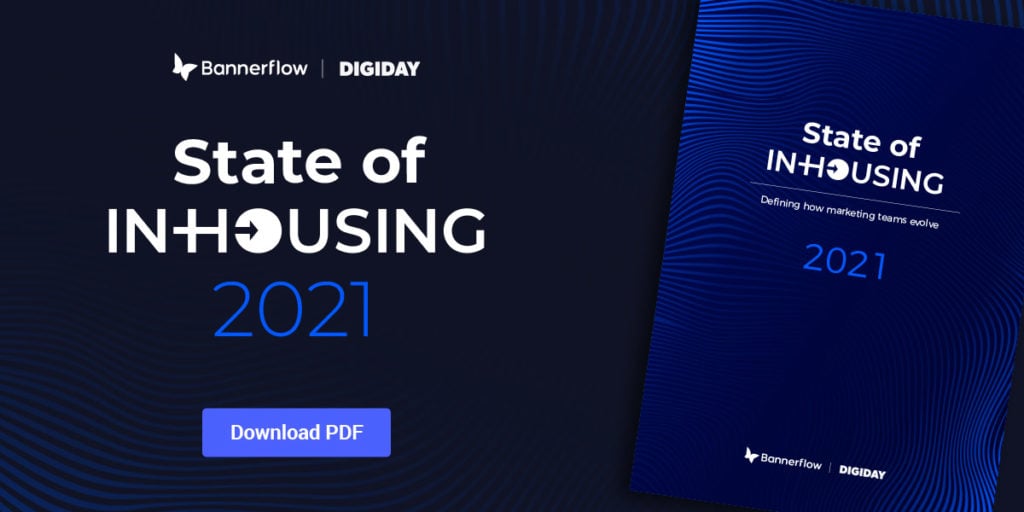 Transparency, greater control over creative, and a better return on investment (ROI) are just some of the reasons.
Has the traditional marketing model had its day? Well, the in-housing trend is most definitely disrupting the status-quo that's for certain.
Yet, things aren't quite as settled as you would imagine. Delve a little deeper and issues over confidence to deliver, creativity, and the long-term belief in the shift in-house present a movement that's still very much evolving.
For brands and agencies alike, there is plenty to consider.
The state of in-house marketing in Europe
The report surveyed 200 brands, in-housing agencies, and consultancies across Europe to discover the biggest drivers, barriers, and challenges facing brands moving their marketing in-house.
And the overall state of in-housing is much more complex than expected.
Rather than rely on outside support, many brands appear ready to go it alone. An astonishing 61% of brands admit to using a separate in-house agency. While a further 19% have a marketing team with full digital competency.
Confidence in making the shift to in-house marketing is high too, with 9 in 10 brand decision makers positive over moving in-house. In contrast, the remainder of respondents were not confident at all.
Transparency and ROI are triggering change
But what are the reasons for the shift?
Concerns over the level of transparency when using external agencies is a dominating factor – which when viewed in the wider context of the industry is unsurprising.
The last few years have seen many stories emerge surrounding the murky world of agency costs and so-called "black-boxing" for things like programmatic advertising. Many industry leaders were no doubt stirred by P&G's Chief Brand Officer Marc Pritchard calling to end the "archaic Mad Men model".
Plainly, in-housing is a way of gaining clarity over decisions.
Yet, other triggers for the in-housing trend are more practical. Efficiency and cost saving were popular reasons for moving in-house. As well as the requirement to become ever more agile and reactive.
Not that shifting in-house is an easy proposition. A lack of existing talent and acquiring the skills for a competent in-house team, were highlighted as struggles. Plus, finding the right technological resources was another barrier.
However, for brands that do move in-house, the benefits of in-housing were felt to outweigh the short term difficulties.
Is an emphasis on ROI reducing creativity?
Yet, amongst those questioned for the report, there is a crisis over the role of creativity. An astonishing 88% of brands questioned believe marketers are now placing too much emphasis on ROI over creativity.
Has this focus on results come at the expense of creativity?
According to brands, time and high costs were flagged as barriers to in-house creativity. But slotting into this conundrum – once again – was the acquisition of skills and talent. A 1/3 of respondents voiced concern that a lack of skills and talent was stopping them from being creative.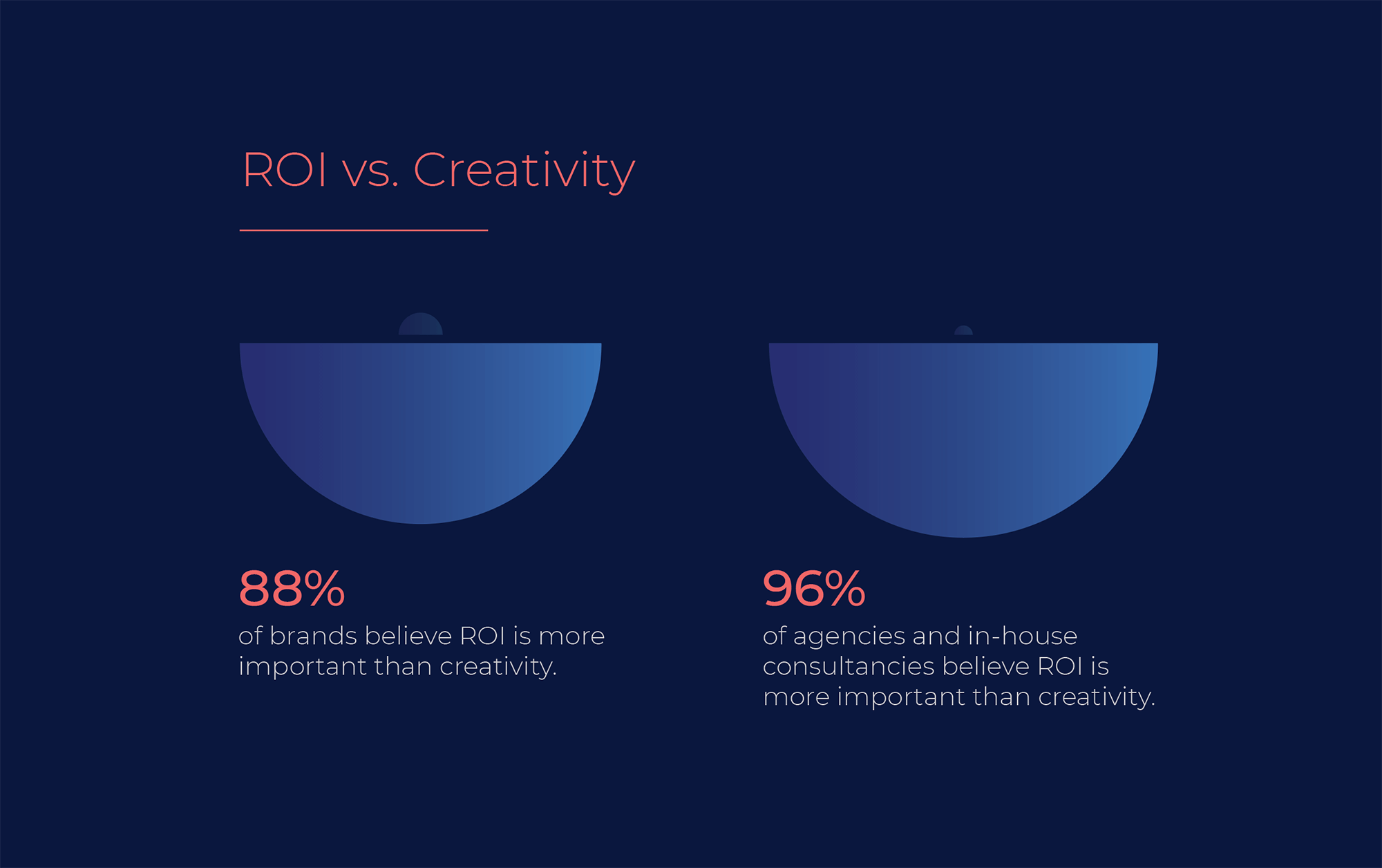 Is technology the answer?
For brands, the answer is yes – but with caution. In fact, the vast majority of those questioned (96%!) believe that it is an enabler of in-house marketing – yet, 1 in 5 also believe that an inability to apply technology correctly is harming creativity.
The implications for in-house brands is that having the technology is one thing, being able to use it for the benefit of both ROI and creativity together is another.
As one decision maker noted: "Marketers tend to adopt short term thinking when facing pressure and point to numbers. Results from creativity are harder to measure".
There is obviously a balance to be found between quick returns and long-term ROI.
Confidence within in-house marketing
And here's where things get even more interesting…
When asked the question, "do you think in-housing is a passing trend or the future of how brands create and publish their digital advertising?" 63% of decision makers responded that in-housing is a passing trend.
For Ville Heijari, CMO, at Finnish game studio Rovio Entertainment, this admission proves surprising, "especially when thinking of developments in the ad-tech space. If anything, more advanced technology and automation tools will enable even more efficient in-house operations." And he is not the only one thinking this.
Belief in the application of in-house marketing, is high among brands, with 58% insistent they can run their in-house teams alone, and another 35% stating they will use occasional external support.
Yet, if these 93% of brands are confident in their ability to perform marketing functions in-house, then why do only 37% believe it's the future of how their brand will perform its marketing?
While in-house marketing is most definitely on the rise across European brands, it would appear brands are still finding their feet when coming to terms with the implications of in-housing.
The future of in-housing
Whether it's a passing trend or here to stay, in-housing is rapidly changing the way brands and agencies do business across Europe.
Thanks to greater transparency, and clarity over ROI, in-house marketing is allowing brands to reduce costs and achieve ever greater efficiencies. Yet, for all the gains in agility and measurement, there are clear worries over the role of creativity.
Marketing teams also find themselves battling for talent like never before. With decision makers needing to identify the right people and technologies in a complex and overcrowded market.
And where does this leave the state of in-housing? More advanced and ingrained among brands than we ever suspected – but still finding its feet. While, agencies reliant on the old way of marketing, must adapt – and quickly. The next 12 months are set to prove fascinating!
To find out more about the state of in-housing and the impact it is having on major industry players in Europe, download Bannerflow and Digiday's exclusive report now.
Share this article