11 evil tips on how to make Halloween banners that convert like the plague
Yes, it's that time of year again – time to plan your Halloween banners!
Fortunately the 31st of October does at least offer advertisers a novel way of grabbing the attention of viewers. After all there are very few times when you can use the undead to convert?!
But in all seriousness Halloween is big business. It's the 8th biggest holiday in the US for consumer spend according to eMarketer research. And it's growing worldwide too, not just in its traditional North American heartland.
So what can marketers do with their display advertising that makes the most of the pagan festival? What are the best ways to be the last ad standing? The lone salvation in a terrible ad apocalypse? And let's be honest – we've all seen our share of horrific Halloween banners that were dead on arrival.
Then allow me to exorcize those demons and explain…
1. Forgetting your brand's identity: a fate worse than death
Let's get this out of the way: just because it's Halloween doesn't mean you throw out your brand's identity. Obscuring your brand in Halloween symbols, colours, or typography, will not help you to get viewers to click-through. After all, who in their right mind would click-through to a banner that looks like another static ad for a role-playing game?
Embrace Halloween but do it in keeping with your brand's style – like this ad by Pepsi below.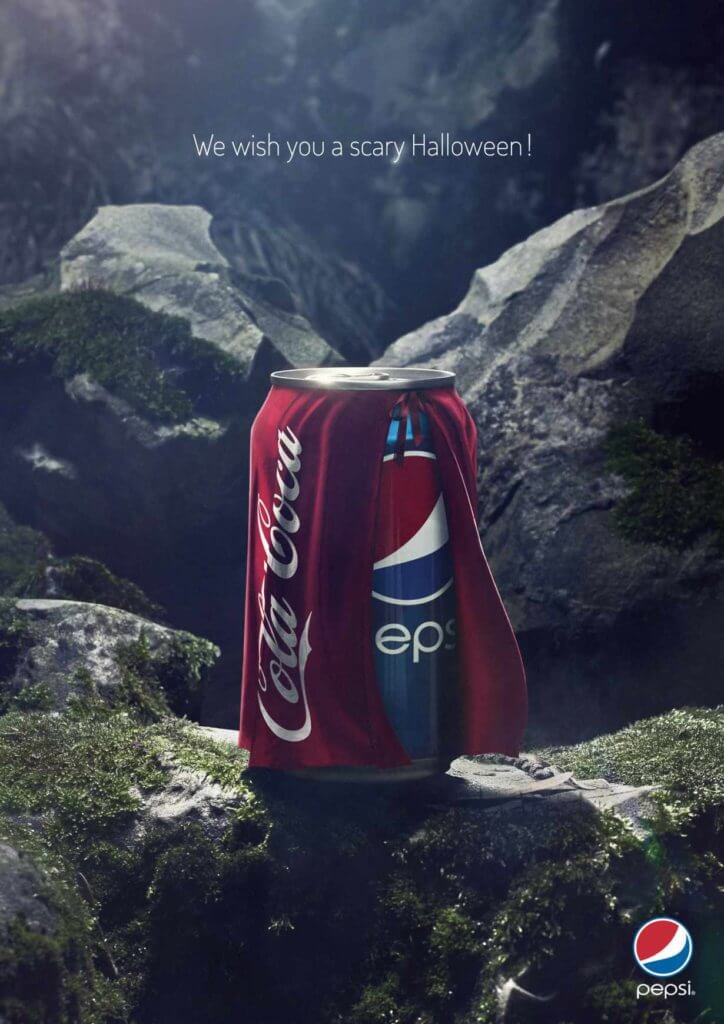 Which leads me onto…
2. Don't go too dark, be relevant, and remember your audience!
Halloween banners shouldn't be scary. They should be in keeping with your brand, and playful. Issues over Brand Safety and what is appropriate for your brand to be associated with should be addressed before your first banner has even been drafted. If you're an iGaming company you obviously have a lot more leeway than a toy brand.
Be sympathetic to the market where your banners will be published too. What is appropriate in the US may be viewed very differently elsewhere. Be culturally relevant, don't come off as forced or in bad taste. Keep things light — even with content that veers towards the dark — to ensure a positive response.
3. Halloween banners and bloody colours
Like every holiday, there are particular colours associated with it. The two most prominent for Halloween being of course orange and black (among others). A word of warning: black does offer negative colour connotations but also sophistication, so apply carefully. The colour which should be highest on the hit list for your banner is orange.
Orange represents fun, warm, and abundance. According to Karen Haller's design blog, "it's a great colour to stimulate social interaction and conversation. And that's what celebrating Halloween is all about, fun and socialising with family and friends". That's why when Viacom created this Halloween banner for SpongeBob – see below – the most prominent Halloween colour included is orange.
Here's a neat blog that provides cool Halloween colour palette inspiration.
4. Garish typography is not to die for
Halloween may be a rare event but it's not a time to throw out convention and go fully to the upside-down. This is clear with the font choice you make. It may sound like common knowledge but choose a font that confuses and you're on to a loser.
Yes, it may be tempting to use the random "scary" font (yes, I know you want to) but if your audience can't read it, or if it differs from your branding then don't bother. Stick to something that's clear and in keeping with your house style.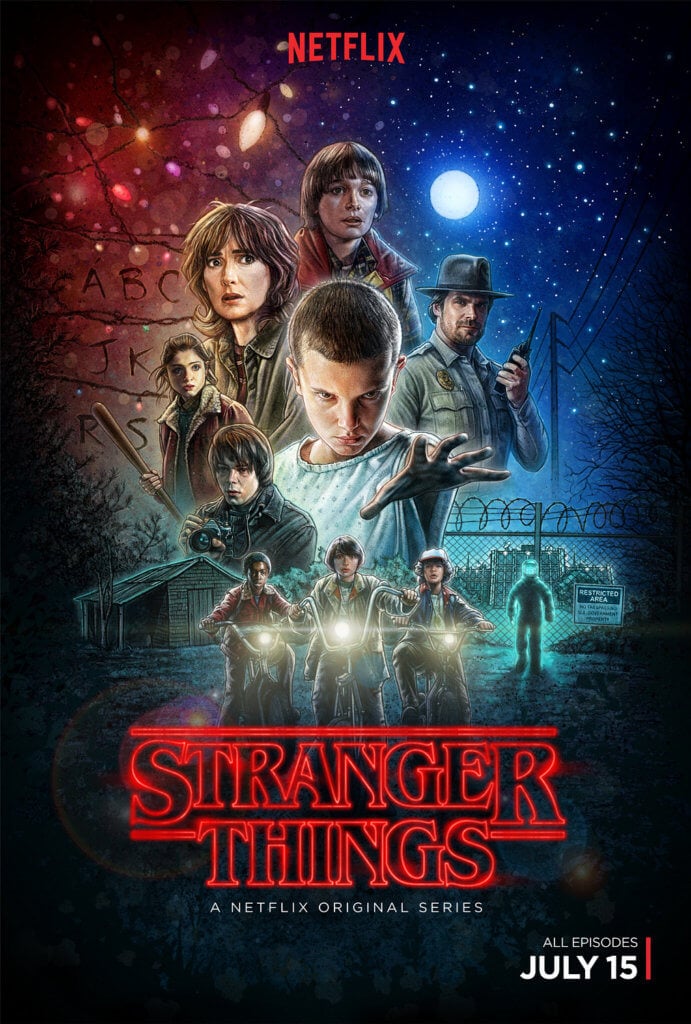 Yet, used in moderation it can work. Take the Viacom Spongebob banner previously, the "spookiest" font is in Viacom brand colours and the CTA is clear at the end of the banner. You could apply fonts that replicate Stranger Things title graphics or even the latest It film. Use a gentle cultural nod rather than overloading the viewer.
5. Tell a ghostly narrative in your halloween banners
All good banners should have a beginning, middle, and end. And Halloween is a great opportunity to have a little bit fun and make your banner's story more prominent. Indeed, special occasions like Halloween allow businesses of all sectors and sizes to loosen up a little bit and have some fun.
Why not present a mystery? Heighten the tension in the middle. Then end with your call to action providing the answer to the mystery? A simple, yet effective narrative.
Of course this assumes you're down with the cool kids and creating a dynamic banner – not producing simple static banner! In 15 seconds, or so, you can create a banner that grabs your viewer's attention. A creative management platform like Bannerflow should allow you to experiment with different effects in HTML5 banners, such as lightening, or even fog, to cut between sections.
6. Think vigilantly about horrific image choices
Welcome to stock image hell – that's the impression some overzealous advertisers make. Yes, be creative, raid the Halloween section of your favourite stock image provider but be careful.
Halloween symbolism is obvious for the most part and little can go a long way in adding flavour. However, it's worth considering the impact of symbols and images on your audience. For example, for anything aimed at children, associating your brand with the grim reaper, and the more macabre aspects of Halloween, is a definite no.
This understanding of audience and the use of Halloween images has been tactfully done in the Viacom banner. Its target audience being parents and children. Built in Bannerflow's banner builder tool, the banner features kid friendly jack-o-lanterns, cartoon bats, and spiders' webs.
It is also worth noting that in the Viacom banner, the logo is clearly visible. You want to achieve brand awareness – minus the logo you might think Nickelodeon. Halloween banners shouldn't ever disguise a brand. Cater for the Halloween emphasis through imagery but don't obscure – always have your brands logo clearly stated.
7. Use video to haunt your viewers
Nothing engages a viewer quite like a video. Yet, I'm not talking the full YouTube experience, I'm talking making the background of your banner a video, or a section of your ad.
Why not create a spooky composite of a graveyard to run behind your product listings? Better yet go cross-channel and feature a clip from Halloween TV ad? There are, however, a few strict rules you need to be aware of when working with video for Halloween.
Try to include an introduction to your ad – you want to have sufficient enough time for the video to load for all connection types. Use a script tag too. This means you can stream the content directly from the source and it will then allow a crisp stream of the video in the banner.
Keep the duration of your ad to about 15 seconds – anymore and you risk losing the viewers' attention. If you use a video within your banner rather than as a background put it in the middle of your display ad. Keep the content simple too, don't draw away from what you're creating – don't over load the senses. Indeed, for Halloween the simplest ideas are the best.
Plus, use scene breaks to capture attention! And finally, your CTA button should always be after the video has ended and not before – that's the purpose of your banner!
8. Brood over your spooky offering
What makes this banner and campaign special for consumers? It's worth linking your banner campaign offering with something that captures the imagination. In recent years, Coca-Cola has pushed its Fanta brand heavily for Halloween in the US. It promotes the brand through the limited release of bottles and cans featuring ghoulish packaging. The result is that the brand offers its customers something unique.
Another brand noted for its startling Halloween offerings is Airbnb. It has embraced Halloween themed competitions to engage viewers. This has included a campaign that offered guests the chance to spend the night in Dracula's Castle. The result: an extra 5,000 conversations on social media discussing Airbnb!
While, the previous year it offered a night's stay in the Paris Catacombs, the resting place of some 6 million corpses. Airbnb's Halloween campaign offerings – like many a character in the Walking Dead – take some beating.
9. Timing is everything for halloween banners
Oh, and one more thing: think about your campaign timing too. According to a report by the US National Retail Federation: "consumers are eager to celebrate Halloween – eight in ten Americans shop by mid-October. Americans enjoy taking advantage of early-bird promotions both online and in-store." The message is clear: yes, it's all well and good having an awesome banner set – but if it makes zero impact then that defeats the purpose of advertising.
Have a release strategy, optimise your ads, and begin a campaign from early October to achieve maximum impact. If you can try to use a scheduling tool, or produce dynamic creatives that enable you to swap out ad content and target viewers.
Planning ahead means you can create a better campaign too. You can take a concept and optimise it for your indented audience. Heidi Myers, Director of Marketing EMEA at Meltwater recommends that "businesses not only need to be planning ahead but thinking outside the box. [Do] something a little unexpected to wow their audience and draw attention to their brand". Use the extra time to produce remarkable Halloween banners.
10. The end? …Or is it?
Producing remarkable holiday display advertising is easier when you have the right tools. Use a creative management platform, like Bannerflow, and you can make Halloween banners that convert in minutes. Use Bannerflow to build advanced formats, such as cubes, and video banners, all without having to write a single line of code!
There's no limit to your horrific Halloween banner designs!
11. Just when you thought it was safe…
Lastly, this excellent Halloween ad from giffgaff isn't a banner at all but since we've featured videos in banners we'll give ourselves a pass. Undoubtedly the most high-end Halloween ad of 2016 in the UK. It uses cultural references of Halloween to drive home the message of "ending the nightmare" of a 24-month mobile contract.
Oh, and not to be out done Burger King went one step further in 2017 with its wicked trolling of fellow meat munchers McDonalds. Riffing off the release of horror movie IT, it offered free burgers to those patrons who visited it's restaurants dressed as clowns. And of course, it hijacked a screening of IT too, adding the following line just before the credits rolled: "The moral is: never trust a clown".
Ouch!
Now take these awesome premises and use them to inspire a terrifying Halloween banner ad.
End credits!
Happy Halloween banner building from Bannerflow!
Oh, and if there's anything that's tickled your fancy, or you would like to know more how Bannerflow's creative management platform then please get in touch.
Share this article