Are you considering the purchase of a new Martech solution or evaluating existing ones? Are you struggling to evaluate the many options available? Are you concerned about making the right decision?
Watch when Linda Gyzander, Senior Consultant Martech/CRM from Miltton Insights, and Ovidiu Mihai-Marginean, Demand Generation Product Owner from Bannerflow, answered these questions and more!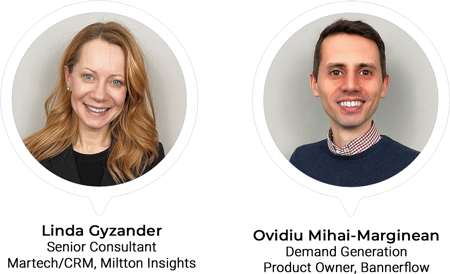 In this webinar, you will:
Understand how to navigate the multitude of options when it comes to selecting the right MarTech solution

Get insights on how to evaluate existing solutions and maximize the return on your investment

Discover best practices for determining the total cost of ownership of your MarTech solutions
Get the information you need to make an informed decision about your MarTech purchase.